Best Things to Do on a Southampton Day Trip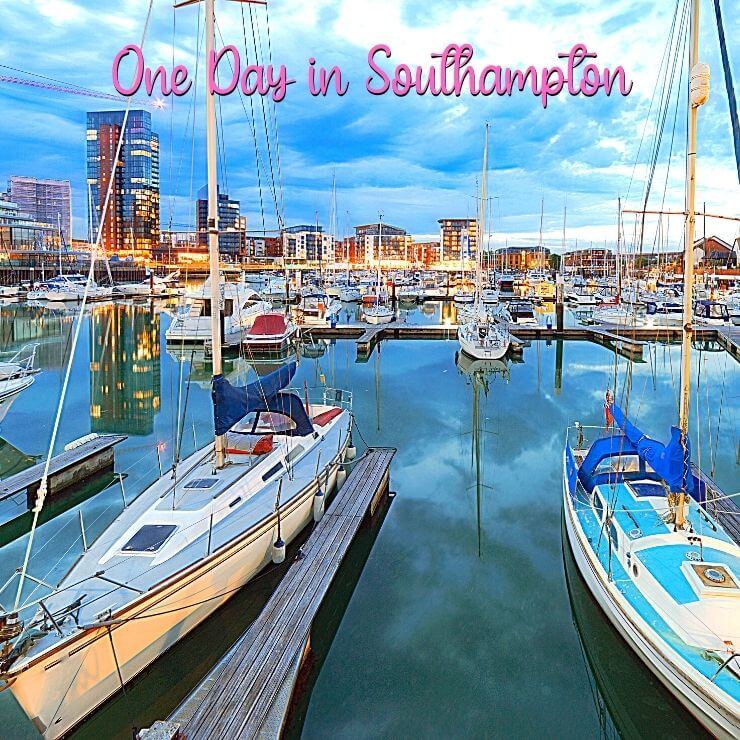 Famed as the cruise capital of Europe, the English port city of Southampton is a wonderful place to spend a day.
While many tourists choose to extend their cruise holiday with a day ashore in Southampton, this is also a great place to visit for anyone looking for a fun day out or weekend away in the South of England.
In this guide, I'll show you some of the best places to visit during a day in Southampton as well as some suggestions for where to stay overnight.
1-Day in Southampton Itinerary
Read on for all the top things to do in Southampton that you can't miss out on during your day in the city.
Walk the QE2 Mile
To start your day, I recommend that you head to Southampton's QE2 Mile. Located in the heart of the city, this pedestrian-friendly route runs from the Cenotaph down to the waterfront.
Southampton's High Street is lined with shops, restaurants and must-see places of interest such as the Titanic Memorial. Take your time as you stroll along this interesting street and you'll find lots of historical sights to pique your interest.
As you pass the ruins of the Holy Rood Church, which was bombed in WWII, take a moment to step inside and admire the remains of the 14th century architecture and the memorials to the sailors of the Merchant Navy.
Across from the church is a very interesting shop called Robin's Nest, which is set inside an old bank. It's packed with weird antiques and handmade gifts and is well worth a look. Also – if you have luggage that you'd rather not carry around the city with you, you can leave it here for the day!
Midway along the QE2 Mile, you'll reach a striking building called The Bargate. Built around 1180, this medieval gatehouse once guarded the walled-off city center.
When you get hungry, you'll find plenty of cafes serving traditional full English breakfasts in this part of the city.
Walk the City Walls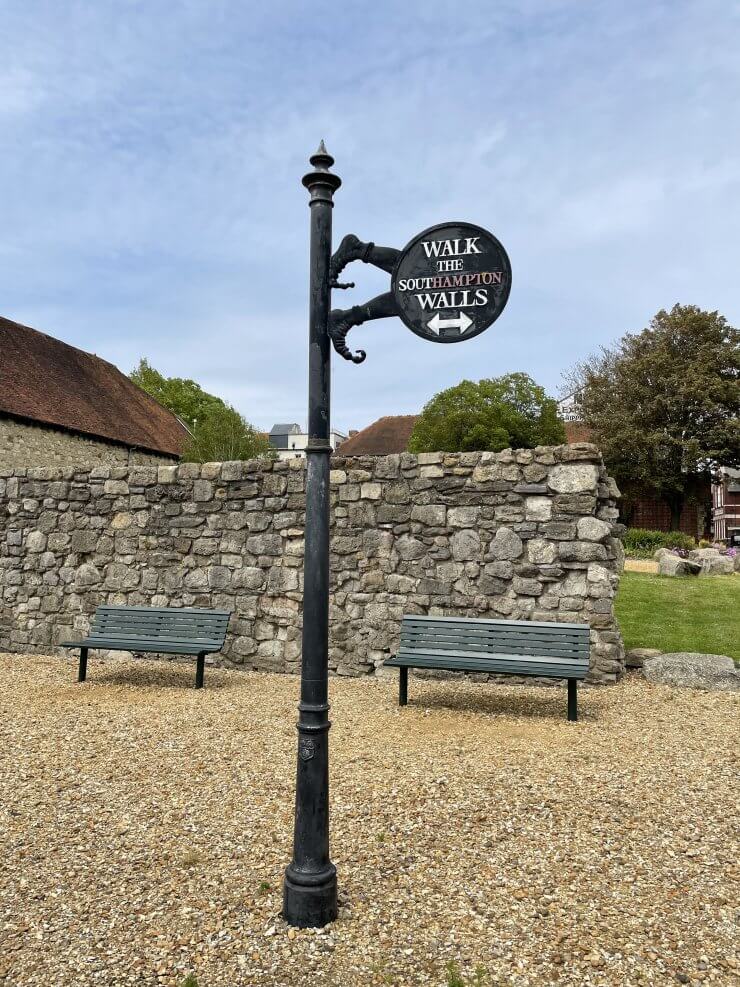 Southampton's city walls were built around the 10th century. Although they have been extensively attacked over the years, about half of the circuit remains intact. It's wonderful to see the ancient city walls mixed in with the modern architecture of the city.
The wonderful thing about Southampton's city walls is that you may walk along the top of many of them. Just head up the stone steps and you'll get some great views of the city, as well as plenty of exercise from climbing up and down.
If you have a push chair or wheelchair with you, you can still follow the city walls as walking alongside the walls is a flat and easy route.
Go Ship Spotting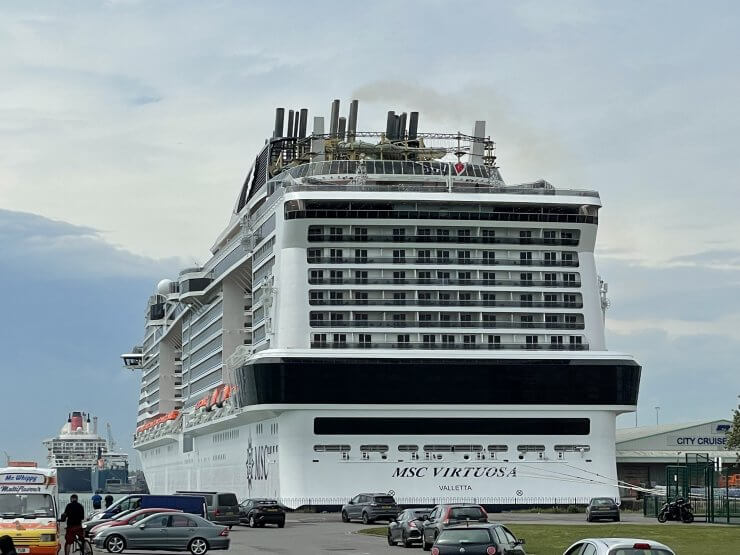 As you follow the city walls towards the ocean, be sure to look out for any cruise ships that are in port.
Southampton has four cruise terminals, so there's a good chance that at least one or two large cruise ships will be in view at City Cruise Terminal and Ocean Cruise Terminal, as well as ferries and smaller boats at the Town Quay Marina.
If you search for cruise ship trackers online, you'll be able to see which ships are in port during your stay. If you've never seen a cruise ship up close before, you may be shocked to see how big some of them actually are!
Have a Picnic in Mayflower Park
The perfect place to stop for a rest and a sandwich during your day in Southampton is Mayflower Park. Southampton has lots of lovely green parks, but this one also has the advantage of ocean views.
Located by the City Cruise Terminal, you can see cruise ships up close from here, and there are lots of benches where you can sit and enjoy the views.
Mayflower Park also has a fantastic little play area for kids, a cafe, and public toilets.
Visit a Medieval House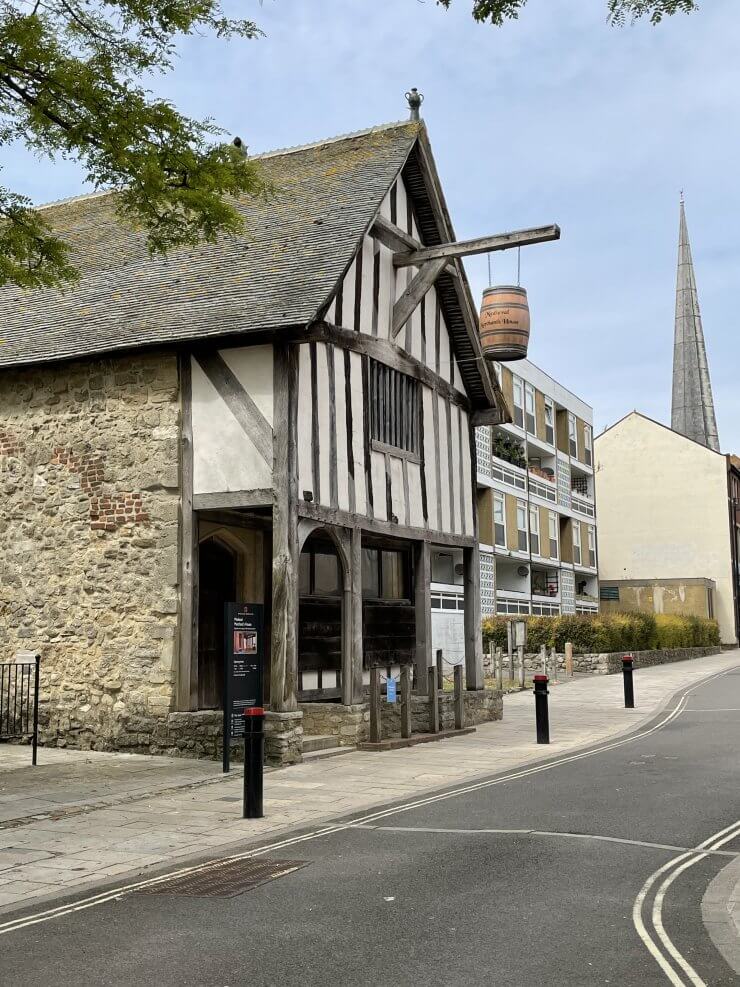 You're sure to be amazed by the beauty of Southampton's ancient buildings, many of which you'll arrive at unexpectedly as you wander around the city.
Some people think that Southampton is an ugly city as many of the buildings were built in the 1960s, 70s, and 80s. However, I think that having medieval houses and pubs mixed in amongst affordable housing and cheap cafes makes them all the more striking.
If your visit is at a weekend between March and September, you can take a look inside a 14th century home called The Medieval Merchant's House and get a glimpse of what life in Southampton was like in ancient times.
Spend the Evening at Ocean Village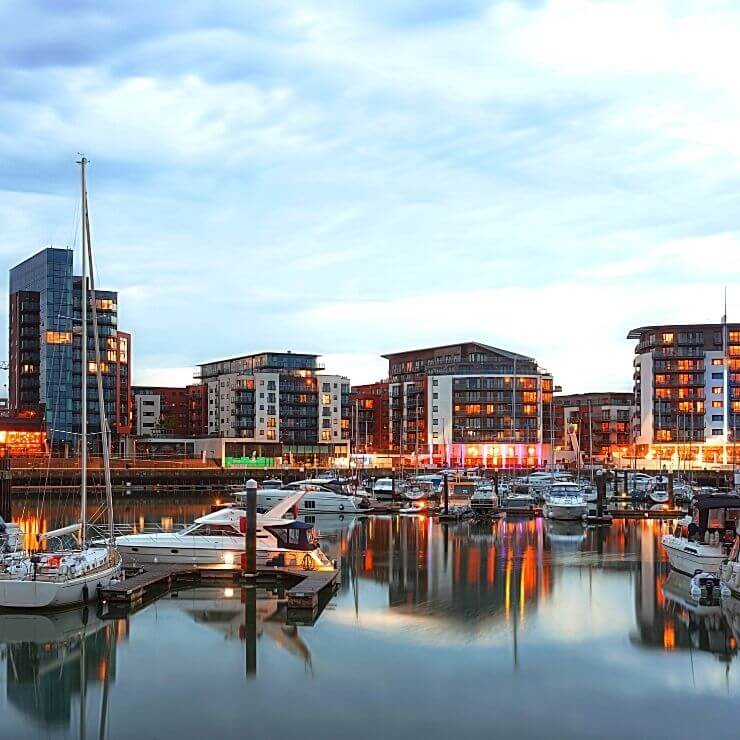 Southampton's Ocean Village is a marina with mooring facilities for tall ships and large yachts. Here, you'll also find the city's tallest building plus lots of shops, restaurants, bars, and a cinema.
Ocean Village is the perfect place to enjoy an evening meal to finish off your day in Southampton. Whatever kind of food you fancy, there'll no doubt be something to suit you here. Many of the bars and restaurants have terraces where you can sit outside and enjoy a drink while you admire the marina views.
After dinner, head to the glass-fronted Harbour Lights Picture House to enjoy a blockbuster movie or independent film to round off your day.
How to Get to Southampton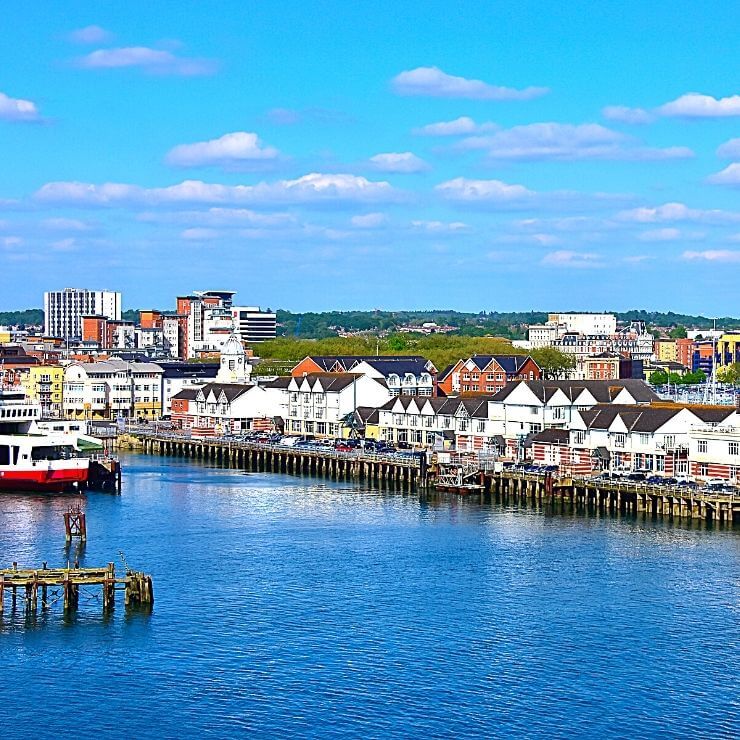 Southampton By Cruise Ship
If you visit Southampton for one day on a cruise, you should be able to walk to the city center from your ship, depending on which terminal it arrives into. The City Cruise Terminal and the Ocean Cruise Terminal are closest to the city center. If you arrive at Queen Elizabeth II Cruise Terminal or Mayflower Cruise Terminal, it's about 30 minutes to walk so you may prefer to take a taxi.
Southampton By Car
Southampton has good links with the M3 and M27 motorways, which makes it easy to drive to and there are lots of car parks located in the city center.
If you're driving to Southampton for a cruise, then you should arrange your Southampton cruise parking in advance to get the best deal.
Southampton By Train
Southampton Central train station is served by direct trains from all over England. It takes around 1 hour 20 minutes from London Waterloo and 2 hours 30 minutes from London Victoria. There are also direct trains from as far as Oxford, Birmingham, and Manchester.
Southampton by Plane
Southampton International Airport is around five miles from the city center. There are regular buses and trains that connect the city center of Southampton with the airport, or you can take a taxi or Uber.
Where to Stay in Southampton
Budget: If you just want somewhere to rest your head, Southampton's Holiday Inn is ideally located in the heart of the city center and is right by the City Cruise Terminal.
Mid-Range: Moxy Southampton is a modern and quirky, conveniently located boutique hotel. Located next to the Westfield Shopping Centre this fashionable hotel has a video wall in the lobby and hand-written messages on whiteboards everywhere.
Luxury: When only the best will do, why not check into the Southampton Harbour Hotel & Spa? Designed to look like a superyacht and located on a private marina this contemporary hotel has stunning views towards the Isle of Wight.
Enjoy Your Day in Southampton, England!
Ideal for day trips, Southampton is compact enough that you can explore it all on foot. It's also pretty flat and so is accessible for wheelchair users and those exploring with babies.
Oftentimes when cruise ships call into Southampton, passengers may take excursions to London or the New Forest National Park. However, if you've never been to Southampton before, then I highly recommend it as a place to spend your day ashore.
Whether you visit before, during, or after a cruise, or just want somewhere interesting to visit for a day out, Southampton is a wonderful historic English city to explore.
About the Author: Jenni Fielding is a cruise blogger from the UK who loves to cruise from Southampton with her children. She offers lots of cruise tips and advice on her blog CruiseMummy.co.uk as well as on Instagram and Facebook.
Found this One Day in Southampton itinerary helpful? Pin it to easily read again later!