Things to Do in Stockholm for the Perfect Day
Spending one day in Stockholm, Sweden, is no easy feat since there are so many things to do and see while in Stockholm. This can make it hard to narrow it down. Luckily for you future travelers to Stockholm, Eva Grosso is sharing her tips for spending one day in Stockholm on the blog today. I'm so excited to have her sharing her itinerary ideas and other travel tips for the city since she is a fellow travel blogger based in Sweden and has lots of first-hand knowledge on the city. Read on for her top tips!
How to Spend One Day in Stockholm
by Eva Grosso
Stockholm Trivia to Know
To begin, here are some facts about Stockholm you might not know.
Stockholm is the capital city of Sweden. One of the largest cities in northern Europe, it is sometimes referred to as the capital of Scandinavia. Stockholm is home to nearly one million people, thus making it the Nordic capital with the largest amount of inhabitants.
This Swedish city is also known as the "Venice of the North," a nickname shared with other northern cities that lay on canals or islands just like the Italian city of Venice they are named after (another famous "Venice of the North" being Amsterdam).
Stockholm stretches over 14 islands located at the meeting point between the Baltic Sea and Lake Mälaren. A greater number of islands stretches further out into the Baltic Sea and is known as the Stockholm Archipelago. It is a beautiful sight when coming to Stockholm by ferry, as the density of the islands becomes greater and greater as you sail through the archipelago until you make it to the actual city of Stockholm.
Can You Really See Stockholm in One Day?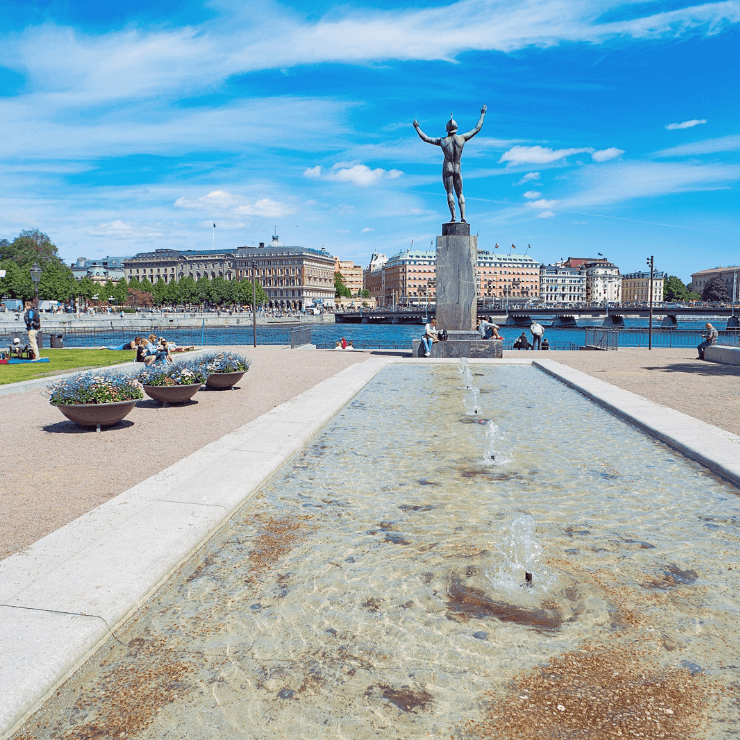 Despite being fairly extended, the city's main sights are all at walking distance and mostly concentrated on the islands of Gamla Stan and Norrmalm. While it would be good to spend more than a day in Stockholm to explore the more remote corners, visit the museums, and generally get a deeper feel of the city's many moods, if you have only one day for exploring Stockholm you will still get a glimpse of some beauty and quite a lot of sites. I have experienced myself the city as a day trip destination and I promise it is absolutely doable.
Getting To and Around Stockholm
Stockholm is served by three airports (the main one being Stockholm Arlanda, about 25 miles away), two sea ports and one main train station, Stockholm Central Station. This is where most train and bus routes converge, as well as where airport shuttles will drop you off. As the name suggests, the Central Train Station is located in the very heart of downtown Stockholm, making it the perfect place to start exploring.
One Day in Stockholm Itinerary
Start Your Day in Gamla Stan
The first area worth checking out during your one day in Stockholm is definitely Gamla Stan. Located on one of the smaller islands, it is the historical city center.
Most famous for its narrow cobbled street and old palaces, Gamla Stan is the place where you can get to experience a certain medieval feel. This is the perfect place to get lost roaming the small streets.
Don't miss Stortorget, the oldest square in Stockholm, for some pretty architecture. This square hosts a famous Christmas Market when it's that time of the year.
Other notable sights on Gamla Stan include the Nobel Museum, Riddarholmen Church and the Royal Palace – which is not the private residence of the Royals of Sweden, but it's the King's workplace.
Gamla Stan could be the priciest neighborhood for a meal in town, but you can always find a good deal. Sometimes the price tag may include some pretty unforgettable and unique experiences that go along with the food. One such dining experience is the one you can get at Aifur, a Viking-era themed restaurant. If you want to taste moose or reindeer meat but prefer to skip the Viking part, head to Slingerbulten. For a cheaper bite on Gamla Stan you can choose 7-eleven, or wait until you get to a cheaper area (namely, Södermalm, or a food market on the northern side of town).
Things to Do in Södermalm: Stockholm's Hip Neighborhood
When you're done at Gamla Stan, proceed south and cross the bridge into Södermalm. Södermalm is a more hip area of Stockholm. This is the place for you if you are into independent restaurants, second hand shops, hip cafés. Just follow the (uphill) Götgatan and stop wherever you feel inspired for food or shopping.
While there I also recommend you walk to Monteliusvägen for the finest view of Kungsholmen and the City Hall, as well as of part of Gamla Stan, where you can make out the peculiar rooftop of Riddarholmen church. Södermalm is an excellent location for great bird's eye views of Stockholm, as there is another one just as good, the Katarina Elevator. Although the elevator is out of function, the building and upper terrace are accessible through a walk around that ultimately leads up to its top. Access is free and the view is really worth the uphill trek.
The Perfect Break During Your One Day in Stockholm
Remember that the Swedish people love to indulge on "fika" time, that is a break from work to enjoy a cup of coffee, something sweet and just the pleasure of human interaction.
This is something I love to introduce my friends to, and it is exactly what I did when I met up in Stockholm with some friends from abroad last year. Particularly in the colder season, nothing beats checking into a café and letting coffee and friendship warm you up from the inside.
On my first one day trip to Stockholm I actually skipped Södermalm and explored more of the other areas, so if you are short on time just check one of the panoramic points and move on.
Getting to Know Stockholm's Islands
If you fancy some views of Stockholm from the water, I strongly recommend you take a ferry from Slussen (the boat stop is called Slussen kajen).
These ferries are part of the public transportation network and are included in a day pass, if you bought one for the metro and trams. You can choose to travel to Djurgården (stop "Allmänna gränd"), the island with the greatest concentration of museums, including the Skansen, an open-air museum, the Vasa Museum, the Nordic Museum and the ABBA Museum (oh, yes — that ABBA).
Alternatively, you can take a ferry to the stop Strömkajen. Cross the bridge into Skeppsholmen. The Skeppsholmsbron is another pretty famous landmark that will provide for some great photo-ops of a different side of Gamla Stan across the water.
Flowers and Food in Kunsträdgården
As your time in town might be shrinking, you might want to experience a more lively side of Stockholm and maybe find another place to eat. If coming from Skeppsholmen, don't miss Kunsträdgården – famous for another Christmas Market during Advent, as well as for Stockholm's own sakura, as this small park is lined with cherry trees that blossom in the (late) spring and paint the whole area pink.
A One Day in Stockholm Happy Hour in Drottninggatan
Locate Drottninggatan and head there. It is a long pedestrian street that is the heart of downtown Stockholm. This is the place to head to for some shopping, as the street is filled with shops. You can stop by any café for some fika, and I particularly recommend the "Muffin Bakery" on Drottninggatan 73. If you've had enough coffee and would prefer a beer on tap, you can take advantage of happy hour reduced prices on beer at pubs. Beer and alcoholic beverages in general are quite expensive in Sweden, but happy hour deals create opportunities for a cheaper chance for a brew.
If you are only spending one day in Stockholm you may not stay long enough to enjoy the nightlife, so the right time for a beer could actually be the late afternoon! Even if staying the evening, budget might be an issue and you may not want to spend a fortune on drinks. This is another excellent case in which happy hour deals might just be the right thing for you. Luckily many pubs offer this option on weekdays, generally between 4pm and 6pm.
More Options for Where to Eat During Your Day in Stockholm
From Drottninggatan, make a right on Kungsgatan and reach Hötorget. This is where one of the most famous food markets of Stockholm is located. It's called Hötorgshallen and it's renown for having food from all over the world on sale.
It has several food spots, too, so I highly recommend it for an informal lunch. There is another food hall, of historical relevance as it was the first one to open in town in 1888, called Östermalms Saluhallen. It's just one metro stop away and reachable on foot from Hötorget. This food hall is currently under renovation and will reopen later this year. I haven't visited it before it closed for works and I am very much looking forward to visiting the renovated place once it re-opens to the public!
One Day in Stockholm Bonus Thing to Do
If the weather is really bad but you still want to explore during your one day in Stockholm here's a little-known secret that is fun to do that I recommend: a tour of its metro stations.
Stockholm's metro stations have been described as true underground art galleries and they can be the best place to explore on a day cursed with torrential rain. That is something that can be easy to expect as the weather in Sweden can be quite unpredictable and massive downpours can happen even in the summer. While the winter months generally have quite high rates of precipitation (in November it's mostly rain, while from December until February it usually snows), Swedish summers are known for their typical episodes of rain, so don't let the rain surprise you especially if visiting in the summer.
In any case, if you're only transiting through Stockholm on your way to or from another destination and you still want to spend some time in town despite not being equipped for the weather, exploring its metro stations could be an original way to pass the time in the Swedish capital. All it takes is a subway ticket and a plan.
While I haven't seen them all yet, my personal favorite station is Solna Centrum, with its red ceilings. But to everyone their own – head to Stockholm to find your favorite station and other landmarks!
About the Author: Eva Grosso is a photographer and food enthusiast based in the middle of Sweden. You can read more of her travel and food adventures on her blog, Electric Blue Food, or by following her on Instagram and Facebook.