A 1-Day Itinerary for the Perfect 24 Hours in Taipei, Taiwan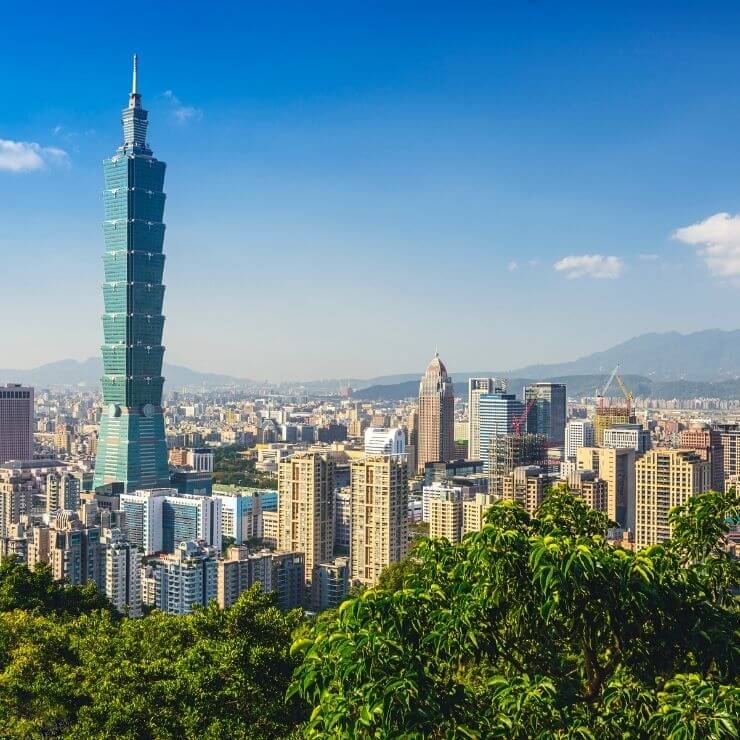 Taipei, the capital of Taiwan, is undoubtedly one of Asia's most dynamic destinations. Spending just one day in Taipei is certain to provide you with a tantalizing sample of life in this global city and incredible country. A heady mix of the modern and traditional combined with a unique local cuisine will leave you wanting more.
This One Day in Taipei itinerary will help you make the most of your time in the city so you can see the top attractions and taste the best cuisine even if you have less than 24 hours to do so.
Getting Around Taipei
Taipei offers both a modern metro system (MRT) and extensive bus network to help you reach all the main attractions.
However, for those with just one day in Taipei the MRT is the quickest and therefore best option. Each attraction highlighted below in this Taipei itinerary will have details on how to get there via the MRT.
Taipei MRT
Opened in 1996 and with a number of extensions over subsequent years, Taipei's MRT system must be one of the world's most modern and cleanest networks.
With areas clearly marked on each platform in which to queue it must also be one of the world's most polite. No need for constant requests to allow people off the train first here! And with announcements in English as well as Mandarin you will be able to understand such requests.
Comprising 131 stations over six separate lines and open from 6 a.m. to midnight seven days a week, Taipei MRT provides visitors with ample opportunity to reach all parts of Taipei and its suburbs.
Taipei MRT Cost
With just one day in Taipei and a number of destinations to reach the
only ticket option to plump for has to be the 24 hour pass. Providing
unlimited travel across the network for NT$180 equivalent to around
£5.00 or $6.00 this is fabulous value for money.
One Day in Taipei Itinerary
Now for our itinerary that will give you a cultural and fun day in Taipei!
Chiang Kai-shek Memorial Hall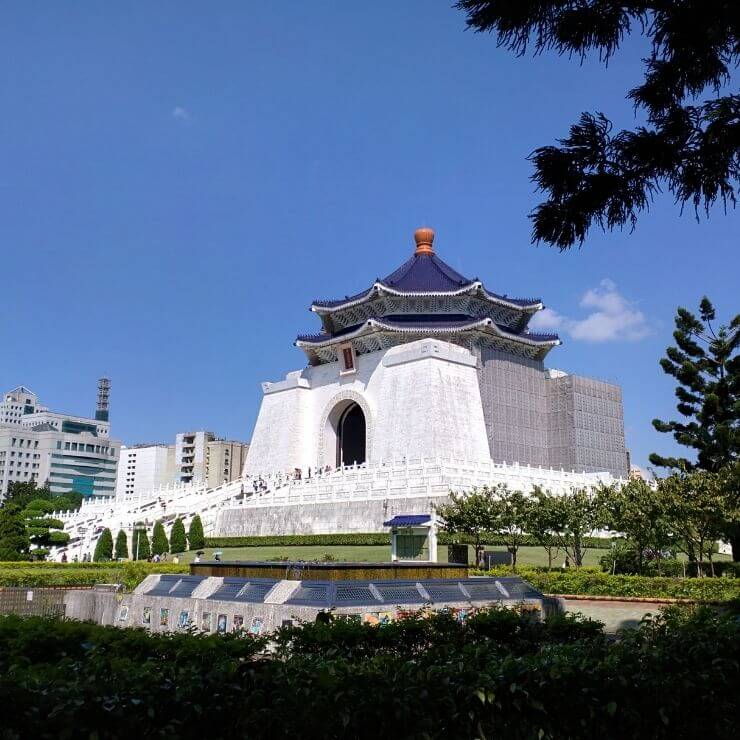 The best way to start your one day in Taipei is to head to Chiang Kai-Shek Memorial Hall, Taiwan's most significant national landmark.
Dedicated to and named after Taiwan's first President, this impressive monument is situated in the south of the city. With its own MRT Station on both the green Songshan-Xindian and red Tamsui-Xinyi lines, it is easily accessible from across Taipei.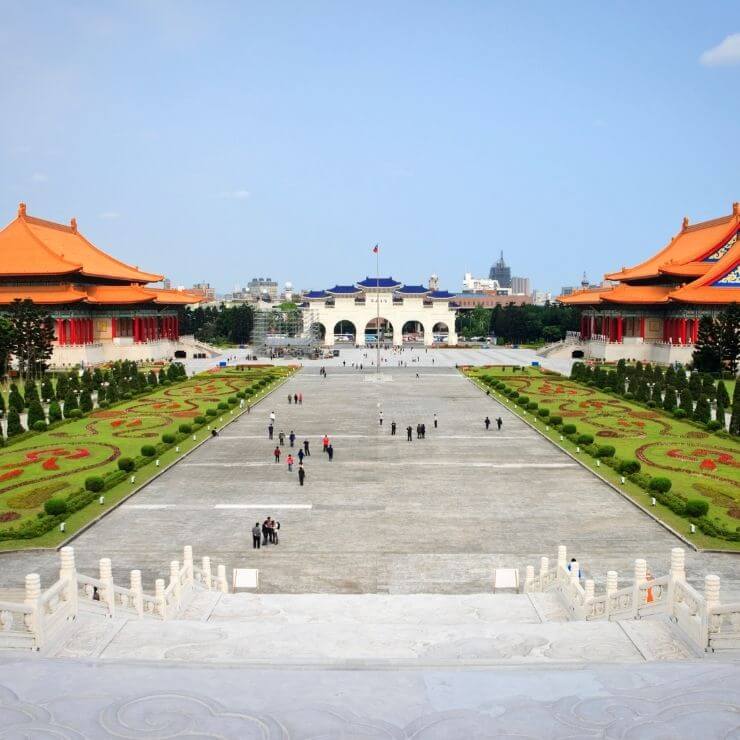 Upon leaving the station, head first to the grand main gate, which is a fitting entrance to Liberty Square and the Memorial Hall itself.
Reached via two flights of 89 steps representing the age of Chiang Kai-Shek at the time of his death, the bright white Memorial Hall stands prominently against the blue sky beyond. The octagonal blue roof, a design similar to the modern Taipei 101 skyscraper (covered below), uses the symbolism of the number eight, a number in Chinese culture that is associated with good fortune.
Changing of the Guard
Before you leave the splendor of Chiang Kai-Shek Memorial Hall you must
see the unique Changing of the Guard ceremony. Held in the hall in front
of the imposing statue of Chiang Kai-Shek himself, this ceremony takes
place on the hour from midday to 5 p.m. each day.
Unlike its more famous London cousin, this Taiwanese version of the Changing of the Guard involves a lot more drama and theatrics. Two more guards bedecked in fine white uniforms enter the Hall accompanied by a senior officer. They don't just walk or march though. Their leg and arm movements are very definite and abbreviated, a staccato display more akin to elaborate dance moves.
Taipei 101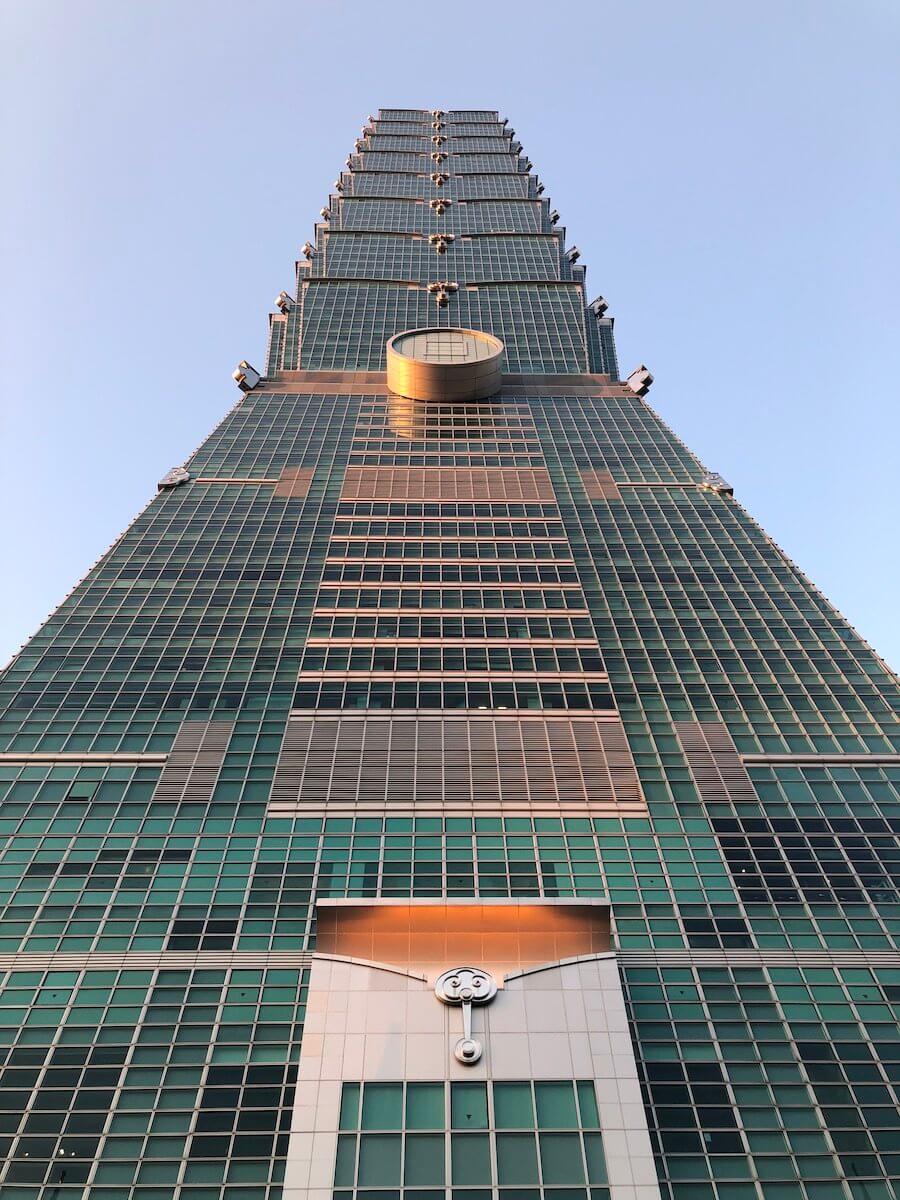 The next stop on your One Day in Taipei itinerary takes you from the grandeur of the Chiang-Shek Memorial Hall to a modern and world famous landmark: Taipei 101.
To get to Taipei 101, return to the MRT station and on the red line head west toward Xiangshan alighting at Taipei 101/World Trade Centre.
Taipei 101 was completed in 2004 and is one of the world's tallest building with arguably the most beautiful skyscraper design. It has a blue-green facade rather than the more standard glass finish and a design echoing influences of Chinese culture.
Taipei 101 Observatory Deck
Taipei 101's observatory deck situated between the 88th and 91st floors and is 382 meters high. It is the city's most visited attraction.
Do what you can to time your one day in Taipei with a clear sunny day to enjoy the 360˚ panoramic views across the city to their fullest.
Taipei 101 Mass Damper
In a country such as Taiwan, any skyscraper design must withstand the power of earthquakes and typhoons. This is where the mass damper enters the fold.
This 5.5m wide, 660 tonne weight is suspended internally and is a popular attraction in its own right. It even has not just one but four mascots of its own.
The damper is incorporated within Taipei 101 to allow it to sway and move in accordance with the wind or ground tremors. In 2002 Taipei was hit by an earthquake with a magnitude of 6.8 and in 2015 a typhoon caused a one meter sway in the damper. Incredibly Taipei 101 suffered no damage after either incident.
Din Tai Fung Dumpling Restaurant
After experiencing two distinctly different Taipei attractions it is most definitely time for lunch.
Return to the ground floor of Taipei 101 and the four floor shopping center at its base. While the food court contains numerous fast food restaurants don't consider anything other than the Din Tai Fung Restaurant.
Now boasting branches in countries across the world, Din Tai Fung is generally considered to be one of the world's best restaurants.
Its most famous dish and Taiwan's most popular is Beef Noodles Soup. Order one of these accompanied with a selection of dim sum and you can't fail but be impressed. It's a perfect meal choice to boost your energy levels before moving on to the rest of your one day in Taipei itinerary.
Elephant Mountain View of Taipei 101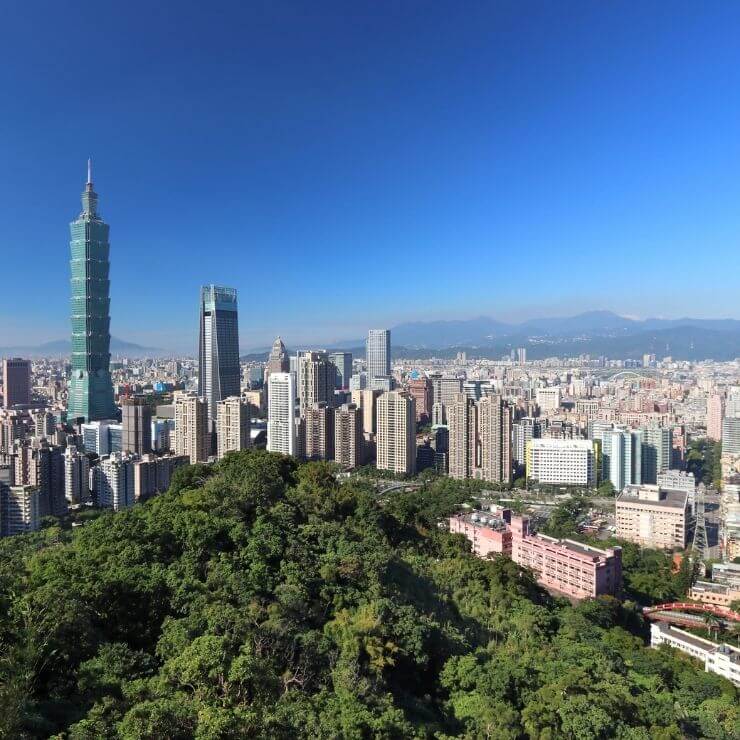 To complete your visit to Taipei 101 you simply must head to Elephant Mountain. From here you'll obtain the best view of the building itself.
The 15 to 20 minute walk east toward Xiangshan Station and the hiking trail beyond will also help you work off that hearty lunch you had! Which is also good because we've got more foodie deliciousness in store for you…
Raohe Street Food Market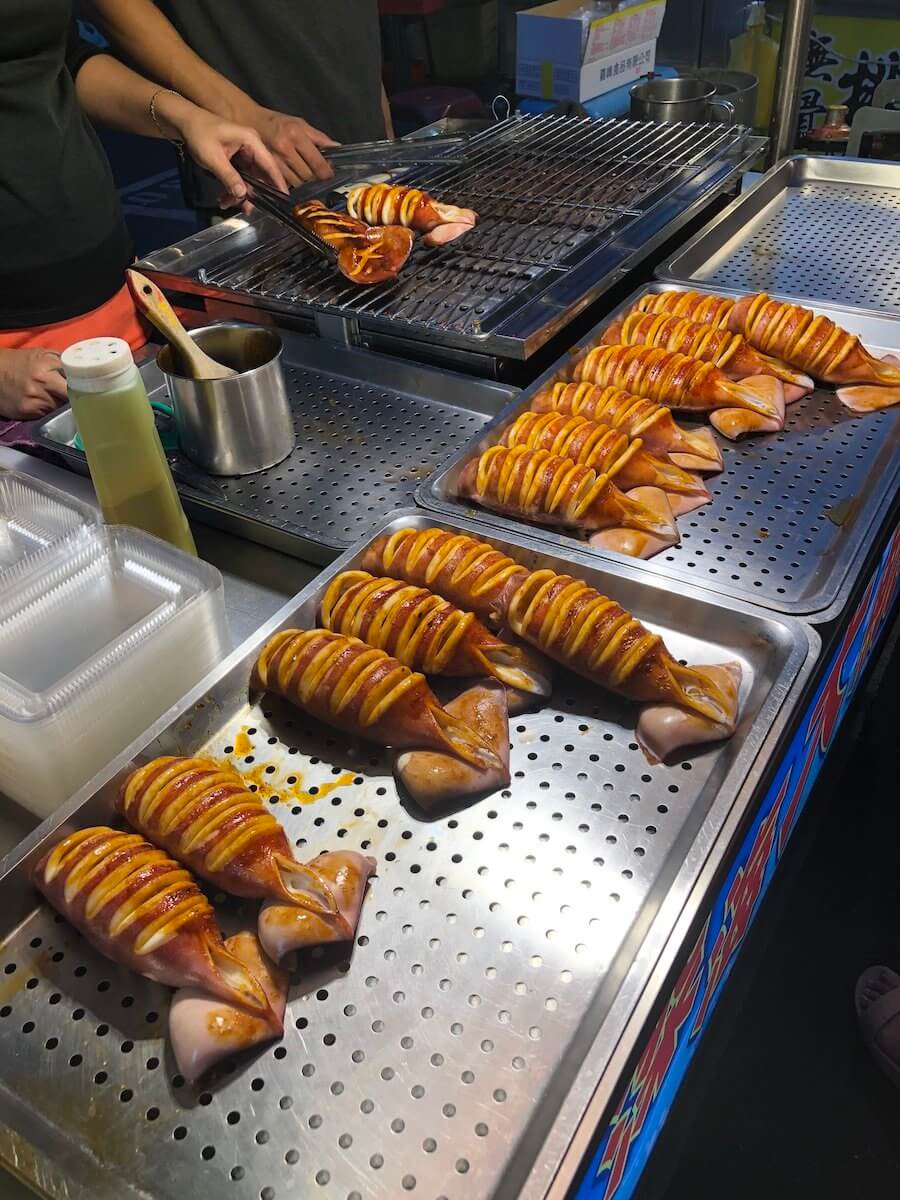 Taiwan celebrates its cuisine and street food markets perhaps more than any other country in Asia, and Raohe Street Market is Taipei's most famous.
To get there from Elephant Mountain and the glorious views of Taipei 101, return to the MRT network. Change at Daan on to the brown line and then Nanjing Fuxing on the green line; the journey to Songshan will take around 40 minutes. The entrance to the market is then just meters away.
Running for approximately 250 meters down Raohe Street, the market comprises two rows of stalls all offering a selection of delicious fast foods.
Highlights include fried chicken cutlets, served on the bone with a choice of toppings and some of the tastiest pork sausages you'll come across anywhere.
Stinky Tofu
Amongst the many incredible foods and smells you will inevitably at some juncture be hit full force by the unique aroma of stinky tofu. This pungent odor is unmistakable and is unlikely reminiscent of any food item you've eaten before.
Stinky Tofu is one of Taiwan's most popular 'delicacies', but was not a food experience we could bring ourselves to try, but maybe you'll be more adventurous and want to give it a try!
Ximending
After satisfying your appetite at Raohe Street the next and final stop on your one day in Taipei itinerary must be the district of Ximending.
Taipei's shopping and entertainment district of Ximending is located in the west of the city and is similar to Tokyo's Shibuya area.
From Songshan MRT Station head west on the green line, alight at Ximen Station and then leave via exit 6.
Ximending is Taipei's first pedestrianized area, and it is the ideal spot to end your day with numerous shopping opportunities, theaters, concert venues, and bars.
Should you still be hungry or have changed your mind and want to sample
some stinky tofu after all, Ximending is also home to Ximen Night Market.
Enjoy Your Day in Taipei
This One Day in Taipei itinerary is certain to tick off all the standard tourist boxes. The tradition and history of the Chiang-Shek Memorial Hall, modernity of Taipei 101, cuisine and local delicacies offered at both Din Tai Fung and the Raohe Street Food Market, and the vibrant, youthful district of
Ximending will provide you with the best way to celebrate and look
back on a truly fabulous day.
Found this article helpful? Share on Pinterest!
About the Author: Paul is a blogger at thetwothatdo.com, which he runs with his wife Nicki, where they share travel stories, photographs, and experiences to help motivate you to strive for your own travel goals. You can follow them on Instagram and Pinterest.