Just 24 Hours in Tokyo? Here's What You Should Do and See
Looking for a perfect and easy to follow Tokyo itinerary if you only have one day to spend in the city? You're in the right place. Anne Sutherland-Smith is a Japan travel planning expert who is here to share her top tips for what to see and do in Tokyo when short on time.
One Day in Tokyo by Anne Sutherland-Smith
If you only have 24 hours to explore Tokyo in Japan and want to make the most of your short time then here is my recommended itinerary! If you can spend more time in Tokyo that would definitely be my recommendation, but plan ahead and you can certainly hit the highlights in a single day.
Morning: Where to Begin Your One Day in Tokyo
Toyosu Fish Market to see the Tuna Auction
Getting to Toyosu Market to see the famous Tuna Auction means a very early start, but definitely a worthwhile experience! You need to get to the Toyosu Market Tuna Auction Building by 5:45 a.m. Note that this option is only available on selected days.
You can watch in the public viewing area without making prior arrangements; however, if you can plan ahead I definitely recommend that you apply for the limited ticket tours which enable you to access the closer (and open air) viewing deck.
There are options to apply online each month which are usually open for only the second week of the month. Click here to find out more about how to apply.
There are also English language guides in both areas to help explain what is happening.
The tuna auction takes around one hour from start to finish, and you can leave any time you like.
Sushi Breakfast in Tokyo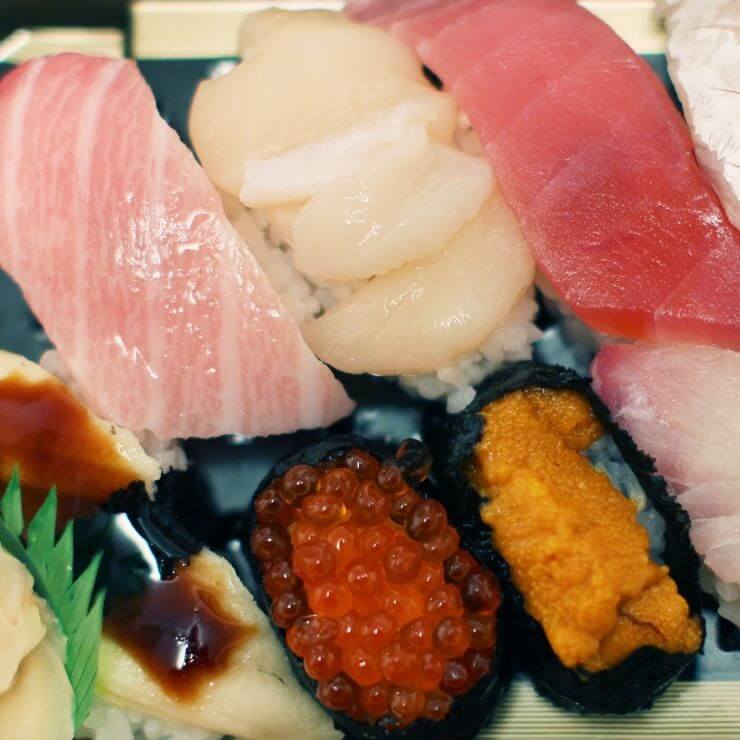 You may not realize that a popular time to eat sushi in Japan is for breakfast!
And after seeing the very fresh tuna on display, close to Toyosu Market is one of the best places to have this experience. Many sushi restaurants offer a set menu which is determined by the chef, while other locations offer the option to select your own.
If you are looking for a premium experience we definitely recommend that you visit Daiwa Sushi – it is located at Toyosu Market in an out of the way nook. When you arrive you will see many businessmen and other locals enjoying a breakfast of amazing sushi.
We really enjoyed the set menu at Daiwa Sushi, which costs around $US50 per person. Note that Daiwa Sushi is open from 6am to 1pm on most days except Wednesday and Sunday and is cash only.
If you are on more of a budget a great alternative is to travel the short hop by bus to Tsukiji Market and visit the Sushizanmai restaurant – it is open 24 hours each day so is a great option. They are set up like a sushi train restaurant, but of a much higher quality than usual.
We really enjoyed the sushi at Sushizanami and it was a great place to take our children. You can also choose how much you order so you can either have a sushi snack or a full meal.
After enjoying your sushi, take some time to wander around Tsukiji Market – there is a lot to see and experience!
Aim to finish in Tsukiji Market by mid to late morning – and save some appetite for your next stop!
Afternoon Things to Do in Tokyo
Nakamise Street in Asakusa
Your next stop is to catch the train to Asakusa Station on the Asakusa Line.
Your first stop is to visit the Asakusa Culture Tourist Information Centre and take the lift to the top floor where you can see the view over Sensoji Temple and the Nakamise Shopping Street which leads up to the temple. This is a free activity. While you are there, pick up a map of the area and get ready to explore.
If you would like to wear a kimono during your Tokyo visit this is the place to do it; there are many shops advertising kimono rental options in the area. It is a great experience to be dressed at the rental shop and then explore the area.
I recommend that you start at the Kaminarimon Gate, with its amazing lantern and entry gate, and then start meandering up the street. Make sure you stop and buy treats along the way to enjoy the local delicacies. Look for unique ice creams, melon pan bread, fresh strawberries and much more!
To properly explore the are make sure you visit some of the side streets as well as you progressively work your way towards Sensoji Temple.
Sensoji Temple in Asakusa
After you arrive at Sensoji Temple, take your time to explore the lead up and view of the main temple.
Sensoji is a Buddhist temple and is Tokyo's oldest temple, having been first established in 645 AD. The current temple was built after World War II, when the previous temple was destroyed.
Take your time to wander into the temple and along the grounds around the temple. You can easily spend one to two hours here exploring.
Evening Options for Your Day in Tokyo
Shinjuku
Shinjuku is famous for its nightlife so it is an excellent option for where to finish your day in Tokyo.
Start by catching the train to Shinjuku Station. Head for the West Exit, and then head north to the Kabukicho area. Start by walking towards the Hotel Gracery and walk along Central Road – watch out ahead for the massive Godzilla Head! Usually there is a regular show involving smoke, lights and music.
A great experience in Kabukicho is the Robot Restaurant, which is only a short walk. Make sure you check the show timings ahead of time, and pre-book your tickets. You may also be able to purchase tickets at the door, but it is a very popular and crazy show so it is recommended you try to get tickets ahead of time.
After watching the Robot Restaurant show, next head towards the Golden Gai area – a section with tiny bars and restaurants. Note that many of the establishments do not accept non-Japanese speaking visitors – do not be offended, just move on. Take your time to try out different bars and food options for as long as you want!
If you want to dance, there are many nightclubs and hostess bars in the area, just be careful of touts and make sure you stay safe.
Getting Around Tokyo
If you are only in Tokyo for one day I recommend that you plan to purchase a Welcome Suica Card to get around the city.
The Suica Card includes all local public transport including trains and buses around Tokyo, and can also be used to pay for your transport from and to the airport.
The Suica Card is a tap on tap off card where you get a starting amount of credit, and then just top it up as you need to at any train station.
Also, if you plan to visit Toyosu Market make sure you carefully check Google Maps to find out when the earliest time that public transport starts from your accommodation, as you may need to instead catch a taxi.
Found this article helpful? Pin to read again later!
About the Author: Anne Sutherland-Smith is an Australian travel blogger who blogs about Japan at her Japan Travel Planning website. She also runs the very popular Japan Travel Planning Facebook Group which has over 100,000 members, which aims to help people plan their trips to Japan.