What to Do in Ushuaia in 24 hours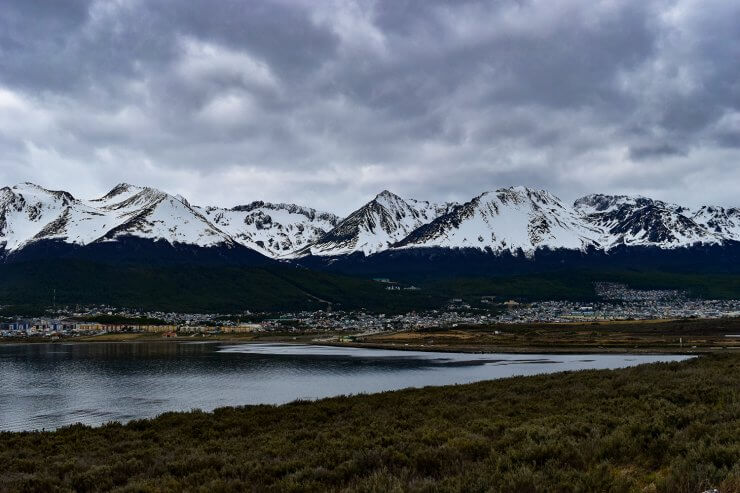 Ushuaia, Argentina is a nature lover's paradise. As one of the last places you'll hit before reaching the end of the earth (i.e. Antarctica), Ushuaia serves as the gateway for cruisers, backpackers, and other travelers to explore southern Argentina and Patagonia.
With such a sprawling wonderland to discover, visiting in just a day is different from other cities where it's go, go, go from one landmark to the other. That's why this one day in Ushuaia itinerary guide is going to give you four different ways to spend your day in Ushuaia, and you can choose which one makes the most sense for your interests and budget. Plus, this guide has some additional ideas if you find yourself with extra time, along with where to eat and spend the night.
About Ushuaia
First though, a little background on Ushuaia and what makes it such a special place to visit.
Ushuaia is known as the city at the end of the world.
The world's southernmost city, it stands at the threshold of the stunning Tierra Del Fuego National Park, and is the perfect starting point for your Patagonia travel itinerary.
Ushuaia is a city of quaint charm surrounded by the dramatic landscapes of southern Patagonia. Characterized by its colorful churches and old corrugated iron houses, it is nestled on the shores of the Beagle Channel against a backdrop of towering snow-peaked mountains at the extreme south of the Andes.
The city has a unique place in Argentina's history, having been founded by British missionaries in the 19th century in a region populated by ancient indigenous tribes. Its location has also made it a prominent base for navigation and a historic site for nautical exploration.
Today Ushuaia is a vibrant port city and a compelling place for the curious, adventurous traveler. There is plenty to explore within the city limits, and you don't have to travel far beyond to find some spectacular options for easy day hikes.
Best Time to Visit Ushuaia
The flow of tourism in Ushuaia coincides with the Patagonia hiking season, which runs from October to April. December, January, and February are the peak summer months. As the city is in the region's far south, its climate is colder than average, and so it's best to visit between November and March for ideal weather conditions.
During the winter months the weather is harsh, with temperatures hovering around freezing from May to August. Outdoor activity options are limited during this time, but there are some benefits: snowfall around the city makes it a particularly beautiful time to visit, tour prices are cheaper, and it's much less crowded.
Four Types of Itineraries for One Day in Ushuaia
Many of the activities in and around Ushuaia require at least a few hours to experience. If you only have 24 hours to spare before moving on to your next destination, then it's best to pick just one or two things to do. Here are four options to consider for how to spend your day in Ushuaia.
Explore Ushuaia's Turbulent History
For more than half a century, Ushuaia was the site of a notorious prison that housed dangerous criminals and political prisoners sent from Buenos Aires. The prison closed down in 1947, but the building has been maintained and repurposed as the Maritime Museum of Ushuaia.
The museum hosts four separate, in-depth sections on nautical history, marine art, Antarctica and the old prison. One wing of the building is preserved in its original conditions. Here, you can wander through the bleak corridors and cells for an insight into how the inmates lived.
You will find the museum on the east side of the city at the end of Gobernador Paz. An entrance ticket costs 1,100 pesos and is valid for two days. The collections are vast, and you can easily spend several hours or even a full day exploring.
A short walk down to the waterfront and along Avenida Maipú you will find Museo del Fin del Mundo, which is a much smaller, focused museum. It explores the region's natural history and the earliest civilizations around Ushuaia, displaying artifacts from indigenous communities.
If you still have some time left, you can head over to the western end of the waterfront and visit Casa Beban. This century-old house was once home to one of the city's pioneers. It's free to enter and take a peek at how the Beban family lived.
Cruise the Beagle Channel and Ride the End of the World Train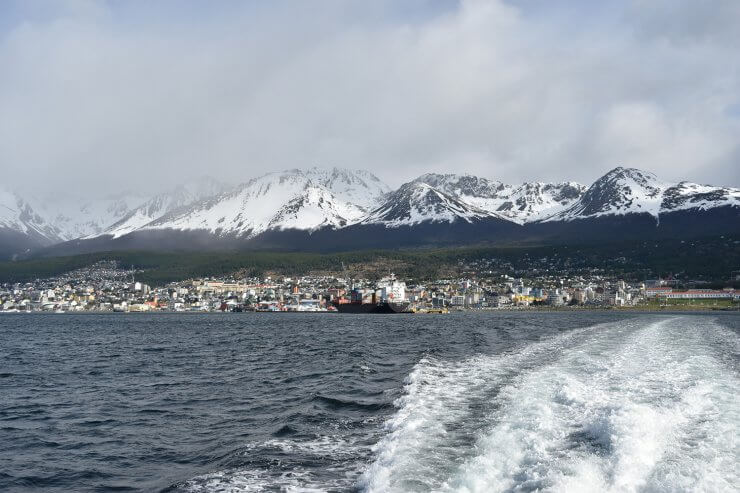 Ushuaia's scenery is what makes it such a special place. The best way to see it on a quick visit is to take a morning cruise out onto the Beagle Channel.
Not only will you see the city from a different perspective, but you will also encounter native wildlife on the channel's islands, including penguins and sea lions. Cruises from Ushuaia's port also sail past the iconic Les Eclaireurs Lighthouse, standing tall in red and white stripes.
It's possible to take a half-day cruise, allowing more time for other activities in the afternoon. Another option is to book a full-day cruise package that incorporates a visit to Estancia Harberton. This is the region's oldest farm, managed by the family of a British explorer since 1886, and features an on-site museum and restaurant.
If you choose the half-day option, you can use the afternoon to ride Tren Del Fin Del Mundo, the 'end of the world train'. An intrinsic part of the city's history, this old steam engine was once used to transport building materials between the prison and a nearby mountain, with labor from inmates. It's a scenic narrated journey that runs along the world's southernmost railway line. The last ride of the day is at 3 p.m.
Go Hiking in Tierra Del Fuego National Park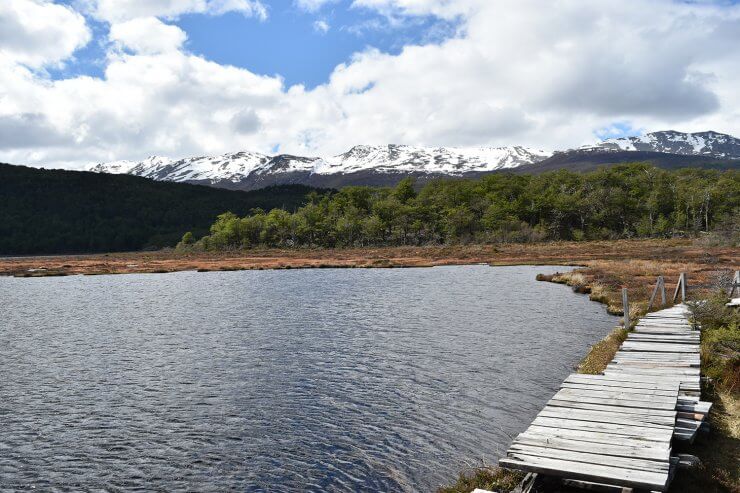 Ushuaia is the gateway to Tierra Del Fuego, one of Patagonia's great national parks. Within close reach of the city, it is a landscape of towering mountains, pristine lagoons and lush forestland that is rife with wildlife.
The entrance to the park is about seven-and-a-half miles by road to the west of the city. You can take a taxi, or a cheaper option is to take a shuttle minivan, which runs several times a day from the bus station on Avenida Maipú.
The shuttle minivan drops off at different locations within the park, giving access to a selection of gentle hiking trails. The first, near the entrance, is at the beginning of a 5-mile coastal trail through woodland along the Beagle Channel shore. There is also a drop-off at the Alakush Visitor Centre, which is a pivot for a range of short trails in a beautiful section of the park, and a nice place to grab a drink afterwards.
One option is to do the coastal path in the morning (which ends at Alakush) and then a series of shorter walks in the afternoon to Mirador Bahia Lapataia, the Black Lagoon and Mirador Lago Acigami. Bring a pack-up lunch to enjoy by the lake, and then get the return shuttle from Alakush to get back to Ushuaia in time for dinner.
Take an Alternative Day Hike for City Views
If you're a more advanced hiker and up for a tougher challenge, there are more options within close vicinity of the city. About four-and-a-half miles northwest by road you will reach the trailhead for a steep walk up to Glaciar Martial, where you can enjoy a stunning view back down to the city and out across the Beagle Channel.
From the trailhead it's a little over a 4-mile return hike up to the glacier, passing a cable car station on the way. It'll take about three to four hours at a steady pace, taking into account the fairly steep incline. Grab a cake and a hot drink at La Cabaña Casa de Té next to the car park when you get back down. If you start early, you can squeeze in a trip to the museum or End of the World train in the afternoon.
To the east of Ushuaia is another popular trail to Laguna Esmeralda, a shimmering green lagoon perched among rugged mountain scenery. The 10-kilometre return hike to reach it passes through stretches of wild terrain and ancient lenga forest. This hike requires a full day and you'll need to wear decent hiking boots, as the path can get boggy in places.
More Things to Do in Ushuaia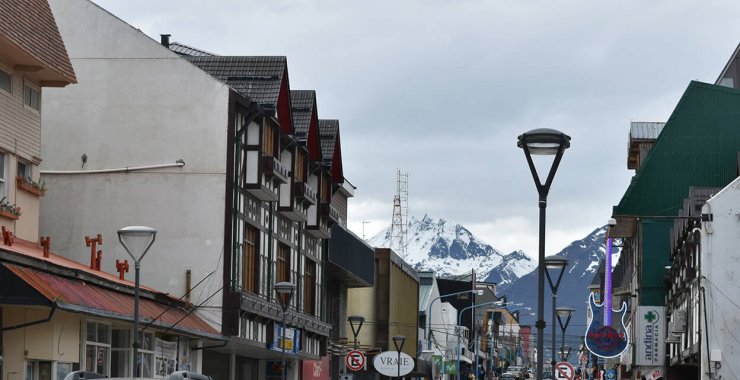 If you have any more spare time on your hands in the city, make sure you check out Avenida San Martin, the main shopping road that runs through the city center. This is an ideal spot to find a souvenir to take away, or stop for a drink or bite to eat.
Down on the waterfront you will also find the Feria de Artesanos, a craft fair near the bus station. A handful of market stalls here sell a range of craftwork by local artists.
As evening sets in, it's lovely to just take a walk up and down the promenade that stretches along the front of the Beagle Channel. The walkway is dotted with parks and gardens, as well as the city's famous 'Fin Del Mundo' sign. The lighting is incredible at sunset!
Where to Stay in Ushuaia
There is a pretty good range of accommodation options for different budgets in Ushuaia.
For a cheap but very basic base, you can stay at Patagonia Austral Apartments, located a short walking distance from the city center. This is a decent option if you're just looking for a bed, and you plan to eat in restaurants.
Hostel Torre Al Sur is a great budget option for self-catering. It's run by a friendly family and has great kitchen facilities and comfy beds in well-kept dorm rooms.
For something more comfortable and upmarket, Hotel Canal Beagle is a swish place in a great central location with awesome city views. It features an indoor gym and swimming pool, and is close to shops, bars, and transport links.
Where to Eat in Ushuaia
When you visit Ushuaia, you need to try some of the local seafood. The most popular spots – for good reason – are Kalma Resto and Kaupé. These are on the expensive side though; if you want a taste of Beagle Channel fish on a stricter budget, then head to Maria Lola Resto.
BarDpizzas is a good spot for a leisurely bite to eat at lunchtime. The pizzas are tasty and reasonably priced, and it has one of the best wifi connections you'll find in the city should you need to get some work done.
About the Author: Alex Trembath is the co-founder of Career Gappers, a blog that inspires and prepares people to take travel career breaks. He is a former magazine editor and has written about travel and career breaks for platforms such as Matador Network, Thought Catalog, and Inspirato. A lifelong travel enthusiast, he is a passionate advocate of the power of career breaks for wellbeing and personal development.
Found this post helpful? Pin to easily read again later!