Things to Do and See in Verona in Just 24 Hours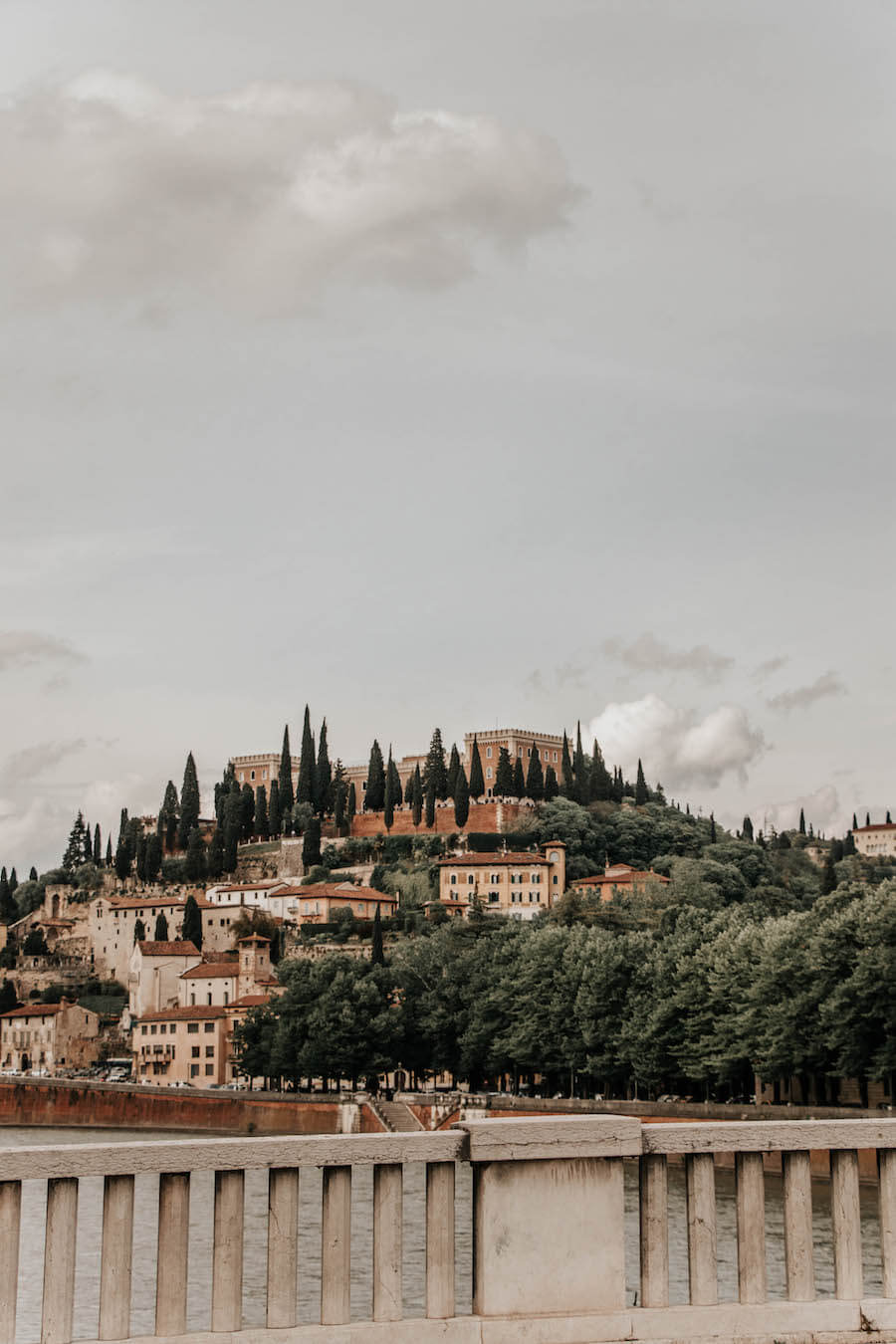 As soon as you step into the city center for your day in Verona, it feels as though you've stepped into a place of fairy tales.
The pastel pink and yellow hues of the buildings combined with the uneven cobblestones and romantic lull of the Adige River are storybook features of Verona that make you quickly see why this lovely destination is deemed Italy's City of Love.
Verona is famous for being the setting of Shakespeare's Romeo and Juliet, as well as the home of opera. The historic city center is easy to get around and is the perfect size for a day of exploring, whether you're spending 24 hours in Verona or just doing a day trip from Venice or Milan.
Read on for travel tips and a detailed, expertly put together itinerary for spending one day in Verona.
How to Get to Verona, Italy
Verona is located in the region of Veneto, only a 90-minute drive from Venice and about two hours from Milan, making it a perfect day trip from either city.
You can reach Verona by car and find ample free parking options at the edge of the city center. The easiest to reach and largest free parking lot is called Parcheggio Porta Palio.
Verona is also easily reached by train or bus. Trains leave from Milan and Venice nearly every hour of the day and companies like FlixBus have low-cost tickets between the three cities about five times a day.
One Day in Verona Itinerary: Top Things To Do
Now for the 24-hour Verona itinerary you've been waiting for! This travel guide breaks down all he top things to do with a day in Verona and the best order to do them in.
After the recommended itinerary, you'll find hotel recommendation plus a few more ideas for what to do in Verona depending on your interests.
Enter Castelvecchio & Cross the Beautiful Castelvecchio Bridge
Upon entering the city center of Verona, head first to the imposing Castelvecchio, a Scaliger castle and now a museum of famous Veronese works. This castle was the most significant military structure to the Scaliger family who ruled Verona dating back to the Middle Ages.
The Castelvecchio Bridge is completely fortified, the stone walls more than twice the size of the many tourists who come here to take a photo in this iconic landmark. The big and tiny windows over the Adige River are some of the best places to take in the pretty views of Verona.
Piazza Bra & Verona Arena
The main square in Verona is called Piazza Bra. This wide, open-air square is always bustling with people.
The most significant part of the square is the Verona Arena, a Roman amphitheater built in the first century. Not only is the structure still standing and one of the best preserved Roman arenas in the world, but it is still in use today to host special events and the operas that Verona is known for.
Eat Lunch at Signorvino Below the Clock Tower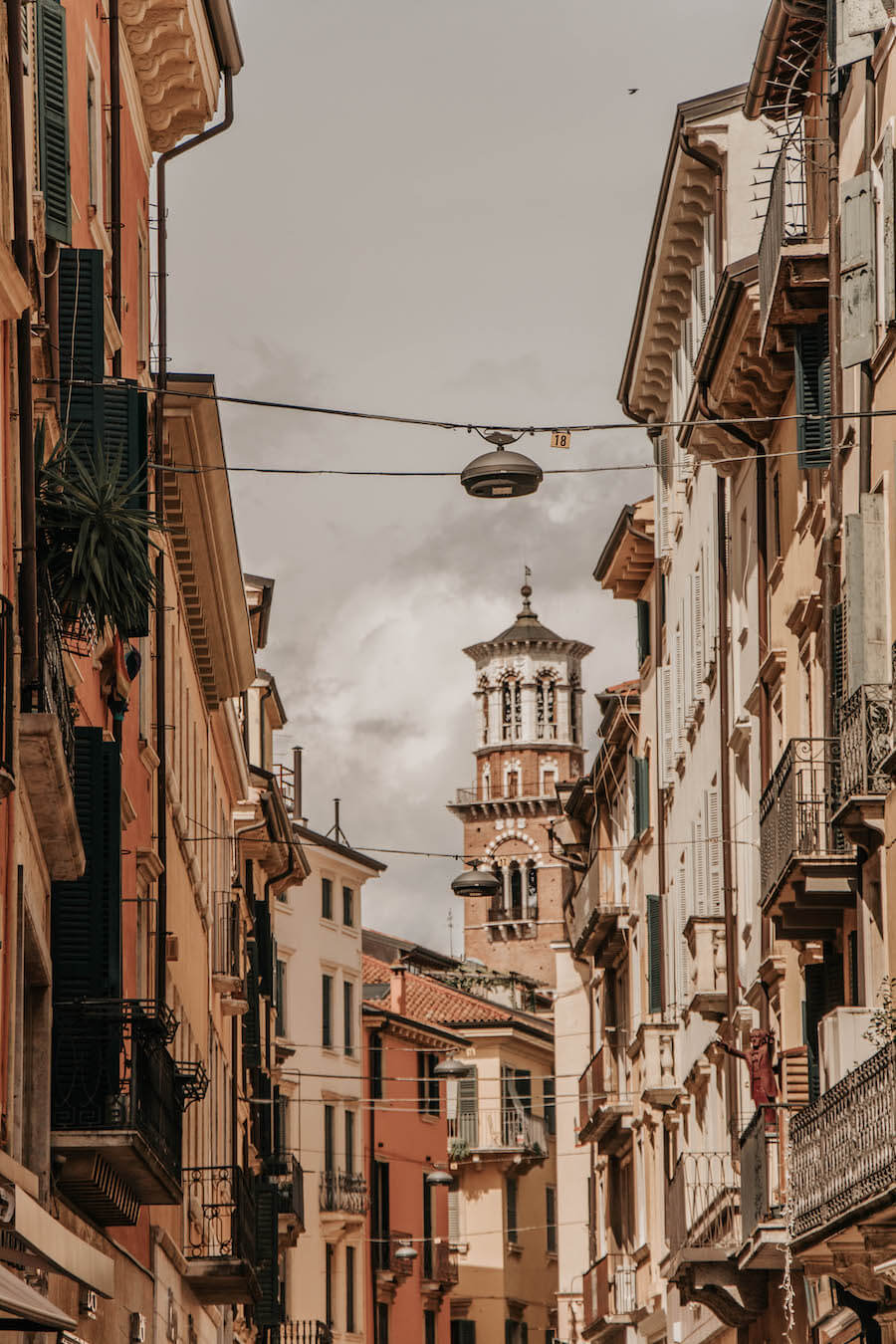 For a lunch boasting amazing views, Signorvino is the perfect spot. It offers homey, traditional dishes like Pasta alla Carbonara, but what it's really known for is the wide selection of regional wines from all over Italy, with suggested pairings for lunch.
The best thing about eating on this corner of Piazza Bra is you are right beneath the bell tower adjacent to the Palazzo della Gran Guardia. You can also see the Torre dei Lamberti, a historic tower with a large clock on one side, peeking out from behind the crowded rooftops as you enjoy your meal.
Other great restaurants in Verona include:
Osteria Il Ciottolo – Traditional Italian Dishes
Yard – Modern Michelin Star Restaurant
Torcolo – Traditional Italian Dishes
Verona's Lively Piazza delle Erbe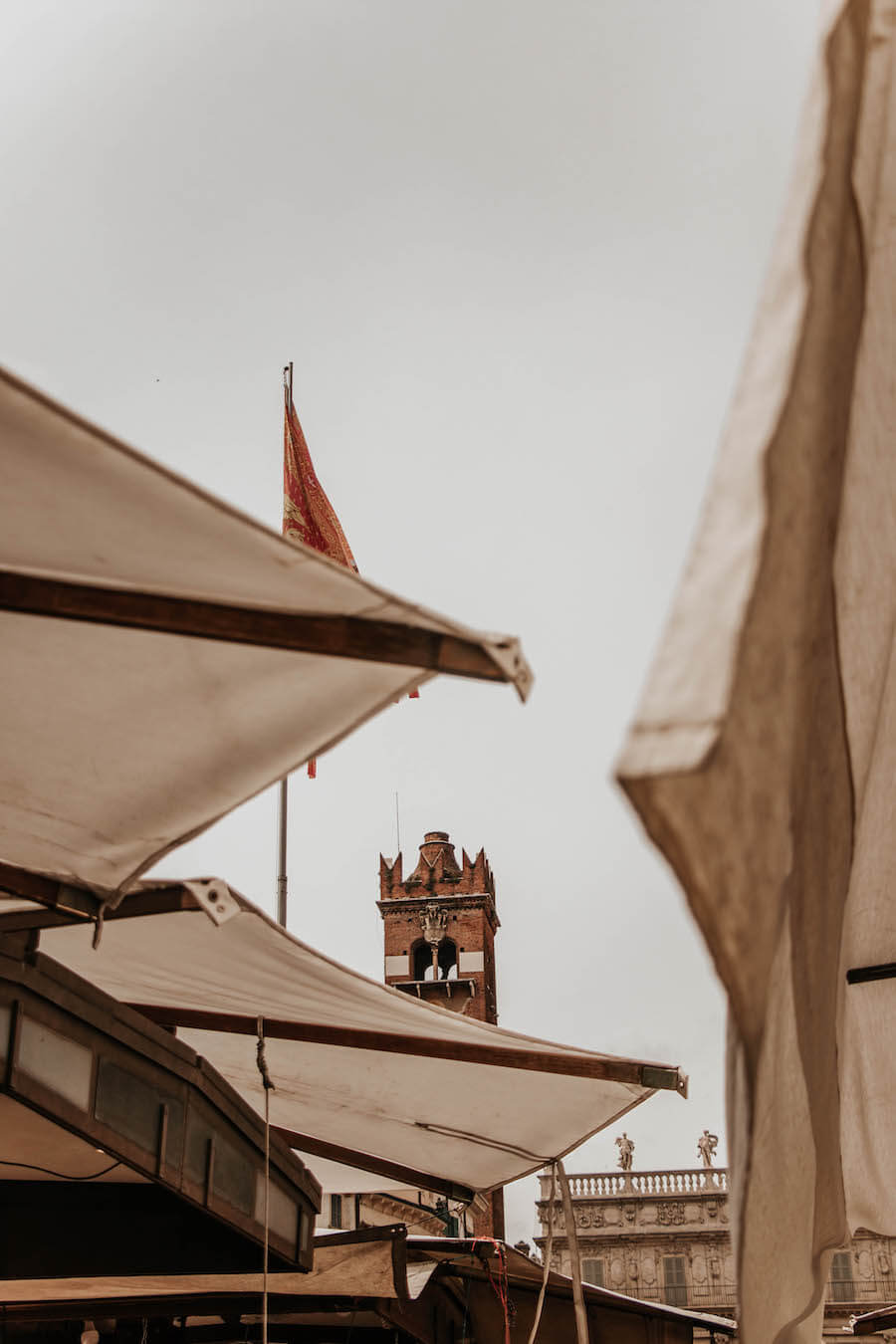 One of Verona's most unique spots to visit is the Piazza delle Erbe. While Piazza Bra is wide and grand, Piazza delle Erbe is crowded and chaotic – in the absolute best way.
The energy of Piazza delle Erbe, from the vendors at market stands to the Spritz-sipping locals at aperitivo, is invigorating and exciting.
Piazza delle Erbe is also a great viewing point for the famous Torre dei Lamberti and the Torre del Gardello.
Piazza dei Signori and Scaliger Tombs
If you stroll beneath Torre dei Lamberti out of Piazza delle Erbe, you'll be greeted by another square, Piazza dei Signori, surrounded by beautiful buildings called "Palazzi."
The Palazzo di Cansignorio is worth entering to see the grand staircase of the courtyard, which is a notable photo spot in Verona.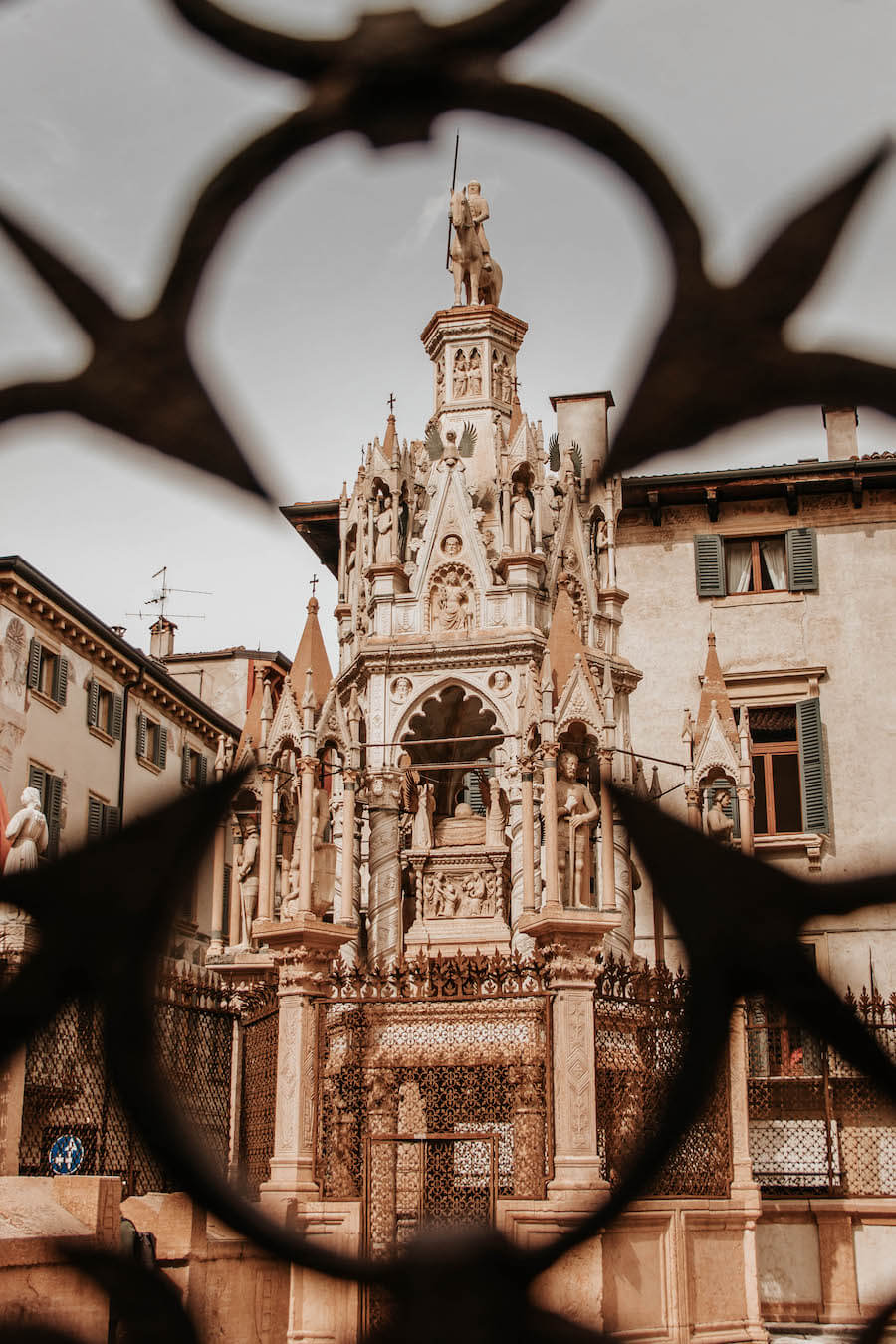 By just walking a bit further, you'll see one of the most unique things to do in Verona, which is to visit the Scaliger Tombs, or Arche Scaligere. These gothic 14th century resting places are intricately designed and for just one euro you can enter the cemetery to see the ornate architecture up-close.
Visit Juliet's House in Verona
Verona lives up to its notoriety as the setting for Romeo and Juliet by inviting you to visit "La Casa di Giulietta." Juliet's house is a few steps away from Piazza delle Erbe, in an unassuming passageway off the busy walking street.
Well, it's not the most unassuming place, as there are employees of the city of Verona standing at the entrance in addition to a line in the middle of the bustling street where you can wait to enter.
It is free to visit the courtyard of Juliet's house and see the iconic view of her balcony. As tradition in Verona, if you touch the breast of Juliet's statue in the courtyard, good luck will come your way.
Walk Over the Ponte Pietra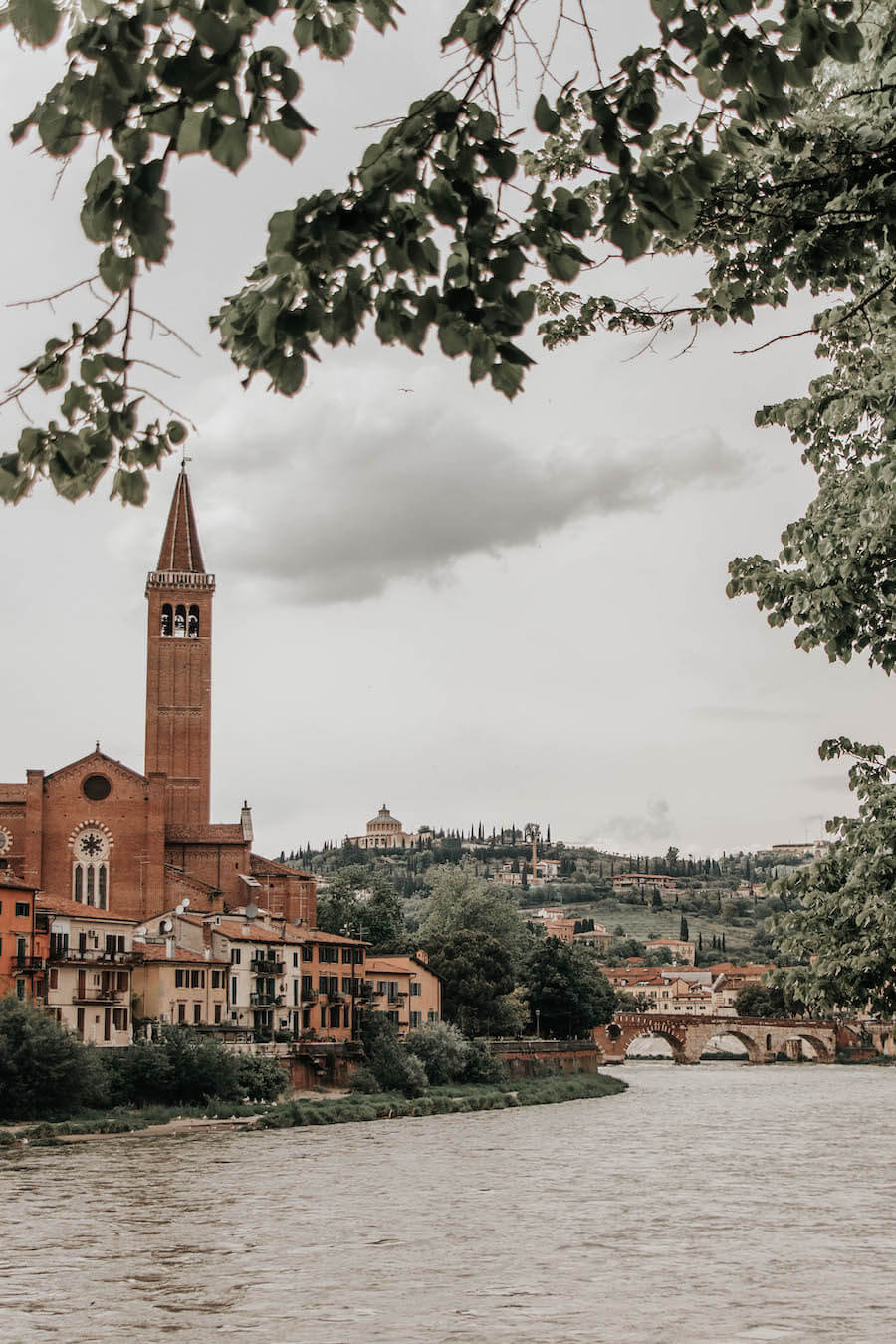 As you make your way through the city, you'll eventually reach the other side of the Adige River that encircles the historic center of Verona. A beautiful way to cross it is via the Ponte Pietra bridge.
The Ponte Pietra is one of the most significant bridges of Verona due to its history and unique architecture.
This bridge dates back to Roman times (100 BC) and has unique rounded archways that enhance the romantic feel of the city. It was destroyed in WWII but fortunately rebuilt and restored.
Climb Up to Castel San Pietro for Panoramic Views at Sunset
As sunset approaches and the day winds down, cross the Ponte Pietra to make your way up to Castel San Pietro. The trek up to the top of the hill can be steep at times, but is no longer than 10 minutes, with various overlook points on the way. You could also opt to go to the top by cable car.
Once you reach Castel San Pietro, you're greeted by panoramic views of rose-colored Verona. This is the perfect picture spot and place to relax at the end of your day. You could even grab a takeaway pizza and have a casual dinner sitting on the walls.
Verona Hidden Gem: When climbing up to Castel San Pietro, there are few different starting points. If you start near Ponte Pietra to the left, make sure to walk down the path to the right on your return. You will find a magical, hidden gem view of the ancient Roman ruins and theater with the panoramic backdrop of the city.
Where To Stay Overnight in Verona
If you are looking to spend the night in Verona to stretch your day out into a 24 hour or 36 hour adventure, you'll find no shortage of hotels perfect for a one-night stay.
For a stunning view of the Arena at an inexpensive price tag, the best place to stay is B&B Opera Prima. 
If you want to spend a little more and still be in the city center, Relais Empire is a good mid-range option, while Hotel Colomba d'Oro is a perfect luxury stay with ornately decorated rooms.
More Things to Do in Verona
If you love to shop, spend some time strolling Via Giuseppe Mazzini off of Piazza Bra, Verona's main shopping street full of unique and luxury brands!
For a unique travel experience, you can go rafting down the Adige River and under the famous ancient bridges of Verona. 
Other things to do around Verona include Lake Garda, Italy's largest lake, or visit the unique mountainside church of Santuario Madonna della Corona. 
Verona is a very walkable city so giving yourself some time just to amble the pretty side streets is an enjoyable endeavor. Just make sure to wear comfortable, sturdy shoes for the sometimes unpleasant uneven cobblestones. 
---
Verona is a perfect day trip to fill in your Italy itinerary for all the things there are to do and see. It's small size and centrally-located attractions make it walkable and enjoyable to explore even with just 24 hours to spend. 
About the Author: Michela Sieman blogs at She Goes the Distance. She enjoys sharing her love for travel with others and helping other women learn how they can feel empowered to explore the world.