One Day in Chiang Mai, I Ate Here…
Eating French Food in Chiang Mai, Thailand at La Fourchette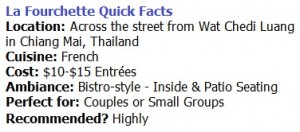 Tom and I weren't planning on eating at a French restaurant while we were in Thailand, but upon examining the menu of La Fourchette while we were in Chiang Mai our mouths began watering too much to turn it down. There was just one problem. This was a nice looking, sit down restaurant and we had to meet some new friends in an hour whom we had just met on a two day trek that we'd just returned from a few hours earlier. The hostess assured us eating and getting out in an hour wouldn't be a problem.
We decided to dine at La Fourchette and the pretty hostess seated us and we found out she was also our server. She spoke surprisingly good English and was heavily made up with western inspired make-up and hair; her look fit with the restaurant's ambiance and seemed to be an extension of the French-Thai flair of the restaurant.
La Fourchette Atmosphere and Menu
La Fourchette had a bistro-style atmosphere and the seating spread from the small inside room out onto the patio where we sat. Wrought-iron tables and flowers permeated the patio and the inside walls were white with a rustic, country look to it.
We looked through the menu and I could barely contain my excitement at some of the menu items after eating nothing but Asian food for the past five days.
"Let's get the cheese pie appetizer," I exclaim. "Cheese sounds soooo good right now."
The server comes back and we order that along with a ceasar salad (I was also craving lettuce) and a carafe of white wine.
"I'll also take the white sea bass with mango," I told her.
"And I'll take the rack of lamb," Tom said.
Her smooth forehead turned into the slightest frown, "Unfortunately, that takes a bit longer to prepare and I'm not sure it'll be done by the time you need to leave."
Tom groaned in disappointment. "Bummer, it sounds so good."
"Can you call your friends to say you'll be later?" she asked.
We both looked at her in surprise. We were obviously tourists — when did traveling with cell phones become such the norm that she assumed we have one we can use? Tom and I had never gotten the international plan while traveling and truth be told, we kind of like it.
"We don't have phones," I answered, feeling suddenly a bit foolish for not having one. However, our new friends didn't either as far as we knew so it wouldn't have mattered.
She smiled even wider to show us it was nothing to be worried about. "I'll talk with the chef," she assured us and left the table.
The chef was up to the challenge and rose to a level of service we don't typically experience in order to meet Tom's request and delivered the food right on time. We even saw him run out the restaurant, jump onto a bicycle and come back carrying a bag of fresh vegetables – which we could only assume were the vegetables arrayed next to the lamb on Tom's plate.
As for my meal, I was in love. The fish was cooked to the ideal consistency and the mango sauce complemented it perfectly. It was some of the best French cuisine I've ever had, making me feel less guilty for eating in a French restaurant while in Thailand.
The server brought us our bill promptly as soon as we asked for it and we thanked her profusely for La Fourchette's willingness to accommodate us and headed off to meet our friends.