A Local's Guide to the Best Day Trips From Toulon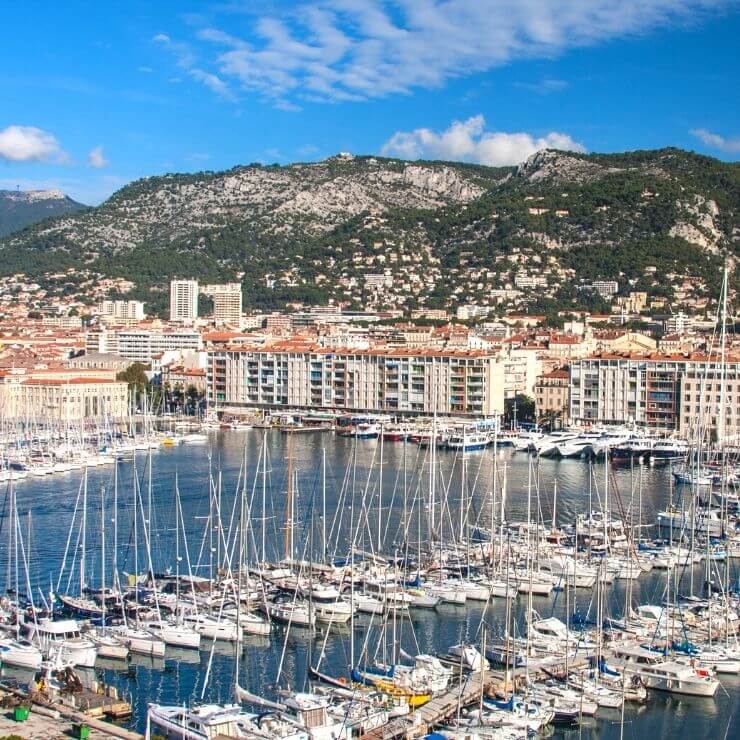 The French Riviera is a gorgeous region of the South of France and is well known for its beautiful cities like Cannes, Nice, Toulon, or Saint Tropez.
I was born and raised in Toulon, a large military harbor on the Mediterranean coast, with a major French naval base.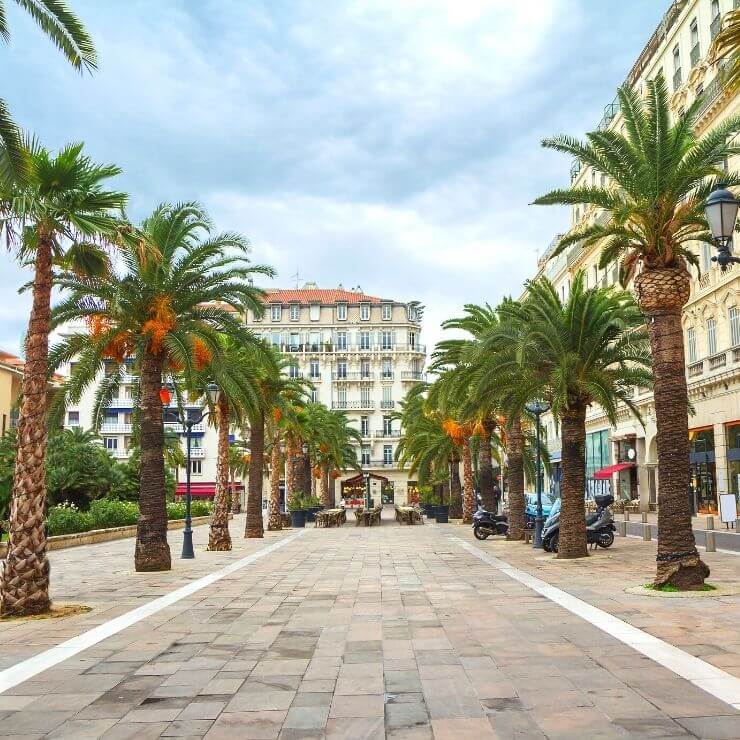 There are many beautiful places in and around Toulon, where you can spend a relaxing day and discover the Côte d'Azur at its best. Below, you'll find seven epic destinations for a fantastic day trip from Toulon.
Best Day Trips from Toulon
1. Porquerolles
Porquerolles is a beautiful unspoiled island in the Iles d'Hyères. Much of the island is now part of a national park (the Port-Cros National Park) and nature conservation area.
This gorgeous island is a must -see when you visit the South of France. You can easily spend a day there, walking in the beautiful Mediterranean bush, relaxing at the beach, or biking around the island.
Don't miss the plage de la Courtade, plage d'Argent and plage Notre Dame — the three most beautiful beaches on the island.
For those who want  a little bit of adventure, you can go inland and check out the Fort du Langoustier, Moulin du Bonheur (Windmill) and Fort St Agathe. There is also an old church in the village, where you can admire the beautiful stained glass windows.
The easiest way to get to Porquerolles is to take the boat from the Tour Fondue in Hyères. The trip takes around 15 minutes and costs around 19,50 euros return.
2. Saint Tropez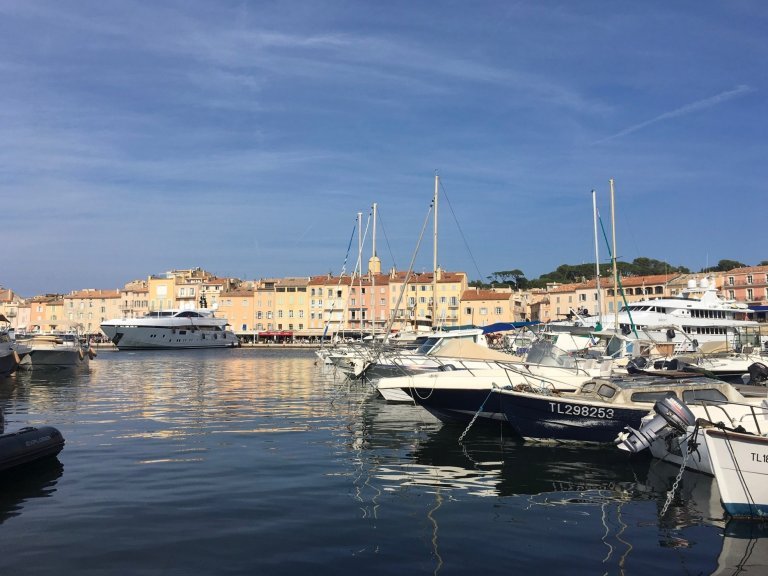 Saint Tropez, with its high end fashion and over the top partying, is probably one of the most popular tourist destinations in France.
Located only an hour drive from Toulon, Saint Tropez is a small town that has a lot to offer.
Your first obvious stop would be Pampelone Beach, the most famous beach of Saint Tropez. You can enjoy the laid-back vibe or have dinner at the Club 55, where you'll also likely spot celebrities.
Then, you can visit the citadel and the maritime museum where you'll learn more about the rich maritime heritage of Saint Tropez.
If you want to enjoy Saint Tropez's social life, have a drink in the Old Port. This is also a great place to try the famous dessert, the Tarte Tropézienne, which was created in a bakery in town.
Finally, you can follow the coastal path of Saint Tropez. You can walk it for miles, and stop at the Cap Camarat Lighthouse along the way. Just know that there are nudist beaches along the path. 
3. Six-Fours-les-Plages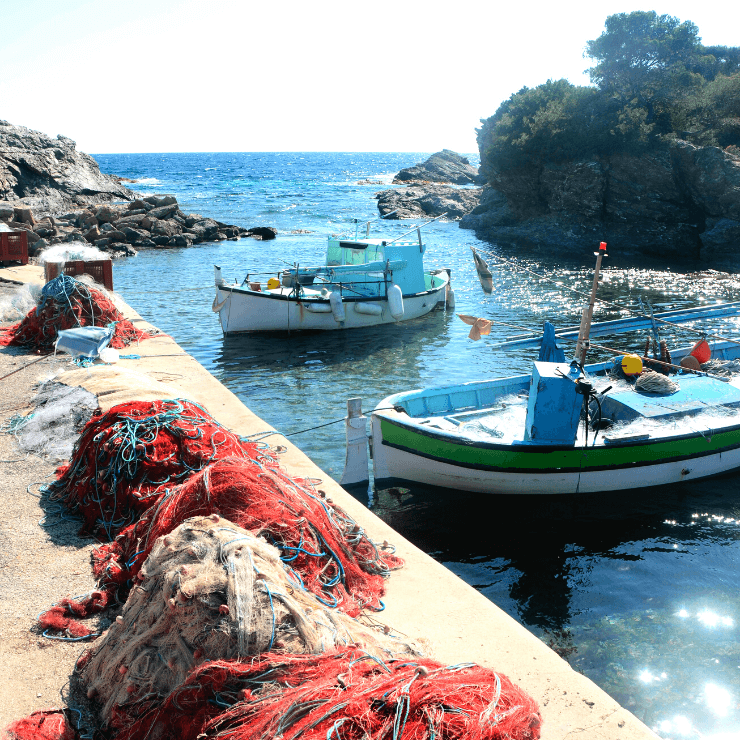 Six-Fours-le-Plages is a small town located only 10kms from Toulon. It is home to quite a few natural areas, so it is a must-visit for those who like nature and hiking.
First, you can visit Gaou Island,  a well-preserved piece of nature. You can walk from one end of the island to the other following a botanical trail. It is accessible via a footbridge and is full of little coves, small sandy beaches, and beautifully clear water.
You can admire the Gaou fishing boats and the Venus of the Gaou statue before the footbridge. This peaceful inhabited island is the perfect place to go for a relaxing walk in nature.
Next during your day trip from Toulon to Six-Fours-les-Plages, I recommend checking out Notre Dame du Mai (Our Lady of May), a Pilgrimage chapel built in 1625. It is located on top of the Cap Sicié and provides outstanding views on the surrounding cities and the coast.
It's an amazing walk up, which can be hot and long if you start from le Brusc, but it's definitely worth the effort. However, if you don't want to walk for a long time, you can drive up the hill to the parking lot. From there, you can walk up the last 2kms to the chapel.
4. Saint Mandrier
Saint Mandrier is a cute village located near la Seyne-Sur-Mer. It's a typical Mediterranean village with a lot of charm. It has several small beaches, bars, and restaurants.
You can hike from the beach la Coudoulière, where you can also see an old fort, to the cemetery up a hill. From up there you'll get astonishing views on la Seyne and Les Deux Frères rocks.
The coastal walkway will take you all the way to Pin Rolland. This is a great way to see the coastline and enjoy the beautiful natural wonders of Saint Mandrier.
The best way to get to St Mandrier is to take the boat from Toulon. The cost is only 1,40 euros for a 20-minute boat ride. If you have a car, you can go to the artisan market in les Sablettes in the evening, take a walk, or have dinner along the beautiful beach.
5. Le Pradet
Home to five beautiful beaches, le Pradet is another great destination for sun lovers. This town is located only 8kms away from Toulon and is easily accessible by public transportation. But the main interest of le Pradet is definitely not in the city center.
In fact, le Pradet is a haven for nature lovers.
It is home to a big natural reserve called Massif de la Colle Noire. Here, you can walk along the coastline and admire the view, or go to the beach. There are several walks in the area, some are easy and short, others are up to 10kms.
The main attraction is definitely the museum of the Mine du Cap Garonne. The place is an old copper mine where you can now admire over 130 different minerals from all over the world. Specimens such as Azurite can still be found in the mine today, and are often sold in souvenir shops in the region. 
6. Sanary-Sur-Mer and Bandol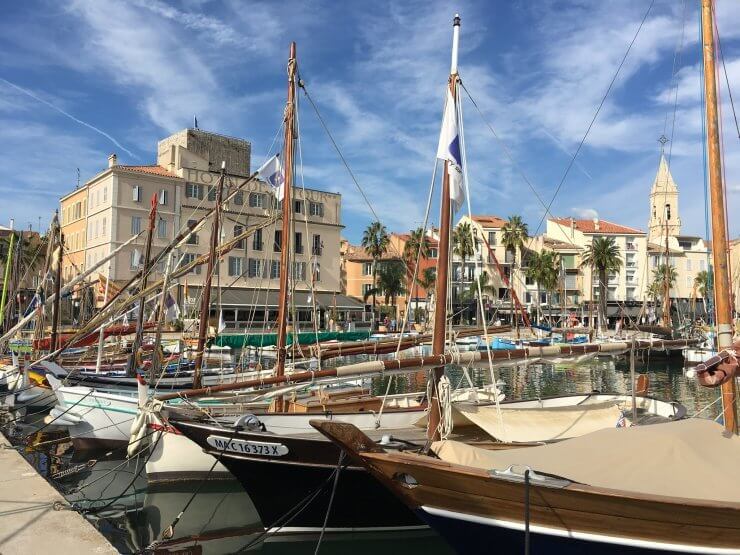 Sanary is a coastal town on the Mediterranean Sea. Located only 15kms from Toulon, it's an easy day trip.
Sanary's popular village has a beautiful coastline with small beaches and typical shops in the city center.
Sanary's main sights include the Chapelle Notre-Dame-de-Pitié, the Saint Nazaire church, the Tour Romane, Portissol Beach, the port, and the local market. It's a lovely town to spend an afternoon shopping or simply admire the provencal boats in the harbor.
If you still have time after your visit of Sanary, you can also go to Bandol, which is only 10 minutes away by car. It's another lovely town, where you can relax at the beach or browse the multiple shops along the port.
You can also take a trip to the Island of Bendor, which is a true hidden gem. The small island is still very wild, but you'll find a lovely artisan village, colorful Mediterranean houses and lovely sculptures there. To get to the island you can take the boat from Bandol for 17 euros return.
7. Hyères
Hyères is mainly known for its beautiful beaches and islands. But there's more to it. In Hyères, you'll discover numerous historical remains, incredible food, and fantastic water activities.
The main attraction in the city is the Castle of Hyères. Located on the Casteou Hill, this castle dates back to the middle ages.
From the Castle of Hyères, you'll get a stunning view of the city and the coastline. Around the castle, you can also walk along the old rampart that surrounded and protected the city back then.
For some fun water activities, I recommend going to the Almanarre. It's a nearly 5 km beach parallel to the Route Du Sel (Salt Road) in Hyères. The Mistral (western wind) blows quite often, and you can watch the many windsurfers and kitesurfers who gather there.
Right on the other side of the Route Du Sel are the former Salt marshes, now a bird reserve, where you can observe Flamingos among many other bird species. The beach is easily accessible by car, and there is parking along the road. However, it can quickly become crowded in the summer months.
How to Get to Toulon
The closest airport from Toulon is Marseille airport. There are no direct flights to Marseille from the USA, however, you can fly to Marseille from Paris and many other cities in France and Europe. A popular airline to travel in Europe is Ryanair, since it is a low-cost airline and it is available throughout Europe.
You can also fly to Nice airport, which is more interesting because Nice is a beautiful city to visit. You could even stay a few days and visit nearby Cannes and Antibes before heading to Toulon. From Nice, you can either take the train to Toulon (there are trains every day) or the bus.
When is the Best Time of Year For Day Trips in the South of France?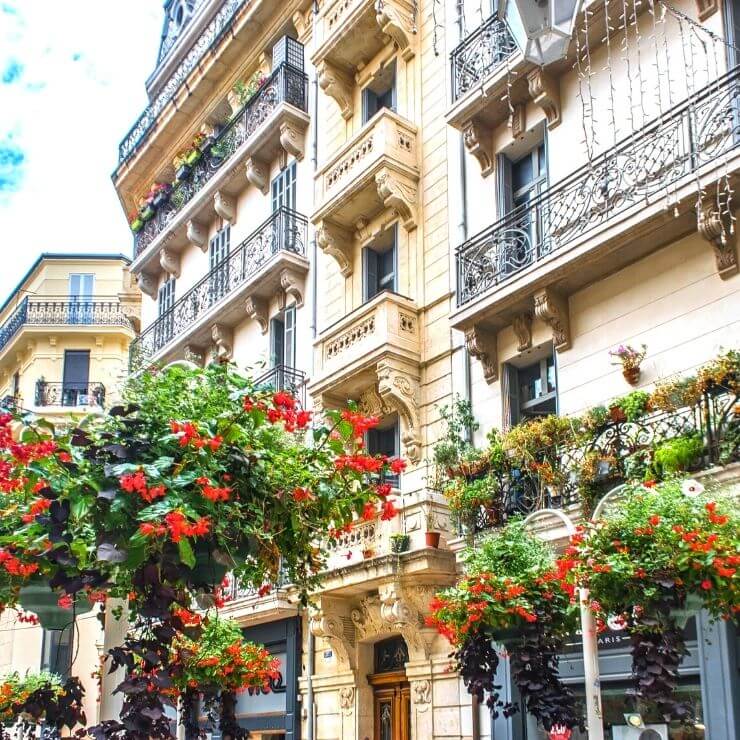 The best times to visit the south of France are from March to May and September through November. The weather will still be good, but it won't be so busy with tourists.
The summer months (July and August) see an influx of Parisians and international travelers escaping to the south of France, so be prepared for some crowds if you're willing to travel at that time.
Things to Know Before Visiting the South of France
Language: The official language is French, but France also has regional languages. People in the South of France have a strong accent, which can make them even more difficult to understand if you're not French. Some people speak a bit of English (or at least they try) but I definitely recommend you learn some basic French words before you go to France.
Currency: The currency used in France is euro like in most European countries.
Visa: American citizens can travel up to 90 days in France without a visa. If you're from a country in the European Union, you do not need a visa and you can stay in France for as long as you want.
Food: French food has a very good reputation worldwide. On your trip to the South of France, you should definitely have your breakfast with some baguette and croissants. Enjoy your tea time with some delicious French macaron, and have a delicious dinner with a ratatouille (south of France specialty).
Fashion: French people like to dress well, especially in the South of France. In fact, you will probably be amazed by the number of fashion shops in the cities. And if you want some beautiful and fashionable clothes to bring home, you found the right place!
Courtesy: French people always say "Bonjour" when they come into a shop or when they meet someone. It is very important you greet your interlocutor before you say anything else, otherwise, they will think you are very rude.
Local Markets: Markets in the South of France are full of delicious local fruits and vegetables, fish, cheese, and meat. They are often held on Saturdays and Sundays. Try the Mourillon Market in Toulon, it's held on Sundays and is a typical market from the Côte d'Azur. Visiting local markets is one of the best ways to get a true local experience.
Bottom Line for Day Trips from Toulon
The day trips from Toulon I shared with you will give you just a glimpse of what the South of France has to offer. The Côte d'Azur has countless beautiful places, and you can easily spend days exploring the cities, beaches, and creeks in the area.
Found this article helpful? Pin to read again later!
About the Author: Camille is a jewelry maker and blogger over at Crafty Explorer. Dedicated to traveling sustainably, Camille has been roaming the world and living abroad for over seven years. When she's not traveling, you'll find her hiking or reading a good book.