Travel Experts Share Their Tips for the Best Day Trips from Berlin
When most people visit the northern part of Germany, they make Berlin the focal point. Even cruise lines that stop in the port cities of Rostock or Warnemunde often whisk visitors away to the city of Berlin. While Berlin is a great city to explore, it's not the only place you should focus your time on during a vacation in Berlin. Take a time out from the big city and do some of these best day trips from Berlin that will get you in touch with nature as well as introduce you to some of Germany's other interesting and lovely cities.
I'm sharing seven places I think you should check out on day trips from Berlin, and then I got three other recommendations from bloggers and writers who have traveled around Germany.
Wannsee: A Picture-Perfect Lake Day Trip from Berlin
If you love a day by the lake, then Wannsee is one of the most perfect day trips from Berlin you can do.
Wannsee is a big lake located only about 30 minutes away from Berlin, but feels a world away. Wannsee is home to Strandbad, the largest inland beach and swimming area in Europe. It has over 1,250 meters of sand. You'll find locals and visitors alike lounging on beach towels before taking a break to swim in the clear water. There are also covered beach chairs available to rent, a waterslide to have some fun on, and even a playground for children to play on.
Spreewald: A Perfect Day Trip from Berlin for Nature Enthusiasts
If you prefer more action than beach lounging with your nature, do a day trip from Berlin that takes you to Spreewald, a forest about 90 minutes south of Berlin that is a UNESCO World Heritage Site. Spreewald has a series of hiking and biking trails along with scenic waterways you can kayak down.
Leipzig: A Great Day Trip for an Intro to Saxony
East of Berlin lies the German state of Saxony, known for its Cold War history, proximity to mountains and woodlands, and vibrant cities. Of those, Leipzig provides a great intro to the state of Saxony.
In Leipzig you can see beautiful Baroque and Gothic churches, one of which — St. Thomas Church — is the burial place of the composer Johann Sebastian Bach. You'll find an abundance of art in the city thanks to both museums and an urban creative scene. Leipzig also has many historic sites, some of which are left over from Leipzig's time as the focal point of East Germany's Peaceful Revolution in the 1980s.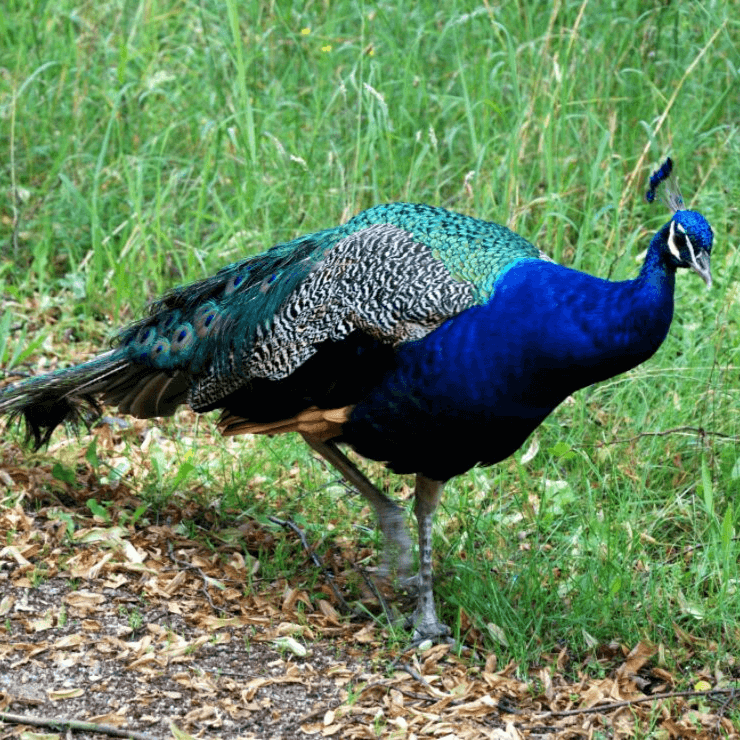 Peacock Island: A Day Trip to See…Peacocks
Yes, you read that right. On this day trip from Berlin, you'll be heading to an island that is known for having peacocks strutting around. The island's German name is Pfaueninsel, and whether you call it that or just the island with all the peacocks, it makes for a fun day away from Berlin. While peacocks are cool and all that, there is more to see on the island than brightly colored feathers.
Pfaueninsel is also home to historical buildings amidst pretty scenery, like the Kavaliershaus, which dates back to the 18th century.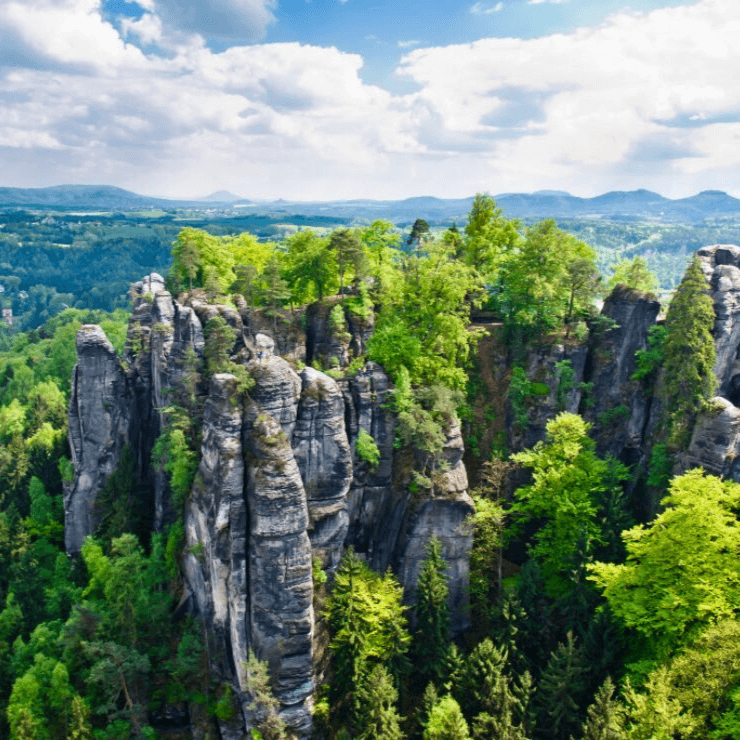 Saxon Switzerland National Park
When it comes to day trips from Berlin, other destinations in Germany aren't your only options. You can also get to Saxon Switzerland National Park in under three hours from Berlin. This national park located in Switzerland has incredible rock formations towering over the land with manmade rock bridges blending in among the steep cliffs.
Hiking and rock climbing are two of the big activities to do while in Saxon Switzerland National Park.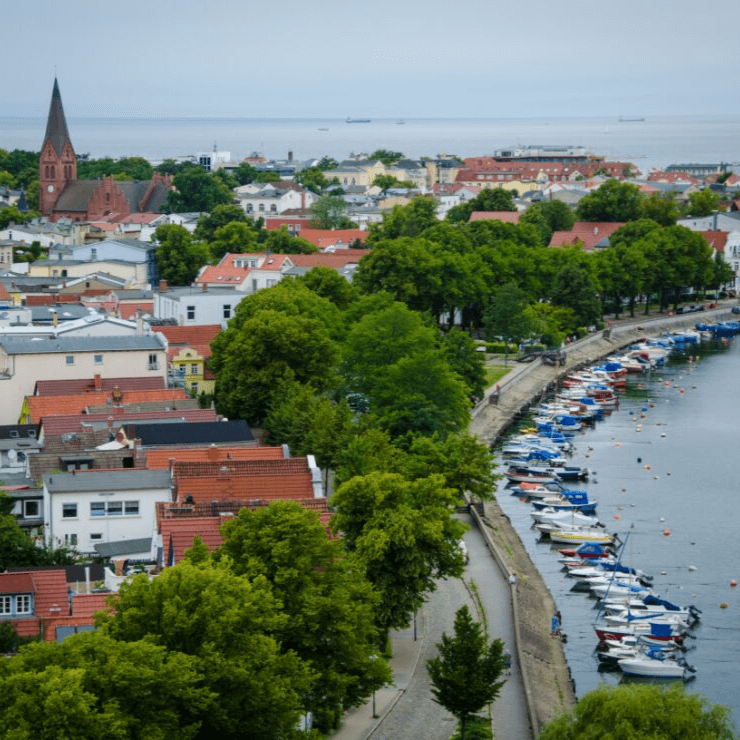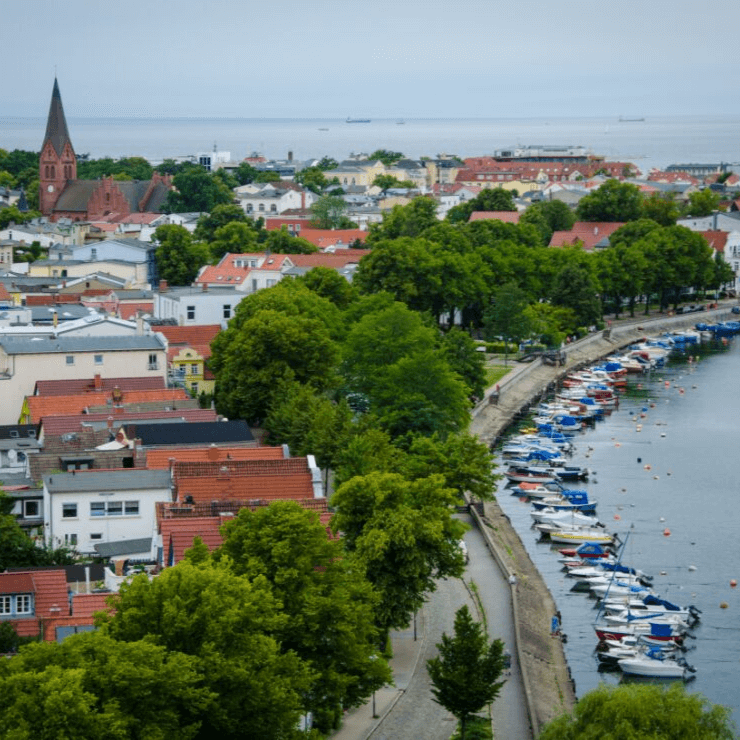 The Harbor Cities of Rostock and Warnemunde
As I mentioned earlier, visitors to the cruise ports of Rostock and Warnemunde often head south to explore the iconic city of Berlin, but these two coastal cities are worth visiting in their own right. Travelers staying in Berlin would be wise to make a day trip from Berlin to one of these two cities — or both!
In Rostock you can visit the city's popular zoo, tour the opulent Sankt Marien Kirche, and wander around the city's pretty squares. While in Warnemunde, don't miss the picturesque lighthouse or the nearby Strand Warnemunde, a beach with a coastal vibe and Baltic charm.
The two cities are so close to each other that you can even visit both in the same day, making it feel like two day trips in one!
More Travelers' Recommendations on the Best Day Trips from Berlin
I've covered my top list of day trips from Berlin, and I've also asked a few top travel bloggers for their recommendations on where to go. They detail out why some of Germany's major cities make for excellent day trips from Berlin: Hamburg, Potsdam, and Dresden.
Best Day Trip from Berlin to Hamburg
Cat Lin of the For Two, Please blog shares why she thinks Hamburg is one of the best day trips from Berlin:
"Hamburg, known as Gateway to the World, is Germany's biggest port and the second largest city after Berlin. Hamburg is only a train ride away from the capital. With only 288 km apart, you can get from Berlin to Hamburg in just 2 hours.
The unique harbor charm, maritime history and laid-back lifestyle are the main reasons why visitors are drawn to Hamburg. The beautiful Elbe river, the neo-Renaissance Rathaus and the UNESCO World Heritage warehouse district of Speicherstadt all play a part in shaping Hamburg's captivating history.
Having said that, Hamburg is actually an ultra-modern city. Walking around the city, you will find exciting contemporary buildings seamlessly interwoven into each district. Elbphilharmonie in HafenCity, Dockland and Elbberg Campus in Altona are the most spectacular ones and are among the top places to visit in Hamburg for photographers.
Besides architectures, Hamburg offers plenty of activities for visitors. There are a few museums worth visiting. Miniatur Wunderland, the largest model railway in the world, is a must-see. Kunsthalle and Diechtorhallen are popular among art lovers. Foodies will want to check out Spicy's Gewurzmuseum (spice museum) and Chocoversum (chocolate museum).
In the summer, Planten un Blomen park is the playground for locals and visitors alike. The urban park has a botanical garden, a Japanese garden, a tropical greenhouse, a rose garden, and fountains. Alter lakes also offer a wonderful natural space in the city. The best way to explore the lakes is by taking a guided boat tour, or by renting a canoe!"
Day Trip from Berlin to Potsdam, Germany
Laura from Traveler's Universe shares why she thinks Potsdam is one of the must-do day trips from Berlin:
"Only 35 km (21 miles) southwest of Berlin, Potsdam makes for an amazing day trip full of wonder. It used to be the residence of Prussian Kings and it remains packed full of history and culture up to this day.
Unlike any other city I've visited, Potsdam is three-quarters green spaces. Several interconnected lakes intertwine harmoniously with palaces and other fascinating architectural gems. So you won't be surprised to find out that the palaces and parks of Potsdam were named UNESCO World Heritage Sites along with the ones in Berlin.
The jewel of the crown, however, is the Sanssouci Palace (literally meaning 'without a care'). It used to be the summer residence of Frederick the Great back in the 18th century and I highly recommend you block a few hours (maybe the whole morning?) to stroll around the terraced vineyards and gardens.
You absolutely must see the Chinese Tea House Pavilion, so richly decorated with gold leaf and the perfect mix of Rococo and Chinese elements. And if you visit in December, you'll be spoiled with the sight of the Romantic Christmas Village, as well as several other Christmas markets all around the city.
Find your way to Belvedere, a magnificent villa built in Renaissance Revival style that offers amazing views over Potsdam's skyline.
And visit Schloss Cecilienhof, a palace built in English Tudor style and another must-visit landmark. This palace was constructed at the beginning of the 20th century and it's where the Allied powers met to discuss the future of Europe and Asia after the end of WWII.
Apart from these, you might also visit the Film Museum, the bridge of Spies and the Brandenburg Gate.
Potsdam can be reached by car or train via RegionalExpress (RE1). The journey takes about 35 minutes and trains run every 30 minutes."
Day Trip from Berlin to Dresden, Germany
Travel writer Smita Bhattachyra shares her tale of visiting Dresden during the Christmas season and why it's a magical time to take a day trip from Berlin there. Here's what she had to say about it:
"I visited Dresden probably on its coldest day of the year. As soon as I had arrived—it is located about 3 hours by train from Berlin—torrential rains poured down on me in welcome. But I'd also come at the best time—Christmas—and I had the warmth of the Christmas Markets to experience and behold.
Dresden is the capital of Saxony and the twelfth largest city (by population) in Germany. The city was completely destroyed in 1945, when Allied air raids bombed it, killing 25,000 civilians. Post-war, Saxony came under communist rule and Dresden began rebuilding. By the 1990s, the city had returned to its former glory and was reinstated as Germany's cultural capital.
The city is full of lovely gothic architecture, historic buildings, sculptures, art museums, and the like. The Frauenkirche, or the Church of Our Lady, is its most iconic sight. Next on the list would be the Versailles-inspired Zwinger palace.
Dresden is also famous for porcelain artifacts and one can visit the Dresden Porcelain Collection in the Zwinger Palace. DresdenWalks is a good way to get an initial orientation to the city. Dresden also has one of Germany's best and oldest Christmas markets, started in 1434, called the Striezelmarkt. It is open from November 27 Nov to December 24 every year."
Plan Your Trip to Berlin with These Great Day Trips
Now that you have ten great ideas for the best day trips from Berlin, you may find yourself wanting to plan an extra long trip to Berlin to plan it all! I like using Booking.com to find my hotels, GoEuro for transportation, and Kayak for flights. Hope you have tons of fun exploring all around Germany and beyond!