The Ultimate 1-Day Itinerary for Berlin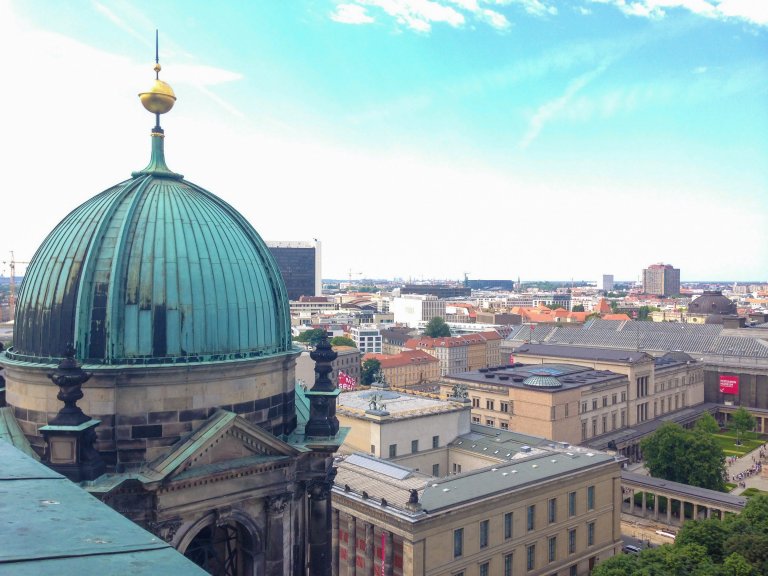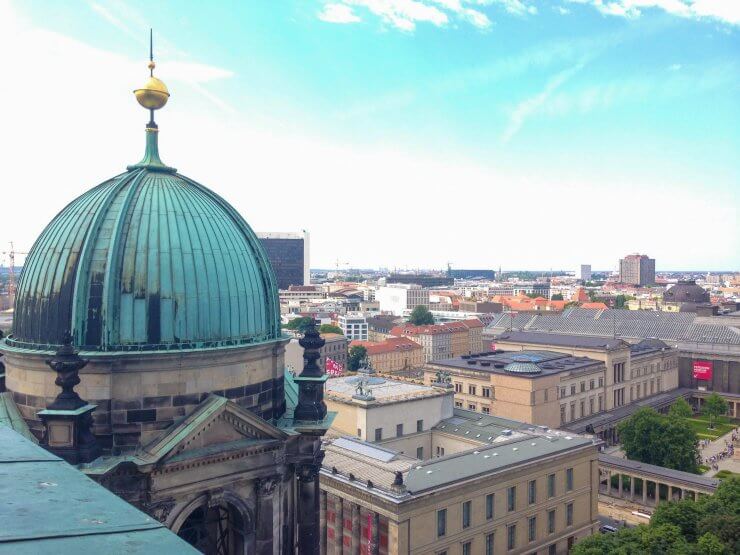 Visiting Berlin, Germany is a can't-miss experience as the city has become a cultural and intellectual hub in Europe. Berlin is a city that pulses with a vibe of looking forward despite a tumultuous, often painful past. Today in Berlin, the cuisine and nightlife, a thriving economy, and a surplus of museums and memorials make the city a hot spot for visitors who want to soak up the history and learn from the past but also enjoy a modern metropolis and all the fun that comes with it.
With so much going on in the city, it's easy to feel overwhelmed about what to do in Berlin if short on time. That's where my one-day in Berlin itinerary comes in. I put my feet to the pavement in Berlin to make sure this itinerary could be done in one day and included my top recommendations for what sites to prioritize (and why) when you need to maximize your time in Berlin.
Top Berlin Neighborhoods for Visitors
When short on time in Berlin, you'll want to spend the majority of your day in these four Berlin neighborhoods:
Mitte – Meaning middle in English, Mitte is located in central Berlin and is home to some of Berlin's top sites, including the Brandenburg Gate, the Reichstag, and Museum Island plus popular areas like Potsdamer Platz and Alexanderplatz.
Kreuzberg-Friedrichshain – This artsy neighborhood is an oft-visited destination in Berlin thanks to it being the location of some of Berlin's – and the world's – most popular graffiti: the East Side Gallery
Charlottenburg – An upscale area of Berlin that encompasses part of Tiergarten and has fine dining and shopping. It's also home to (and gets its name from) the gorgeous Charlottenburg Palace.
Nikolaiviertel – The quaint Nikolaiviertel is Berlin's oldest residential neighborhood and has medieval roots.
My Top 10 for 24 Hours in Berlin
Before I get into the detailed itinerary, here's a recap of what you'll find below and (in case you're the type who likes lists!) a quick list of my top 10 recommendations for what to do in Berlin if you just have a day — and night.
Now read on for why I recommend these places if you just have 24 hours to spend in Berlin plus some packing tips and recommendations on where to sleep.
One Day in Berlin Itinerary: Top Things to Do
For the optimal itinerary to experience a wide range of Berlin in a short amount of time – and especially for those who are visiting Berlin for the first time, here is a recommended itinerary for how to spend your day in Berlin.
But first, wondering the best way to get around Berlin? Download my helpful Berlin Transportation Tips…
Berlin Transportation Cheat Sheet
Get my free Berlin Transportation Cheat Sheet sent to you now by entering your email below. This helpful 2-page document tells you the best ways to get to and around Berlin.
Brandenburg Gate
Brandenburg Gate (Brandenburg Tor in German) gives you a monumentally visual introduction to Berlin's history of strife. Originally built as a sign of peace in the 1700s, Brandenburg Gate eventually came to signify the division of East Berlin and West Berlin divide.
Why It's a Must-See: Walking through the Brandenburg Gate is a powerful experience when you remind yourself you'r doing so freely, as it was just a few decades ago that such an action couldn't take place.

Experience Nature and Memorials at Tiergarten: Berlin's City Garden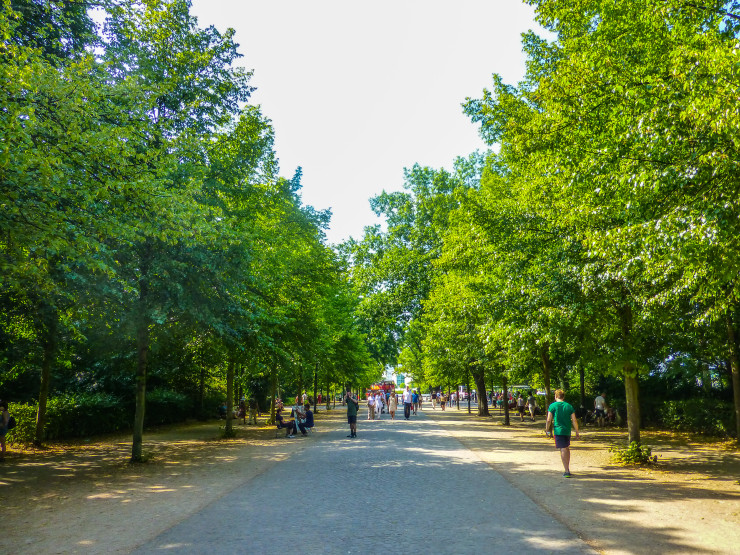 Tiergarten is Berlin's largest park and is full of both greenery and important memorials. While you could spend hours walking around the park, here are some of the sights to seek out if you're short on time in Berlin:
Memorial to the Murdered Jews of Europe – The Memorial to the Murdered Jews of Europe has 2,711 stelae of varying heights and covers 19,000 square meters, referred to as the Field of Stelae. It also has an information center, which shares the history and horrors of the Holocaust with visitors through interactive and informational exhibits.
Soviet War Memorial – This grand statue- and flower-adorned memorial was built in 1945 and is the burial place of more than 2,000 Soviet soldiers who were killed in battle during the Battle of Berlin during World War II.
Golden Victory Column (Siegessäule) – This gorgeous column, which can be climbed for excellent views of the garden, is located in the center of Tiergarten and commemorates Prussia's victory over France and Austria in the 1860s and the founding of the German Empire in 1871. The Victory Column gets its name thanks to the goddess Victoria, who stands atop the column.
Bellevue Palace – Just outside the north end of the park is Bellevue Palace (Schloss Bellevue), the Residence of Germany's president. It's a beautiful neo-Classical building originally built for Prince Ferdinand of Prussia in 1786. Though it can't be toured, both architecture and government enthusiasts will enjoy seeing the exterior of the Bellevue Palace during a walk through Tiergarten.
Why It's a Must-See: Tiergarten shows you a slower, calmer side of Berlin compared to its bustling city life.
Get a History Lesson at the Berlin Wall Memorial
The Berlin Wall Memorial is a large public area that has a walking path leading you along a small part of where the Berlin Wall stood. The memorial has different learning stations that tell the moving stories of families separated by the Wall, tragic and successful escape attempts, and the details of when and how the Berlin Wall came to be. Remnants of the Wall can still be seen and even touched.
The Berlin Wall Memorial experience culminates at the Berlin Wall Documentation Center, a monumental building that has multiple levels and a viewing platform on top to see the remains of the Wall stretching down Bernauer Straße. In the Berlin Wall Documentation Center, you'll tour multiple levels of the structure, one of which has a museum which details out what it was like to live in East Berlin during the time of the Berlin Wall.
Why It's a Must-See: Because you can't go to Berlin for the first time without spending some time where the Berlin Wall once stood. There are Berlin Wall walks you can do that are several miles long to follow the Wall trail, however if you're short on time, the Berlin Wall Memorial is ideal to visit since it has many learning stations and remnants from the wall close together.
Take a Picture by Checkpoint Charlie
Checkpoint Charlie was a main border crossing between East Germany and West Germany and was military operated by the United States during the Cold War. While visiting Checkpoint Charlie during your 24 hours in Berlin, you'll see a replica of the checkpoint along with the sign announcing "You are leaving the American sector."
Why It's a Must-See: Probably more of a must-see for American visitors, who will find it interesting to see the site taught about in history classes around the U.S.
Marvel at the East Side Gallery Artwork
One of the most photographed parts of the Berlin Wall is the East Side Gallery, a 1,316 meter long portion of the wall that has been prominently painted by artists from around the world. It is the longest open air gallery in the world and features paintings that have become famous images in pop culture.
Why It's a Must-See: Some of the images painted on the wall are iconic and it's neat to see with your own eyes a work of art that transformed something that was once horrendous into a special and beloved memorial.
Reflect at Bebelplatz Book Burning Memorial
Within Bebelplatz Square is a memorial to the Nazi book burning of 1933 when the Nazis gathered all Jewish books they could find and burned them in the middle of the square. This monument is so unique that it's easy to miss even if you're standing right in the square. Near the middle of the square is a glass section that peers through to the memorial beneath the ground. Look closely within this artistic monument and you'll see rows and rows of empty bookshelves – enough for 20,000 books. This is considered a voided monument; the books burned that night can't be replaced but the void by them can be. The memorial is lit 24 hours a day.
Why It's a Must-See: Read more about my experience at the Bebelplatz Book Burning Memorial here for why I think it's such an important and interesting landmark to visit.
Faith, Views & Architecture at Berliner Dom
The Berliner Dom (or Berlin Cathedral) is a magnificent domed cathedral in Berlin that dates back to 1415. Visitors to Berlin can tour the cathedral as well as visit the adjacent Cathedral Museum. The Cathedral Museum displays information on the history of Berliner Dom as well as the original architectural designs for the cathedral. There are also miniature creations of some of the designs which are a wonder to look at thanks to their extensive level of detail.
While at the Berliner Dom, you'll also want to travel down to the dim crypt, where many notable people from Berlin's past are laid to rest, including members of the Hohenzollern dynasty.
You can also head up to the top of Berliner Dom for a birds-eye view of Berlin from the perimeter of the dome. Just be warned — you'll need to climb 267 steps to get there.
Why It's a Must-See: Berliner Dom is Berlin's largest church and an impressive example of high-renaissance Baroque style.
Learn About German Government at Reichstag (Plus More Berlin Views and Architecture)
The Reichstag building is the seat of the German parliament – the German Bundestag – and has been the place of many important moments in German's history.
The Reichstag was originally built in 1894 and was a construction feat due to its steel and glass dome. In 1933, a fire was set to the Reichstag, greatly damaging the dome and building structure. Though the culprit of the fire was never proved, Hitler claimed it was the Communists and the fire gave him great leverage to get support for his rise to power. World War II bombings led to further decimation of the Reichstag.
During the 1960s, it was repaired enough to be functional and as it fell just west of the Berlin Wall border, was used by West Germany as a symbolic place to hold parliamentary meetings once a year during the Cold War. After unification, a focus to return the Reichstag building to its former glory began and an extensive remodel of the building occurred, resulting in the now iconic glass dome structure.
Why It's a Must See: There is so much history in this building and it also has an interesting architectural style. In addition, visitors can take an elevator lift to the top of the Reichstag's dome for excellent views of nearby Tiergarten and Berlin's cityscape.
Pssst…Follow me on Instagram for more travel inspiration and tips! 🙂
[instagram-feed]
Museum Island: Bonus Time in Berlin
If you love museums, you may also want to visit Museum Island, though you'll likely have to substitute one of the above sites in order to have time to do so if you can only spend one day in Berlin. Museum Island is an area of Berlin that is home to five of the city's most prominent museums. The architectural achievement of the buildings and the amount of history located inside their walls has made Museum Island a UNESCO World Heritage site in and of itself. To learn more about the five museums and Museum Island's artistic green space, visit Museumsinsel Berlin website.
Where to Sleep in Berlin
Budget Option: Cosmo Hotel
Budget-conscious travelers who still want comfort and a few luxuries should check out centrally located Cosmo Hotel, which is right across the street from a metro station, making it easy to get to all the top sites.
Luxury Option: Hotel Adlon
Those looking for a full luxury hotel experience will enjoy resting their head in one of the sumptuous rooms at Hotel Adlon, which is located in a beautiful cafe-filled square right next to Brandenburg Gate.
Dinner In Berlin
When it comes to eating in Berlin, you have a wide range of options. Try cheap eats like currywurst from a local stand or check out one of Berlin's excellent restaurants. For traditional German cuisine, head to Zur Letzten Instanz, which is also the oldest restaurant in Berlin. For gourmet cuisine with some innovative modern twists, make a reservation at Sage, which also has an onsite outdoor "beach" bar located next to the river perfect for an after dinner drink.
Don't forget to download my helpful Berlin Transportation Cheat Sheet!
Berlin Transportation Cheat Sheet
Get my free Berlin Transportation Cheat Sheet sent to you now by entering your email below. This helpful 2-page document tells you the best ways to get to and around Berlin.
A Quick History Lesson on Berlin
Curious about more of Berlin's history? I've put together this very brief overview, but the city's past is extremely intricate so you'll just have to visit so you can learn more about it in-depth! I am by no means a historian, but here goes…
Berlin dates back to the 13th century with two merchant settlements. These settlements were Berlin and Cölln and it didn't take long for the two settlements to join forces. Together, they became a trade hub in Europe and by the 15th century, Berlin / Cölln was a full-fledged city with 8,500 inhabitants, a town hall, and a government referred to as the Electorate of Brandenburg.
In 1411, the Hohenzollern family came to power and in 1432, Friedrich II decreed that Berlin and Cölln become one single municipality and the twin cities continued to grow until the Thirty Years War. By the end of the war, the population of Berlin and Cölln had dwindled to just 6,000. To better protect itself from future attacks, Berlin set up fortifications and the city began to rebuild itself.
In 1671, Berlin's Jewish community was founded and quickly grew to a population of over one thousand over the next few decades and continued to grow prominently over the next two centuries. The rest of Berlin was also growing and by the 18th century the population was over 20,000, thanks to Great Elector Friedrich Wilhelm loosening the restrictions on immigration into Berlin in the late 17th century.
Right at the beginning of the 18th century, the recently crowned Friedrich III changed the pace of Berlin by crowning himself King Friedrich I of Prussia with the royal residence being Berlin. Under Prussia, King Friedrich finally deemed Berlin and Cölln to become one official city along with a few other neighboring cities, resulting in a larger Berlin with 55,000 inhabitants.
Also under King Friedrich I's rule, Berlin was deemed a center of enlightenment and arts, and governmental buildings were erected throughout the last half of the 18th century, including the Brandenburg Gate.
The dawn of the 19th century saw Berlin with a population of over 170,000 and a growing presence in Europe politics. This caught the attention of French emperor Napoleon who marched through Brandenburg Gate in 1806 with his troops and claimed the city. Napoleon was eventually defeated in 1814 and Prussia regained control of Berlin.
The 19th century continued to be good to Berlin as it continued its expansion of government buildings, museums, universities, and manufacturing businesses, which attracted new workers to Berlin.
In 1871, after the fall of Prussia and the start of a new nation-state called Germany, which operated under the newly formed German Reich, Berlin became the capital of the German Reich. This helped to further attract new businesses and workers to Berlin and the population surpassed two million by the start of the 20th century.
Throughout the end of the 19th century, the Social Democrats began gaining in popularity in the German Reich elections.
In 1911, Berlin joined with neighboring cities like Charlottenburg to form Greater Berlin, but this great city was hit hard a few years later when World War I began. During the war, food is at a shortage and the frustration of Berlin's people lead to strikes in the city toward the end of the war.
After World War I ended in 1918, Germany changed from a monarchy to the free German Republic. Kaiser Wilhelm II, who was currently in power, was abdicated of his throne and leadership of the government was given to Friedrich Ebert, a Social Democrat (SPD) who became Germany's new chancellor. Shortly after monarchy rule ends, a German communist party (called KPD) was also started in Berlin. The KPD staged an uprising in 1919 in Berlin, which was quelled by the German military and resulted in the death of two of the KPD's leaders. Over the next decade the SPD and KPD continued to clash and the Great Depression in 1929 increased contention.
The discontent between these parties assisted in paving the way for Adolf Hitler to come to power and he did so in 1933. He and his National Socialist followers took over the government and ended democracy in Germany. He quickly built and opened the first concentration camp in Berlin to put anyone who objected to his regime of power. He also began organizing boycotts of Jewish businesses in Berlin.
From 1934 to 1935, Hitler continued to weed out any people in power who opposed him and he ousted from power any elected bodies of government in Berlin.
On November 9, 1939, the "Night of the Broken Glass" began; nine of the 12 synagogues in Berlin were set on fire by the Sturmabteilung (SA) and Schutzstaffel (SS), two paramilitary organizations that operated under the Nazi party, and Jewish-run businesses were looted. Also that night, 1,200 Jewish citizens were arrested and taken to the Sachsenhausen concentration camp. (By the end of the war, over 60,000 Jewish Berliners were killed in concentration camps. The remaining 90,000 of the estimated 150,000 Jews living in Berlin before Hitler's rise to power were able to emigrate before the mass annihilations of 1941 began.)
In 1939, Hitler declared war on Poland from Berlin and World War II began, which had devastating consequences for Berlin. From 1940 through 1945, Berlin was bombed repeatedly as it was a high target due to being the headquarters for war strategizing by Hitler and the Nazis.
On April 21, 1945, the Red Army (part of the Allies) made its way into Berlin and the Battle of Berlin began, which was the battle that signified the beginning of the end of World War II. On April 30, 1945, Hitler committed suicide and on May 2, 1945, the Allies took control of Berlin.
Berlin was partially destroyed after World War II, with parts of the city completely decimated from bombings. The population was nearly 50% of what it was before the war. Rebuilding began slowly, but not until after Berlin was broken out into four sectors in 1945 by the Allies. Under the agreement of the Allies, each of the four occupying powers in Berlin (the United States, the former Soviet Union, France, and Great Britain) would concurrently run the city. Unfortunately, by 1949, it was clear that this arrangement was not going to work due to conflict between the Allies of how to run the city. The agreement was disbanded and the former Soviet Union continued to rule East Germany while the United States, France, and Great Britain continued to oversee West Germany. Berlin quickly became a focal point of the Cold War.
In 1961, the SED (a communist political party that effectively controlled East Germany until its dissolution in 1989) closed off East Germany's border in an effort to stop people from migrating out of the country. This also succeeded in cutting off east and west relationships in Berlin, and also helped East Germany strengthen its demand for conformity. As East Germany continued to strengthen its borders to make it harder to leave, more and more tried to flee the country, despite the dangers of doing so. This became particularly true when the Berlin Wall suddenly appeared.
The first "wall" was actually a barbed wire fence that was put up overnight in August of 1961. The barbed wire was eventually replaced by actual walls, which came to be known as the Berlin Wall, though the Wall still had barbed wire on top to prevent people from escaping. In September, further barriers were added to streets behind the Wall in order to stop escape by people in vehicles. Despite all this, people continued to try and flee from East Germany and as a result, the SED continued to make changes and fortifications to the wall to make it impenetrable until the wall finally came down in 1989.
On October 3, 1990, East and West Germany became a unified country again, marking the end of communist rule in East Germany and the start of democracy for the entire country. Berlin was once again the capital of a united Germany.
In the decade since the fall of the Wall, Berlin has become a cultural and intellectual hub in Europe. Universities, a thriving economy, and a surplus of museums make Berlin a hot spot for Germans and visitors to soak up history and learn from the past as well as to continue to learn, work, and look toward the future.
Enjoyed this post? Pin it to read again later!