Day Trips From Prague Worth the Journey
Prague is a wonderful city to vacation in, but you may also want to explore the rest of the Czech Republic (and beyond) so I've compiled five of the top day trips from Prague to do.
I've gotten input from other travel bloggers as well as including my own top recommendations to give you a wide range of ideas on how you can travel from Prague for the day.
Day Trip From Prague #1: Tisa Rocks
Prague is one of the great cities of Europe, and it's easy to forget there is nature all around central Europe when touring the city. That's why day trips from Prague that take you straight to some natural wonders is a terrific way to spend some time. So I'm thrilled that Corina Preda from Another Milestone blog is sharing her expert tips on why you should take a day trip from Prague to Tisa Rocks and what to see and do while there. Here's what she has to say:
A great day trip from Prague for those that love nature is a visit in the Bohemian Switzerland National Park. A natural wonder of Europe, the Bohemian Switzerland national park, hosts several places to see and one of them are Tisa Rocks. Known as the "Land of Narnia" because the famous movie "The Chronicles of Narnia" was filmed here, Tisa Rocks have something magical about them.
These spectacular geological formations next to Tisa Village in Czech Republic can be explored in an easy hike. The trail has a loop shape and starts in front of the ticket office. The path in the right is easier and following it you will explore the amazing labyrinth of rocks. Some people climb them since they are vertical, but if you want to enjoy the view from above, try also the path to the left.
The route to the left is harder than the other one since it includes stairs and a level difference. But it will take you to some incredible spots where you can see the landscape of Tisa Village and the forest that surrounds it. The great sensations of exploring Tisa Rocks come from their supernatural aspect, from the tight space between them, from the coolness they provide during hot, summer days, and from the marvelous sights they offer once you get on the top!
During a day trip from Prague, this nature break will show you another face of Czech Republic.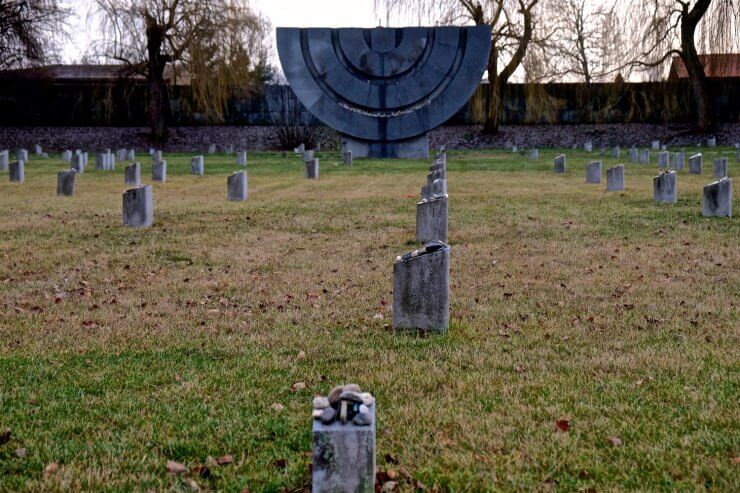 Day Trip From Prague #2: Terezín Ghetto & Concentration Camp
A somber, but important day trip from Prague is the Terezin Ghetto and Concentration Camp. Dagney from the blog Cultura Obscura recommends visiting this site and provides some more information about why it's a vital place to see despite its dark, depressing past:
The Terezín Ghetto and Concentration Camp was different from others of the time because it was a hybrid ghetto and concentration camp, very few of which existed. It was also unique because the Nazis turned it into a propaganda camp. To further enforce the facade, Hitler declared Terezín a city built for the Jews (a phrase he coined when he made a propaganda film about the camp by the same name).
Terezín was used as a ploy to demonstrate to foreign organizations that conditions in the camps and ghettos were grossly exaggerated. Instead, photos and films from Terezín showed slightly happier, slightly less emaciated people. Inmates were allowed art classes and sports in limited capacity. They were even allowed to write and put on plays.
In June 1943, the International Committee of the Red Cross (ICRC) visited Terezín and were actually greeted by a prisoner named Paul Eppstein, whom the Nazi's introduced as the "mayor" of Terezín. They drove him around in a limo and threatened to kill him if he did not lie about the conditions of the camp.
But nothing could have been further from the truth. Despite marginally more favorable living conditions, Terezín was hardly a safe space. Throughout WWII, over 140,000 Jews and other "undesirables" passed through. Of those, 88,000 died in other camps and ghettos, while more than 30,000 died at Terezín through starvation and other forms of abuse.
Terezín, like any dark tourism site, can be quite difficult to visit. However, it is important to remember these sites and educate ourselves so it does not happen again.
Although the visit can be difficult, the planning of a day trip to Terezín from Prague is quite straightforward. Many tours are available in Prague to take you there. Otherwise, you can go on your own by catching a bus at Praha-Holesovice. If visiting independently, tours are available to book at Terezín Concentration Camp (but not of the ghetto), however it is advisable to book ahead of time. Alternatively you can view both at your own pace.
More Day Trips You Can Take From Prague
Now it's time for some of my own recommendations on where you should go on a day trip from Prague during your time in the Czech Republic.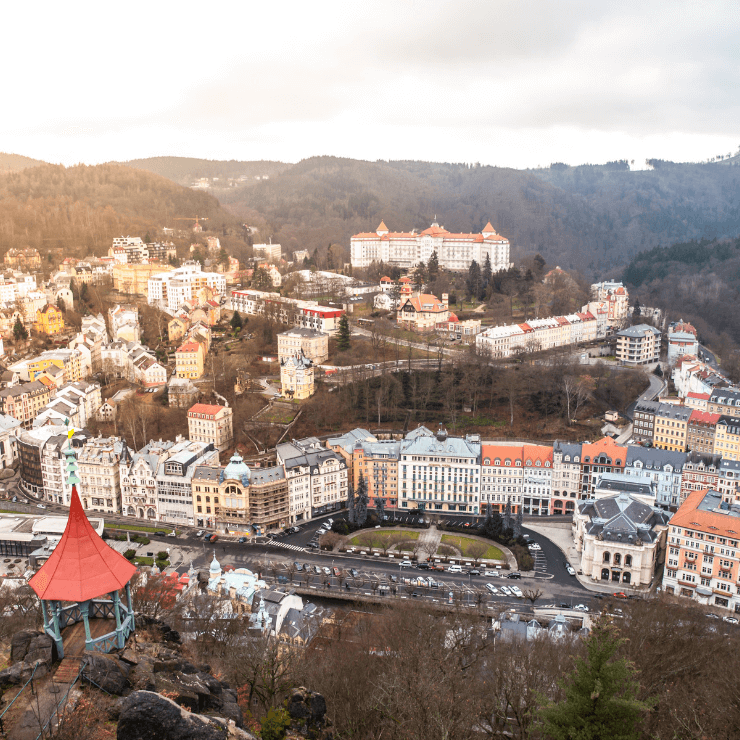 Day Trip From Prague #3: Karlovy Vary
If a day at the spa sounds like your perfect way to pass some time, then you'll love getting away to Karlovy Vary, a spa town located about 80 miles from Prague.
Karlovy Vary is home to a number of thermal spas that are said to have medicinal properties from the earth, ready to wash all your aches and pains away. At the very least, a soak in one of the thermal pools is sure to leave you feeling relaxed and rejuvenated.
Many of the spas in Karlovy Vary offer treatments that utilize the thermal mineral springs and peloids. Hotels in the city often have onsite spas where you can get a day pass or make an appointment for a treatment.
To take advantage of the water without paying hefty spa prices, head to the Mill Collonade, a neo-Renaissance structure that houses the local water springs within its porticoes and columned design with areas where you can drink a sample of water from the different springs.
If you want to see the most famous spring in Karlovy Vary, head to Vřídlo hot spring, an important site in Karlovy Vary as Vřídlo is the main source for the water that is fed to the spa's thermal baths. Representing this is a vast room with a fountain in the middle that shoots the mineral water of Vřídlo hot spring up into the air to the delight of visitors. The water can shoot as high as 12 meters and is a steamy 161 degrees.
Karlovy Vary is the most popular spa town in the Czech Republic's West Bohemian Spa Triangle, and if you're looking for more spa-tastic day trips from Prague, also check out the other spa towns along this triangle: Mariánské Lázně, Františkovy Lázně and Jáchymov.
If you want to do more in Karlovy Vary than just visit the spa, you'll be able to find other forms of entertainment. Get into nature with a brisk 15-minute hike to the top of Deer Jump Lookout for a panoramic view of the city's many Baroque and Art Nouveau buildings against the Bohemia countryside.
Another nature walk to do is around peaceful Dvořák Park, where you'll find stately trees, ornate gazebos, and a tranquil lake.
Day Trip from Prague #4: Cesky Krumlov
Escape into the South Bohemian region of the Czech Republic on a day trip from Prague to the gorgeous city of Cesky Krumlov. Located just over 100 miles from Prague, Cesky Krumlov is easily accessible by train, bus, or car and once you arrive in the city you'll find it is very easy to get around by foot.
Be aware, though, that the train station for Cesky Krumlov is located outside the city center and is about a thirty minute walk. You can also opt for a taxi or local bus ride between the train station and city center to save yourself the walking time. Several trains run between Prague and Cesky Krumlov each day, though there is only one direct train, but the line that has a connecting stop doesn't add too much time. Both the train and bus take just under three hours.
The main area of Cesky Krumlov you'll want to focus on during your day trip there is the Old Town area, which is remarkably well-preserved, earning it a coveted distinction as a UNESCO World Heritage Site. As you wander around the old cobblestoned streets you'll be charmed by the narrow lanes lined by colorful buildings.
Cesky Krumlov is also known for its magnificent 13th century castle that towers over the city with a large adjacent garden. The castle itself is marvelous to see thanks to its architecture that fuses Gothic, Baroque, and Renaissance styles, and visitors also get the added bonus of a panoramic view of Cesky Krumlov from the castle's bell tower.
For a unique museum experience while in Cesky Krumlov, check out the Marionette Museum, where you can learn more about the art of marionette making and what goes into putting on shows. You can also bring a marionette home with you as a souvenir.
A great place to take a break from your city touring in Cesky Krumlov is at one of the restaurants lining the riverfront of the picturesque Vltava River.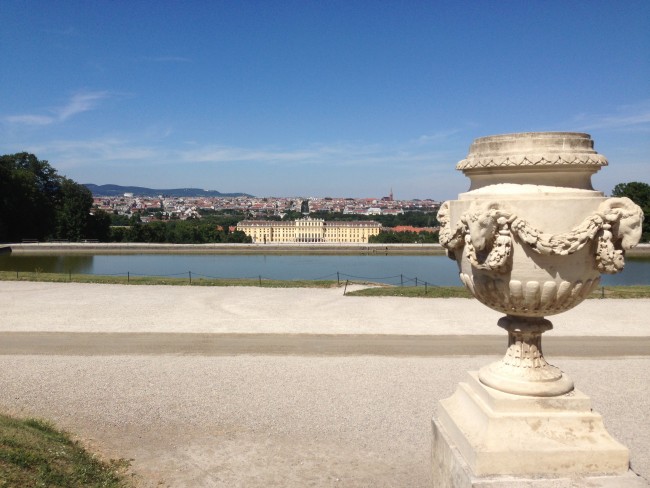 Day Trip From Prague #5: Vienna
Want to check off another big European city — and country — off your bucket list during your vacation in Prague? Then hop on a train or jump in your car and head to Vienna, Austria. You'll need to leave bright and early in the morning to have enough time to explore Vienna, but it's worth it to see this gorgeous Austrian city (one of my favorites in Europe!). Located close to the border of Austria and the Czech Republic, Vienna takes about four hours to reach by train from Prague (with departures before 5am, but then you can sleep on the train) and about three and a half hours by car.
In Vienna, you'll want to spend the day seeing the city's historical sights and experiencing its café culture. Some of the main things to do in Vienna that stand out are seeing Schonbrunn Palace, attending a stallion show at the Spanish Riding School, touring the ornately beautiful Vienna State Opera house, and visiting a house where Mozart once lived. You can learn more about these experiences and other things to do in Vienna by reading my One Day in Vienna article.
Which of these five day trips from Prague do you most want to do? I'd love to go back and do all of them for an epic Eastern European vacation!