The Best Things to See and Do in Vienna in One Day
Short on time in Vienna? This super detailed and helpful 1-day Vienna itinerary is here to help.
I love Vienna…the alluring blend of art, music, and grandeur of the buildings gives it a different feel from other major European cities. While I think everyone should spend multiple days in Vienna, sometimes that just isn't possible, and one day in Vienna is of course better than zero days. So if you find yourself with the opportunity to visit this city, even just for 24 hours – go!
To make that easier for you, I've created this detailed One Day in Vienna itinerary so you can keep yourself from feeling overwhelmed about filtering through the things to do and choosing what to see while in Vienna. I've included "One Day" tips for each recommended site to help you maximize your time. In addition, there are sites and things to do under the "Modified Itinerary" section that is more interest-specific depending on your favorite things to see and do while traveling.

Here's a quick breakdown of what you'll find in this article:
–Best Time to Visit Vienna
–One Day in Vienna Itinerary Outline
-Detailed 24-Hour Itinerary
–Where to Stay
-Itinerary Modification Ideas
–Where to Eat
–Getting Around Vienna
Here's an infographic for you, too, to get a visual idea of your day before reading the itinerary.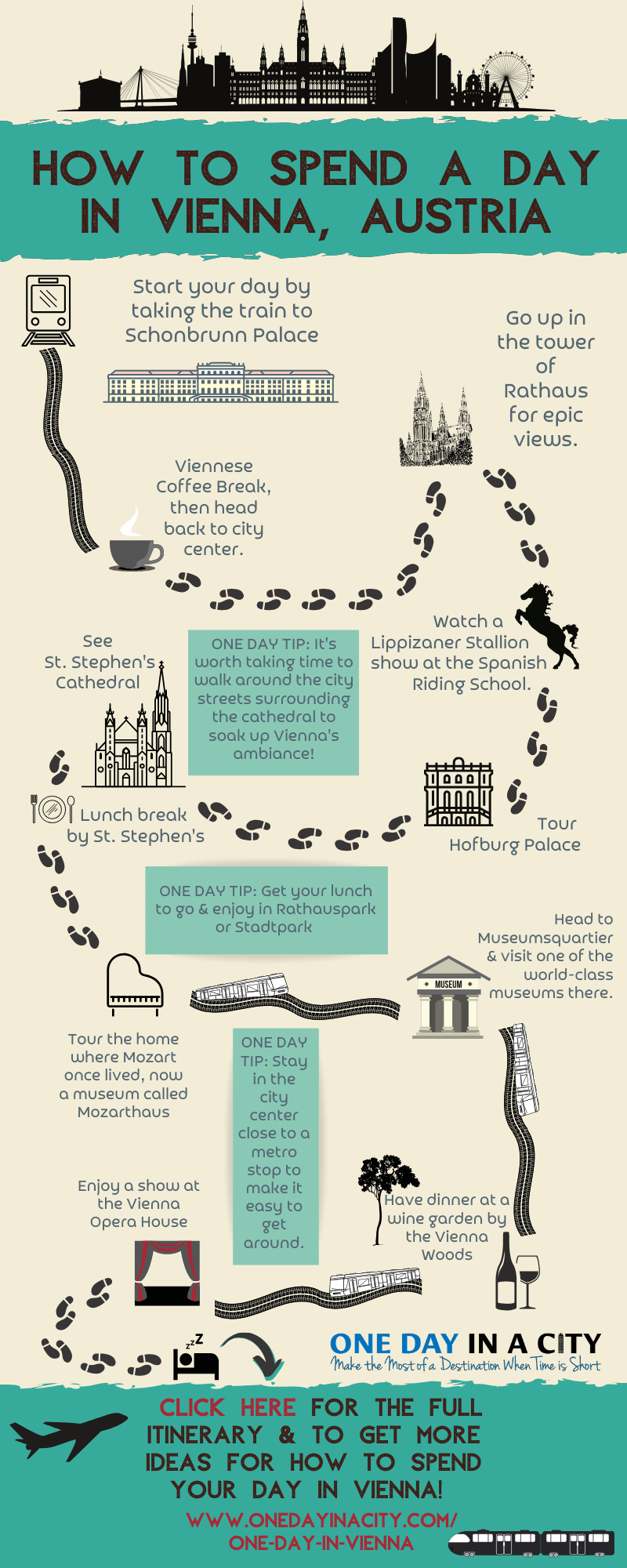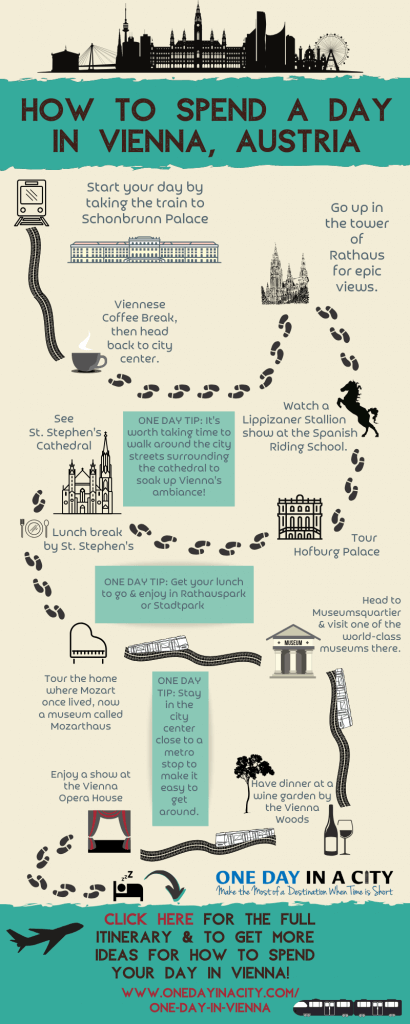 Best Time to Visit Vienna
Depending on your interests, July and August may not be the ideal time for you to visit. During those months the famous Vienna Opera House is closed as the musicians are on vacation. While other performances in stunning old Viennese buildings still happen, those who have their heart set on seeing an opera in the Vienna Opera House should aim to visit during a different month than July or August.
In addition, those who are looking forward to seeing the famed Lipizzaner horses of the Spanish Riding School in all their glory should note that horses get vacation, too, and during July and August they are on a farm in the country – though shows featuring some of the younger, not yet fully trained horses (and foals) are still conducted.
Vienna in a Day Itinerary Outline
Here is an outline of the itinerary and then I'll get into the details for each thing to do in Vienna below:
Time needed: 1 day
One Day in Vienna Recommended Itinerary
Schönbrunn Palace

Start your day by heading out of the city center to tour the elegantly impressive Schönbrunn Palace and grounds.

Rathaus

See the City Hall of Vienna and learn more about Austria's government.

Spanish Riding School

Experience the wonders of Lipizzaner stallions at this one-of-a-kind show.

Hofburg Palace

A stately palace located right in the city center of Vienna.

Mozart House

Tour a house where Mozart lived and learn more about the famous composer.

Vienna State Opera

See the ornate grandeur of this iconic opera house.

MuseumsQuartier

If you're a museum person, choose one to visit in this museum-focused neighborhood of Vienna.

St. Stephen's Cathedral

An incredible cathedral right in the heart of the city.

Belvedere Palace

A bonus architectural masterpiece to see if time allows.

Bonus Things to Do in Vienna

Also in this guide are tips on where and what to eat in Vienna, hotel recommendations, Vienna's cafe culture info, and what to pack for your one day in Vienna.
One Day in Vienna Recommended Itinerary
For the optimal itinerary to experience a wide range of Vienna in a short amount of time – and especially for those who are visiting Vienna for the first time, I've put together a recommended itinerary of how you should spend your day in Vienna (modified itinerary recommendations depending on your special interests are listed afterward).
Schönbrunn Palace
Though it's a bit of a trek to get to, Schönbrunn Palace is still a must to make time to see even if short on time in Vienna. Schönbrunn Palace was the summer residence of the Habsburgs in Vienna and it's an elegant, stately masterpiece to behold.
Schönbrunn Palace was the summer residence of the Habsburgs in Vienna. After the original palace that stood on the grounds was destroyed in 1683, a hunting lodge was put up instead. The hunting lodge stayed until Maria Theresa rose to power; she had the lodge reconstructed into the glorious Schönbrunn Palace and spent summers there. Her servants numbered in the hundreds and the buildings and grounds of Schönbrunn reflect that as there had to be enough space for her servants to live there, too.
One thing you'll note of Schönbrunn Palace is how warm the coloring of the palace feels. That also is thanks to Maria Theresa who had the palace decorated in walnut paneling with plenty of ornate touches and décor in predominately browns and reds.
In addition to the overall décor and ambiance of Schönbrunn Palace, other notable palace rooms include:
Bedchamber: The bed in this room was where Emperor Franz Josef (who ruled from 1848 to his death in 1916 and was the great-great-grandson of Maria Theresa) died and a painting of him on his deathbed is located in the room. You can also see his grooming tool, which is still the original.
Lavatory of Franz Josef: Note that this is not very elaborate compared to other rooms in Schönbrunn Palace (and most other palaces from the time period) as Franz Josef lived a very frugal lifestyle.
Dressing Room: This room is impressive to behold as it includes a mannequin with an example of Sisi's hair (Sisi was the nickname of Empress Elisabeth, the beloved wife of Franz Josef), which was so long it reached her ankles. It took hours for servants to do her hair each day.
Bedroom of Franz Josef and Elisabeth: Decorated in beautiful blues and greens.
Family Dining Room: Franz Josef often ate here and enjoyed traditional dishes for special occasions, like Wiener Schnitzel. Sisi rarely joined him in this room as she didn't eat much in order to retain her figure.
Children's Room: Here you'll see the pictures of Maria Theresa's 11 daughters, all of whom were married off for political reasons except one: Maria Christine. It was well known that Maria Christine was Maria Theresa's favorite daughter and she was the only one allowed to marry for love.
Mirror Room: Used for family celebrations and small concerts. A notable fact about this room is that Mozart gave a performance in it at the age of 6 in 1762.
Great Gallery: This long room was used for ballrooms, receptions, and banquets. It has excellent examples of rococo art, including frescoes depicting the glorification of the Maria Theresa reign.
Chinese Cabinets: Maria Theresa loved Asian art and these small, beautiful rooms served as a place for card playing and meetings, including secret ones that Maria Theresa would have with her most trusted advisors.
Carousel Room: Has a large painting of the Ladies' Carousel held by Maria Theresa at a winter riding school after the War of the Austrian Succession as a celebration of the recapture of Prague. Maria Theresa is riding a Lipizzaner horse in the painting.
The Grounds of Schönbrunn Palace also have sights you can't miss:
Garden Maze: The maze, of which there are three interconnected ones, takes about 30 minutes to walk through and opens up to the playground, making Schönbrunn Palace an ideal place to visit in Vienna with kids. One Day Tip: If you don't have kids, skip the maze unless you absolutely love mazes – there are other sights to see in Vienna that you should be spending your day visiting.
Walking Paths: There are several walking paths to get from the palace up to the Gloriette, an open-air structure that is the highest point on the grounds and provides amazing views of the city of Vienna. You can opt for paths that wind through the woods or open paths zigzagging up the hill along prettily planted flowers and bushes.
Café Gloriette: After doing the slightly strenuous walk up the hill to the Gloriette, take a quick break to enjoy a Schokochino at Café Gloriette. The Schokochino is thick, creamy, frothy coffee goodness with a hint of chocolate flavor. It comes topped with whipped cream, but it's not sweet; instead, the chocolate just adds to the creaminess of the drink.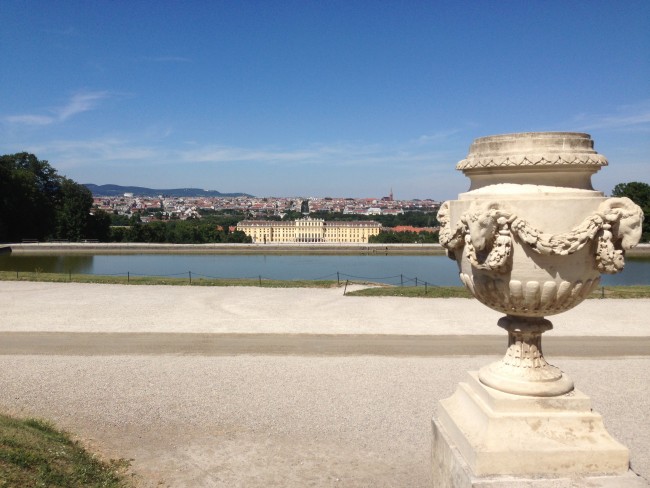 Schönbrunn Palace Quick Facts
Address: Schönbrunner Schlossstrasse 47
Metro: Schönbrunn (U4 Line)
Hours: April 1 – June 30 and September 1 – October 31, 8:30 a.m. – 5:30 p.m.; July 1 – August 31, 8:30 a.m. – 6:30 p.m.; November 1 – March 31, 8:30 a.m. – 5 p.m.
Phone: 43 1 811 13 0
Cost: Adults, €11.50; Children (ages 6-18), €8.50; Students (ages 19-25 with International Student ID), €10.50. (These ticket prices are for the Imperial Tour. The Grand Tour, which includes the rooms of Maria Theresa, costs a few euros more, and the Classic Pass is several euros on top of that, which also includes access to the Crown Prince Garden, the maze, and Gloriette – all of these can also be bought separately later on during your time at the palace.)
Note: If you bring a backpack or large purse you will need to check it.
One Day Tip: Opt for the Imperial Palace tour, which takes about 40 minutes and includes the opulent state rooms and private apartments of Franz Joseph and Sisi. Allow yourself an additional 40 to 60 minutes for walking around the grounds. Also, try to visit Schönbrunn Palace first thing in the morning before the crowds get really thick. You'll be able to tour it faster and then have the rest of the day to explore the other can't-miss sites of Vienna.
Rathaus
Rathaus is the city hall of Vienna and is the seat of the mayor plus houses the city council. It was built in 1883 and is an example of Historicism architecture, which blends historic architect styles of the past with a new style that is all its own.
The tower is the most reminiscent of a specific architecture style thanks to its Gothic look. While visiting Rathaus, be sure to look for the Rathausmann, a knight sculpture atop the tower which stands guard over the city. The Rathaus Tower is accessible via 331 steps which take you up spiral staircases to a landing with great views of Vienna, but if you only have one day in Vienna you may want to skip making this trek unless you really want the photo op.
Spanish Riding School
The Spanish Riding School is where the famous Lipizzaner stallions and their riders are trained. The Lipizzaner horses have been bred for the past 200 years and the Spanish Riding School preserves classical equitation, which works to create the perfect harmony between horse and rider.
The Lipizzaner stallions are bred to be the perfect mount for classical horsemanship and for carriage-pulling. A carriage pulled by four horses is considered to be the utmost in carriage driving. The two horses in front are elite and lead the carriage, while the two in back are the pull horses – they provide the strength. These horses must be impeccably trained and must readily respond to the sound of the driver's voice. Witnessing this type of carriage pulling at the Spanish Riding School gives you an excellent example of the training and elegance the Spanish Riding School is known for.
While at the Spanish Riding School, you'll also learn about how the horses are selected to be in the performances. It starts with the breeding. Broodmares are specifically chosen to continue strong lines and the foals of the broodmares signify ancestry and character. As foals, they must prove they can learn the appropriate skills and then at six months they are weaned.
The horses learn very early to lift their feet (you'll see why this is important during a performance at the Spanish Riding School) and are groomed daily so they immediately feel comfortable with humans. At one year the male foals are separated from their mothers and spend the summer in the mountains for training. The rest of the year, these talented stallions perform around the world, including at the Spanish Riding School, where you'll feel like you've been transported back into the Renaissance era while watching a performance.
Spanish Riding School Quick Facts
Address: The Visitor Center is at Michaelerplatz 1, which is adjacent to the Spanish Riding School arena.
Metro: Herengasse (U3 Line)
Phone: 43 1 533 90 31
Hours: Visitor Center hours are open Monday – Saturday 9 a.m. – 4 p.m. (and 7 p.m. on Fridays when there is a performance). Performance times and days can vary depending on the time of year though typically there is a performance at 11 a.m. on days when the Spanish Riding School is performing. Cost: Tickets range from €8 to €130 depending on show type and seating area. Reserving your ticket in advance is highly recommended and can be done so at www.srs.at.
One Day Tip: This is one place you'll want to arrive at least 15 minutes early as you'll have to get in one line to pick up your tickets (at the Visitor Center) then get into another line to get into the arena. Also, to save time, plan on seeing Hofburg Palace before or after the Spanish Riding School performance as the arena is located on the property of Hofburg Palace.
Hofburg Palace
The Spanish Riding School is located in Hofburg Palace, which also is worthy of some of your time in Vienna.
Hofburg Palace, also referred to as the Imperial Palace, has been the home of many members of Austrian royalty, like the Habsburgs, and is still lived in today by the President of Austria plus is the location of the offices for the ministers of the chancellor's office and the secretaries of state.
During the rule of the Habsburg family, Hofburg Palace served as the center of the Holy Roman Empire as well as the seat of the government and its administration. While visiting Vienna, you can just walk around the Hofburg Palace complex to see its array of different architecture, ranging from Neoclassical to Baroque due to constant expansion over 600 years.
If you're worried about time, you can quickly walk around the Hofburg Palace complex to see its array of different architecture, ranging from Neoclassical to Baroque. However, if you're a big fan of Emperor Elisabeth or love old palace décor, you may want to make time to visit Hofburg Palace's two onsite museums: the Sisi museum (Sisi was Empress Elisabeth's nickname) and the Imperial rooms of the palace.
Sisi Museum
The Sisi Museum located in Hofburg Palace is a museum dedicated to Empress Elizabeth, who became a beloved icon of Austria during her reign in the 19th century and was mostly called by her nickname, Sisi. Married to Emperor Franz Joseph I and known for her elaborate hairdos and fashion, Sisi loved the finer things in life while also rebelling against the royal life. The museum focuses on her life as a young girl in Bavaria to her life as the Empress of Austria, including her love for traveling and riding horses, to her assassination in 1898 as well her inner conflict of being in the public eye. The Museum of Sisi also houses some of her personal artifacts, including some of her elaborate fashion from that era, and the best paintings of her.
Imperial Rooms
Though most rooms of Hofburg Palace are still used for governmental purposes, the Imperial Rooms are open to the public and can be toured to get a glimpse of life as it was during the Habsburg era. During your time in the Imperial Rooms, you'll learn more about the Habsburg family and how they lived as Hofburg Palace served as the winter residence of the Habsburgs for over 600 years. The Imperial Rooms include the apartments of Franz Joseph and Sisi, which includes bedrooms, exercise rooms and dressing rooms, still decorated as they would have been in the 19th century.
Hofburg Palace Quick Tips
Address: Innerer Burghof
Phone: 43 1 533 75 70
Metro: Herrengasse (U3 Line)
Hours: September – June, 9 a.m. to 5:30 p.m.; July – August, 9 a.m. to 6 p.m.
Cost: Adults, €11.50; Children ages 6 – 18, €7; Students ages 19 – 25, €10.50. Includes Sisi Museum and Imperial Rooms plus an audio guide; tours with a human guide costs €2 more, last 55 minutes, and are offered daily at 2 p.m.
One Day Tip: If short on time, just walk around the grounds open to the public and skip a museum unless you're very interested in learning more about Sisi or enjoy historic architecture. You'll learn a bit about her during the audio tour at Schönbrunn Palace and the Imperial Rooms are also similar in style to what you'll see at Schönbrunn Palace.
Vienna State Opera & Musical Performance
Now we're onto the music part of your time in Vienna.
The musical side of Vienna is one you cannot miss experiencing during your one day in Vienna.
The Vienna State Opera is Vienna's most famous musical landmark and you should at least walk by it to take in its beautiful ornate architecture and see the stars of composers lining the ground – a more sophisticated version of Hollywood's Walk of Fame.
The Vienna State Opera (Wiener Staatsoper in German) is Vienna's premier opera house and one of the most famous opera houses in the world. The Vienna State Opera opened in 1869 after careful designing for optimum sound by architect August Sicard von Sicardsburg. Starting with the performance of Mozart's Don Juan, the Vienna State Opera has had a long history of incredible performances.
The sound engineering of Vienna State Opera got an updated overhaul in the 1940s after tragic bombings were inflicted to the building by the Nazis during World War II. The opera house was painstakingly rebuilt and reopened in 1955.
After being the place of persecution during World War II under the Nazi regime when many members of the opera house were driven out of Vienna or killed during the war and when most musical works of art were not allowed to be played, the rebuilding of the Vienna State Opera was symbolic of the rebuilding of Vienna and its new independence after the war.
Visitors to Vienna can opt to take a guided tour of the Vienna State Opera to learn more about the history and present day operations of the beloved institution. Inside the opera house, look for these elements while touring the famous building:
Frescoes: The famous "Zauberflöten" (meaning Magic Flute) series of frescoes on the veranda of Vienna State Opera. These frescoes were painted by Moritz von Schwind, a prominent artist of the era.
The Grand Staircase: Gorgeous to behold and one of the few parts of the opera house that was spared damage during the World War II bombings.
Schwind Foyer: Also spared during bombings, this ornate foyer has a beautiful frescoed ceiling, painted by Moritz von Schwind, a Vienna-born painter.
Performance Hall: This is where the musical magic happens. The Performance Hall of the Vienna State Opera is considered one of the best concert halls in the world for a reason: not only is it a gorgeous circular space, the design of the hall creates beautiful sounding acoustics.
The guided tour also provides access to the State Opera Museum, which is open Tuesday through Sunday and includes information and artifacts about performers who have wielded their talents at the Vienna State Opera House, as well as the history of the museum.
Vienna State Opera Quick Facts
Address: Opernring 2
Metro: Karlsplatz (U1, U2, or U4 Line)
Phone: 43 1 514 44 78 80
Hours: Tour times vary by day and time of year. Check here for tour times on the day you want to visit. For a guaranteed tour of the stage area as well, opt for the 10 a.m. tour on Sunday. Also note that on Mondays the State Opera Museum is closed so is not included in the tour.
Cost: Adults: €6.50; Seniors 65 and older, €5.50; Students, €3.50. Tickets are €1.50 less on Mondays when the State Opera Museum is closed.
One Day Tip: The guided tour lasts 40 minutes. Give yourself more time to see other Vienna sites during the day by visiting the Vienna Opera House at night while taking in a performance. Tips on getting tickets to a performance can be found under the Nightlife section of this guide.
One Night Tip: If you can, see a show at the Vienna State Opera, but don't worry if it's sold out or you're there in July and August during its hiatus as there are plenty of other wonderful places to hear music in Vienna, including my favorite, the Musikverein where you can see the Vienna Mozart Orchestra perform in historical costumes and wigs. The musical shows are often in the evening and make a good ending to your day in Vienna.
But before you get to the evening part of your day in Vienna, there are still other sites to see, including additional musical ones, like the Mozart House…
Mozart House
One of the most famous residents of Vienna's past is the composer, Wolfgang Amadeus Mozart. In 1781, at the age of 25, Mozart moved to Vienna after giving up his teaching position in Salzburg. He spent the most profitable years of his life in Vienna in the apartment now known as the Mozart House, which you can tour during your time in Vienna.
During the tour of the Mozart House, you'll see important memorabilia from Mozart's time on this earth, including some of his musical compositions, pictures of him and his wife, and his death announcement. You'll also learn about his family, his gambling issues, his aristocratic connections and love for the finer things in life, how he made money as an "avant-garde free musician," and his work for the Imperial Palace of Vienna.
You'll also get a sense for how Mozart and other affluent people lived in the 18th century as you walk through each room of the house.
Mozart House Quick Tips
Address: Domgasse 5
Metro: Stephansplatz (U1 or U3 Line)
Phone: 43 1 512 17 91
Hours: Open daily, 10 a.m. – 7 p.m.; last admission at 6:30 p.m.
Cost: Adults, €10; Children 14 years and younger, €3; Family Ticket (2 adults and up to 3 children), €20. Ticket includes an informative audio guide.
One Day Tip: If you're feeling short on time, choose the two rooms of most interest to you to listen to the audio guide. In the other rooms, scan the information cards and listen to the numbers that most interest you and skip the rest; this will help you get through Mozart House more quickly while still getting a large amount of history and information out of your experience.
St. Stephen's Cathedral
If there's one historic church you should see while in Vienna, it should be St. Stephen's Cathedral.
St. Stephen's Cathedral (referred to as Stephansdom in Vienna) combines Romanesque and Gothic architecture that blends together impressively as its prominent spire juts up from the city center. Construction on St. Stephen's was started in the 12th century (though it underwent extensive rebuilds after World War II) and since then has been a prominent landmark in central Vienna. The church is of Roman Catholic denomination and still holds weekly masses. While touring the church, take note of the following aspects:
The Pulpit: Carved in stone by Anton Pilgram, the impressive pulpit was built in the 1500s and is located under a soaring Gothic ceiling.
The Virgin's Choir: This Baroque section of the church is home to the opulent Wiener Neustädter Altar, a winged altar depicting scenes from the life of the Virgin Mary and which dates back to 1447.
South Tower (Steffl): Head up the more than 340 steps to get to the top of this tower for glorious views of Vienna.
Catacombs: This is where some of the bodily remains of the Habsburgs are kept, including urns of their entrails. You'll also see where bishops are buried. In addition, you'll see creepy sights like a pile of bones left over from the Black Plague stacked up in the catacombs like firewood. The catacombs can only be seen through a guided tour.
St. Stephen's Cathedral Quick Tips
Address: Stephansplatz 3
Metro: Stephansplatz (U1 or U3 Line)
Phone: 43 1 515 52 37 67
Cost and Hours: Walking around the cathedral on your own is free and can be done Monday – Saturday, 6 a.m. – 10 p.m. and Sunday, 7 a.m. – 10 p.m. Note that during mass you won't be able to have as much free range to walk around. The catacombs and the towers require a fee to access with more limited hours:
Catacomb Tour: Adults, €5; Children 14 years and under, €2; with tours leaving every 15 – 30 minutes Monday – Saturday from 10 a.m. – 11:30 a.m. and 1:30 p.m. – 4:30 p.m. and Sundays from 1:30 p.m. – 4:30 p.m.
South Tower: Adults, €4; Children ages 6 -14, €1.50; tower is open Monday – Sunday 9 a.m. – 5:30 p.m.
MuseumsQuartier
The next place to soak up some museum wisdom is in Vienna's Museum Quartier, one of the largest art and culture complexes in the world. The buildings that make up the MuseumsQuartier date back to the 18th and 19th century and are lovely to walk around as they are surrounded by creatively designed gardens and courtyards plus quaint cafes. Inside the buildings, you'll find a multitude of impressive art collections. Museums include:
Leopold Museum – This museum is home to an impressive collection of Viennese pieces of art, with a highlight on Art Nouveau and Classical Modernism. Fans of Egon Schiele will also enjoy this museum as it has some of his most important works. Hours: Monday, Wednesday, Friday – Sunday, 10 a.m. – 6 p.m.; Thursday, 10 a.m. – 9 p.m.; Tuesday, Closed. Cost: €12
museum moderner kunst stiftung ludwig wien(mumok) – Modern art lovers will enjoy the mumok museum (which writes its name lowercase) as it is the largest in central Europe for contemporary and modern art and has a wide range of international pieces. Hours: Monday, 2 p.m. – 7 p.m.; Wednesday and Friday – Sunday, 10 a.m. – 7 p.m.; Tuesday and Thursday, Closed. Cost: €10
Kunsthalle Wien – A visit here will delight you if you're more into subjects than paintbrushes as it focuses on photography, video, and other forms of new media. Hours: Daily except Thursday, 10 a.m. – 7 p.m.; Thursday, 10 a.m. – 9 p.m. Cost: €12
Architekturzentrum Wien – This museum has an ever-changing exhibit featuring events and research related to contemporary architecture. Hours: Daily, 10 a.m. – 7 p.m. Cost: €7
Naturhistoriches Museum Vienna – With over 30 million artifacts and specimen housed under its roof, it's no wonder the Naturhistoriches Museum Vienna, or Natural History Museum Vienna, is one of the most acclaimed natural history museums in the world. Originally founded in 1750 by Emperor Franz I Stephan of Lorraine, today the museum houses an array of famous and unique holdings. See the Venus of Willendorf, the skeletal remains of the extinct Stellar's Sea Cow, or marvel at the dinosaur bones. You can also view the world's largest meteorite collection while at the museum. Hours: Wednesday, 9 a.m. – 9 p.m.; Thursday – Monday, 9 a.m. – 6:30 p.m.; Tuesday, Closed. Cost: Adults, €10; Students under age 27, €5; Children under age 19 are free.
ZOOM Kindermuseum – This hands-on art and culture museum is designed just for kids and is great for families with young children visiting Vienna. Hours: Tuesday – Friday, 8:30 a.m. – 4 p.m.; Saturday – Sunday, 10 a.m. – 4 p.m.; Monday, Closed. Cost: Free for exhibits; certain activities cost extra.
Kunsthistorisches Museum – The main collections of this museum are those of the Habsburgs, which makes sense as this museum was originally built to house the imperial collections. Since its opening in 1891, the Kunsthistorisches Museum has expanded its collections to include artwork from Egypt, the Greek and Roman Antiquities collection, and an impressive Picture Gallery that includes artwork from Rembrandt, Raphael, and Peter Paul Rubens. Cost: Adults, €14; Children under 19 are free. Hours: Monday – Wednesday and Friday – Sunday, 10 a.m. – 6 p.m.; Thursday, 10 a.m. – 9 p.m.
The MuseumsQuartier is also home to dance theaters and venues for musical and theater performances.
MuseumsQuartier Quick Tips
Address: Museumsplatz 1/5
Metro: Museumsquartier (U2 Line)
Phone: 43 1 523 58 81
One Day Tip: Even if you're not a museum person and don't want to visit any of the museums of the MuseumsQuartier, it is still worth a visit to walk around and soak in the historic buildings and courtyards. If you don't visit a museum, then check out other activities to fill your time under the Modified Itineraries section
Austrian National Library
Skip MuseumsQuartier and head to this museum instead if you're a book lover. The Austrian National Library is the oldest library in Austria and houses over eight million books and historic artifacts, with some dating back to the 14th century.
The Austrian National Library serves as a center for information and research, though visitors not researching an academic paper will still enjoy touring it and its onsite museums, where you can see the world's largest papyrus collection, a collection of historic globes, the beautiful Baroque Hall of State, rare books, music manuscripts and opera texts, and much more.
Austrian National Library Quick Tips
Address: Josefsplatz 1
Phone: 43 1 534 10
Metro: Herrengasse (U3 Line)
Hours: Tuesday – Wednesday and Friday – Sunday, 10 a.m. – 6 p.m.; Thursday, 10 a.m. – 9 p.m.; Closed Monday.
Cost: Visitors have two different ticket options, which can be purchased together, depending on your interests: State Hall Only Ticket – Adults, €7; Children under 19 years old are free with purchase of adult ticket.
Combi Ticket for the Esperanto, Globe, and Papyrus Museums – Adults, €4; Children under 19 years old are free with purchase of adult ticket.
Belvedere
If you're into stately architecture and palaces you may want to try to squeeze one more stop into your one day in Vienna itinerary: the Belvedere.
The Belvedere consists of two 18th century palaces, the Upper Belvedere and the Lower Belvedere, that are beautiful examples of Baroque architecture. Today, visitors can see the architecture up close while touring the museum exhibits located on the premises of the Belvedere palaces. The Upper Belvedere also has excellent views of Vienna – ideal for those looking for a good photo op of the city.
In the Upper Belvedere, you'll have the chance to see incredible works of Austrian art, some of which date back to the Middle Ages. The museum also hosts contemporary Austria artworks.
The Lower Belvedere is still largely decorated in 18th century décor and has many impressive rooms, including the Marble Hall, which has ceiling frescoes and other artwork on the walls, and the Marble Gallery, which has statues highlighted under scalloped arches.
The Belvedere also is adjacent to two other attractions. The first one is 21er Haus, a museum of contemporary art in an architecturally alluring building built in 1958 that has an exterior of steel and windows and which was incorporated into the Belvedere in 2002. The other extra attraction is the Winter Palace, which a baroque beauty that once served as the palace of Prince Eugene of Savoy and today is set up to showcase the baroque interior and collections of contemporary art.
Belvedere Quick Tips
Address: Prinz Eugen-Straße 27
Metro: Hauptbahnhof (U1 Line)
Phone: 43 1 795 57 134
Hours: Daily, 10 a.m. – 6 p.m. (Lower Belvedere is open until 9 p.m. on Wednesday. 21er Haus is open until 9 p.m. on Wednesday and Thursday and closed on Monday and Tuesday.)
Cost: Upper Belvedere: €12.50; Lower Belvedere: €11; Upper and Lower Belvedere: €22.50; Upper/Lower Belvedere and 21er Haus: €22.50; Upper/Lower Belvedere, 21er Haus, and Winter Palace: €30. (Prices listed are for adults, kids 18 and younger are free.)
Where to Sleep in Vienna
Vienna has a variety of places to stay from B&Bs to 5-star luxury. Vienna is not known for being affordable for travelers, but it's worth it to splurge a bit with your budget to stay in the city center.
Aviano is located about as centrally as you can get in Vienna's stately and opulent downtown area and is one of the best values in the city. As a result of its location, you might expect lots of people and an urban atmosphere and while that certainly applies to everything surrounding the Viennese building that Aviano Boutique Hotel feels like a calm oasis. The second the small elevator opens onto the upper floor of the building Aviano is located in, you'll enter a peaceful B&B.
The dining area has an old-fashioned, romantic vibe that is a perfect place to start your day with the delicious complimentary breakfast in beautiful Vienna. Inside the rooms, small touches prevail. Though there is no air conditioning (a caveat of staying in an older building) fans are placed in the rooms to keep it cool during the summer months.
The décor in the guest rooms of Aviano are exactly as you would expect in a place as historic and romantic as Vienna. Ornate wallpaper and old-fashioned boudoirs line the room, and intricate chandeliers hang from the ceiling. Leave your room and head outside and you're just a few minutes' walk away from some of Vienna's top sights, including the Vienna State Opera. I loved my stay there and highly recommend it.
Want to sleep where John F. Kennedy and Queen Elizabeth II have rested their heads? Head to Hotel Sacher Vienna, a luxurious hotel centrally located in Vienna that also gives you direct access to the adjacent Sacher Café, where you can fill up to your heart's delight on tortes and Viennese hot chocolate. But let's move our minds away from food and back to the rooms. Hotel Sacher has opulent guest rooms with painstaking attention to details that will enhance your comfort level during your stay. Rooms are decorated in soothing colors and have crystal chandeliers and well-stocked mini bars, while the beds are outfitted with high quality bedding and the bathrooms have luxury toiletries and spacious countertops, tubs, and showers.  
Budget-Friendly Hostel Ruthensteiner
The clean and friendly Hostel Ruthensteiner has a convenient location a short walk from Westbahnhof train station, which is located between Schönbrunn Palace and Old Town. In addition to rooms ranging from 6-10 bed dorm rooms (including female only ones) to private rooms for one to five people, some with ensuites, you'll find a host of extras at Ruthensteiner Hostel.
Grab a drink at the onsite bar or take your pick from the wall of musical instruments and start an impromptu concert with some of the other hostel dwellers. In addition, there is free Wi-Fi, hair dryers, 24 hour reception, lockers, kitchen, and laundry facilities. In addition, you can book tours and rent bicycles and even iPads at the front desk.
You can also search for the perfect Vienna hotel for you by using Booking.com, which is one of my favorite hotel booking sites since it is super easy to use and see the rooms available, plus has free cancellation for most rooms.
One Day in Vienna Modified Itinerary Ideas
Visiting the recommended sites I listed above will give you a great feel for the history and culture of Vienna. To add more into the day would really rush things, and you'll want to enjoy your time at each site. However, since not everyone places similar value on the same types of attractions when traveling, here are some other sites you may want to visit while in Vienna.
Each site includes a recommendation on what to substitute from the One Day in Vienna recommended itinerary, which are chosen based on time constraints while still getting a similar cultural experience from your day; however, you may want to spend your entire day at museums or more time at the parks so rearrange and pick and choose your ideal day as you desire.
Vienna Itinerary Modification for Park Lovers: Stadtpark
If you enjoy park settings, then Stadtpark in Vienna is worth some of your time during your day in the city. Elegant landscaping and colorful flowers dot a grassy setting with meandering trails and bridges along the River Wien.
The focal point of Stadtpark is the Johann Strauss statue; a bronze statue of the revered composer playing the violin is elevated on a platform beneath an arch, surrounded by greenery and flowers.
Stadtpark Quick Tips
Address: Located between Parkring and Am Heumarkt
Metro: Stadtpark (U4 Line)
Phone: 43 1 400 080 42
Hours: Open 24 hours a day.
Cost: Free
What to Substitute from the Recommended Itinerary: St. Stephen's Cathedral or Rathaus for a short stay, or Hofburg Palace or one of the museum's in the MuseumsQuartier for a longer stroll through the park.
Vienna Itinerary Modification for Architect Buffs: Hundertwasserhaus
Hundertwasserhaus requires a bit of a jaunt outside the city center to the Landstraße district, but it's worth it for those who like interesting architecture.
Hundertwasserhaus was completed in 1985 and is the creation of artist/architect Friedensreich Hundertwasser, an Austrian-born architect and artist known for his contemporary creations. Hundertwasserhaus is immediately eye-catching with an exterior of bright paint colors wrapping around the windows in colorful, curvy blocks and over 200 types of trees and plants grow on its rooftop.
The inside of the building can't be toured as it is actually inhabited by lucky tenants, but this is one building that's well worth visiting to see the exterior. If you do want to see inside a Friedensreich Hundertwasser creation, head to the nearby Kunst Haus Wien, a building his designs influenced which houses the Hundertwasser Museum about his life and the construction of Hundertwasserhaus. The museum also has temporary exhibits of other artists' works.
Hundertwasserhaus Quick Tips
Address: Kegelgasse 36-38
Metro: Rochusgasse (U3 Line)
Phone: 43 1 470 12 12
Hours: 24 hours a day
Cost: Free
What to Substitute from the Recommended Itinerary: Schönbrunn Palace
Kunst Haus Wien Quick Tips
Address: Untere Weißgerberstraße 13
Metro: Rochusgasse (U3 Line)
Phone: 43 1 712 04 91
Hours: Open daily, 10 a.m. to 7 p.m.
Cost: Hundertwasser Museum or Temporary Museum: Adults, €10; Children and Teens ages 11 – 18 years old, €5; Families (2 Adults and up to 4 children – children can be 18 years old and younger), €22. Hundertwasser Museum and Temporary Museum: Adults, €12; Children and Teens ages 11 – 18 years old, €6; Families (2 adults and up to 4 children – children can be 18 years old and younger), €26. Children ages 10 and younger are free.
What to Substitute from the Recommended Itinerary: Schönbrunn Palace
Vienna Itinerary Modification for Church Lovers: St. Peter's Church
St. Peter's Church is a glorious Baroque church tucked into a corner of Petersplatz square that stands on a plot of land believed to have been used by Christians as a place of worship as far back as the 4th century and thus is considered to be the oldest Christian site in Vienna.
The present chapel was built in the early 1700s. A visit inside is worth it to view the impressive fresco in the dome portion of the ceiling depicting the Coronation of the Virgin.
St. Peter's Church Quick Tips
Address: Petersplatz
Metro: Stephansplatz (U1 or U3 Line)
Phone: 43 1 533 64 33
Hours: Monday – Friday, 7 a.m. – 8 p.m.; Saturday – Sunday, 9 a.m. – 9 p.m.
Cost: Free
What to Substitute from the Recommended Itinerary: Rathaus or Mozart House if you want to spend extra time in St. Peter's Church, otherwise you can quickly pop into this church after visiting St. Stephen's Cathedral as the two churches only take a few minutes to walk between.
Vienna Itinerary Modification for Photo Snappers: Danube Tower (Donauturm)
The Danube Tower is the highest structure in Austria, standing tall at 252 meters. The Danube Tower is located in pretty Donaupark and was built in 1964 for the Viennese International Horticultural Show. The terrace at the top of the Danube Tower is a great spot for sky high views of Vienna and to get panoramic pictures of the cityscape. There are also two revolving restaurants at the top of the Danube Tower (see restaurant section).
Danube Tower Quick Tips
Address: Donauturmstraße 4
Metro: Alte Donau (U1 Line)
Phone: 43 1 263 35 72
Hours: Open daily, 10 a.m. to midnight. Last lift up to the terrace departs at 11:30 p.m.
Cost: Adults, €7.40; Children ages 6 to 14, €5.20; Children under 6 are free.
What to Substitute from the Recommended Itinerary: Upper Belvedere
Modification for Music (and Beethoven in Particular) Fans: Eroicahaus
Eroicahaus is where Beethoven spent the summer of 1803 to work on his third symphony, Eroica. Referred to today as the Wien Museum Beethoven Eroicahaus, the layout of this small museum reflects this moment in time and has rooms with musical instruments and the set up that Beethoven probably enjoyed to compose his music.
Eroicahaus is located in the town of Oberdöbling near the Vienna Woods and touring Eroicahaus will give you a feel for what it was like to live in Oberdöbling in the early 1800s when it was still very rural.
Eroicahaus Quick Tips
Address: Döblinger Main Road 92
Metro: Heiligenstadt Bf (U4 Line) Note: It's a 20 minute walk from Heiligenstadt Bf – take a cab or Tram 37 to Pokornygasse to get dropped off closer to Eroicahaus.
Phone: 43 1 369 14 24
Hours: Open by appointment only. Call 43-1-505 8747-85173 at least two weeks in advance.
Cost: Adults, €4; Children under age 19, Free. Tip: Keep your ticket stub from the Mozart House to get €1 off your admission.
What to Substitute from the Recommended Itinerary: MuseumsQuartier or Hofburg Palace
Modification for Those Wanting to Learn More About Vienna's Government: Parliament Building
Vienna is the capital of Austria and you can learn about the top government officials and how law and policy making works in Austria at the Austrian Parliament Building. While touring the Parliament Building you'll learn about the National Council and the Federal Council plus see the room of the Federal Assembly (if it's not in session).
The Parliament Building is also stunning in and of itself and you'll hear about the architectural features and historical background of the building.
Parliament Building Quick Tips
Address: Dr. Karl Renner-Ring 3
Metro: Rathaus (U2 Line)
Phone: 43 1 401 10 24 00
Hours: Beginning of September – Mid-July (depending on end of session): Monday – Saturday, tours at 11 a.m., 2 p.m., 3 p.m., 4 p.m. On Friday there is also a tour at 1 p.m. and on Saturday there are also tours at 12 p.m. and 1 p.m. Mid-July – Beginning of September: Monday – Saturday, tours at 11 a.m., 12 p.m., 1 p.m., 2 p.m., 3 p.m., 4 p.m.
Cost: Adults, €5; Students, €2.50; Children ages 19 and under, Free. Entrance fee covers hour-long guided tour of the Austrian Parliament.
What to Substitute from the Recommended Itinerary: MuseumsQuartier or Mozart House
Vienna Itinerary Modification for Sky-High Fun: Riesenrad
The Riesenrad, also referred to as the Vienna Giant Wheel, is a Ferris wheel located in Vienna's Prater Park. Originally built in 1897 for the Golden Jubilee celebration of Emperor Franz Joseph I, the Riesenrad was rebuilt in 1945 after a fire burned down the original structure. The rebuilt Ferris wheel has cabins that look like a throwback to another era with red interior that encloses seats inside and large windows from which you can see gorgeous views of Vienna.
You can also learn more about the history of Vienna, particularly the Prater area, in the Panorama exhibit, which has eight different old Ferris wheel cabins that today house installed replications of scenes from Vienna's past.
Riesenrad Quick Tips
Address: Riesenradplatz 1
Metro: Praterstern Bf (U1 Line)
Phone: 43 1 729 54 30
Hours:
January 1 – January 6, March 1 – April 11, October 1 – November 2, November 22 – December 30: 10 a.m. – 9:45 p.m.
January 18 – February 28, November 3 – November 21: 10 a.m. – 7:45 p.m.
April 12 – August 31: 9 a.m. – 11: 45 p.m.
September 1 – September 30: 9 a.m. – 10:45 p.m.
December 31: 10 a.m. – 2 a.m.
Cost: Adults, €9; Children ages 3 – 14, €4; Children under 3, Free.
What to Substitute from the Recommended Itinerary: Rathaus or Upper Belvedere
Vienna Itinerary Modification for Families: Prater Park
The Riesenrad isn't the only attraction in Prater Park. There is also the Grottenbahn, a collection of thirty eccentrically decorated grottos that reflect stories from fairy tales and you visit each grotto via a pleasant train ride. Families who want more adventures in the sky can go for a ride on the Praterturm, the world's highest flying swing at 117 meters.
A planetarium is also located in Prater Park, which will teach kids about astronomy. There is also a rollercoaster, light rail, restaurant and more on the grounds of Prater Park.
Prater Park Quick Tips
Address: Wiener Praterverband
Phone: 43 1 728 05 16
Metro: Praterstern Bf (U1 Line)
Hours: The grounds of Prater Park are open 24 hours, though rides and attractions on the grounds have limited operating hours. Aim to arrive in late morning to early afternoon in order to take full advantage of the attractions.
Cost: Entering Prater Park is free, though the attractions cost extra ranging from €2 to €9.
What to Substitute from the Recommended Itinerary: Schönbrunn Palace or Hofburg Palace
Vienna Itinerary Modification for Animal Lovers: Schönbrunn Zoo
Often voted one of Europe's best zoos, the Schönbrunn Zoo is located within the Tiergarten grounds of Schönbrunn Palace. The Schönbrunn Zoo is the world's oldest zoo and while visiting it you can see where Emperor Francis Stephen of Lorraine kept his menagerie of animals during his reign.
The zoo has over 700 species, including Siberian tigers, panda bears, and elephants. It is a great attraction for those who love seeing animals and is also an ideal kid-friendly activity in Vienna.
Schönbrunn Zoo Quick Tips
Address: Schönbrunner Tiergarten-Gesellschaft m.b.H. Metro: Station Hietzing (U4 Line)
Phone: +43 1 877 92 94-0
Hours: Open Daily. February, 9 a.m. – 5 p.m.; March and October, 9 a.m. – 5:30 p.m.; April – September, 9 a.m. – 6:30 p.m.; November – January, 9 a.m. – 4:30 p.m.
Cost: Adults, €16.50; Children ages 6 – 18, €8; Children under 6, Free
What to Substitute from the Recommended Itinerary: MuseumsQuartier and Belvedere
Vienna Itinerary Modification for Nature Lovers: Vienna Woods
If nature is more your thing than history, you may opt to spend your afternoon in Vienna outside the cosmopolitan city center and instead head to the Vienna Woods, a protected UNESCO-designated biosphere reserve that is adjacent to the city of Vienna to the southwest and is part of the Alps' foothills. The Vienna Woods covers nearly 25,000 acres and consists of numerous rugged hiking trails through thickly planted trees and plants.
Wine lovers will enjoy the many vineyards that are part of the Vienna Woods and which loop around quaint villages, where you can often find a shop to do a tasting in. Grinzing and Neustift am Walde are popular wine villages.
If you like to hike with a destination in mind, walk to the Stefanie-wart Look-out, which has fantastic views across the woods and surrounding countryside and mountains. While walking around Vienna Woods, keep in mind – and an eye out for – the over 150 bird species that call it home, including the endangered Ural Owl.
Vienna Woods Quick Tips
Address: Anton-Krieger-Gasse / Kalksburger Straße
Getting There: While there are bus lines that will take you to Vienna Woods, they are time consuming and sporadic. If short on time in Vienna, it's best to rent a car for the day and have the option to drive directly to what you wish to see in Vienna Woods. The A1 or A23 to the A21 road will take you from Vienna's city center to the Vienna Woods.
Cost: Free, though activities in certain areas may cost extra.
What to Substitute from the Recommended Itinerary: Schönbrunn Palace
Vienna Itinerary Ideas for Shopping
Ringstrassen-Galerien
The lobby of one of Vienna's most opulent hotels, the Grand Hotel Wien, is also home to the city's best upscale shopping. You'll get to browse through clothing, jewelry, and lifestyle shops in a luxurious, unique setting. There are over 70 shops and they include both Austrian and international labels.
Address: Kärntner Ring 5 – 7 and 9 – 13 Metro: Karlsplatz (U1, U2, or U4 Line) Phone: 43 1 512 51 81 Hours: Monday – Friday, 10 a.m. – 7 p.m.; Saturday, 10 a.m. – 6 p.m. Closed Sunday.
Naschmarkt
Naschmarkt is a food market located in Vienna that has over 120 stands and which is home to a large flea market every Sunday. If you love bargain shopping and are in Vienna on a Saturday, it's a must-visit.
Address: Naschmarkt by Wienzeile Metro: Kettenbrückengasse (U4 Line) Hours: Saturday, 6:30 a.m. to 6:30 p.m.
Where to Eat in Vienna
I'm going to break this section into three parts: wine gardens, non-wine garden restaurants by some of Vienna's main attractions, and cafe culture.
If you just have 24 hours in Vienna, I recommend checking out one of the wine garden restaurants because I think they're such a neat aspect of Vienna. But I also recommend some restaurants right in the city center in case you're especially short on time. Cafe culture also can't be missed in Vienna and is practically an attraction unto itself.
Wine Garden Dining
Unlike most of its European neighbors, Vienna is known more for its wine gardens than beer gardens, thanks to the nearby wine-making region in Vienna Woods. Vienna is the only major city in the world that has a wine region with vineyards within its city limits. And Vienna is beautiful with wonderful weather in the non-winter months, meaning wine gardens are a lovely way to enjoy a glass of Viennese wine with some delicious Austrian cuisine. Here are some of the top winery-operated restaurants to check out:
Pffarwirt in Grinzing
The patio of this restaurant is completely surrounded by bright green shrubbery and the large tree in the center creates a canopy of branches over nearby tables. The food is delicious and this wine garden carries some of the best wine you can find in Vienna. Try the perfectly cooked Wiener Schnitzel.
Address: Pfarrplatz 5
Phone: 43 1 370 73 73
Wiengut Mayer am Pfarrplatz Beethoven-Haus
This looks like a beer garden at first glance thanks to wooden tables flanked by large trees within an open air setting. But the specialty of this place is the wine, served alongside Austrian fare. What makes it even more special is that it gets its name because it's located in Beethoven's former home.
Address: Pfarrplatz 2
Phone: 43 1 370 12 87
Non Wine-Garden Dining
Steirereck
This elegant restaurant is located in lovely Stadtpark and is one of the top gourmet restaurants in Vienna. Try to reserve a seat on the patio or terrace to enjoy your meal of delectable Austrian cuisine.
Address: Am Heumarkt 2A / im Stadtpark
Phone: 43 1 713 31 68
Herzog's Wirtshaus
This local favorite located by Schönbrunn Palace provides affordable cuisine in a quaint setting. It serves up traditional Austrian favorites with fresh local ingredients and is family-run.
Address: Sechshauser Straße 120
Phone: 43 1 893 69 29
Salm Braeu
This is a brewery, distillery, and restaurant and provides a fun dining experience. Sip on local Austrian beer while you browse the menu full of hearty traditional fare. Try the beer spread for your bread as an appetizer and the Schinkenfleckerl (Austrian pasta with ham) for your main meal.
Address: Rennweg 8
Phone: 43 1 799 59 92
Café Culture in Vienna
Vienna is known for its incredible coffees that are thick, creamy, and delicious plus its decadent desserts. Luckily for visitors to Vienna there are plenty of opportunities to drink Viennese Coffee and eat some sweets due to the many cafes dotted around the city. Here are a couple great ones to stop at for a cup of coffee or yummy treat:
Café Sacher Wien
Café Sacher Wien is a famous café in Vienna. Located adjacent to the Hotel Sacher, it features pretty fantastic décor with touches of romanticism, red upholstered tables and stately chairs plus a long bar you can sidle up to and order a quick cup of Viennese Coffee. If coffee's not your thing, try their hot chocolate – it's divine. You'll also want to make sure you order a slice of the café's Original Sacher-Torte.
Address: Philharmonikerstraße 4
Phone: 43 1 514 566 61
Demel
Demel is home to sweets and confectionary so delicious that Empress Sisi would have them personally delivered to her. Demel, the origin of which dates back to 1786, is still serving up its sweets and pastries to visitors from around the world. Stop at the shop to pick up some delicacies, then take a moment to watch the bakers do their tasty work as the baking area of Demel is visible to the public through the elaborate and ever changing shop window display.
Demel also has excellent Viennese coffee and hot chocolate. For those who are interested in learning more about Demel's past, there is an adjacent museum that covers the history of Demel and Viennese chocolate and sweets.
Address: Kohlmarkt 14
Phone: 43 1 535 171 70
One Day Tip: There is often a wait to grab a table – get your sweets to go and instead enjoy when touring Rathauspark or Stadtpark (see modified itinerary section), or for a pick-me-up when you get back to your hotel before getting ready for the night.
Vienna Nightlife
Vienna isn't really the place to hit the clubs if you're short on time and only have one or two nights there. Instead, take in a musical performance. It's what Vienna is known for and some of the best concert musicians and opera singers in the world congregate here. Two of the most popular places to take in a show are the Vienna State Opera and Musikverein.
Vienna State Opera Quick Tips
What: Afternoon and evening performances of operas and ballets in Vienna's most famous opera house.
Address: Opernring 2
Metro: Karlsplatz (U1, U2, or U4 Line)
Phone: 43 1 514 44 78 80
Cost: Tickets range from €8 – €250 with many price points in between, depending on where in the theater the seats are located. The lower priced tickets have a restricted view of the stage.
How to Purchase Tickets: Go to the concert venue website and click on "purchase tickets" under the performance you wish to attend. There are also ticket offices in Vienna where you can buy tickets, but this can be risky as shows often sell out weeks in advance.
Note: It is important to know that if your dream of visiting Vienna must include attending a show at the Vienna State Opera, then you should not visit the city in July or August as the Vienna State Opera does not do any performances during this month.
Musikverein Quick Tips
What: A historical, beautiful concert hall in Vienna mostly hosting orchestras and opera singers, of which the most popular performances are the ones by the Vienna Mozart Orchestra, whose musicians perform dressed in historical costumes and wigs.
Address: Musikverein Platz 1
Metro: Stadtpark (U4 Line)
Phone: 43 1 505 81 90
Cost: Vienna Mozart Orchestra: €45 – €89; other performances have tickets starting from €5.
How to Purchase Tickets: Tickets can be purchased online here. Choose the performance you wish to see and choose your ticket by category. You can also purchase tickets at the Musikverein box office located on the left side of the Musikverein building on Monday – Friday from 9 a.m. – 8 p.m. (9 a.m. – 12 p.m. during July and August) and Saturday from 9 a.m. – 1 p.m. plus one hour before concerts. For best seat selection, purchase your ticket online in advance.
Alternate Nightlife Option: Medusa Restaurant and Club
For those looking for a drink at a lively establishment, Medusa is a good choice as it's located right in the heart of Vienna's bustling city center. A patio with lounge seating is available outside or you can head indoors to find a table amidst trendy décor in the lounge or club area. Medusa has local wines available plus a full bar.
Address:  Neuer Markt 8
Phone: 43 676 60 57 286
Vienna Transportation
A key to making the most of your day in Vienna is getting into the city center as quickly as possible and then expertly making your way around the city once you've arrived.
Getting to Vienna
Most people arrive to Vienna via three different methods:
By Air: Vienna International Airport (VIE) is located 10 miles east of the city center. The fast economical way to get into the city from Vienna International Airport is to take the 16-minute City Airport Train (CAT) to the Wien Mitte/Landstraße stop in the city center. This train operates into the city from 6:05 a.m. to 11:35 p.m. and returns to the airport from Wien Mitte/Landstraße between 5:38 a.m. to 11:08 p.m. It departs every 30 minutes. The cost is €11 for one way or €17 for roundtrip and you can buy your ticket when you arrive from ticket machines or the tourist information desk at the airport. From Wien Mitte/Landstraße you can jump on the U-Bahn metro to your hotel or starting point for the day. You can also take a bus into the city center: Postbus line 1185. This bus service runs daily from the airport between 4:50 a.m. and 1:20 a.m. with departures every half hour on the 20 minute and 50 minute mark. The bus takes around 22 minutes to reach the city center and costs €8 one way. Another quick way – which may be faster as it alleviates having to switch onto the U-Bahn – but more expensive is to take a taxi. A taxi into the city center from Vienna International Airport takes roughly 35 minutes and costs around €40-50, though if you book your transportation in advance you can get a special airport tariff rate that may save you €5 to €10. Check http://www.flughafentaxi-wien.at/#taxis for a list of such companies that let you reserve in advance.
By Train: Vienna's main train station is Westbahnhof Station, which services domestic and international arrivals and departures and is located just west of the city center. A convenient aspect of Westbahnhof Station is that it's adjacent to the city metro (Lines U3 and U6 run directly through Westbahnhof) so as soon as you arrive, you're set to immediately begin exploring Vienna. Westbahnhof Station has multiple connections from large European cities such as Hamburg, Germany and Zurich, Switzerland.
By Car: Vienna can be a headache to get to by car if you're staying in the city center. If staying in the city center, check if your hotel has a parking lot and how far it is from the hotel. Also, ask if there is a daily fee to use the parking lot (there most likely is). Once you've arrived and settled into your hotel, driving around the city center is more of a hassle than it's worth since you'll have to pay for parking – if you can find some. Walking or using the metro instead can easily get you most everywhere you want to go. Plus, there are many one-ways that are sometimes confusing for visitors, so if driving around the city, keep a careful eye out for such streets.
Transportation in Vienna
Here are options for getting around Vienna once you've arrived in the city.
Metro: Vienna's underground metro, called the U-Bahn, is convenient and fairly cheap to use, plus it takes credit cards which makes it much faster and easier to buy tickets, especially if you arrive in Vienna without a surplus of euros. If you're short on time, the U-Bahn is your best option as it is usually faster than using the trams or buses you'll see navigating the city. The U-Bahn has five lines (U1, U2, U3, U4, U6) which intersect all over Vienna's city center and also out to the city's suburbs. A single ticket costs €2.20 while a 24-hour ticket will run you €7.60. The U-Bahn starts running (depending on the station) at 5 a.m. and ends around midnight, though on Friday and Saturday, it runs through the night.
Walking: The central area of Vienna's historic downtown can be easily walked, however not all of the city's sites are clustered together, so just planning on walking the city isn't very practical. However, there are several sites that can easily be walked between and it's a great way to experience the ambiance of Vienna.
One Day Tip: Take public transportation as opposed to walking to get to your starting point for the day in order to save time – the metro is easy and inexpensive to use. Also, plan out your day before departing and check out how far apart each site is. If it's more than a few metro stops, it will save you time to jump on the metro instead of walking to the next site.
Found this article helpful? Pin it to read again later!

Note: All opening hours, prices, and info was believed to be correct at the time of writing, but is subject to change. Double check all attraction info before leaving for your trip.