Aviano Hotel in Vienna Lives up to its "My Secret Home" Moniker
I walked past the entrance to Aviano My Secret Home in Vienna twice before finally realizing that yes, that unassuming door right there sandwiched between two eating establishments on a less busy but still bustling offshoot street of Kärntner Straße in Vienna's downtown was indeed the door I was supposed to go through.
The word "secret" in the name of Aviano My Secret Home (though mostly just referred to as Aviano once you're there) for my time in Vienna was extremely fitting as this little known accommodation gem in Vienna seems like it should be totally off the beaten path yet is right in all the excitement of downtown Vienna in a location that's easy to miss if you're not looking for it.
I was also soon to learn that the word "home" in the name was also fitting. Since Aviano is located about as centrally as you can get in Vienna's stately and opulent downtown area, I expected lots of people and urban atmosphere – probably not peaceful by any means, but vibrant and conveniently located. While that was certainly applied to everything surrounding the Viennese building that Aviano My Secret Home is housed in, the second the small elevator my mom and I smooshed into with our suitcases opened on an upper floor of the building I almost missed the entrance to, I felt like I'd entered a comfy, peaceful B&B.
We had a friendly greeting from the smiling worker at the front desk. Despite being a small pension-style family-run hotel, Aviano has regular hotel amenities like a front desk staffed 24/7 with someone always happy to answer any questions you have about your stay in Vienna.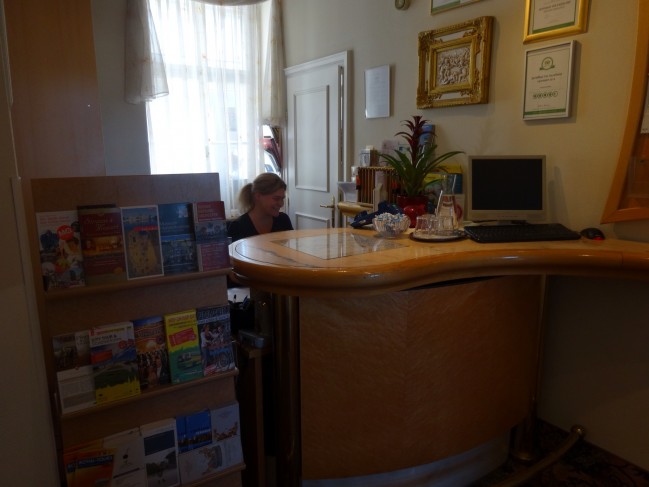 We were led past the dining area to our room, which had an old-fashioned, romantic vibe that I just loved. It seemed perfect for a stay from where to see beautiful, musical Vienna.
Small touches prevailed inside the room. Helpful Vienna brochures and a welcome letter with special events going on in the city during our stay graced the table. A fan stood ready to cool us down in the summer heat (one caveat of staying in an older building – no air condition). Fresh fruit welcomed us on the small table at the foot of the bed. And once again, showing you don't have to sacrifice hotel chain amenities for a local independently-run establishment, there was a mini-bar with reasonably priced wines, water, and juices (ok, the reasonably priced may not be a typical mini bar feature – and it was quite welcomed the following day when I opened a bottle of chilled Viennese white wine after a long day sightseeing).
The reason Aviano My Secret Home is so charming becomes very apparent when you meet the owner, lively and friendly Sabina Kavka, who instantly makes guests feel welcome and like they're part of the Aviano family. She and her husband have been running Aviano in the same building since 1987. In 1992, they expanded their accommodation business to two floors for a total of 17 rooms, two of which are single rooms ideal for a solo traveler.
Perhaps the best part for travelers, though, is that you get a stay at the lovely pension-style hotel in the heart of Vienna for an absolute great price in expensive Vienna.
I was fortunate to have my stay hosted at Aviano and feel so lucky I get to tell you all about Aviano. I've stayed at some pretty impressive hotels during my travels and Aviano truly stands out as one of the best – at a fraction of the cost.