One Day in New Zealand, this Happened…
Watching Baby Seals in New Zealand at Cape Foulwind
I knew I'd see seals in New Zealand while I was on the South Island. That seemed like a given.
But baby seals in New Zealand?
Oh, I hoped and hoped. The birthing season for most seal breeds in New Zealand had happened right before Tom and I arrived over Christmas time, but we were told that mother seals are very overprotective while their wee ones are still tiny and often hide them out of view.
After kayaking around Abel Tasman without seeing a baby seal and after stumbling upon some other seal colonies along the shore with no babies in sight, I was beginning to lose hope.
Then…we arrived at the Seal Bay Colony at Cape Foulwind.
The name was promising and sure enough, after a short walk through some shrubbery and trees along the sea, we came upon seals and…baby seals! The viewing point is above the seals and we had to be patient to get our turn to see them from the best spot, but it was worth the wait.
The seals at Seal Bay Colony are Kekeno seals, also known as the New Zealand fur seal. Seal Bay Colony is located about 15 miles from Wesport, New Zealand and is home to a huge bay in addition to the Kekeno seals.
But I didn't care about beaches and waves. I just cared about seeing the baby seals, who at first were sleeping.
We were in luck, though. After a few minutes the baby seals started to wake up. Even adult seals are pretty darn cute when they're hopping all around on rocks, so I was excited to see the baby seals plod around.
Baby seals, I decided right there in Cape Foulwind, are beyond adorable. We watched this one crawl all over his mom trying to wake her up and feed.
Kekeno seals have a thick layer of blubber that keeps them a comfortable temperature while in the water. This means on land they can get quite hot; they overcome this by frequent dips in the ocean and sometimes sleeping half in and half out of the water. Kekeno seals can even sleep underwater and can hold their breath for 30 minutes before needing to surface to breathe – which they often do without even waking.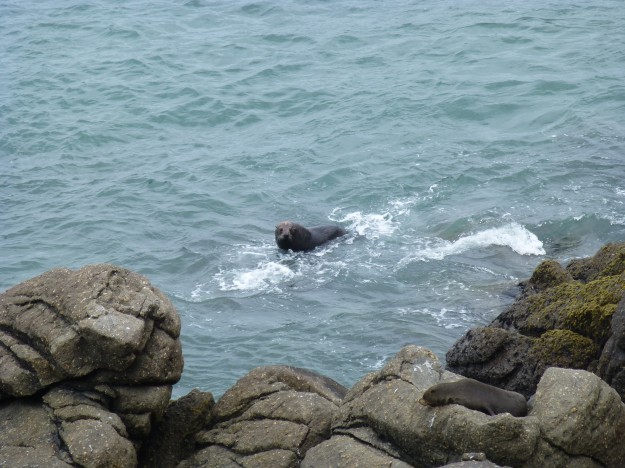 In light of this information, I considered myself lucky to be seeing quite a few sleeping on the rocks and frolicking around. Especially this little cutie:
In case you haven't gotten enough cute baby seals in your system, I took this video while at the seal colony at Cape Foulwind, which also highlights a scuffle between the powerful male bull seal and a younger male who dared to threaten his authority.