A Mix and Match Menu and Excellent Wine Pairings at Bellevue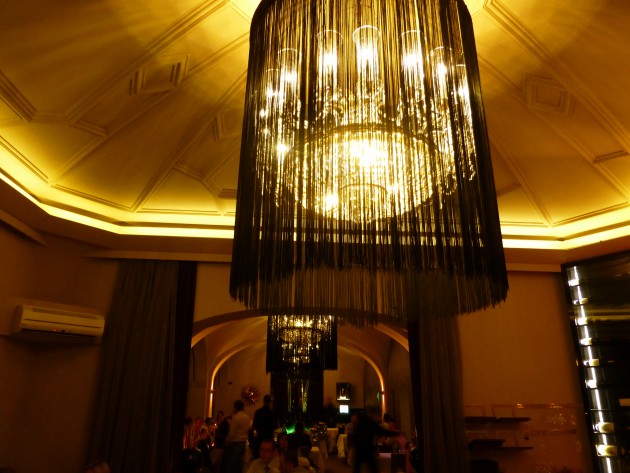 I knew I was going to be a huge fan of Bellevue when shortly into my meal there, I asked our server, Milan, if he was also the restaurant's sommelier since he knew so much about the wine list. For the apertif, he went into a multi-minute diatribe about the Pierre Moncuit Champagne with liqueur we were served. The same thing happened with the wine pairing for the appetizer.
"Oh, no," Milan answered. "Wine is my hobby." He paused. "It's the hobby of most people who work here."
Ah, Europe, I love you. Same to you Bellevue. One of my favorite parts about Europe is the way wine is so effortlessly weaved into everyday life. In Prague, I wasn't sure if I would encounter that or not, but I most certainly did at Bellevue.
A little background on Bellevue Restaurant in Prague: It was started in 1998 and since then, it has secured itself as one of Prague's top restaurants thanks to a mix of Czech and European fare that uses a creative mixture of ingredients and sauces to bring out the flavors of each dish perfectly. It's also conveniently located on the edge of Old Town, overlooking the Vltava River with great views of Prague Castle situated on its perch across the river. When making a reservation, do so well in advance and ask for a table close to the window.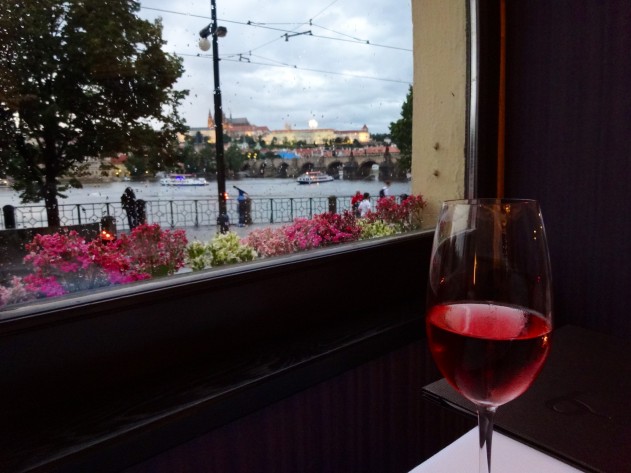 One thing I really liked about Bellevue restaurant is that – despite being a fine dining restaurant serving up gourmet cuisine – there is nothing pretentious about it. In fact, the menu gives you a mix and match option. For a set price, you can choose between two to five courses. That's nothing unusual, but then you keep reading the menu and see that you can choose any menu items any which way you like for those two to five courses, meaning you can have four desserts if you like, or two entrees, or three appetizers and two desserts. Genius! I thought. Though I still got an appetizer, entree, and dessert. What can I say? I'm a creature of habit. The multi-course options range from 45 to 75 Euros.
Before I even got my first course, though, foodie heaven began. The bread for the table was homemade and served with sea salt. The amouse bouche was fresh – cucumber and cherry tomato served in a decadent strawberry sauce – and whet my tastebuds for more. And more deliciousness was indeed coming.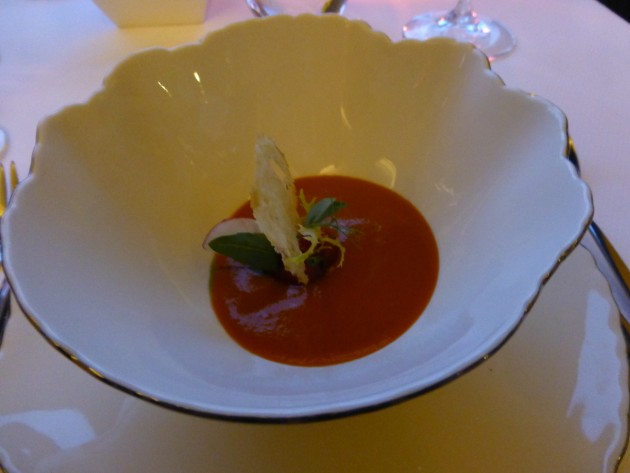 For appetizers, I tried a foie gras with gingerbread crust followed by a scallop appetizer. I love scallops and was so excited to try Bellevue's and had a moment of delirium upon the first bite. The scallops were served in a sweet corn puree and garnished with grapes and shiitake mushroom plus another sauce, which Milan said was a cardinal sauce that was made with lobster bisque. It was heavenly.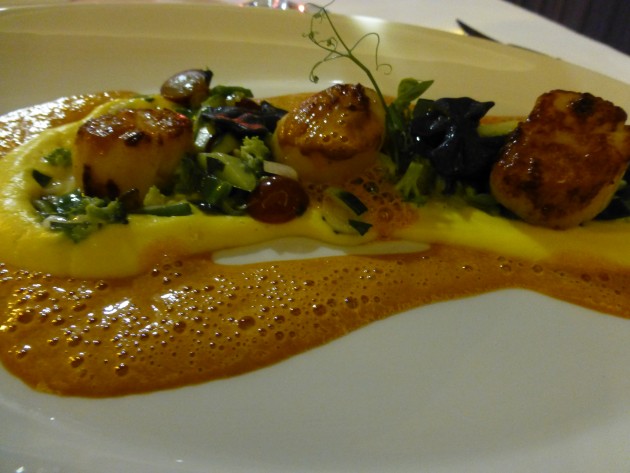 Next up was the duck, which was recommended by Milan, and was my main course. It was served with a carrot puree and jus sauce that poured on the duck at the table so it was even fresher. It was also served with beets which was a surprisingly excellent complement to the duck. 
Dessert came next and it was delectable, tasty, scrumptious…well, here, I think the pictures speak for themselves:
Yes, dessert was blissful.
Now, back to the wine. Each course was paired with a different wine that Milan chose. Food and wine pairing dinners are one of my favorite things and this was hands down one of the best I've had. The wine for the scallops tasted strangely sweet for a Chardonnay – until I sipped it after a bite of the scallops, then it developed the perfect level of dryness. The Pinot Noir paired with my duck entree had a light, cherry aftertaste that ideally balanced the hearty meat and its added bacon and vegetable elements.
Between the wine, food, ambiance, and excellent service, Bellevue ranks as one of my most memorable meals and I can't wait to eat there again someday.
Note: Bellevue kindly hosted  me for dinner at their restaurant, however opinions on the cuisine and restaurant are – as always – all mine, including my obsession with the scallop dish and love of the Chardonnay paired with it.