Mallorca, San Juan – A Great Combination, Especially at Cafeteria Mallorca
I didn't do much research on San Juan, Puerto Rico before arriving. One of the downfalls of traversing the Caribbean on a work cruise. I wasn't even sure how much time I'd have in port until the day before the cruise arrived in San Juan's harbor. Usually before arriving in a new city, I research what local delicacy I must eat before leaving. In San Juan I had no idea what that should be. I certainly didn't know that a San Juan Mallorca was what I needed.
Thank goodness for Google.
I had cell service so I did a Google search while walking down one of San Juan's tree-lined, pastel housing streets and a few quick glances through some Yelp reviews.
I kept seeing the word Mallorca come up.
I had no idea what a Mallorca was, but I decided I would have one before the end of the day.
I ended up at Cafeteria Mallorca, mostly due to its location, which just happened to be close to another restaurant I was trying to find due to a review singing the praises of its Mallorcas. The restaurant was all boarded up when I arrived to its doors.
I had 45 minutes before I had to get back on the ship. I had passed Cafeteria Mallorca a few minutes earlier and decided it would have to do – and ended up being very happy the other one was closed.
The restaurant's decoration was very minimal – but not in a trendy way, more like it had been decorated twenty years ago and never felt the need to refurbish. The tables were basic brown rectangles and a long bar with standard round bar stools stretched along the right hand side of the room.
I bypassed the tables and sat down on one of the bar stools of Cafeteria Mallorca.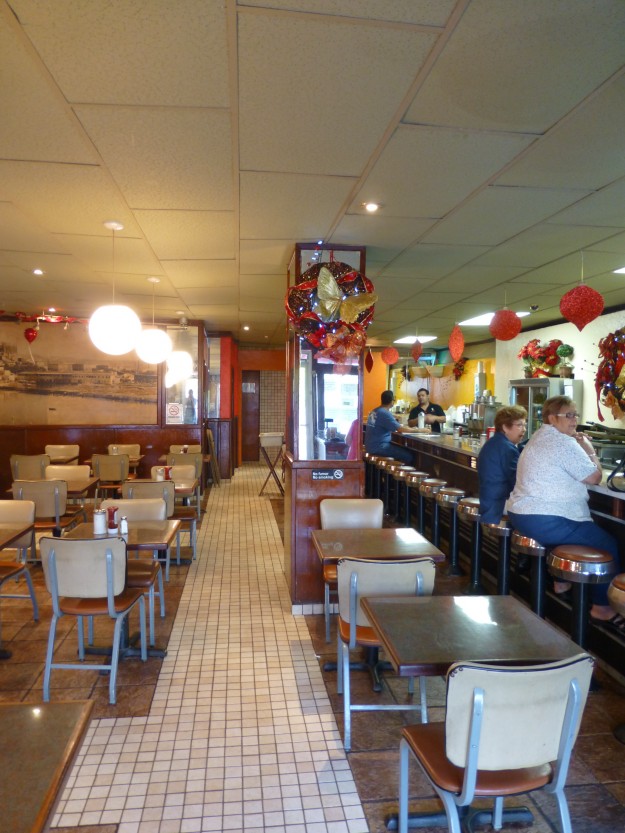 "Menu?" I asked the mustached server behind the bar who looked to be in his 50s.
He nodded and went to get one for me.
I perked up my ears and noticed that only Spanish was being spoken in here. I heard not a single English word. This was a good sign. Lack of tourists and local patrons often means some good, authentic cuisine.
The server returned with my menu.
"Gracias," I said, putting to use one of the twenty Spanish words I knew.
I peered down at the menu. Mallorcas were right at the top. I had an option of cheese or cheese and ham. Interesting…
So a Mallorca must be like a sandwich.
"Mallorca e jambon et fromage," I told the waiter. However, considering the menu was both in menu and Spanish I had a feeling he  would understand the English version. But I believe when in someone else's city, one should talk in that language whenever possible (even if it's a U.S. territory).
He nodded. I don't think he's said a word to me yet. He's also not very smiley, but he doesn't seem unfriendly. Just indifferent.
And then it's waiting time. I haven't eaten in a few hours and have walked all over Old San Juan so my stomach was growling in anticipation.
While I waited a lady came up next to me, talking and laughing animatedly with one of the other servers. He handed her a white bag that looked like it was full of pastries. I eyed it jealousy. I'm ready for my Mallorca!
Several minutes later, my server placed it in front of me after I watched him shake a lot of powdered sugar over the top of it.
There was so much powdered sugar on top of the Mallorca, I could barely tell what it actually looks like.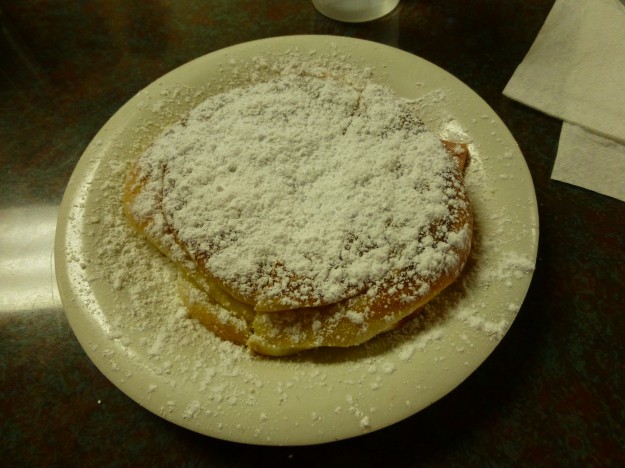 I cut into it and ham and cheese oozes out from between the pastry. I take a bite and…OH SO GOOD.
I was a bit unsure about the powdered sugar, but the sweetness combined with the doughy pastry bread is good and actually enhances the ham and cheese taste.
I was quite sure the Mallorca was one of the best sandwiches I've ever eaten.
I was disappointed when it was gone and debated ordering another one, but my cruise ship awaited.
The server had been at the other end of the bar for awhile so I put down $6 under my water glass. The Mallorca was only $3.50 and I figured a $6 should cover whatever the tax might be and still leave a decent tip. I thank him as I walk past his end of the bar.
"Oh!" He exclaimed and uttered some more words in Spanish. I have no idea what it was he said but I could tell he wanted me to wait. He quickly pulls out a notepad and writes down my order then gestures toward a till at the front of the store.
"Ah, I pay up there," I said, though not sure if can understand me. Still, I'm rewarded with a big smile so I guess maybe he's not so indifferent after all. I smiled back and went to grab my money, leaving behind a tip, and went to the front to pay.
Where I waited for another two minutes for someone to come ring me up. Hmmm…maybe I should have ordered another Mallorca….