One Day in Hungary, I Ate Here…
Budapest's Chess Restaurant Serves Hungarian Cuisine with a Twist — and One Stellar Dessert.
Located on a quiet side street in the Pest side of Budapest, Chess Restaurant has a trendy yet peaceful interior that – true to its name – has chess pieces as part of the décor. I like playing chess (despite my tendency to always lose at it to my dad and husband, the only two people I've ever played with) so I found the interior quite fun and a cool, modern break from the surplus of Gothic and Art Nouveau architecture outside its doors.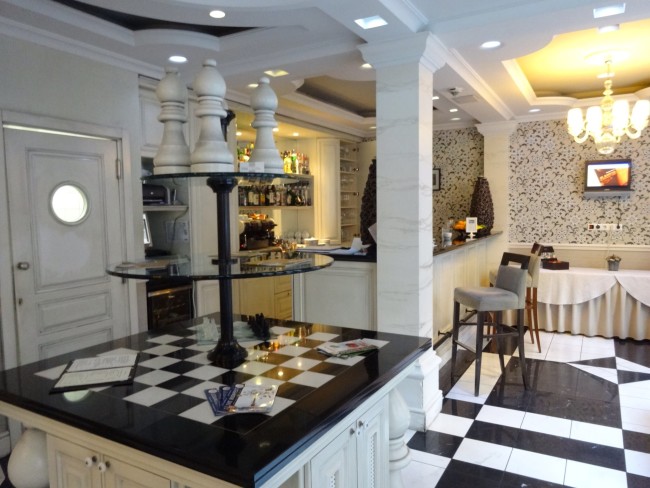 I was dining with my mom on a pleasant night in Budapest and we were greeted by the maître d', Tamas, who was extremely friendly and made us feel instantly welcome. Upon being seated, we were poured a glass of Hungarian Sect with lemon, which is a complimentary welcome drink offered to all guests dining at Chess. It was a delicious way to start out the dining experience.
–>You might also enjoy reading: One Day in Budapest, a detailed guide to what to do in Budapest. 
When it comes to the dining portion, guests can choose between Hungarian favorites like ghoulash or fusion dishes with French and Italian accents. Chess does an excellent job of mixing together different flavors, but still keeping a focus on Hungarian cuisine, making a good option for travelers who want to eat the local dishes, but may want a bit of a break from the heavy cuisine Hungary is known for. Chess also has options for most eaters, including vegetarian, lactose-free, and gluten-free options.
We were brought Duck Pate as an amuse bouche. Try as I might, I just can't develop an affinity for duck, but this piece of cuisine surprised me with its goodness. It tasted like a savory tuna sandwich, but with a hint of duck flavor that wasn't too overpowering like I normally find the bird. The duck pate was a good indicator of what was to come.
Next up was more duck and again, I was surprised to find I enjoyed it. (Perhaps I hadn't had good duck up to this point of my life…) It was a savory soup concoction poured over cheese and duck. The broth had a slight ginger taste to it which gave it a spicy kick.
For entrees, Mom got the Beef cheek goulash, which had barleys and carrots and was seeped in a mild tomato-based broth. Red paprika was added for extra flavor. It wasn't as rich as other goulashes I'd tried, but I enjoyed the fact that it was bit on the lighter side while still staying savory and something you'd enjoy on a rainy day.
I took the recommendation of our server and ordered the Beef Tenderloin Strips with Tagliatelle. It had a peanut sauce flavoring with a chili kick in the sauce. It had a distinct Asian taste to it, which I wasn't expecting. If I had been looking for Asian cuisine, I definitely would have liked it, but I found myself looking longingly at mom's comfort food of goulash and stealing bites from it.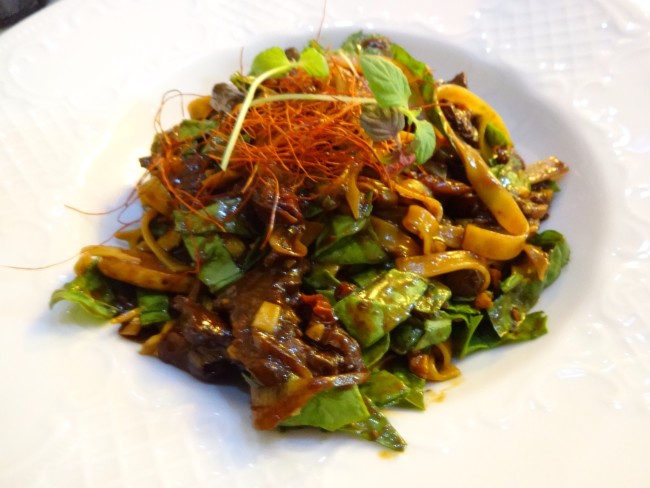 Despite the fact that I probably wouldn't have chosen the Tagliatelle if I'd known it had the Asian flavor fused in, I was glad I got it because it was a good example of Chess' cuisine: using local ingredients while still pulling in surprise ingredient elements but keeping the dish hearty and reminiscent of Hungarian cuisine. The eclectic mix of ingredients used at Chess makes it a restaurant you can visit time and again and feel like you've had a different dining experience each time.
We were super full by this point, but the best was yet to come.
Our server recommended the Chocolate Soufflé , but warned it takes 10 to 12 minutes to prepare. Mom and I decided that a decadent dessert was well worth missing out on ten extra minutes exploring the streets of Budapest. I am so glad we took his recommendation. To me, dessert is often an afterthought as I prefer savory to sweet, but OH MY GOODNESS, dessert at Chess is amazing. If nothing else, go there for the soufflé. Seriously.
The dessert dish was served with strawberries and strawberry ice cream. The cake portion of the soufflé was delicate with the perfect amount of moistness. Creamy rich chocolate came pouring out of the soufflé upon breaking into it with my fork and it was sweet, sugary bliss. The strawberry ice cream was even brought up a notch with orange-creamsicle type shavings on top of it that made it like eating strawberry sorbet with Nerds candy (one of my favorite guilty pleasures). I was hooked. Unfortunately for me, I don't live in Budapest so this addiction to the soufflé is a bad one to have. Guess I'll just have to visit again someday. And so should you.
Note: I was a guest of Chess Restaurant and received a complimentary meal, however — as always — my review and opinions of the restaurant are completely my own.