Trying a Chicago Style Hot Dog at Portillo's in Downtown Chicago: No Ketchup, but Something Better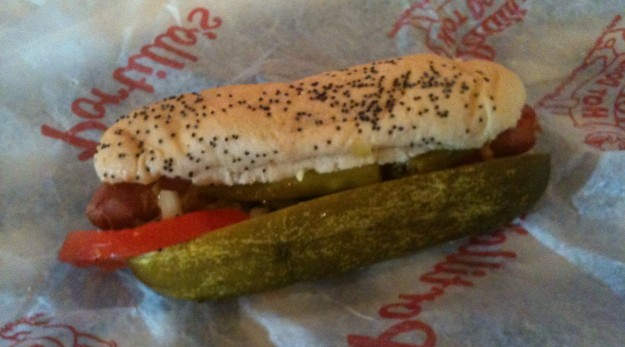 Along with deep dish pizza, hot dogs are one of the food items most people think of when it comes to Chicago. Despite my knowledge that hot dogs were a big deal in Chicago, I'd never given much thought or research to what exactly made Chicago style hot dogs so incredibly special. I'd always assumed they were just glorified ball park style hot dogs.
So imagine my surprise when on a crisp November Sunday in Chicago, I walked into a hot dog shop in Chicago and learned that there is about a billion ingredients on a Chicago style hot dog…or six. But still, six is a lot of toppings for a ketchup- and mustard-only connoisseur like myself. Plus the toppings sounded kind of gross.
The hot dog shop I was in was called Portillo's and was extremely crowded. When my friends and I asked the front desk of the hotel we were staying at, the Drake Hotel, where was the best place to get a hot dog, they directed us to Portillo's, despite it being a twenty minute walk away. My two girlfriends and I decided that was totally a walk worth a hot dog. (Ok, ok, my lazy butt wanted to take a cab, but my Minnesota friend is naturally conditioned to take advantage of every nice day weather ever has to offer – once upon a time before I became a wimpy San Diego, I also used to be like that – and she insisted we walk.) The walk, however, turned out to be well worth it, and not just because it was a truly lovely Midwest day.
When we finally arrived after walking cross downtown Chicago, Portillo's greeted us with a kitschy sign and more over the top decorating inside.
Still, despite the attention-seeking decoration, the restaurant was surprisingly fun and welcoming. The employees were all nice and the line, which was several dozen people deep went surprisingly fast.
Despite my wariness over getting the hot dog Chicago-style, I embraced my inner "try anything when traveling mentality" (note this does not apply to bugs or snakes so good thing those ingredients weren't on the hot dog) and ordered it as is, meaning with everything.
"With everything" includes mustard, relish, chopped onions, sliced tomatoes, kosher pickle, and sport peppers. I had no idea what a sport pepper was, but decided not to question it.
"Is there really no ketchup on these things?" I asked my friend Katie.  Our other friend was in the salad line. (Portillo's also has a really great variety of salads.)
"I don't think so," she replied.
"Weird." Of all the things on this hot dog, the lack of this one ingredient I found strangest of all.
When my number was called, I grabbed my hot dog and with some trepidation and unveiled it from beneath its wrapper.
At first glance, all I could see was a huge slice of pickle. Was there even a hot dog in there? Some further sleuthing determined that yes, all the toppings were available.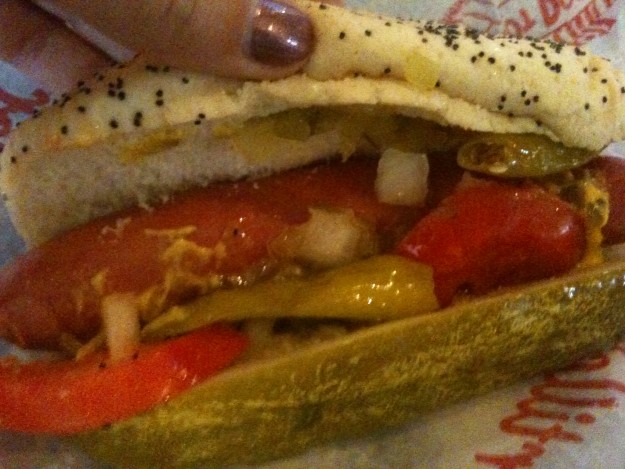 I took a bite of the crazy looking Chicago style hot dog…
…and nirvana.
"Oh. My. Gosh. This is the best hot dog I have ever had," I exclaimed through a mouthful of food.  
Katie nodded in agreement.
Four months later, I'm still craving another Chicago-style hot dog from Portillo's.
Have you ever had a Chicago-style hot dog? Were you a fan?