One Day in Croatia, I Slept Here…
Hotel Degenija continues the countryside oasis of a day visiting Plitvice Lakes
Plitvice Lakes is such an amazing outdoor destination that you want to make sure you end your experience there the right way by staying somewhere that continues the ambiance of Croatia's beloved national park. Hotel Degenija accomplishes just that.
Though not right next to the park's entrance, Hotel Degenija is only three miles away and provides a calm oasis from the busyness of the park, particularly in summer. (Even on a rainy day, like when I was there, Plitvice Lakes was packed.) Hotel Degenjia achieves this relaxation factor by providing comfortable rooms that are large by European standards.
The bathroom was also decent sized, though the half shower door was a little odd. I can't attest that all the water stayed inside!
My favorite part of the room wasn't inside, though. My room opened up onto a massive patio with a charming foliage fence. It reminded me I was near one of the most stunning natural wonders this planet has and was excellent to relax on with  glass of wine after a day of hiking around the falls.
One nice aspect of staying at Hotel Degenija is that it is a larger hotel for the area (though still only has 20 units) so provides some nice extra amenities during your stay at Plitvice Lakes, including a relaxing lobby and breakfast room.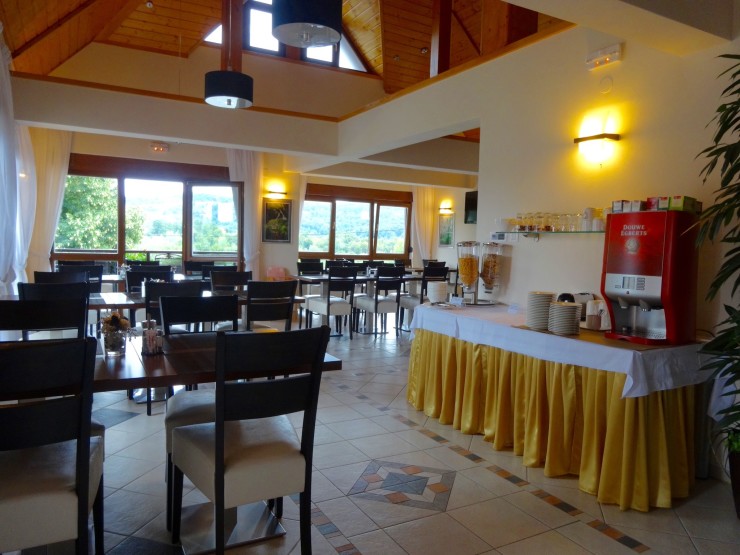 There is also a restaurant next door that is part of the hotel and is the top rated place to eat while in Plitvice Lakes. It also happens to have the best pizza I have ever eaten.
Hotel Degenija has onsite parking, too. However, I didn't have a car and still didn't find it much of a problem to get to and from Plitvice Lakes park. Taxis were cheap and there were also even cheaper buses that serviced the route between Hotel Degenija and the Plitvice Lakes entrance.
If you extra time in the Plitvice Lakes area, Hotel Degenija also has bikes for rent so you can explore the scenery around the park as well.
Hotel Degenija Quick Tips Info
What: Top-rated hotel and restaurant a few miles from Plitvice Lakes National Park
Where: Rakovica, 47245, Croatia
Cost: From $90 per night
Website: hotel-degenija.com
One Day Tip: Book two nights so you can start your day in the park early and still relax and enjoy the area in the evening after your hike. It's such a peaceful place (even with the crowds) you don't want to feel rushed.
Note: I was provided complimentary accommodation at Hotel Degenija, but — as always — all opinions are my own.