Tips for Planning the Perfect Girlfriend Getaway to New Orleans, Louisiana
Get ready to have the time of your lives in one of the best destinations for a girls trip: New Orleans, Louisiana.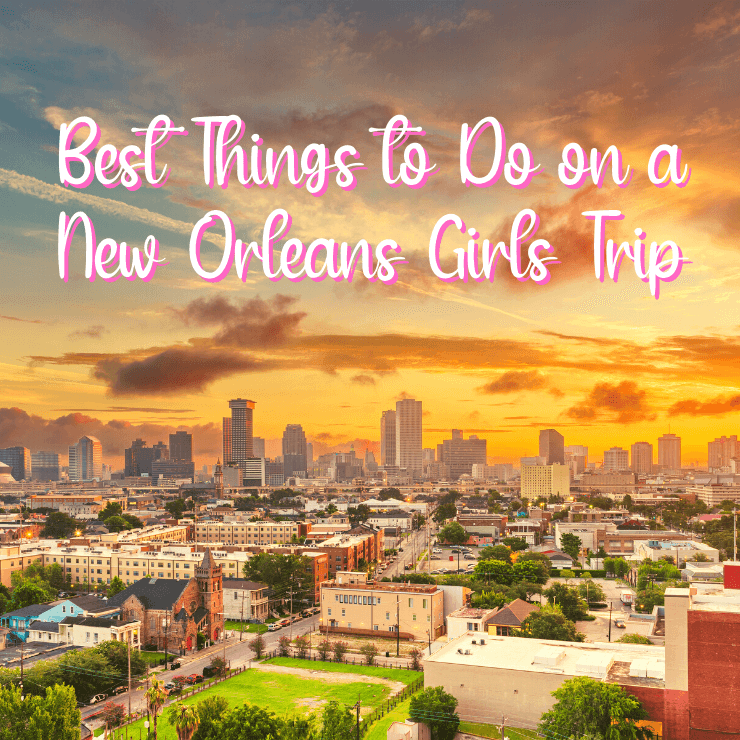 With epic nightlife, wine tasting and other local libations, mesmerizing architecture, mouthwatering cuisine, and cultural sites, New Orleans has so much to do on a trip with your friends.
Read on for the top things to do while visiting New Orleans on a girls trip.
Check Out the Architecture of the French Quarter
No guide to New Orleans would be complete without listing the French Quarter, which is more commonly called just "the Quarter" by locals.
The entire area is listed as a National Historic Landmark due to the many gorgeous historical buildings it contains. It was founded back in the year 1718 and up to today, it still remains the heart and soul of New Orleans.
The French Quarter is also extremely multifaceted, so you should aim to visit it with your girlfriends several times during your trip (chances are your hotel will be located here, anyway!).
During the day, you can spend a few hours simply strolling its streets to find things serendipitously. Museums, cozy coffee shops, restaurants serving gourmet food, and plenty of art galleries can all be found here.
Moreover, you'll find plenty of incredibly Instagrammable spots, so don't forget your camera! The Court of Two Sisters, Café du Monde, the Royal Accents Treasures, the alleyway near 9 Roses Cafe, the facade of the W Hotel, and the pink building where Brennan's restaurant is located are all great photo spots.
Taste Louisiana Wine at Ole' Orleans Wine and Spirits
It wouldn't be a girls trip without some wine tasting, right?! One of the best things you can do in New Orleans when traveling with girlfriends is visit Ole' Orleans Wine and Spirit.
Ole' Orleans Wine and Spirits produces and also curates wines from all over Louisiana, a wine region that is often overlooked but a real treat to your taste buds, as well as California and Texas. It is also the only black woman owned winery in Louisiana. Tastings last 45 minutes and take place outdoors.
Enjoy a Night out at Bourbon Street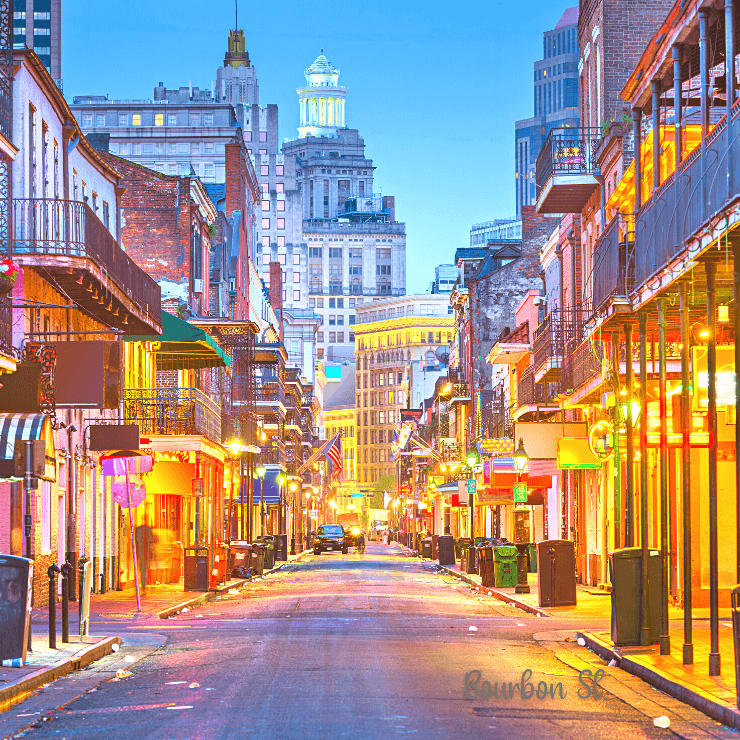 Once the night arrives, Bourbon Street within the French Quarter becomes the ultimate place to be, especially if a night out for drinks and dancing is on your New Orleans girls trip itinerary.
The entire street comes alive with bustling jazz clubs, bars serving strong cocktails, and lots of music. Bar hopping is the ultimate way to experience Bourbon Street at night, but if drinking isn't your jam, you should still aim to walk its streets or have a meal somewhere here in the evening and simply people-watch.
Visit the Oak Alley Plantation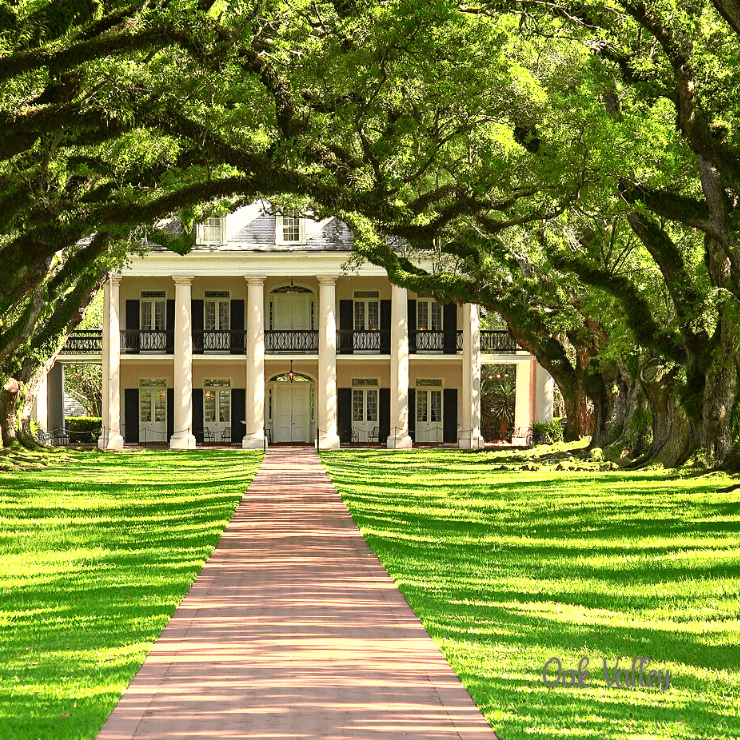 Oak Valley Plantation dates back to the year 1839 and is known for its beautiful architecture and the 300-centuries-old oak trees that line the entrance.
The plantation is more than just a beautiful setting, however, as it also serves as a testimony to slavery in Louisiana, the Civil War, and more important events that marked history throughout the years. Taking a guided tour of the plantation is highly recommended in order to fully understand its past.
Guided tours also include transportation from New Orleans, so you don't have to worry if your group won't have a car to use.
Take a Food Tour of New Orleans
Food in New Orleans is entirely different from the rest of the United States, and one of the best ways to explore the city is through your taste buds.
Even though you can totally spend an entire weekend in New Orleans simply checking out the many wonderful restaurants the city boasts, doing it with a local is an entirely unique experience. Your tour guide will really help you to understand what you're tasting with stories behind each traditional dish like beignets, po'boys, and gumbo.
Take a Ghost Tour
New Orleans is considered one of the most haunted cities in the United States due to its turmoiled past, and no trip to the city would be complete without taking a ghost tour at night!
Haunted tours will give you a completely new insight into the French Quarter, as you'll get to walk around the neighborhood and visit a few of its most haunted buildings and spots as you listen to the spooky stories and legends behind them.
Visit Sazerac House
Located inside a beautiful building on the corner of Magazine and Canal Streets, Sazerac House is one of the coolest museums you'll ever visit.
The entire museum is dedicated to sazerac, a cocktail from New Orleans that you definitely need to try at least once during your visit. Aside from getting to learn all about sazerac through exhibits and media, you'll also get the chance to join in on a tasting alongside experts.
This is a great activity to try on a trip with your girlfriends to New Orleans, especially if you schedule it right before you head over to Bourbon Street for a night out.
Where to Eat on a Girls' Trip to New Orleans
Café du Monde – Perfect for breakfast or a quick coffee break. They have several locations all over New Orleans, but we recommend heading to the one on the iconic French Quarter.
The Rum House – Famed for its tacos and rum-fueled cocktails. They also have Taco Tuesday when margaritas and tacos are on sale and perfect if you're visiting New Orleans with your girls on a budget.
Brennan – Serves delicious Creole food with modern influences using both classic and modern techniques. Desserts here are a real treat, and the entire restaurant is located inside a pink building perfect for snapping a few photos with your friends! This is the ideal brunch spot for a girls' trip to New Orleans.
Cafe Beignet – Opened in 1990, Cafe Beignet was created with the aim to combine French and New Orleans café cultures and the result is wonderful. The beignets here are something you need to try, and the coffee is excellent.
Sundae Best – If you need an ice cream break, Sundae Best is your best bet. The entire ice cream shop is also extremely photogenic so you can get that perfect shot of your girls trip for Instagram!
Commander's Palace – Located inside a picturesque blue building, this restaurant opened back in 1893 and is a true classic in New Orleans. Having dinner here is a bucket list item for a trip to New Orleans.
Neyow's Creole Café – The ultimate place to try authentic recipes from New Orleans.
Get More Inspiration for Planning the Perfect Girls Trip: