How to Blend Local Favorites with Tourist Attractions for the Perfect Day in Miami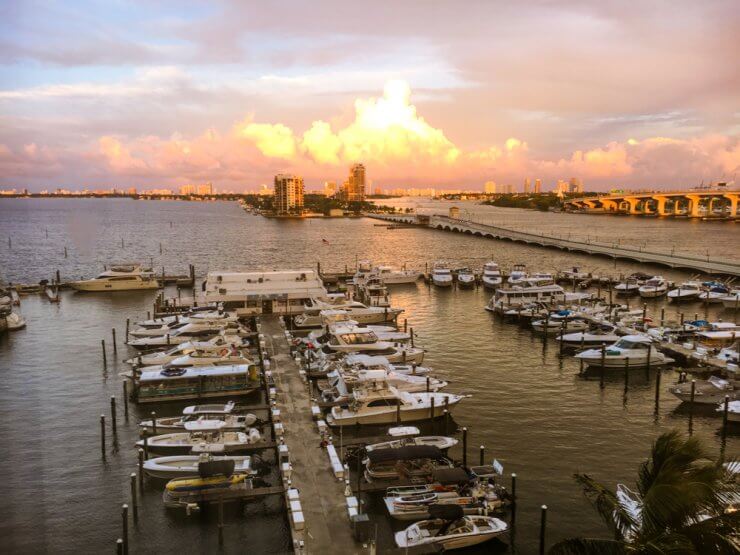 Whether you just have one day in Miami due to extra time before a flight home after a cruise, you're there for business, or you're doing a road trip around Florida, it's worth it to dedicate some time in this fun and energetic city.
Since I work in the cruise industry, it seemed for years that I spent my visits to Miami just in office buildings or on cruise ships in the state-of-the-art Miami cruise terminal. The past couple years I realized that needed to change! So I've spent my past couple trips venturing out from the harbor and exploring more of what Miami has to offer.
Here's what I've discovered (and after speaking with a lot of the locals I work with in the cruise industry). To really experience Miami and have a memorable day there, you need to divide your time between where the tourists hang out and where the locals hang out.
If short on time, the best way to do this is by creating a day focused on South Beach and Wynwood.
South Beach is no doubt on your radar if you're planning a trip to Miami. It is home to some of Miami's most iconic sights and fabulous white sand beaches.
Wynwood isn't as well-known. But it's where the locals head for a night out or a day drinking some craft beer. It's also an artistic mecca.
I've included lots of details on what makes both South Beach and Wynwood special and why seeing both is worth your time if you have just one day in Miami. But before I get to that, here is where you should start your day in Miami…
Start Your Day in Little Havana
This neighborhood is a must-see, but if short on time I don't recommend spending too much of your day here. This makes it a great place for breakfast. You'll get the vibe of the neighborhood, plus eat some delicious Cuban cuisine.
A little background on Little Havana: Miami has a large Cuban demographic with lots of Cuban influences in its culture. In the 1960s, many of the people who fled Cuba ended up in Miami and with came Cuban traditions and tastes, and the best place to find the culmination of that today is in Little Havana.
Where to Eat in Little Havana: Old's Havana Cuban Bar and Cocina
The South Beach Part of Your One Day in Miami
After breakfast, I would spend the first half of your day in South Beach, giving yourself several hours to enjoy the Art Deco District, the cuisine, and – of course – that surf and sand.
What to See in South Beach
The Beach
South Beach is located on the southern end of Miami Beach. It is known for colorful lifeguard towers and miles of uninterrupted soft white sand framed by palm trees and the turquoise shades of the Atlantic.
Ocean Drive
This is the main drive in South Beach and its western edge is lined with restaurants and shops in historic buildings. Ocean Drive is also where you'll see a lot of the Art Deco buildings.
Art Deco Historic District
The Art Deco Historic District of Miami starts along Ocean Drive and extends west several blocks between 5th Street and 23rd Street.
The Wynwood Part of Your One Day in Miami
So, I have it from the locals that hardly anyone who lives in Miami actually ever goes to South Beach. So where do the locals like to hang out? Wynwood. Luckily for visitors, Wynwood will show you the local side of Miami plus is home to one of Miami's top sites to see: the Wynwood Walls. After you've seen the main sights of South Beach and taken advantage of some beach time, head to Wynwood.
Wynwood is located north of downtown and is about a 20-minute drive from South Beach. If you want to see downtown, now is the time to drive through it on your way to Wynwood.
What to See in Wynwood
Murals and Shopping
The neighborhood is self is a shock of color, with gritty buildings and meter-lined streets done up in splashes of paint and bright colors. It is so cool to see. Pretty much everywhere you look is some mural or brightly painted building. Within some of those buildings are boutiques and stores for lesser-known but much-loved brand names like Marine Layer and Pitusa. You'll also find an assortment of breweries and some of Miami's most acclaimed restaurants.
Wynwood Walls
While what's in those buildings is worth checking out during your one day in Miami, you'll want to make sure you also spend some time outside them (even in the humidity and rain) at the Wynwood Walls exhibit.
Wynwood Walls is a free tourist attractions that covers a couple blocks in Wynwood and its entrance is located off of 2nd Avenue between 25th Street and 26th Street. Here you'll find artist-commissioned murals one after the other, some of which are dreamy and romantic feeling while others are characterized by pop culture references.
Exhibits are often on display in the building across from the gift shop.
Where to Eat in Wynwood
Kyu is located right around the corner from Wynwood Walls and has a hip, industrial ambiance with an open kitchen that prepares decadently delicious Asian cuisine served up family-style. I had an amazing lunch there and reservations are pretty-much a must for dinner and also highly encouraged for lunch.
Where to Drink Wynwood
Concrete Beach Brewery is located just a couple blocks away away from Kyu and continues the artistic, industrial vibe you'll be experiencing in Wynwood. It has a patio area separated from the street by a tall wall. An oval shaped bar spreads from the outdoor patio inside, where there are more tables, colorful artwork on the walls, and air-conditioning. Most importantly, Concrete Beach Brewery has excellent craft beer, with award-winning brews and a variety of styles and flavor undertones.
More Than One Day in Miami
Have extra time in Miami? After your day exploring the city's top sights, spend some time in nature with a day trip to the Everglades. You can read more about my experience in the Everglades here and why an airboat ride there is a must.