Hiking to Cherry Creek Falls with a Toddler and Lunch in Downtown Duvall, Washington
I had such high hopes for Cherry Creek Falls. The weather was warm, the sun was shining, Tom and I both had gotten more sleep than usual the night before. It was a great day for a brisk, easy hike.
Lulu had other plans.
Cherry Creek Falls is located in Duvall, Washington, a small city located about 25 miles northeast of downtown Seattle (though will take you about 45 minutes to drive). Tom had driven through Duvall a couple weeks ago on his way back from Leavenworth and had deemed it a "town I would love." So I figured this would be a day to get in a scenic hike and then grab a bite to eat in this rural city.
We easily found the start of the trailhead for Cherry Creek Falls and parked on the side of the road.
The trail starts out immediately wooded and shortly after crossing a little bridge, Lulu started getting fussy about wanting to be held. It was time to put her in a carrier and continue the rest of the walk at a faster pace.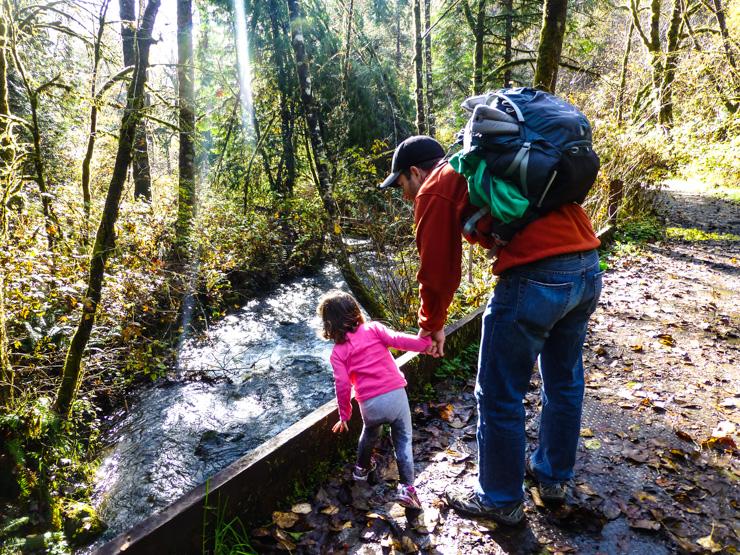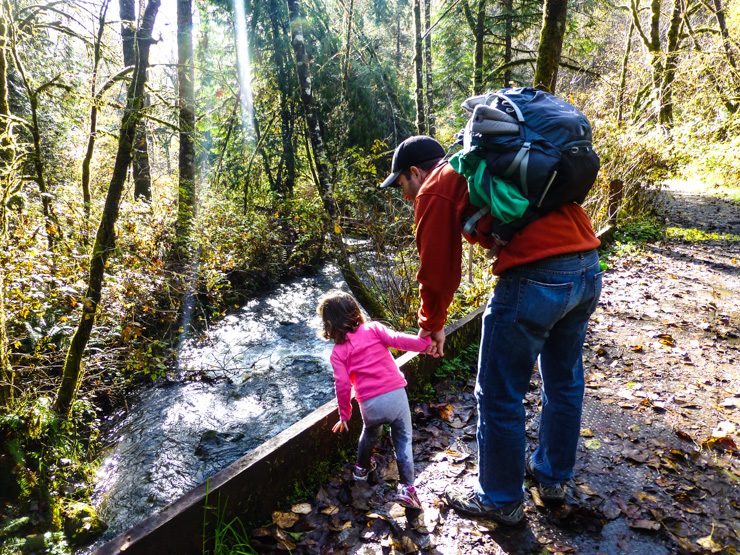 We'd learned from our last hike with Lulu that she hates the nice, expensive Osprey hiking carrier we'd bought. So we left it in the car and figured we'd just use the Ergo carrier because then she'd be close to my back and feel secure and would be so happy.
Or not.
Turns out Lulu also hates the Ergo now, despite spending a good portion of the first year of her life in that thing.
Lulu spent the next hour switching between freaking out every time she saw the Ergo (even when I tried to front carry her in it), running down the trail happy as a lark, and whining about wanting to be held (by arms, not baby carriers).
Oh, and only I could hold her. Not Tom. Because I don't know why.
So I was getting more of a workout than planned and was starting to become quite certain we were never going to make it to Cherry Creek Falls.
"Let's turn around. We're still enjoying nature. Let's not stress ourselves out trying to get to the falls," I said.
Tom agreed without a moment's hesitation.
Lulu continued to be fussy and I now knew not to do hikes so close to her naptime. Lesson learned. In the meantime, though, I wanted to enjoy this day! Embrace nature!
Suddenly, Lulu spotted a "big, big puddle." Cue opportunity to embrace nature.
"Whatever, just let her jump in it." I said resignedly upon Tom's raised eyebrow.
Lulu may not have been in a hiking mood, but she was most definitely in a puddle jumping mood. Which turned out to be quite a muddy puddle.
The hike was worth it just to see how utterly delighted she was from that puddle. A couple people passed us during the 10-minute puddle jumping escapade and also looked charmed by the jumping joy on Lulu's face. (We did make her stop jumping temporarily so as to not splash innocent people with mud.)
Needless to say, Lulu was not pleased when it was time to leave the puddle. Sensing another meltdown, I distracted her with spiders.
We spent the rest of the hike looking for spiders. (I hate spiders!) But looking for spiders with Lulu is pretty darn cute.
"Where Spide-oh?"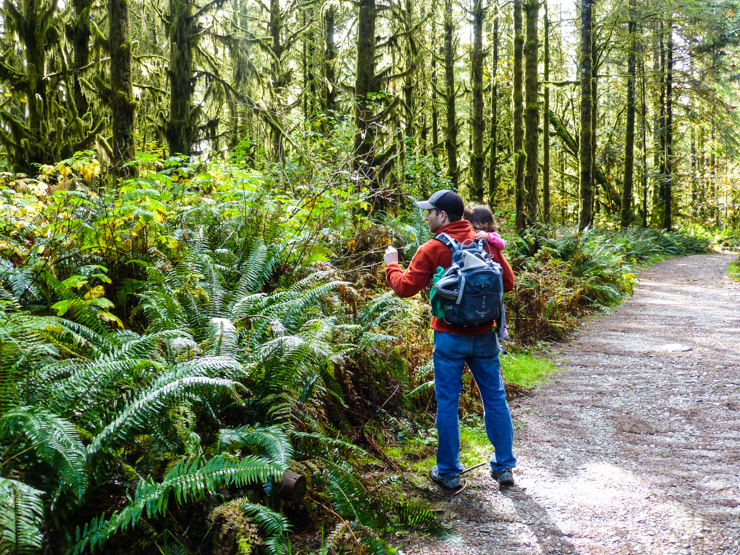 So, no waterfalls, but who needs waterfalls when you have mud and spiders?
Now, onto lunch. (For more practical info on getting to Cherry Creek Falls and what to expect once there, skip to the bottom).
Downtown Duvall
We reached Duvall's Main Street and drove through the tiny downtown area of the city and I could immediately see why Tom thought I would like it. Rustic looking buildings housed bakeries, restaurants, and a sweet shop among a few other day-to-day type places like a market, hairdresser, and real estate office.
Speaking of real estate, Duvall definitely feels like it's on the cusp of major growth and it will be interesting to see how different it is in five or 10 years. It feels quite rural right now for the most part, but there's a shopping center about a mile down the road from the little downtown area that has a Safeway and Starbucks. There were also signs about housing developments. It's not a big surprise. The Puget Sound area in general is experiencing spectacular job growth and those people moving here (ahem, like myself) need somewhere to live so development is bound to start spreading out into the rural cities – I just hope Duvall keeps its country charm as it grows.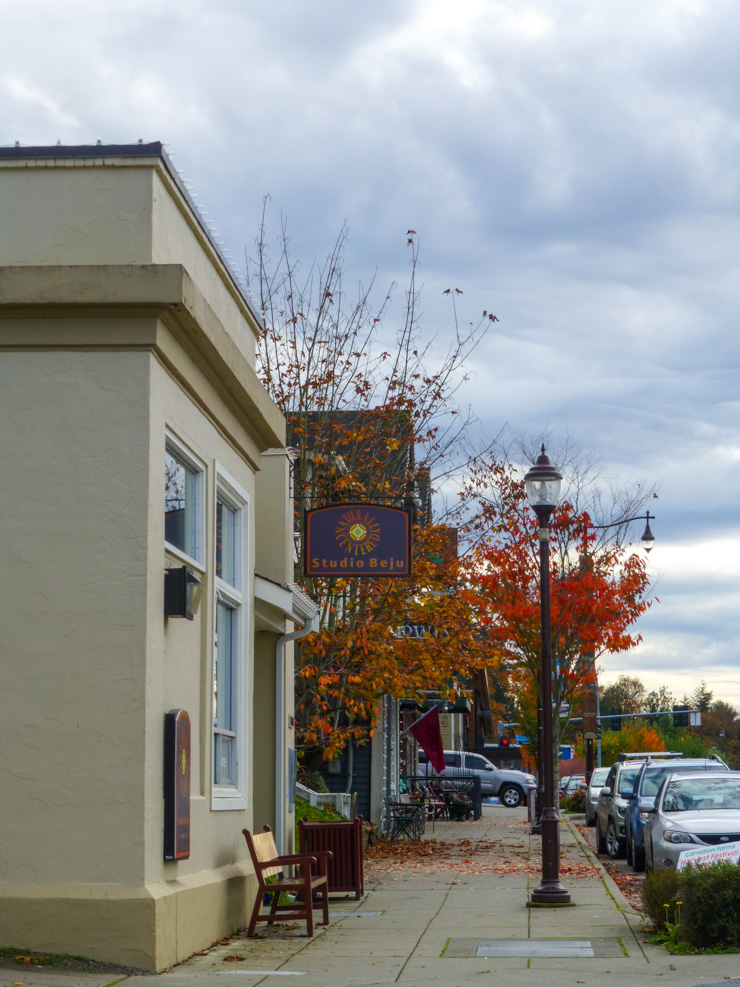 Lunch at Grange Café
At the very least, hopefully people will always be able to find some country ambiance in Grange Café, which is where we had a late lunch after our mini-hike (not) to Cherry Creek Falls.
We arrived to Grange Café about 20 minutes before they closed between lunch and dinner shifts. Luckily, they still sat us, but mentioned they were out of bread. Their sandwiches sounded pretty amazing, but we were in the mood for something heartier anyway, so Tom got a burger and I got eggs benedict from the brunch menu.
While we waited for our food, we focused on keeping Lulu happy, who was bound for an in-need-of-a-nap meltdown at any minute. Grange Café had plenty of crayons and even a sippy cup for young patrons, which delighted her. Tom and I also liked that they offered this for little kids because we forgot her sippy cup in the car and she makes such a mess with kid straw cups.
I also focused on the décor of Grange Café, which is adorable: country cottage décor with mismatched tables and chairs, which I found charming. The bookshelf and painted sign over the bar area announcing the café's commitment to naturally sourced ingredients was also a nice, colorful touch.
Lulu's mac and cheese arrived lukewarm and before ours came out – this is good for kids as Lulu thinks everything is "too hot" right now even if it isn't. This was immediately ready for her to eat (which also helped to prevent that potential meltdown) and it was a nice touch they brought it out beforehand even though we hadn't asked. They obviously understand dining with kids at this café!
Tom enjoyed his burger (I tried a bite – it was quite tasty) and I was quite obsessed with the homemade biscuits my creamy eggs benedict came on. The sauce was buttery and delicious and the egg yolks a golden orange, but it was the biscuits underneath that kept me nibbling away after I was already full.
Then it was time to continue home, but Duvall – and especially Cherry Creek Falls – we'll be back soon to explore some more!
Quick Tips for Hiking Cherry Creek Falls in Duvall
What: A wide trail that is fairly flat with some gentle hills that leads to Cherry Creek Falls. The falls have a 25-foot drop into a scenic pool of water. The hike is five miles roundtrip and takes about two hours at an average pace we were told. The first ½ mile of the trail goes through private property (you'll see signs) via a courtesy easement so be sure not to stray off the trail in that part. Visit the Washington Trails Association website for more information about the part of the hike we didn't get to do.
Where: Located at the crossroads of Kelly Road (Mountain View Road if coming from the north) and NE Cherry Valley Road in Duvall, just under five miles east of downtown Duvall.
Parking: There isn't a designated parking lot so park along Mountain View Road on the side of the street next to the entrance to the trail.
Cost: Free
One More Thing to Note: At the end of our hike we ran into another couple with a toddler (who was sitting happily in a carrier, of course) who said the river was too high over one part of the trail so they didn't want to risk crossing and didn't make it to the falls either. Something to keep in mind if you're ever visiting Cherry Creek Falls after a lot of rain. Also, guess we wouldn't have made it Cherry Creek Falls even if we had gotten Lulu to sit in the carrier!
P.S. You might also enjoy reading:
One Weekend in the Washington Rain Forest
Rockwood Farm's Beautiful Fall Entrance in Snoqualmie
Jubilee Farm on Seattle's Eastside
Found this article helpful? Pin to read again later!