A picture showed up in my Facebook newsfeed this morning of a long driveway flanked by gorgeous autumn-red trees. I follow a lot of travel sites so seeing fall foliage images this time of year isn't that out of the ordinary, but the location of this one caught my eye: Snoqualmie.
That's in Snoqualmie? I thought. I could easily drive there and do a little day excursion with Lulu. This particular day was shaping up to be beautiful weather-wise and the forecast for the rest of the week was calling for rain, rain, and some more rain with a good dose of torrential winds thrown in. We were about to head to swimming class, though, and then it would be nearly time for lunch and nap. Shoot, won't work to see it. Maybe next year.
Then I paused. When, oh when, had I become such a stickler to a specific schedule? Now, I am all for schedules with a toddler. It keeps my day sane and knowing when I can count on her very consistent two-and-a-half hour naps are key to keeping my writing and marketing business chugging along successfully without needing to figure out our budget for the nanny to come more often.
But…wasn't the whole point of having a flexible, work-at-home job so I could do things like this when they came up? If she was outside, I knew Lulu would be fine if I pushed back her nap a couple hours. It just might not be as long of a nap, or might be skipped altogether if she fell asleep in the car on the way home. Which meant I wouldn't get the writing done I had planned for the afternoon. But LEAVES. Bright, red, colorful leaves! And besides, there was always nighttime after Lulu went to sleep that I could catch up on work. Right?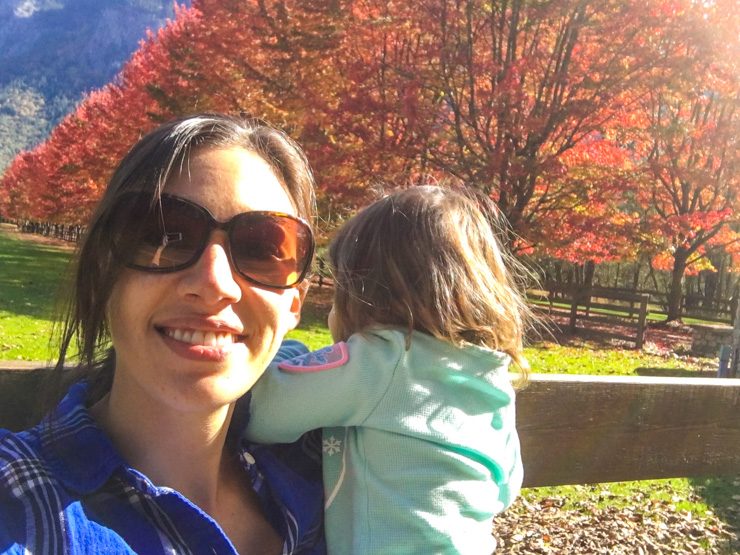 Right.
Today, I decided, as I ushered us into the car to head to swimming, we would come home after swimming and change and have a snack as usual, and then…we would get out of our schedule rut and head somewhere new and different.
So we did.
And playing hooky from naptime and writing ended up being kind of magical.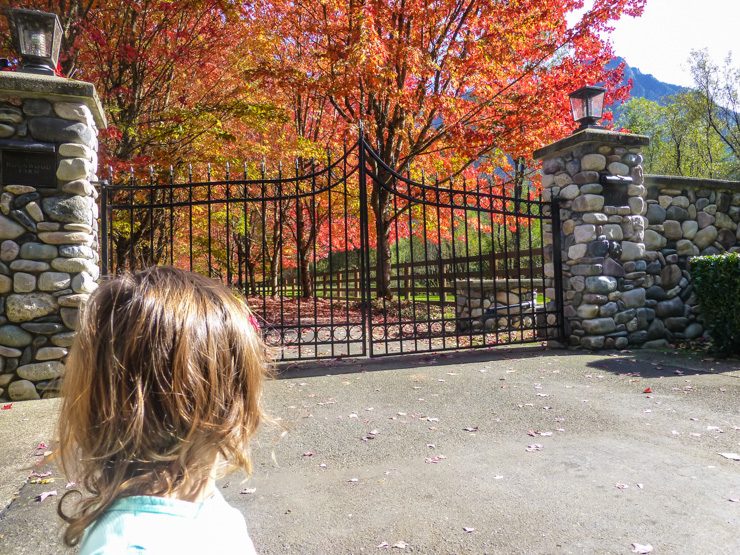 The photo I saw on Facebook was of the entrance to Rockwood Farm. The drive there took us past Snoqualmie town center, over the river, and through trees and farm until we were at a little clearing in a valley of the Cacasde Mountains. Stretching in the middle of the grassy clearing was just what the picture displayed…a vibrantly red and yellow tunnel of leaves.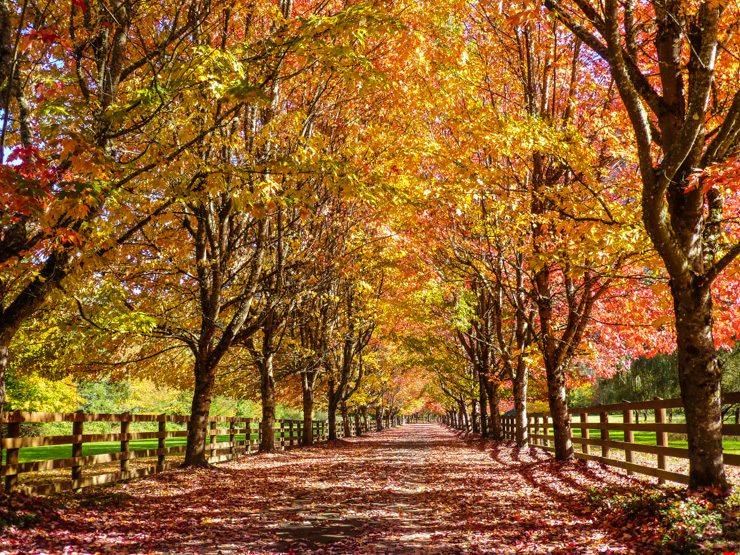 There were a few other people there who left shortly after we arrived, meaning Lulu and I had the view to ourselves to soak in for a bit. Though you can't walk through the trees due to a gate, the steel bars don't hinder the view at all, and even gives it a bit of a more stately, regal feel. (Here's how you can get through those gates.)
The view to the left hand side of the gates didn't create the illusion of a tunnel, but it was just as striking due to the vibrant cherry color of the leaves seen from that angle and the mountains jutting up in the background.
After a few cool days, the temperature was suddenly warm and pleasant again and Lulu and I basked under the sunlight while giggling over silly selfies (Lulu has just started doing "cheese" for pictures and it's all sorts of adorableness) and pointing out leaves.
I finally forced us away from the view and we headed toward Snoqualmie's downtown with a stop at a scenic looking walking bridge along the way.
Though the seconds were ticking down until we would completely miss a nap window, I knew I couldn't leave Snoqualmie without taking Lulu to see the old trains (Snoqualmie used to be a major railway stop back in the late 1800s and early 1900s) and I was so glad we did. It was blissfully crowd-free on a weekday and Lulu enjoyed running around (she was especially excited to see the yellow train) and crawling up in the trains that allowed for exploration inside.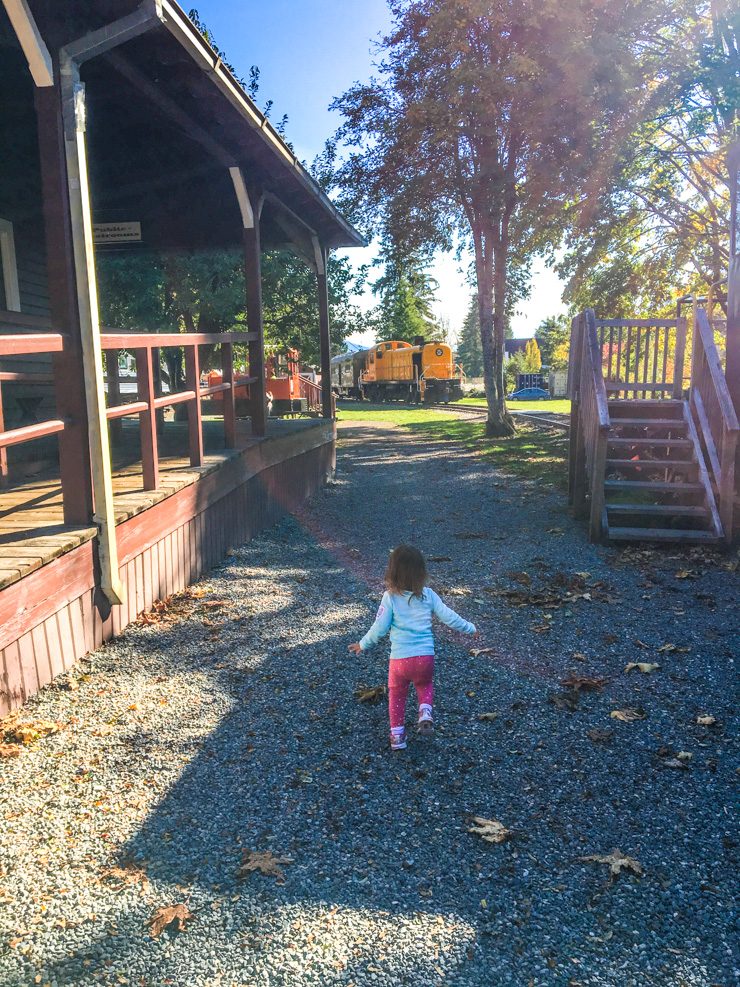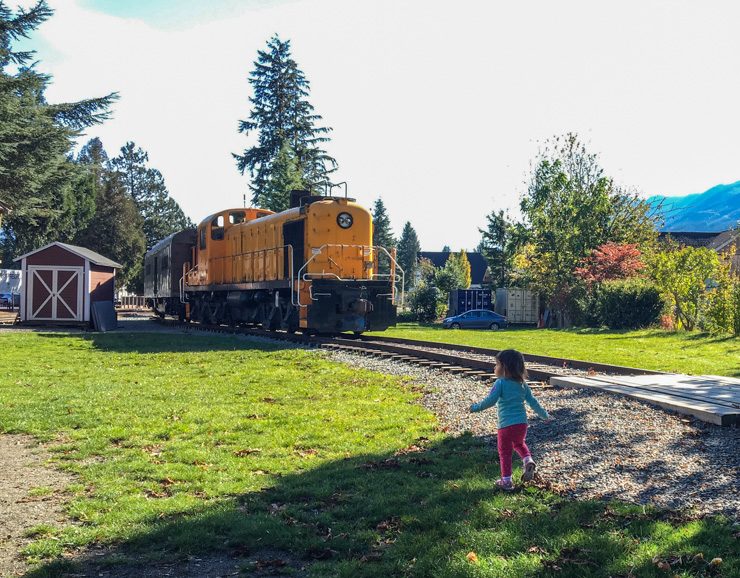 Today was definitely one of those days that makes me so glad to live in the Pacific Northwest where I can have a city life that is so close to mountains and nature, and (at least until the wind blows them off in the coming storm) some spectacular colorful leaves.
Don't forget this autumn wonderland! Pin for later: