Guess who's spent the past week in Dubai and Jordan? No, sadly, not me. That would be Tom, my traveling around the world other half. He has been visiting Petra, navigating the streets of Dubai, off-roading in the desert, and floating in the Dead Sea. I, on the other hand, have been moping on my couch trying not to become psychotic from jealousy. To be fair, he went as part of a learning trip – kind of like a speed study abroad program – through his school for his MBA. Still, the fact that he was learning business tactics did not help with the jealousy factor on my end.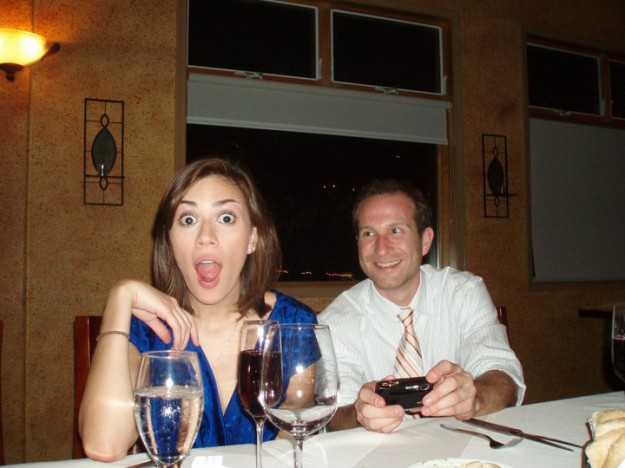 Here is my take on how to get through hubby-is-traveling-without-you depression – setback penalties included.
Tell your cats that Dad left because he doesn't love them anymore and you should become their new favorite. Note that you think this is working when the cat that always sleeps next to him begins cuddling next to you at night. This is also nice when you wake up in the middle of the night missing your traveling around the world other half. Score!
Force yourself not to stare longingly at the Facebook pictures he's being tagged in at all the cool places he's visiting. When you accidentally catch yourself doing it, quickly switch to a friend's profile who always posts 30 baby pictures in her stream. Remind yourself he could have left you behind with a child to watch. Things could be worse. You don't have kids so therefore you can irresponsibly travel later without him. Score!
Start plotting where you're going to travel without him. Call your mom and sisters to find out which one of them is going to go with you. Haha, take that husband. Score! Then remember how much you miss him when you travel without him. Penalty.
Remind yourself that when you're the one off gallivanting around the world you'll be too busy to miss him. After all, he doesn't seem to miss you all that much. He's smiling a bit too much in all those Facebook pictures. Girl trip is back on. Score!
Drink one of the nice bottles of wine from your wine club. Typically you drink these together, but hey – if HE gets to go to the Middle East without you than you should get to savor a delicious bottle of wine all to yourself. The wine also takes an edge off the travel jealousy factor. Double Score!
You forget and start looking at his Facebook pictures again and start muttering obscenities under your breath for the millionth time that you didn't get to go. Penalty.
You start looking at his profile picture instead and start missing him and say a quick little prayer that his plane lands safely – it is slightly ridiculous how much you worry about him when he flies without you. You've gone from being a crazy, jealous spouse to a protective, loving partner. Score!
You remember to get the mail, take out the garbage, and all the other little home jobs that he usually does. You are so Miss Independent. Who cares if he's off seeing the world. You own the world. Score!
Then you mess up the cable and are without TV for a whole week despite trying out the email instructions that he sends you from Dubai after you frantically email him that you can't wait a whole week to watch Bachelor Pad! Penalty.
Not being able to watch TV makes your evenings much more productive and you get some "improve my life" projects done so that maybe one day you have the funds and time to trail along with him next time he decides to jaunt around the world for education or business purposes. Score!
Think about how much he always supports your goals and dreams and feel lucky you have such a wonderful hubby and become happy for him that he's had such an amazing opportunity. Score!
Cross your fingers that his plane isn't delayed so that you don't have to go another minute without seeing him because if you learned one thing from him being away it's that how much you miss him sucks more than the fact that he's seeing a part of the world you've never seen before. And once he gets off that plane and is home again…Score! (Get your head out of the gutter…not that kind of score. 😉 )
How do you cope when your partner travels and you can't go?