Dreaming of a 2 or 3 week trip? Here are tips for getting your vacation approved at work.
A standard vacation length for most people working in America is one week — five lowly days off. Even with these days sandwiched in between two weekends, that amount of time makes it hard to go see that far off destination you've been dreaming of. Two days of that are used up just flying to Australia or New Zealand, for example! Add in jet lag and getting settled into a new culture and by the time you're really enjoying yourself and navigating the destination you're visiting like a local…it's time to leave.
The most logical solution for this is to ask for a longer vacation.
However, many workers are scared to do this.  They're worried they'll be seen as uncommitted or lazy, or that their projects will fall apart while they're gone (this latter reason is very rarely ever the case with proper preparation). Other times, employees are so sure it's going to be shot down by their boss, they take a "why bother" attitude to asking for time off. If you're one of those people not sure how to ask for a multi-week vacation from work, here are some tips and strategies on how to ask your boss for it, plus get him or her to actually approve it.
How to Ask for a Longer Vacation
Put together a schedule of when you'll check in.
Every three days should suffice. Don't be pressured into doing more unless your boss has a legit reason for needing you to do so. This is your vacation!
Explain why you want to do this trip.
Is this a once in a lifetime trip that your grandparents are paying for? Have you been saving up for this trip for five years and you finally have enough? Is your husband about to go back to school and you have no idea when you'll be able to go on your next vacation together? A good reason as to why you need a trip of this length now and why it's important to you will go a long way with most bosses as many really do want their employees to be happy. If they get you're taking off for awhile because this is a dream of yours as opposed to you're just really sick of work, you're more likely to get them on your side.
Plan your trip around the holidays.
This may mean getting your family annoyed with you if they're expecting you to come home for the holidays, but you may need to do what's right for you this year. Holidays often mean employees have more days off, less work is done because so many people are out of the office so you're not missing out on much, and employers are already expecting employees to take time off. Therefore, to take a multi-week vacation, you need less vacation days accrued plus your boss is already in a vacation approving mindset. Promise your family a really nice souvenir — and maybe a summer trip to visit them if they don't live nearby. (Caveat: If you work in retail or another business that does most of its business over the holidays then this tip probably won't apply to you.)
Have an outline of how you will prepare for your vacation.
Put together an outline of projects you'll be putting together a detailed handover for to show your boss when asking for the time off. Knowing nothing is going to be dropped while you're gone will give your boss some ease of mind. (As someone who used to manage a team of 10 employees, handovers are often key to stress-free vacations for those helping pick up the slack.)
Accrue your vacation time.
Negotiating a longer vacation when you actually have time to use is easier than trying to get off days unpaid. This may mean foregoing a few long weekends or taking extra time off for weddings or other special occasions in order to save up your time for the longterm goal of a multi-week vacation.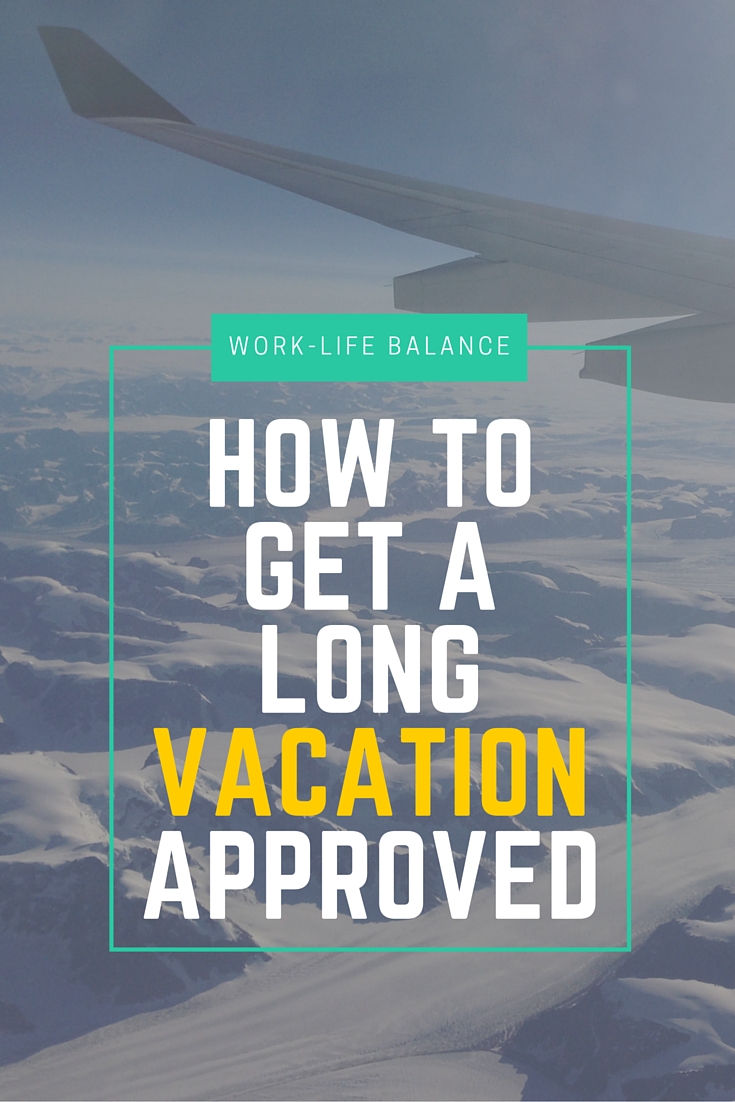 Bring back-up ammunition to support your long vacation.
There are plenty of articles online written by well-known business people proclaiming the benefits of taking a vacation that really lets you rest and rejuvenate — which a longer vacation will do — and that it will make employees better workers upon return. Here are a couple links to such articles:
U.S. News: The Benefits of Taking Time Off
The New York Times: Why Don't Americans Have Longer Vacations?
Now take a deep breath and start getting together what you're going to say to your boss. If you're nervous about asking for the time off, remember — all employees should have the opportunity to take a few weeks off to see the world. If nothing else, you should at least have the right to ask.
You may also enjoy reading: Travel Envy at Work and Worst Part of Limited Vacation Time