One Day in Ireland, this Happened…
Irish music performed in 3 different ways made my stay in Ireland 3 times better — here's why you don't want to miss hearing it.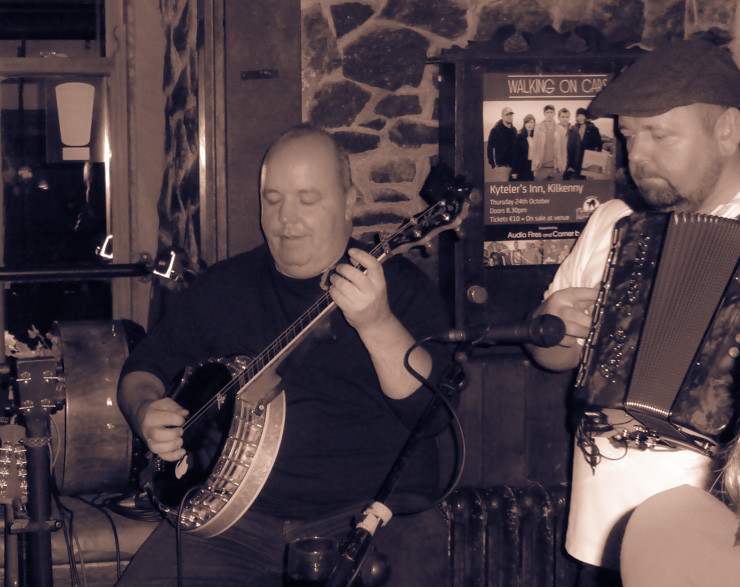 You've likely heard of Irish music, but until going to Ireland it's hard to fully grasp just how ingrained in the culture the hoppy beats are. It glides and skips its way into your consciousness from seemingly every building and street corner – and your visit will be all the better for it.
Irish Music at the Pub
Pubs are about as ubiquitous as raindrops in Ireland, so you'll want to do your homework and pick one that doesn't just have music, but puts a specific emphasis on traditional songs being performed under its roof. The best way to do this is to ask a local which pubs have good local music acts on any given night.
In Kilkenny, I asked the front desk of the hotel room I was staying at where to go for some good food and good music. I was directed to Kyteler's Inn, which is also home to a pub-style restaurant that hosts nightly live music. Eating at Kyteler's Inn was a delight due to the music. The night I dined there, it was an interactive musical night centered around the bodhran, which is a traditional Celtic frame drum that looks a bit like the tambourine.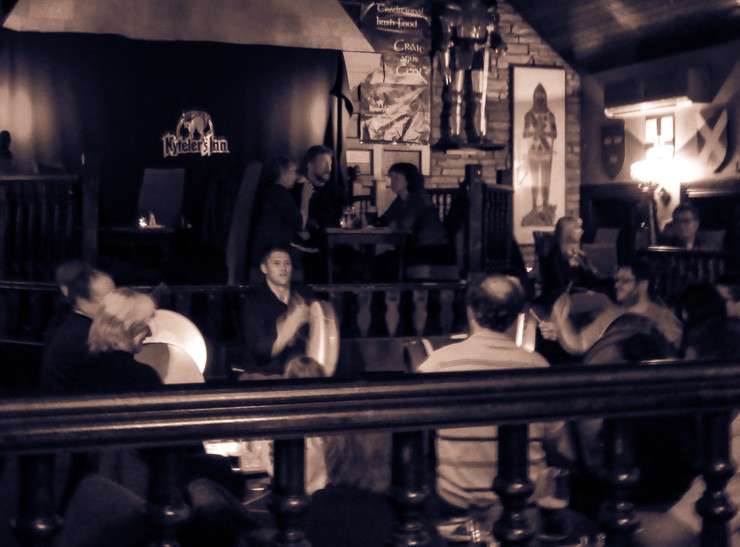 As I was being seated at my table, a circle of eight or so people of varying ages sat on stools in the middle of the room, banging and shaking the circular instrument. They were being led by a young man at the forefront of the circle, who cajoled them into playing along as he stomped his feet and expertly played his bodhran. The man was Damien Walsh, and he is at Kyteler's Inn every week to teach guests about the bodhran as part of its Irish Tunes with Damien musical act. Damien somehow managed to get all of the guests, even a few kids, to play their bodhran just right to make actual music for the rest of us diners to enjoy and not just sounds.
Every few songs, the current "musicians" would go back to their tables and new patrons of Kyteler's Inn would join in the fun. I was content to drink my Guinness, eat my meal, and just join in when the audience was called upon for a particular song.
After I finished dinner, I went into the main bar area to get one last pint of Guinness (my flight back home to the U.S. was taking off the next day) and heard more Irish tunes, this time by the Raglan Rogues (who are in the top picture of this post). Kyteler's Inn has a constantly rotating list of Irish musicians.
Kyteler's Inn was a carefree night that encapsulated the fun vibe Ireland has, particularly where pubs and music are concerned.
Irish Music at the Theater
I had a bit of a more glamorous night of Irish music while in Dublin.
I've always wanted to see Riverdance (In fact, I'm still slightly bitter that my dad took all my siblings to Riverdance  when it was in town the holiday after I moved out of state) so I jumped at the chance to see Heartbeat of Home while in Ireland since it was created by the same producers who did Riverdance.
Michael Flatley may not have been hopping and tapping across the stage, but it didn't matter; Heartbeat of Home was an intoxicating, thrilling theatrical performance. From the first strum of a beat and slide of a tap shoe to the uptempo, furious Irish dancing and slower, romantic numbers, it was one scene after the other of a perfect blend of dance and melody.
Yes, turns out that Irish music is at its utmost best when paired with Irish dance.
(In fact, I became so obsessed with Irish dancing after watching Heartbeat of Home that my husband got me a How-to Irish Dance DVD as a joke for Christmas…except I popped it in the DVD player and gave it a try…and nearly tripped over my ankles and fell on my head trying to do the steps. Irish dancing is not easy!)
When I was in Dublin, Heartbeat of Home was being played in the Bord Gais Energy Theatre, which is located in a vibrant downtown neighborhood of Dublin that is also home to a number of fine restaurants and views of Liffey River. Though Heartbeat of Home is no longer playing there, other Irish dance and music performances will likely be happening while you're in the city. A couple miles west of Bord Gais Energy Theatre, still bordering the river, is Arlington Hotel, which is home to Celtic Nights, an Irish song and dance performance that is performed nightly. And this summer, Riverdance itself is performing in Dublin at the Gaiety Theatre as part of its 20th Anniversary tour.
Irish Music at the University
I visited the lovely city of Limerick as part of a press trip and a portion of the trip's itinerary included a visit to the University of Limerick. I admit – I wasn't expecting to be overly impressed by this part of the itinerary. It was, after all, a university, something I had become quite accustomed to during my four years at one, so I prepared myself to be possibly bored during the tour. I was far from bored, however, and had one of my favorite memories happen while on campus. (Such a "wow, this isn't boring at all" surprise also happened to me at the Foynes Flying Boat and Maritime Museum in Ireland. One thing I learned while in Ireland: don't underestimate its allure no matter the setting or activity.)
The University of Limerick is known for its dance and music program, called the Irish World Academy of Music and Dance. While touring one of the academy's classrooms, we heard strains of music coming from the hallway. We left the lecture room we were in and saw a circle of students sitting in the hallway, playing a pickup music session. Our guide told us impromptu performances such as this in between class was a common occurrence at the academy. It was some of the best music I heard the entire trip, fueled by the visible passion the students had for the rhythm and cadence of Irish music.
This perhaps best sums of what makes Irish music in Ireland so much better than at home – you never know where you're going to encounter some rich tunes that will touch your soul, and by stumbling upon it in such a matter, it makes you feel, in a way, right at home in Ireland.