One Day in Thailand, This Happened…
Ko Phi Phi Scuba Diving and Swimming…with Stings
"Out already?" Tom asks as I sit down on the beach towel, my body and hair still dripping wet from the warm sea I had just been swimming in.
"Something was stinging me," I say as I put my sunglasses on, still feeling a bit confused about what I'd just encountered in the water.
Tom gives me a doubtful look. Despite how happy I get whenever I'm in the ocean and despite the fact that I've pretty much wanted to be a mermaid since I saw Disney's The Little Mermaid when I was in elementary school, Tom knows that I can also be a little over-paranoid about the ocean and the creatures lurking in its shadows.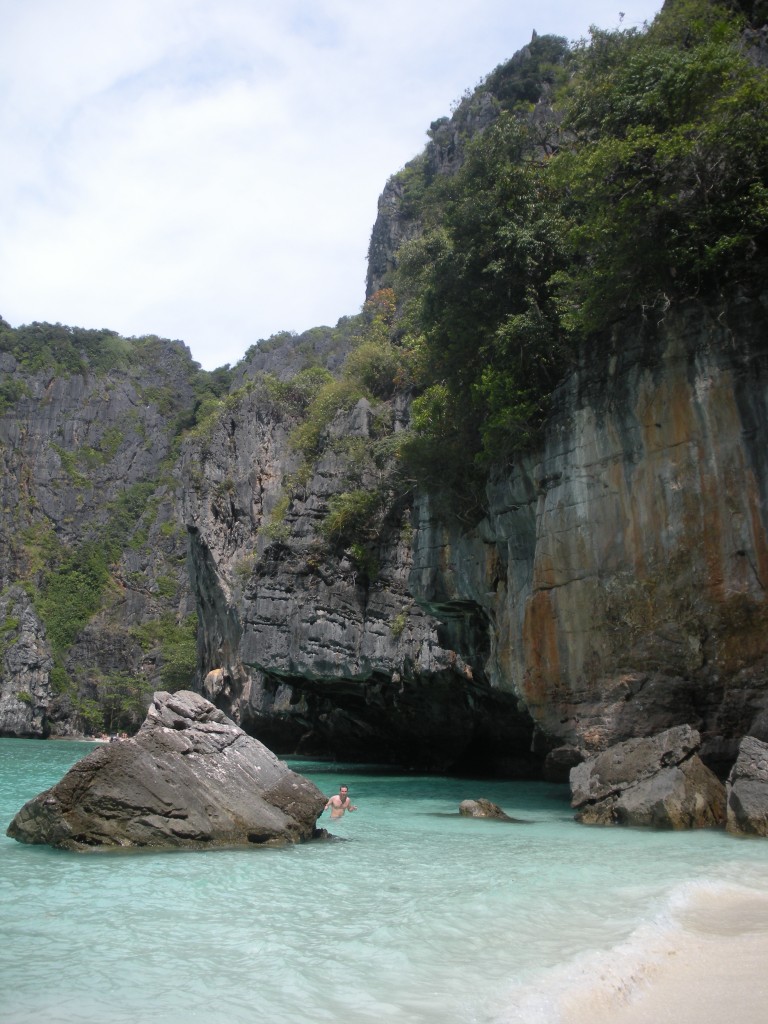 "I'm serious!" I insist indignantly. I examine my leg where I felt the stinging and see no marks. "It didn't hurt badly and I didn't see any jellyfish, but I figured I should get out just in case."
Tom nods and mentions he didn't notice anything when he had been swimming earlier.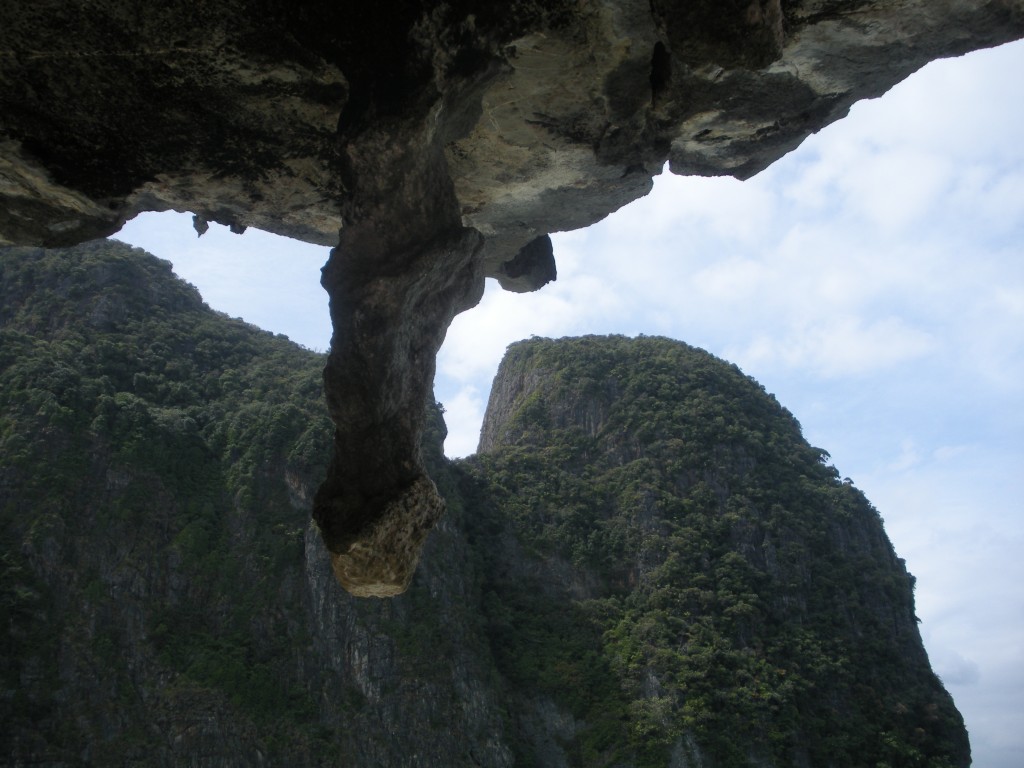 We're at the end of Ko Phi Phi Leh beach under a rocky overhang. The massive crowds that flock to this beach every day haven't pervasively reached this end of the beach yet, so we're enjoying a – slightly – more peaceful and less crowded atmosphere, which extends into sea water curving like a "J" against end of the sand where the earth juts up into a vertical rock wall. A half-dozen snorkelers are bobbing in the water next to the rock wall, floating into little coves in the rocks. I wonder if they are getting stung or if I am just imagining things.
The next day, I'm happily about to run into the ocean again. This time from a beach next to our hotel on Ko Phi Phi. Just like the beach on Ko Phi Phi Leh, the water is perfect; clear, calm, salty and buoyant, and glimmering in shades of teal.
I dive under the water and come up in all my Princess Ariel glory and wave at Tom, still sitting on the beach, the green peaks of Ko Phi Phi jutting up behind him against the nearly cloudless blue sky. I smile and push back with my feet, flopping onto my back. I spread my arms and legs out and take a deep breath, floating on the water without barely any moving. My ears gently sink just beneath the waves and block out the noise of the atmosphere. And that's when I feel it.
A dull stinging sensation on my calf. I splash back onto my feet so I'm standing on the ocean floor and then feel a similar sting on my wrist. I quickly spin around in the water, searching for a clear blob in the water that would indicate a jellyfish is the culprit, but I don't see anything. Ok, I'm not imagining this. What the heck? Another sting appears on my thigh and despite the fact that it is more annoying than painful, I move toward shore.
"I got stung again!" I tell Tom.
"That weird," he says and rubs my back sympathetically as I sit down on the towel in a huff, bummed that my mermaid time got interrupted.
I get even more annoyed a short while later when Tom goes for a swim and doesn't notice any stings.
Something stingy is out there in the waters of Ko Phi Phi. I am sure of it.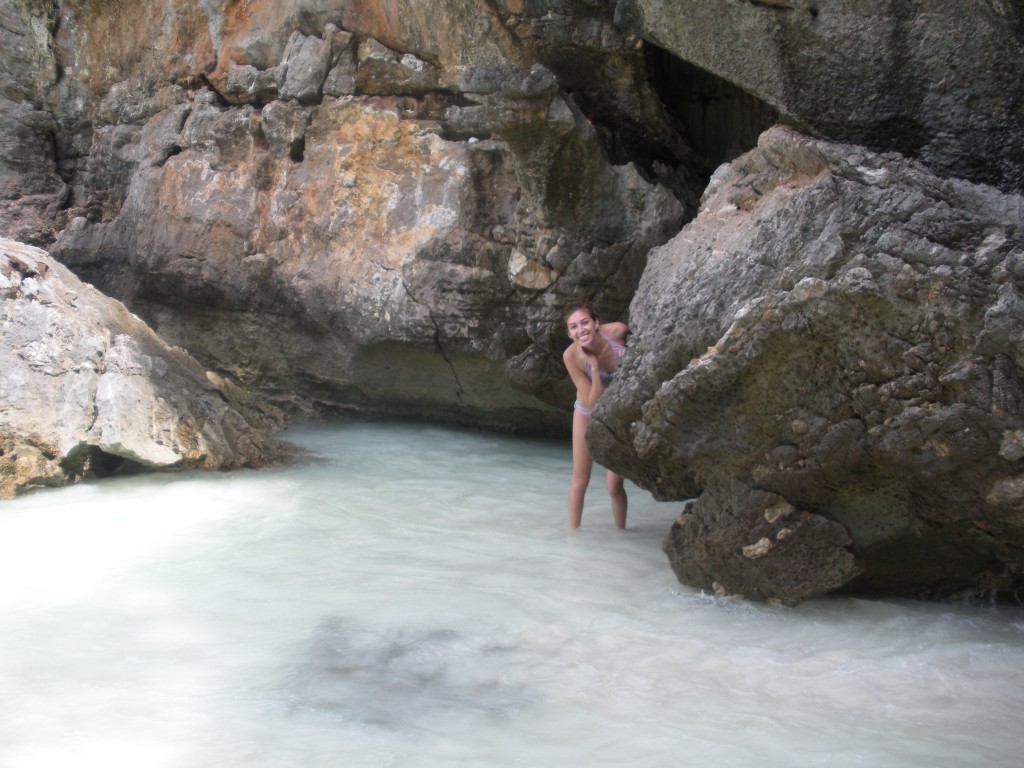 Less than 24 hours later I breathe rhythmically as I see the first sun streams shine into the water and slowly ascend until I surface into the bright sunlight. I take my regulator out and smile at Tom who surfaces next to me.
"Great dive!" I exclaim. "How cool was that big, fat, red fish on the bottom?"
"It was great," Tom agrees. "But something kept stinging me."
My eyes widen. "I told you!"
He grins. "I believed you." He pulls his goggles down around his neck. "But seriously, what is it?"
We board the dive boat a few minutes later and as we're stripping off all our dive equipment, our new British friend, who we conversed with on the way to the dive spot, comes back onboard and shrugs out of his tank and BCD next to us.
"How was your dive?" he asks?
We exchange our favorite aspects of the dive and as he's unzipping his half-wetsuit, he comments, "Glad I at least had this on. Something was stinging me down there."
I smack Tom on the arm. He grabs my hand and laughs. "Us too," he says.
A Dive Master has the Ko Phi Phi Stinging Water Answer
Just then, one of the Ko Phi Phi scuba diving dive masters comes over next to us and I seize the opportunity. "Is there some invisible jellyfish or something down there stinging everyone?" I ask.
He shakes his head, his shaggy, blonde hair swirling in damp clumps as he does so. "It's a type of coral," he responds in his Australian accent. "It stings. That's why we wear full wetsuits." By "we" he meant him and the other dive masters. All of us on the dive tour were rented half wetsuits by the dive shop, providing prime stinging area on our arms and lengths. How nice of them.
"Told you something was stinging me," I whisper to Tom.
He wraps his arm around my shoulders. "You were right," he says.
Now those are words I like to hear. Stinging coral, on the other hand, not so much.