Unique menus, local ingredients and fusion cuisine at Ko Restaurant on Maui
The Fairmont Kea Lani in Maui is one of the most visually awestrucking resorts to see from the coastline, with Grecian-style towers jutting up under the Hawaiian sky of Wailea and a white-washed exterior.
Inside is grand, too, and for a place that looks a bit like a palace, it comes as no surprise it has food fit for royalty, too.
Even if you're not staying at the Fairmont Kea Lani, it's worth going to for a meal during your stay in Maui. It is home to four restaurants, and I chose the al fresco ambiance of Ko Restaurant at which to dine.
It's also a great spot for a girls getaway in Hawaii for dinner or to stay!
Getting to Ko Restaurant
If arriving by car, you're in for a luxurious experience before you even enter the Wailea located restaurant as you get free valet service if dining at the Fairmont. Then you walk through the gorgeous, opulent foyer down to the restaurant.
The service at Ko is top-notch, as you would expect from a restaurant at a luxury hotel chain. Though I knew the service would be stellar, I didn't set my expectations as high for the food since hotel fare — even luxury ones — can often be hit or miss. I wasn't even remotely disappointed though. The food was a delight.
The delicious culinary cuisine started with the bread, which came with a variety of dipping sauces.
Special Menu Sections at Ko Restaurant
The menu consisted of a variety of seafood, meat, and vegetarian items, many of which have some sort of Hawaiian and Asian flavors fused in. Ko also provided the option of wine pairings selected for you to pair with each course. (Tom got this. I was pregnant while in Maui so did not.) I also thought it was really neat that the Ko menu had different sections depending on dietary restrictions, including heart healthy, sugar balanced, vegan macrobiotic, gluten free, and raw. Each special diet section had appetizer, entree, and dessert choices.
Another neat aspect of the menu were the items marked with a "Future Farmers" icon. $1 from each Future Farmer menu item went toward the Hawaii Agricultural Foundation's Growing Future Farmers program, which helps to keep agriculture as a viable way of life in Maui.
In addition to the special dietary and future farmer menu items, there was the "basic" menu — which was anything but boring. I was especially intrigued by the Makai Catch section. Each day there is a local fresh catch and then you can choose from a variety of options of how you'd like this prepared; for example, the Kea Lani Garden Herb with lemon herb butter and served alongside yukon gold potatoes, or the wok seared with black bean sauce and steamed Jasmine rice. There were several other preparation options, too, but alas, the fish of the day was high in mercury content so not appropriate for my pregnancy required food consumption (hmmm…maybe "pregnant" should be a category added to the menu's special diet section).
A Delicious Meal While Enjoying the Maui Fairmont's Ambiance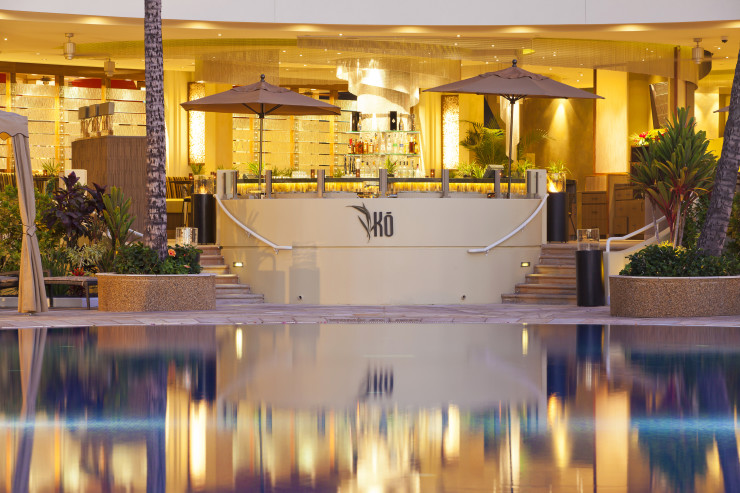 I was still in the mood for seafood, though, so I opted for the lavender honey Macadamia Nut Shrimp under the Ko Specialties part of the menu. It came served on a kabob and had unique flavor that hovered between floral, tangy-sweet and hearty. I was a big fan of the entree and also enjoyed the ramen-style pasta it came served on.
Prior to this I feasted on a large house salad and a fresh scallops appetizer.
While I was doing this and sipping my water, Tom greatly enjoyed his courses with wine pairings, saying each complemented his meal extraordinarily well.
For dessert, we opted to split the very Hawaiian-sounding cheesecake: Keanae Lilikoi Chiffon Cheesecake made on a Macadamia Nut Linzer crust and served with tropical fruit and raspberry coulis.
I didn't just enjoy the food at Ko Restaurant. I also loved the restaurant's garden setting. Despite being at a large resort, it was quiet and romantic. A perfect place to dine for a Maui babymoon.
Though al fresco is where it's at when dining in Hawaii if the weather permits, Ko also had a nice indoor seating area that opened up to the outdoors.
There's just one side effect of eating at Ko — you may find yourself wanting to book another trip back to Maui to experience staying at the Fairmont Kea Lani and not just eating there after seeing how nice it is during your walk to and from the restaurant.
Ko Restaurant at Fairmont Kea Lani Quick Tips
Address: 4100 Wailea Alanui, Maui HI
Phone: 808-875-2210
Website: http://korestaurant.com
Note: I was provided a complimentary meal at Ko Restaurant, but — as always — all views are completely my own.