Grab Your Besties and Make Memories on One of These Amazing Miami Girls Trips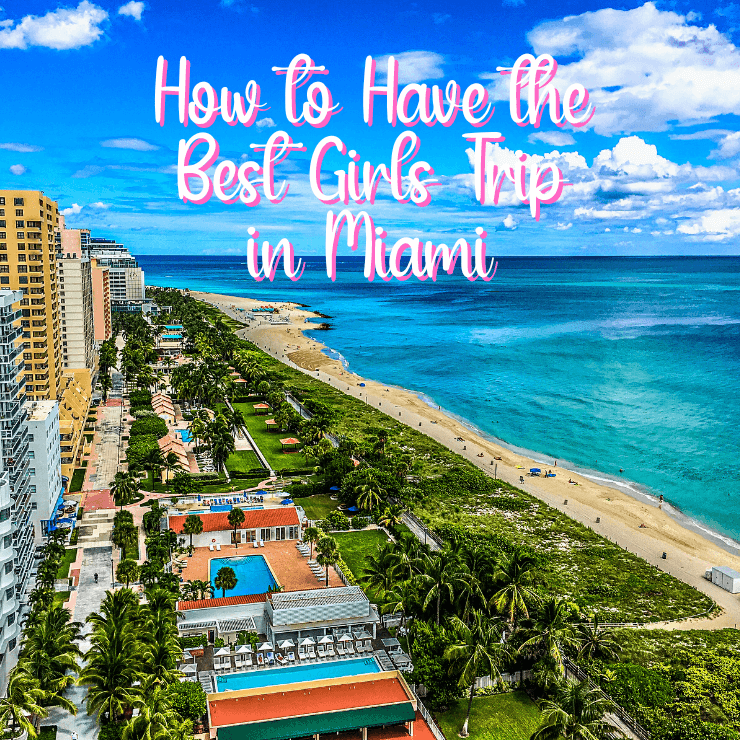 Miami is an excellent destination for a girls trip, filled with sunshine, beaches, shopping, and vibrant nightlife. Whether you're seeking adventure or relaxation, Miami offers an array of options for every type of traveler. From the trendy South Beach to the artsy Wynwood Walls, Miami has the perfect getaway locale for every friends group.
In this article, we'll explore some of the best girl trip destinations in Miami that are sure to make your trip with your friends unforgettable.
South Beach: Party Time
South Beach is one of the most famous places in Miami and is perfect for a girls getaway if you want to have a good time and experience some epic nightlife. Here you will find some of the best clubs, bars, and beaches.
Before you experience the club scene, spend a little bit of time at South Pointe Park. Enjoy strolling along the pier or lying by the beach in a hammock. Head into the evening by taking a sunset kayaking tour.
If you want to visit one of the best nightclubs in the entire world, head to the infamous LIV, which has special events from Wednesday to Sunday every week here that are always fun and exciting.
If you want to experience some culture during your night in South Beach, go to Mango's. This is another one of the best nightclubs in Miami, filled with Latin American culture. Learn the bachata or salsa dancing and drink mojitos all night long.
After a long night out dancing, check out the Fontainebleau Lapis Spa if you want to relax. Their Girls Just Wanna Have Fun package would be the perfect addition to your girls trip to Miami.
Where to Stay
Fontainebleau: The Fontainebleau is the most luxurious hotel in Miami. You'll want to stay here if you plan on visiting the Lapis Spa and LIV since they are located in this hotel. Rent a cabana during your stay and spend a relaxing afternoon next to the pool with your girlfriends. It is often ranked as the #1 hotel in Miami, so you can't get much better than this.
National Hotel: If you and your girls are trying to escape the kiddos at home, the adults-only National Hotel is a perfect place to stay. It's located right along the beach with lots of partying opportunities close by.
Little Havana and Wynwood: Epicenters of Miami's Culture and Art
Miami is known for its rich Cuban culture and stunning art, and to experience that on your girls' trip, you'll want to stay more in downtown Miami. Little Havana feels like a part of Cuba and has countless entertaining – and tasty – things to do. 
For the best authentic Cuban food, walk through Calle Ocho, or go on a Miami Food Tour. Be sure to stop at Azucar for some of the best Cuban ice creams you'll ever taste.
In eclectic Wynwood, you will find art practically everywhere you look. Keep your eyes peeled and you'll discover art on the walls, on telephone polls, on sidewalks, and just about anywhere! Wynwood Walls is the heart of all the murals. This outdoor art museum has some of the best murals, which will make for the perfect Instagram picture for your girl's weekend!
For some excellent boutique shopping, head over to Miami's Design District.
Where to Stay in Little Havana and Wynwood
Four Seasons: This luxury hotel has a rooftop pool and is located right in downtown Miami. Relax in a hammock and enjoy the view from the seventh-floor wading pool.
Hilton Miami Downtown Hotel: You'll find a simpler hotel with great amenities right in downtown Miami. This is a more budget-friendly option that will be great for your girl's weekend.
Coral Gables: Enjoy Miami's Nature & Beauty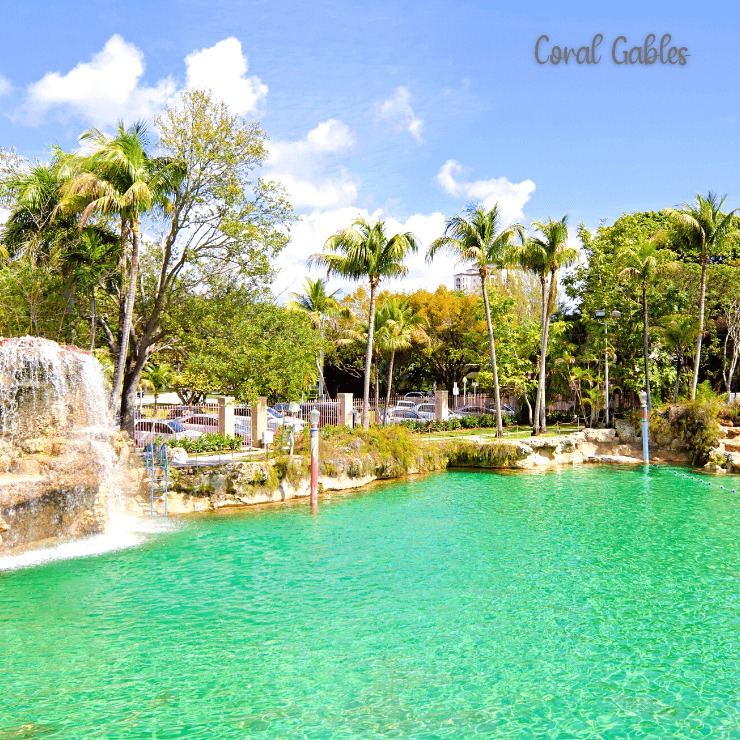 Coral Gables is known for the relaxing Venetian Pool, one of the main attractions in this area. This is a public pool unlike any other. Enjoy a day out in the water swimming through the waterfalls and caves.
If you want to spend some time in nature, go walk through the Fairchild Tropical Botanic Garden. You'll see gorgeous flowers, butterflies, and pools that will bring a peaceful serenity to your weekend.
For some salt water therapy, relax on the beach at Matheson Hammock Park. This man-made atoll is perfect for calm water activities like kiteboarding or paddleboarding. With a marina and restaurant along this park, you can easily spend the entire day soaking up the sun and enjoying time with your friends.
If you want to see some art while visiting the Coral Gables area of Miami, visit the Lowe Art Museum. For shopping, head to Miracle Mile along Coral Way, which has numerous shops and eateries.
When you get hungry in Coral Gables, check out the Hillstone, Graziano's Restaurant Coral Gables, and Bulla Gastrobar for some delicious cuisine.
Where to Stay in Coral Gables
Aloft Coral Gables: This hotel is right by the Miracle Mile. It is a modern, beautiful place to stay that has a pool and dining options and is right near everything you'll want to experience.
Biltmore Hotel Miami Coral Gables: If you want a more luxurious resort, head to the Biltmore Hotel. Enjoy the spa, pool, dining, and more!
Bal Harbour: Luxury Weekend
North Miami is perfect for a more laid-back girls trip in this part of Florida. Spend some time in the sun at Bal Harbour Beach, then go shopping at nearby boutiques. Take a drive up to Hollywood and take a glass-blowing class at Hollywood Hot Glass. Or head down to North Beach for Oceanside Park where you'll find greenery and a chill vibe. 
If you want to explore the history a bit, walkthrough and explore the Spanish Monastery. Spend time at your resort's spa to further relax your body and mind. Then, head to Miami Beach Tiki Bar at Shuckers for a fun, exciting night!
Where to Stay in Bal Harbour
Ritz-Carlton: Enjoy a private, relaxing girls trip at the Ritz-Carlton. You'll find serenity and luxury all in one! Enjoy some time at the spa and savor the unique dining options.
Seaview Hotel: Get a room with an ocean view or bayside view and wake up to the calming water every day during your trip at the Seaview Hotel. You and your friends can also enjoy poolside cabanas and personalized service.
Key Biscayne: Relaxing Paradise
Spend a Miami girls' getaway basking amidst island paradise with a stay in Key Biscayne. This is where you'll want to lay out in the sun on the sand all day long and soak in the peaceful surroundings. Crandon Park is one of the best beaches around Key Biscayne and is worth a trip to simply relax.
At the tip of Key Biscayne, visit Bill Baggs Cape Florida State Park to see gorgeous ocean views after climbing to the top of the lighthouse. Go shopping and grab some food at the Bayside Marketplace. You can easily spend a few hours here with its multiple buildings and attractions. Grab a cruise or boat tour here as well.
Read More: 10 Best Day Trips to Do in Florida
If you want to explore a bit more, take a boat trip to Stiltsville or check out the Neptune Memorial Reef, where you will see a man-made coral reef that is quite breathtaking. For dining, try the Rusty Pelican, Lightkeepers, or the Milanezza for some delicious foods to sample in Key Biscayne.
Where to Stay in Key Biscayne
Ritz-Carlton: Enjoy a stay right on the beach at this luxury hotel. Eat dinner along the beach, relax at the spa, and have fun on this island!
---
No matter which part of Miami you and your besties choose to stay in and explore, you're sure to have an amazing girls trip to Miami!