How to Have an Epic Girls Weekend in Napa Valley
Napa Valley is a region in northern California known for its many wineries. And if you're like my best girlfriends and me, a girls night out most likely also means it's wine time. So what better place for a girls trip than Napa Valley?
Napa Valley is mostly made up of cities in Napa County, like Napa, Calistoga, and St. Helena. If you're looking to take a sophisticated getaway with your girlfriends, look no further than this beautiful part of the West Coast.
While the cities are a good place to start in planning your girls weekend (or longer!) to Napa Valley, we've put together some more things to do and consider adding into your itinerary to make planning even easier.
Whether you plan on drinking or not (I've even done a girls trip to Napa while pregnant and had a blast!) you can build a fun itinerary that you and your girlfriends will love with our tips below.
Explore the Wineries of Napa Valley
A trip to this region wouldn't be complete without visiting some tasting rooms, and the world class wineries and tasting rooms are probably why you and your friends are considering Napa for your girlfriend getaway in the first place! Napa Valley is home to over 400 wineries.
That's a lot to choose from, but some of the best to visit during a ladies trip include HALL St. Helena, Louis M. Martini Winery, Robert Sinskey Vineyards, Raymond Vineyards, and Pine Ridge Vineyards.
We also list out some more of our favorite wineries in our One Day in Napa Valley itinerary here.
If you all want to do tastings, make it easier on yourselves and book a tour. There are many companies in Napa who offer this service and you can likely even book a driving tour through your hotel. Why do this? You'll have a designated driver (who won't be bitter about it later) as you sample some of the finest wines in the world.
Friends that are up for an adventure should hop aboard the Napa Valley Wine Train. This 36-mile journey will bring you to local wineries, and they also serve a 4-course meal. Each tour is six hours long and includes your food, drinks, and photo opportunities.
If any of your friends don't want to drink, they can still enjoy Napa Valley's wineries. For example, Sterling Vineyards has an aerial tram to offer spectacular views, and you can tour a castle at Castello di Amorosa. There's more to the wineries than just alcohol!
Grab Lunch or Dinner in Napa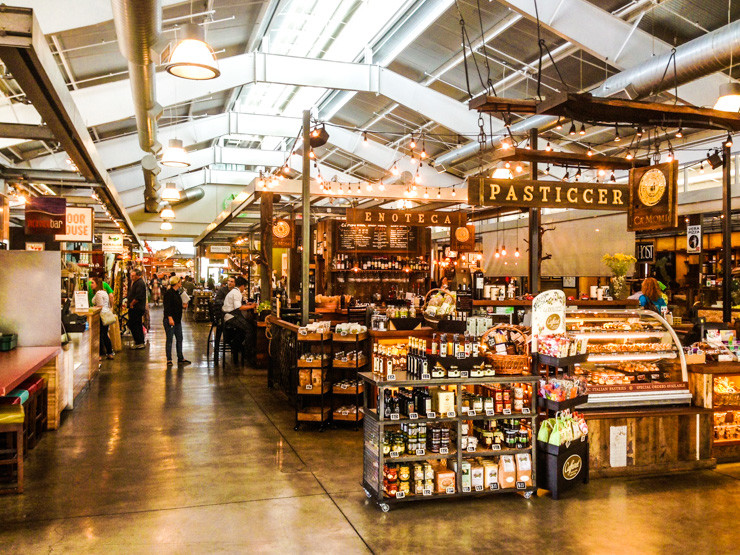 In addition to wine, Napa Valley is also known for its food – the region has several Michelin-star restaurants. There are also a couple of gourmet markets, where you can buy food for a picnic outdoors: First, go to Oxbow Public Market to grab some yummy picnic-perfect food. Then, head to Fuller Park to eat.
If you'd rather eat at a restaurant, you have many to choose from in Napa Valley.
For breakfast, order English muffins from one of Oprah's favorite bakeries, The Model Bakery. Grab pizza for lunch at Pizzeria Tra Vigne or alternatively, a burger from The Charter Oak. Try one of 1,800 wines while you dine at Press Restaurant in St. Helena for dinner (a personal favorite of mine!), or head to the restaurant in North Block Hotel in ritzy Yountville.
I also reviewed three more of my favorite restaurants in Napa Valley here.
With so many great options, it's hard to go wrong.
Have a Spa Day on Your Girls Trip in Napa
Napa Valley is home to a few spas that offer a variety of treatments. If you plan on visiting one with your girlfriends, make sure you book appointments in advance so they can accommodate your group.
Some of the spas' offerings use locally-sourced tools. You can request services like Napa River hot stones, grape seed scrubs, and lavender facials. Of course, the spas also offer traditional services, like Swedish massages.
Nearby spas that can accommodate groups include NV Massage & Wellness, Greenhaus Day Spa, and Spa Terra. No matter which spa you choose, your group is in for a relaxing treat.
Certain Napa Valley spas also offer mineral pools and baths. Dr. Wilkinson's Backyard Resort & Mineral Springs has mineral pools and mud baths for a luxurious experience. Located in Calistoga, they also offer rooms, so you and your friends can spend the night there and not feel rushed to enjoy the therapeutic pools. 
Also in Calistoga is Solage, where you can enjoy a 20,000-square-foot spa and geothermal pools at a wide range of temperatures. 
Both of those resorts are on the expensive side, but if you and your friends are wanting to splurge, the experiences are worth it. Solage is also an incredible places to stay during your girls weekend in Napa.
—> Click here for pictures and prices for Solage.
Excellent Shopping Spots on a Napa Girls Getaway
Napa Valley is a great place to go on a shopping spree with your girlfriends. Whether you're looking for home goods, gourmet food, or fine jewelry, you can find it all at the shops in the area. Even if you don't plan on buying anything, you and your group can window shop at the area's boutiques, outlets, and independent stores
If you're looking for trinkets to spruce up your home, head to The Marketplace at CIA Copia or Antiques on Second, both in Napa. Boho Lifestyle and Betty's Girl Boutique sell clothes, as well as a few name-brand stores in the area (American Apparel and Coach, for example). Be sure to grab some treats from Anette's Chocolate, Earth & Sky Chocolates, or Woodhouse Chocolate before you head back to your hotel room. Shopping at local businesses supports the community, so consider it your way of giving back to Napa Valley.
Visit Art Galleries and More in Napa
This region is filled with art galleries and street art. In between wine tastings, admire the art you'll find all over Napa Valley.
If you're looking for mostly public artworks, consider trying the self-guided Napa Art Walk. The map features 10 installations by artists from four different states, and works are swapped out for new ones every couple of years. Alternatively, hit up the galleries. Some of your options include Ca' Toga Galleria D' Arte in Calistoga, MEUSE Gallery in St. Helena, and Jessel Gallery in Napa.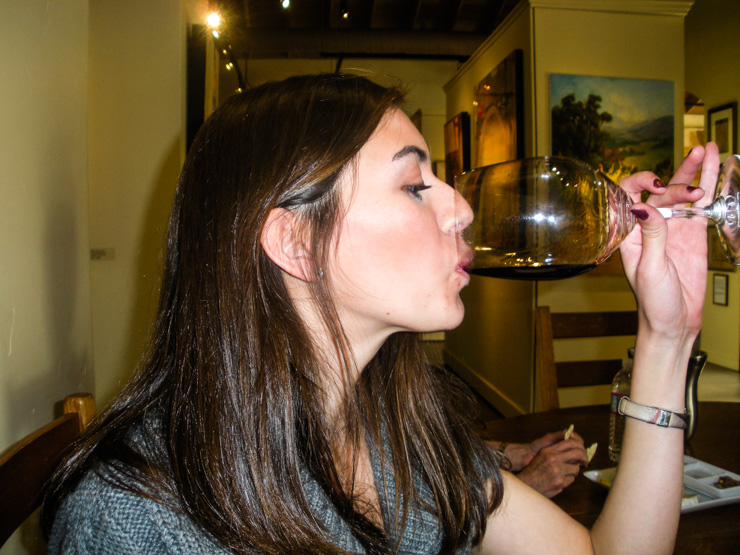 Jessup Cellars Tasting Gallery is also a great place to go wine tasting if you want to combine wine tasting with art.
Even if you don't take any pieces home with you, art galleries are fun to browse, especially if you're looking for a laid-back activity.
Ride in a Hot Air Balloon over Napa Valley
Get a birds' eye view of Napa Valley by bringing your girlfriends on a hot air balloon. The region has a couple of companies that will take you on an adventure in the sky.
Napa Valley Aloft will fly you over Yountville, and they were ranked by USA Today as one of the best hot air balloon companies in the country. Napa Valley Balloons is another great choice – start in Yountville and spend 45 minutes to an hour in the air. No matter which company you fly with, remember to bring your camera and a jacket. It can get cold up there!
Enjoy Your Girls Weekend in Napa!
Napa Valley is one of the best places for a girls' weekend. From wine tours to relaxing spa treatments, you can experience luxury and sophistication here unlike anywhere else in the United States. If you haven't planned your trip to Napa Valley yet, it's time to get the girls together to build an itinerary!
Then pack your luggage, maybe throw in a padded wine bag or two, and get ready for a fantastic girls trip to Napa Valley!