A 24-Hour Chiang Mai Itinerary for Travelers Short on Time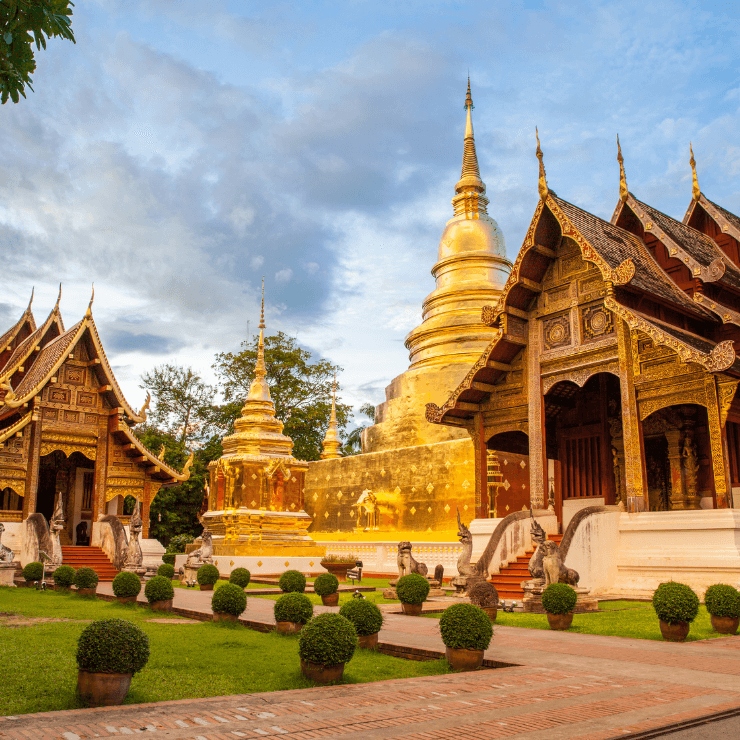 Chiang Mai is one of my favorite cities in Thailand. Although I'd always recommend spending a longer time here, sometimes we are simply pushed for time when it comes to trips. If your time is limited in this amazing city in Northern Thailand, you can still pack a lot into 24 hours.
Chiang Mai is a vibrant and bustling city that has plenty to offer visitors. Here are some of my highlights if you have just one day to spend in Chiang Mai.
Morning in Chiang Mai
Wat Phra That Doi Suthep Temple
No trip to the city is complete without seeing the incredible views and temples of Doi Suthep.
Wat Phra That Doi Suthep is one of my favorite temples in Thailand and is a major pilgrimage site. The top of the temple is gold plated, and if you are lucky to be visiting the city on a clear day, you might even be able to see it from the city itself.
It's easy to reach this temple from the city center of Chiang Mai, and it's open every day at 6:00 am. I'd recommend coming here nice and early if you are short of time, as there are plenty of other attractions to see in the day afterwards.
Make sure to dress respectfully for your visit, and avoid wearing shorts, skirts or tank tops.
The national park here is incredible, but to fully do it justice, you would need to dedicate more of your day to its beautiful waterfalls and walking paths.
Wat Phra Singh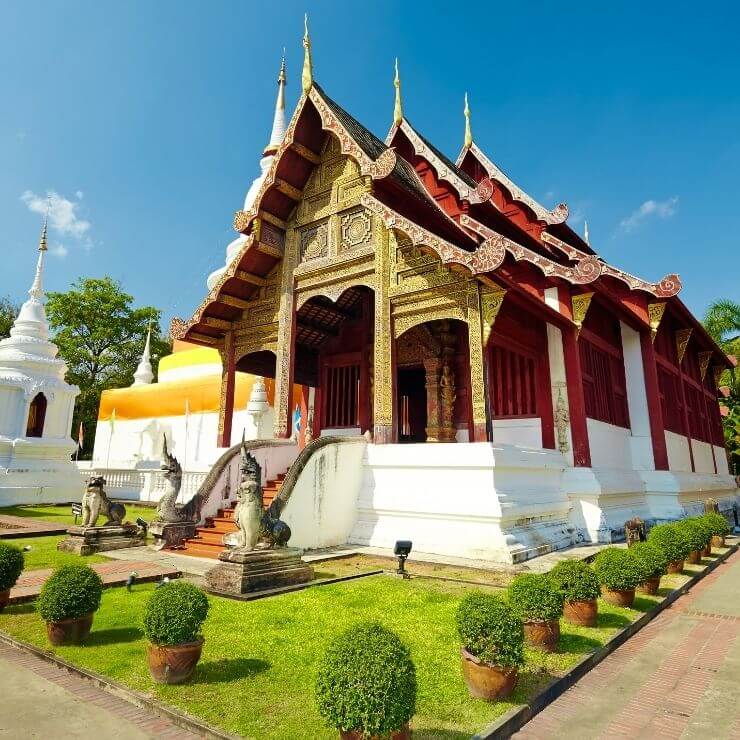 This temple is super easy to reach from the Old City, located at the end of Ratchadamnoen Road. Wat Phra Singh houses an important Buddha statue in the temple, which the temple itself is named after. There are multiple buildings to explore within the site.
Wat Suan Dok or Wat Chedi Luang
About five minutes away from your previous site in a tuk-tuk, head to the white-washed temple, Wat Suan Dok, which dates back to the 14th Century. It's free to enter and is home to several structures of historical significance.
Another great option is Wat Chedi Luang, which is known for its ruined chedi.
Note: While I recommend the above temples to see if you are short on time to experience Chiang Mai, you'll find that in Chiang Mai, there are many more temples to choose from, all of which are fantastic to visit. Simply choose the ones that most appeal to you, but try to fit them in just in the morning portion of your day in Chiang Mai, since there's still plenty more to see in the city.
Afternoon in Chiang Mai
Old Chiang Mai Cultural Center
Experience traditional entertainment and classical Thai music plus learn about the history of Chiang Mai at the Old Chiang Mai Cultural Center. While there you'll learn about the Lanna Thai culture of Northern Thailand in a reconstruction of a traditional Thai village. Music and dance shows and other entertainment is also performed.
Thai Massage
The massage parlors in Chiang Mai are some of the best in the country. While it may not seem like the most productive use of one day, if you are busy rushing around on your trip, your body will thank you! Choose a short one for your one day in Chiang Mai itinerary, or pamper yourself with a longer one.
Depending on your budget, you can choose a fancy spa or a simple massage shop. You won't have to go far from your accommodation in Chiang Mai to find one to visit.
Thai massage is one of the top experiences for any visit to Thailand, and prices in Chiang Mai start at about 250 baht for a full hour massage.
Evening in Chiang Mai
Chiang Mai Night Bazaar
If I could choose one activity or place to visit during a day in Chiang Mai, it would be the world-famous Night Bazaar.
Located between the river and the Old City, this market stretches across multiple blocks. It's the perfect place to enjoy some delicious street food and buy bargain souvenirs to take back home with you.
This market has a wide range of offerings, including clothing, local artwork, accessories, and homeware. Browsing the wares of the Night Bazaar is the perfect way to round off your day in Chiang Mai. If you are short for time, you can also use this as your dinner stop for the night.
Nightlife in Chiang Mai: Nimmanhaemin Road
If you aren't exhausted from an action-packed day, head to Nimmanhaemin Road (Nimman Road for short), which is one of the trendiest parts of the city. It's about fifteen minutes away from the Old City and attracts a young, local crowd. Packed with bars and nightclubs, it gets really busy here at the weekends. If you are looking to have a fun night out in the city, this is the best spot for late-night action.
Alternative Way to Spend Your Day in Chiang Mai: Elephant Nature Park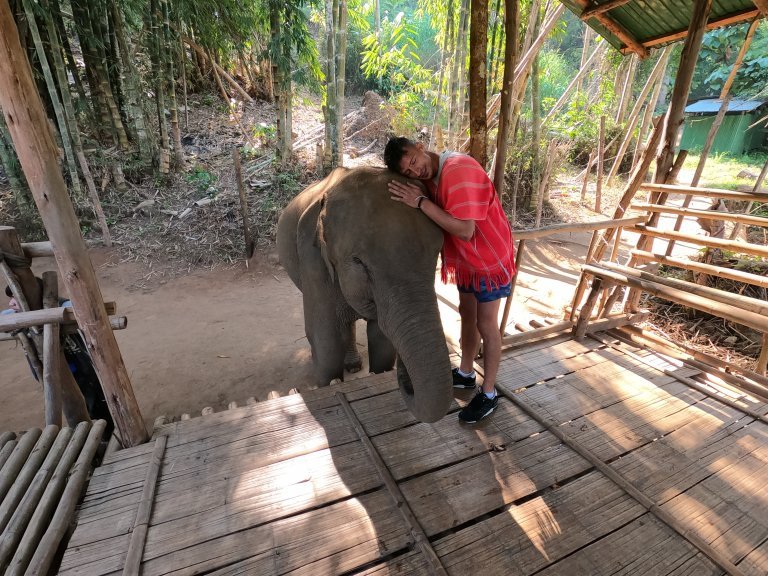 If you have already had your fill of temples in Thailand, an alternative day out in Chiang Mai is the Elephant Nature Park. I'd encourage you to fully research any animal encounters while you travel. Rest assured though if visiting Elephant Nature Park, as this is considered to be one of the best conservation projects in Thailand.
Located near Chiang Mai, it was founded by conservationist Lek Chailert in 1995. It's an incredible place to see these beautiful creatures. When you book to visit the site, the price will include your transportation from the city or your hotel. This would be a long day out, so you would forfeit many other activities in Chiang Mai for this. However, it's one of the top attractions in the area and a unique day out.
What and Where to Eat in Chiang Mai
Food is one of the biggest attractions of any trip to Thailand, and Chiang Mai is no exception to this.
No trip to Chiang Mai is complete without trying Khao Soi. It's a curry and coconut flavored soup filled with egg noodles and chicken. On top of the dish, you'll find more crispy fried egg noodles. It's definitely my top recommendation for a meal in Chiang Mai.
One of the most famous food stalls in the city is the Khao Kha Moo Chang Phueak, also known as the Cowboy Hat Lady. She serves an incredible dish called Khao Kha Moo, which is a braised pork leg cooked in spice, served with rice and egg. You'll find her stall located at the Chang Phueak north gate.
A popular dining experience is the Khantoke dinner. Chiang Mai is famous for its Lanna culture, and this dinner is served seated on the floor. During one of these meals, you'll also get to enjoy traditional entertainment or classical Thai music.
Another great dinner spot is Tong Tem Toh, which is a trendy restaurant in the Nimman area. Here you'll enjoy a great variety of Northern Thai food. Huen Phen is another restaurant serving fantastic Northern Thai dishes.The restaurant also has a beautiful interior design.
You may also enjoy reading: One Day in Bangkok, Thailand
Chiang Mai Transportation Tips
If you only have 24 hours to spend in the city, you'll want to be able to get around in the most efficient manner. Chiang Mai offers a vehicle called a Songthaew, which is a red car that ferries tourists and locals around the city. This is an inexpensive option for getting to Doi Suthep, although you will need to wait for about six people for the driver to leave.
Taking the Songthaew is much cheaper than a tuk-tuk, however, if you are in a rush or going for a short journey, you may find this to be a quicker option. As with anywhere in Thailand, you could also rent a motorbike, but you may not find this to be a worthwhile option for just one day in Chiang Mai.
Enjoy Your Day in Chiang Mai
While I could easily spend a week or so in Chiang Mai, you can certainly experience a lot of the city's offerings in one day. Pick and choose the places that appeal to you most from this list, and you'll have a day to remember in this vibrant city in Northern Thailand.
Here's a video that highlights all of the best parts of a day in Chiang Mai:
About the Author: Catalin Geangos is the Founder and Editor of TravelTrained and a travel blogger who mainly focuses on nightlife, pub crawls, and party experiences while traveling in Southeast Asia. He moved from Romania to the UK six years ago and since then he has traveled in over 30 countries.
Found this article helpful? Pin to read again later!