One Day in a City Itinerary: Istanbul, Turkey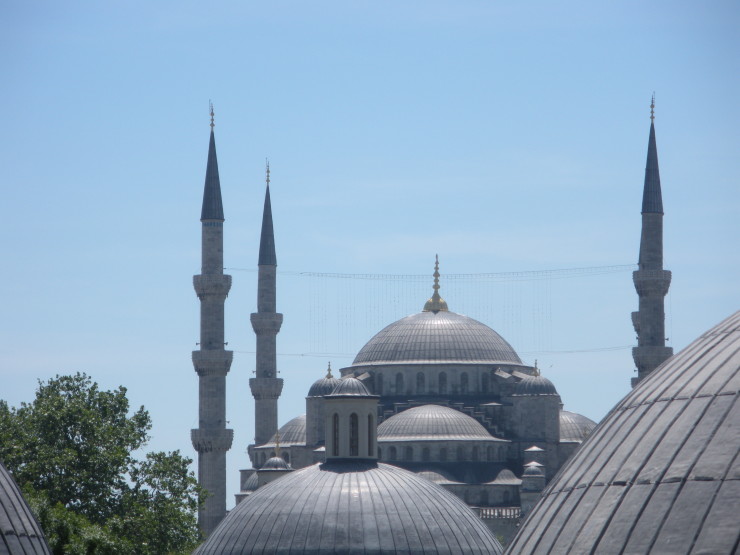 Istanbul, Turkey is a massive city and one I'm sure you could spend a month in and not run out of new and exciting things to do. Therefore, trying to fit in a worthy trip to Istanbul in just one day may seem daunting – but can be done. There are a few sights that if you're going to have one day in Istanbul should not be missed. They are the Hagia Sophia, the Blue Mosque, the Grand Bazaar, and Topkapi Sarayi Palace.
Here are some tips on how you can fit all of these sights into a day. One great thing about Istanbul's main sites is that they are all extremely walkable once you're in Sultanahmet, also known as "Old Istanbul", the part of the city that houses most of its most popular sites and is designated as a UNESCO world heritage site.
Istanbul's Ancient Hagia Sophia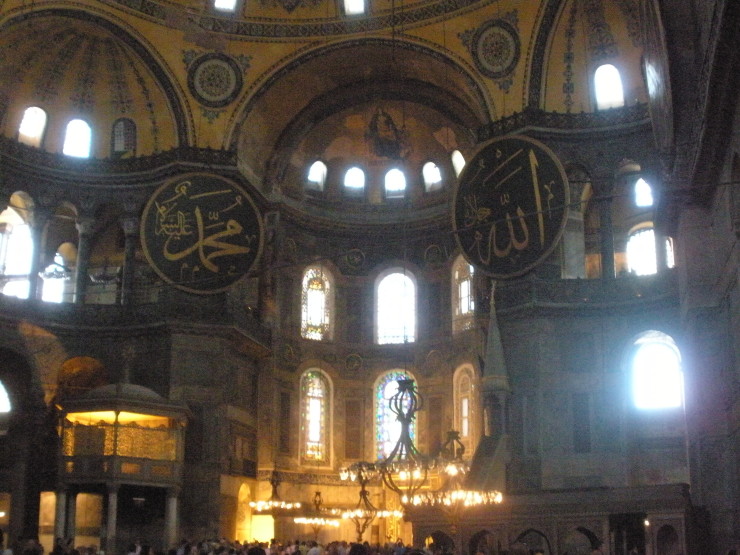 Gold and rose, light and dark, history and splendor. All are images and thoughts that come to mind for this impressive piece of architecture – more like a piece of art. The dark curves of the dome meeting the bright gold of the mihrab in a space so expansive I had to marvel at the mathematics or engineering or whatever it was that kept the dome from caving in on my head. If there's one place not to speed through during your time in Istanbul, it's here. Take time to walk around the domed center and walk straight up to the altar to take in the shining gold up close.
On your way upstairs, stop and make a wish at the wish column by inserting your thumb into the hole in the column and fanning your hand around it in a half circle. Once upstairs, use the closer proximity to the ceiling to admire the intricacies of the design and take time to look at the many spiritual pieces of artwork dotting the walls.
Peek out the rectangle windows embedded in the stone for great views of the city, including a magnificent one of the Blue Mosque.
Blue Mosque: A Must-See Istanbul Site Inside and Out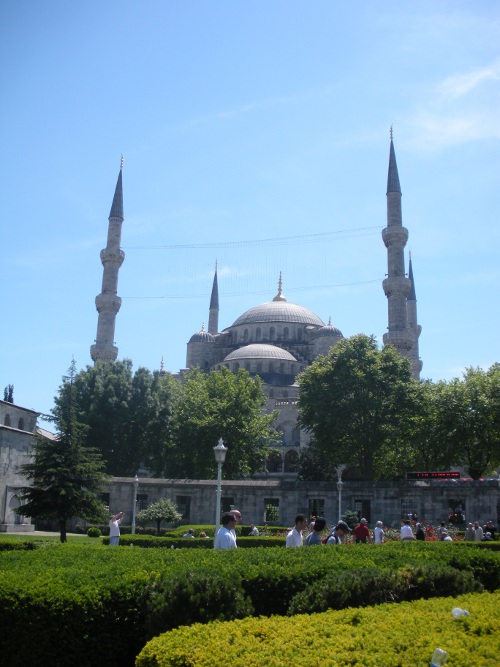 Visiting the Blue Mosque is a bustling, pushing, busy experience due to the crowds – but worth it. Once inside (and chances are you will have to wait in a line to get in) look up to take in the marvelous ceiling instead of the crowds. Then make your way to the edge of the area that's open to the public. A divider is up that prevents visitors from going farther into the mosque, but you can still see over it for a great view of the both ornate and elaborate decorations. Also take time to walk around the perimeter of the accessible area of the mosque to view the smaller prayer rooms, including the ones open to women. Chances are you'll see people praying during your time in the mosque and I much appreciated the fact that the people of Istanbul allowed visitors into their beloved mosque so we can enjoy the beauty of it as well.
The Grand Bazaar: Chaotic, Fun Shopping
Three pieces of advice for the Grand Bazaar, one of the world's largest covered markets:
1)   You must see it. And buy something – it will be a memorable souvenir, particularly if you barter for it (and note that it can cost anywhere from 1 lira to thousands so your call on how much you want to spend!)
2)   Do not spend too much time there – especially if you only have one day in Istanbul. Eventually all the alleys and lefts and rights and stores look the same. Seriously, unless you are going on the buying spree of a lifetime for scarves, jewelry, and watches, do not spend more than an hour here if you're on a crunch for time.
3)   Do not get lost! It's easy to lose where the exits are. Keep your bearing so it doesn't take an extra hour to find your way back out.
Gorgeous Grounds and Architecture at Topkapi Sarayi Palace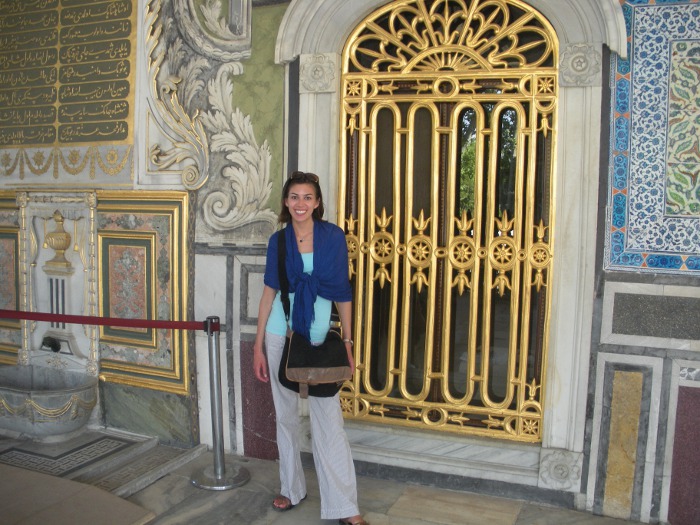 This palace sprawls across a gorgeous part of Istanbul full of flowers and trees and bordering the sea. Due to its expanse and multiple buildings, the palace takes a couple hours to truly see everything and even if you only one day in Istanbul, it is worth it to give yourself time to stop and appreciate the views – of which there are many.
Many of the buildings and rooms house ancient artifacts, some noteworthy enough that it always draws out my skeptic side. "I mean, seriously, how do they know that's what that is?" I asked several times throughout touring the palace. Still, what's not questionable is the age of the artifacts and that was impressive to see. The buildings are also historical in themselves. My favorite area was the pool and the sitting area room next to it. Plus, adjacent to the pool area is a drop-off with a panoramic view of Istanbul.
Note that the harem – a popular part of the palace to see – closes earlier than the rest of the grounds, so check times and be there early enough to see it if that's on your list of things to see.
Where to Sleep in Istanbul
Need a place to lie your head while in Istanbul? Here are two of my recommendations:
Luxury Hotel Option: Located in the Sultanahmet neighborhood of Istanbul, the Four Seasons Hotel Istanbul is a luxurious hotel right in the center of everything. From the hotel terrace, you can see the Blue Mosque, and the yellow exterior of the hotel frames a peaceful courtyard.
Mid-Range Hotel Option: Hotel Niles Istanbul is a centrally located hotel that is more affordable yet still has upscale bedding and amenities.
Or search for Istanbul hotels using one of my favorite accommodation booking sites for Europe, Booking.com. It's really user-friendly, has the lowest pricing, and you can book now and not pay until you arrive for most rooms.
What to Eat in Istanbul
Istanbul has amazing eastern Mediterranean food and a few food stops is a must. I recommend House of Medusa restaurant. This place had fast service (a rarity at restaurants in Europe), was close to the sites, and despite being right in the middle of a busy part of the city felt like a great little oasis thanks to the several trees covering the outside courtyard. It was a great place to take a break from site-seeing and – most importantly – the food was delicious, too! I tried the hummus and kepab plate and was a huge fan.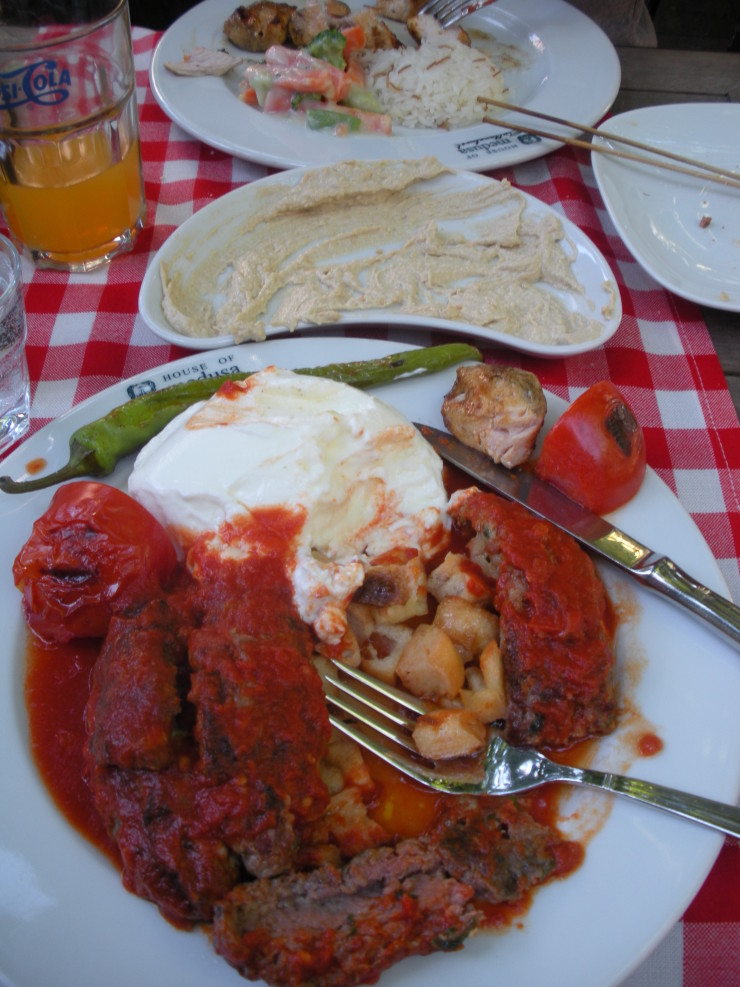 Another restaurant with a fun atmosphere and delicious food is Adonin Café and Restaurant.
For dessert during your one day in Istanbul, stop at one of the Turkish ice cream stands. Had never heard of this treat before arriving in Istanbul, but it was incredible. The ice cream is flavorful and creamy and so thick you have to actually bite it. My mouth is watering just thinking of it now.
If all this food is making you sleepy, get a Turkish coffee. A spoonful of sugar is probably a requirement for most people, so be sure to let it sit for a minute so any coffee sediment brought up from adding the sugar drifts back to the bottom of the cup.
Last, but not least, if your day in Istanbul is able to extend into the evening hours, be sure to walk by the Blue Mosque again — it is lit up at night and beautiful to see.
What to Wear Tip: If you're not sure the attire to bring, read my post on what to wear in Istanbul.
Did you find this post helpful? Pin to read again later before your trip:
Note: This article was originally published January 22, 2011; updated on October 5, 2015.