Things to Do if Short on Time in Kraków, Poland
A fascinating history, beautiful architecture, and a strong café culture are among the many reasons that Kraków, Poland is becoming an increasingly popular city break destination in Europe.
Just wandering around the cobbled streets of the historic Old Town district (the whole area of which is a UNESCO World Heritage site), admiring the many Gothic, Baroque, and Renaissance buildings is a pleasant way to pass one day in Kraków in and of itself.
Spending 24 hours in Kraków is also very feasible without having to make too many hard choices about what to miss out on; the city is very compact and easily walkable. Old Town, where many of the most popular things to see and do are located, can be traversed at its longest point on foot in around 20 minutes.
Before I get into the details of my one day in Krakow itinerary, here's a quick outline of what you'll find in this guide.
Time needed: 1 day
How to Spend a Day in Kraków, Poland
Breakfast at a Cafe

Experience Kraków's excellent cafe culture right away with breakfast at one of its delicious cafes, like Cafe Camelot.

Walk Around Main Market Square

Don't miss seeing St. Mary's Basilica and the Cloth Hall.

Have Lunch al Fresco

Eat on the patio and do some people watching while taking in sites at one of the restaurants around Main Market Square.

Wawel Castle & Wawel Cathedral

Spend the afternoon walking around the grounds of Wawel Castle and learning about the history of these two structures and their significance to the Polish Monarchy.

Traditional Dinner

Have a traditional dinner at one of Kraków's delicious restaurants. Recommendations included in this guide.

Go to Tytano Complex for some nightlife

Trendy bars and hip restaurants fill this fun complex that is located in an old tobacco factory.

Depending on your interests, fit in one of these other sites located in Kraków or nearby:

Planty Park, Gallery of Polish Art, the Jewish district called Kazimierz, Wieliczka Salt Mines, and Auschwitz.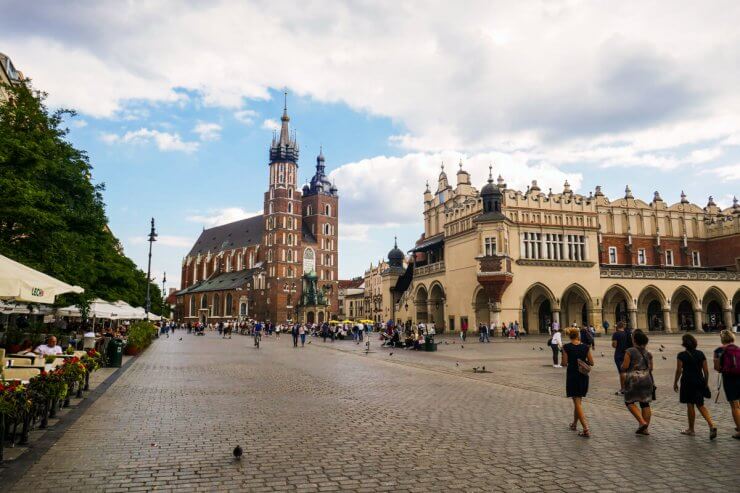 Recommended One Day in Kraków Itinerary
Read on for my recommended One Day in Kraków itinerary, especially perfect for history and architecture lovers! After the recommended itinerary are some additional ideas for those who might find one of Kraków's other attractions more alluring.
You Also Might Enjoy Reading: One Day in Warsaw, Poland
Breakfast at Café Camelot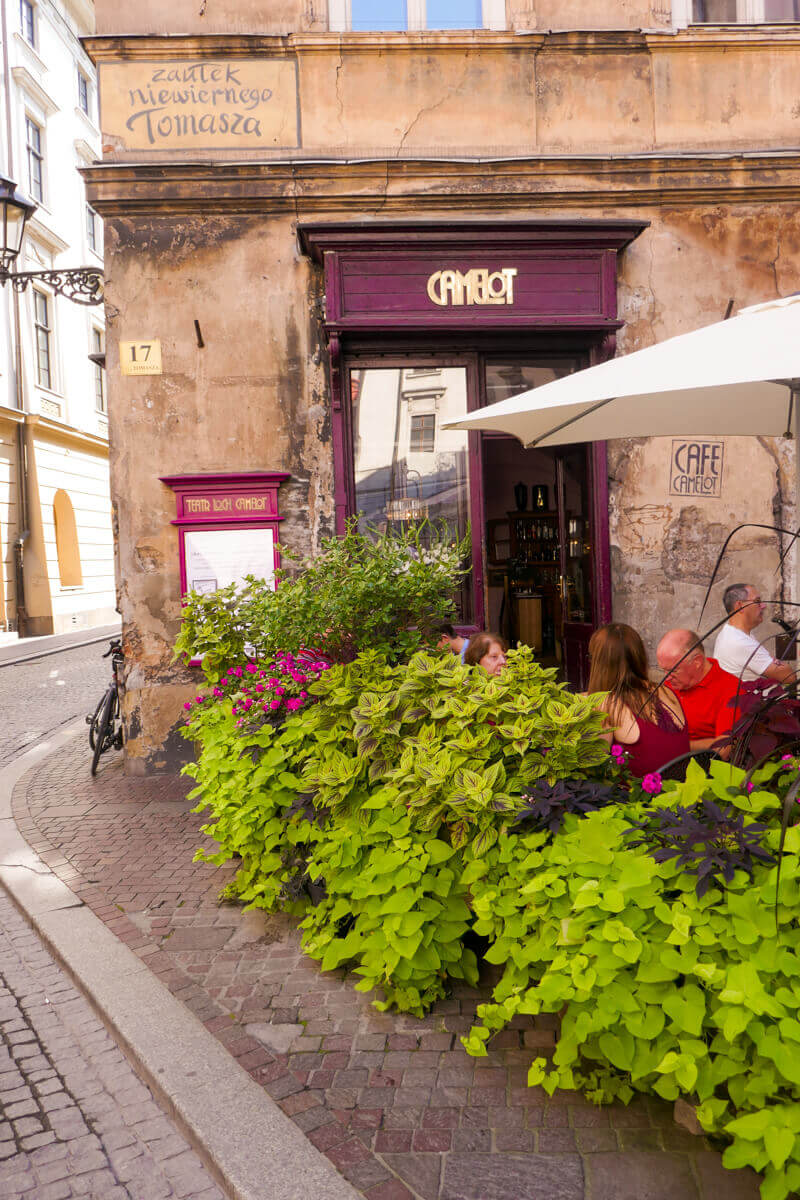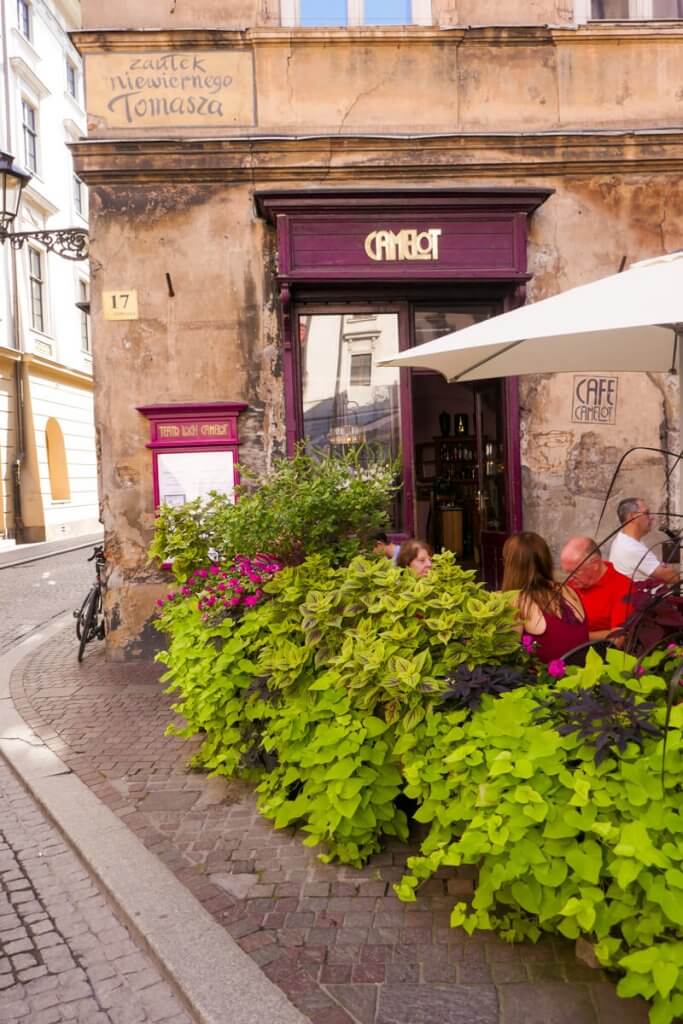 You can't come to Kraków without at least stopping for a drink in one of its many cafés. Most are open all day, transitioning seamlessly from breakfast and coffee in the morning to wine and dinner later on.
A former brothel, Café Camelot is one of the finest cafés the city has to offer, with its French shabby chic inspired décor and plant filled patio spilling out onto the streets.
One Day Tip: When you are need in of refreshment, while away some time at one of the many superb independent cafés in Kraków and indulge in a spot of people watching.
Main Market Square: The Center of Krakow
The central point of the city, Kraków's Main Market Square, is the largest one of its kind in Europe. You could quite happily spend a couple of days just wandering round and exploring everything it has to offer, and if you're short on time, be sure to spend part of your day in Kraków in this lovely square.
The highlight of Main Market Square has to be the stunning gothic church, St. Mary's Basilica. Every hour, on the hour, a bugle call is made from the tallest tower that rings out across the city. You can go inside to admire the dramatic stained glass windows, wall paintings, and intricately carved alter, before climbing the tower for sweeping views across the city.
Running through the middle of the square is the Cloth Hall (or Sukiennice), where a market has been in operation since the 13th century. Join the hustle and bustle inside and browse the many stalls; it's the perfect place to pick up souvenirs.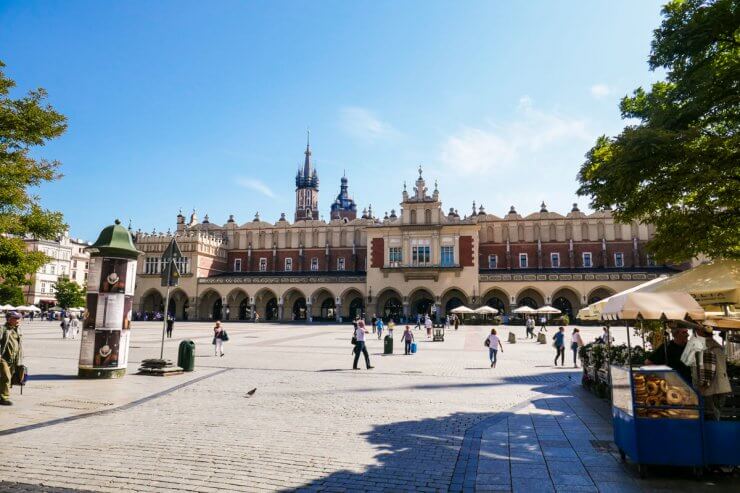 Underneath the Cloth Hall is the Rynek Underground Museum which takes visitors on an interactive journey of Kraków's history through the ages and allows you to walk through the remains of the original, excavated market stalls.
Lunch in Main Market Square
Bars and restaurants surround the square from every side, so there are no shortage of options for grabbing a bite. There is, however, quite a lot of variance in quality between them; many appear to be catering mostly to tourists and be relying on the excellent location rather than the quality of their food.
La Grand Mamma, however, is just excellent. Tucked away in the corner, you still have lovely views across the square when dining on the flower enclosed patio. It's no hardship to eat inside either — the interior is just gorgeous with a high domed ceiling, dramatic chandeliers, and plush dove grey banquettes lining the walls. The menu is mostly Italian and of superb quality; you could be easily lulled into several courses while sipping wine and before you know it, your one day in Kraków is over!
Wawel Castle & Cathedral
The 15-minute walk to Wawel Castle from the Main Market Square is a very pleasant one along cobbled streets, passing historic old buildings and beautiful churches. Keep an eye out for the stunning 17th century Renaissance building that is St. Peter and Paul's Church, a fantastic example of the city's superb architecture.
Wawel Castle
Wawel Castle is located on the southernmost point of Kraków's Old Town, perched on Wawel Hill overlooking the Vistula River. For centuries the Polish monarchy lived here, were crowned in Wawel Cathedral, and then buried in the crypts below. Wawel Hill (and the buildings upon it) is regarded as one of the most important historical sites in all of Poland and the Castle was converted into a museum in 1930.
There are lots of options to visit at Wawel Castle and it would take you days to get around everything. Check the official website for what exhibitions and tours are available and pick two at most. Keep an eye on the opening times as some exhibitions are seasonal.
In Wawel Castle there are five permanent exhibitions alone, ranging from a tour of the royal apartments to a visit to the crown treasury and armoury.
Within the grounds of the castle, you can visit the Dragon's Den(complete with fire breathing dragon!), Sandomierska Tower or take a guided tour of the architecture and gardens on Wawel Hill.
The Dragon's Den is a cave formed at the base of the hill that was used to host banquets by the monarchy and also was once rumored to be home to a dragon in the 13th century.
Once a watch tower, then a very comfortable prison for naughty noble people, you can climb Sandomierska Tower for views across the grounds, river and Kraków itself.
Wawel Cathedral
The other option is to visit Wawel Cathedral, located within the grounds of the Castle. You can wander through the Cathedral itself for free, but paid tickets are required to visit the John Paul II Cathedral Museum, the Royal Crypts, and Sigisumnd Bell Tower.
The crypts are the final resting place of most of the Polish monarchy and a few select national heroes. The most recent addition is the former Prime Minister of Poland, Lech Kaczyński, and his wife Maria, who were buried here in 2010 after passing away in a plane accident.
Dinner at a Traditional Polish Restaurant
Polish cuisine is generally very hearty and great comfort food — there aren't a lot of light options! I left Poland with a mild obsession with pierogi, a Polish dumpling often filled with duck or goose, make sure you try these at least once! Other traditional dishes include Kiełbasa (smoked sausage) or Żurek, a sour soup (much nicer than it sounds, I promise!) often served in a bowl of bread.
Miod Malina is a local institution and one of the best places to experience Polish cuisine in Kraków, with a few Italian options thrown in if you're feeling a little less adventurous. The décor is cozy, the service excellent, and the prices are mid-range for the city.
Alternative Itinerary Recommendations in Kraków
If you have longer than one day in Kraków, there is plenty more to see and do!
Encircling Old Town is the very serene Planty Park, a lovely place for a picnic or simply a wander round while taking in some more of that fantastic Polish architecture.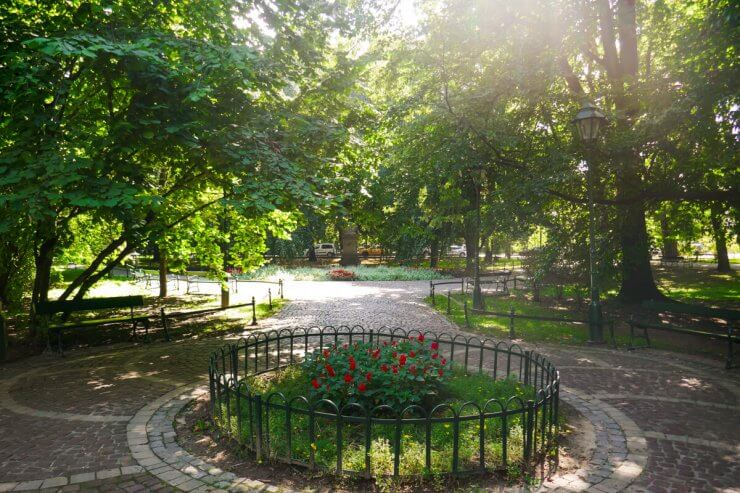 For art lovers, try the Gallery of Polish Art in the Sukiennice in Main Market Square.
Around a 10 minute walk south east of Old Town, is Kraków's historic Jewish district, Kazimierz. There is a more industrial, gritty vibe here with many quirky independent shops and some absolutely superb street side cafés and bars.
For a day trip, Kraków is well known as being a base for visiting Auschwitz. A one and a half hour drive away, it is a sobering but extremely important historical experience. The easiest option is to book an all-inclusive tour that offers return coach transfers as well as your entrance tickets.
The other option for a day trip from Kraków are the Wieliczka Salt Mines, about a half an hour drive on the outskirts of Kraków. One of the oldest and longest operating salt mines in the world, you can now descend over 300 meters underground to see the caves and lakes, as well as chapels, statues, and sculptures that have been intricately carved from the salt. The most famous of them all is the grand Chapel of St. Kinga, where the acoustics are so impressive that classical music concerts are performed there.
Additional Restaurant Recommendations in Kraków
For upscale Polish cuisine, try the modern tasting menu at the very stylishly decorated Art Restaurant. Further along the same street is fine dining establishment Pod Nosem, which offers more traditional cuisine in a warm and cozy setting.
For something a little less fancy, head to one of the many Kraków cafés that double up as a bar and casual eatery in the evening. Try Magia Café Bar next to St Mary's Basilica for your choice of different nooks to settle down in, or their patio garden when the weather is warmer. On the other side of Old Market Square is Fitagain, which despite the name, also offers some less healthy options as well! They are also a great choice if you are vegetarian or vegan, with a range of options available.
For those that enjoy a buzzy atmosphere with drinks and music well into the night, head to Tytano Complex, a 10-minute walk from Old Town's west side. Here, several very trendy bars and restaurants reside in an old tobacco factory, many spilling out into the greenery surrounded courtyard.
Where to Stay in Kraków
Staying in Kraków is generally very reasonable and I have found your money goes a lot further here than in many other European cities.
Luxury Accommodation: Hotel Copernicus
Hotel Copernicus is part of the Relais & Chateaux network and is a 5-star boutique hotel with some lovely views over Wawel Castle. Located in one of Kraków's historic buildings tucked away on a quiet street in Old Town, the hotel has done an amazing job of combining the original architectural elements of the building with all the modern amenities of a luxury hotel.
One of my favorite features is the swimming pool hidden in the basement and the lovely little rooftop bar, perfect for toasting the sunset with a cocktail.
Mid-Range Place to Stay: Vacation Rental
On our last trip to the city, we rented an apartment which is an excellent and very cost effective option, particularly if you need more than one room. There are some very lovely and reasonably priced apartments a stone's throw from Old Town; I can highly recommend the one we stayed in that had the loveliest hosts, excellent bathrooms (including one with a jacuzzi bath!) and a brand new modern kitchen.
Budget Accommodation: Old Time Hotel
I have not stayed in this hotel myself, but have friends and family that stay in Old Time Hotel regularly on their visits to Poland and highly recommend it. Located just north of Old Town, this hotel is small with just 26 rooms. The décor can only be described as "opulent" and may not be to everyone's taste, but the rooms are much more spacious than the price point suggests and all rooms have their own bathroom.
Krakow
Whether you choose to stay in the city center, do a day trip, spend hours eating and drinking, or spend time with a knowledgeable tour guide, your day in Kraków is sure to be unforgettable.
Plus, to add to Kraków's appeal, your money will go a lot further here, making it a much more economical choice for a city break than many of its other European counterparts. Kraków is an ideal place for a historical, entertaining, and budget-friendly travel getaway.
About the Author: This post was written by Rachael Gunn, the founder and creator behind luxury travel blog Champagne on Arrival. With a particular love of beautiful hotels and more off-beat destinations, Champagne on Arrival informs and inspires those with a passion for travel, as well as sharing lots of tips for getting travel luxury for less. You can follow her on Instagram or Twitter.
Found this article helpful? Pin to read again later!