The Best Things to Do with Just 24 Hours in Warsaw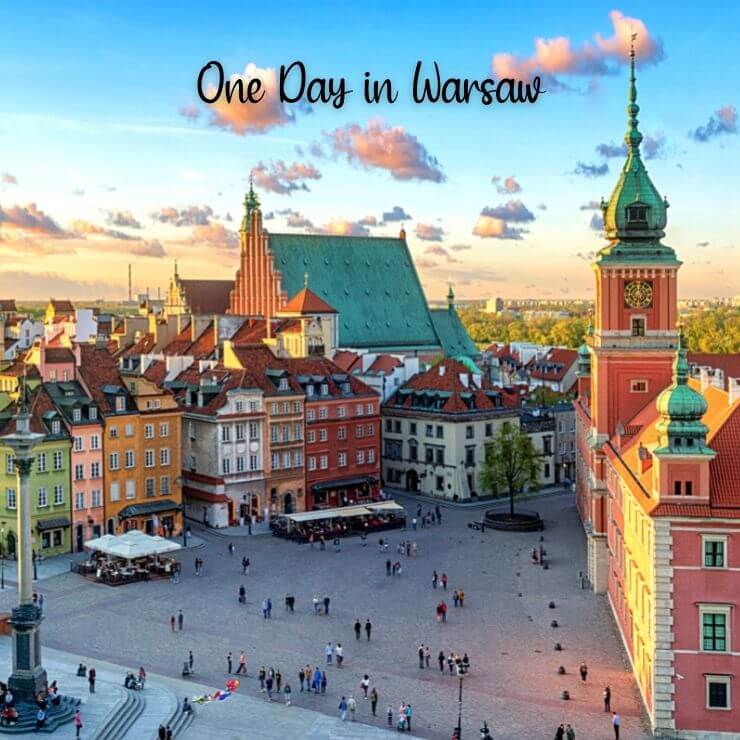 Warsaw…the capital of Poland…in just one day. Can it be done?
Of course!
Warsaw has plenty of fantastic things to do even if you only have a day to spare.
From panoramic views of the city atop a gothic palace with an interesting past to peaceful walks through the beautiful architecture and atmosphere of the Old Town, Warsaw is full of history, beauty, and culture.
You won't go hungry on your one day in Warsaw since the city is rich with delicious traditional cuisine for all meals of the day. There's certainly something for everyone; you might even find one dish cooked in several different ways with even more varying flavors to suit every foodie.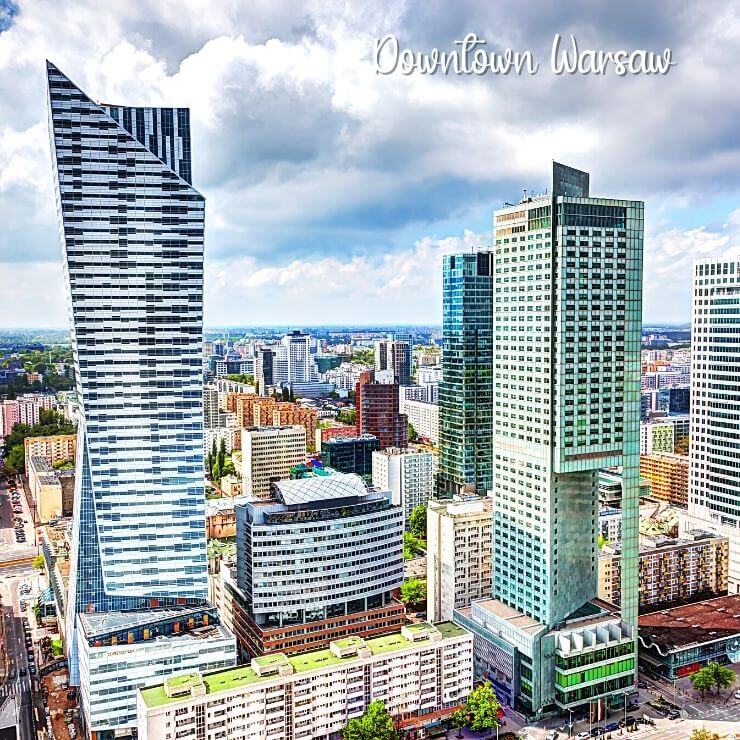 Before getting into the top things to do in Warsaw, let's go over two great places to stay at in Warsaw at two different price points.
Where to Stay in Warsaw
Hampton by Hilton Warsaw Mokotow – From £40 per night (215 PLN)
If you want accommodation close to the airport when you arrive in Warsaw then Hampton by Hilton is a perfect choice.
It's perfectly walkable in the daylight (I don't recommend making the journey by night as I did) in around 45 minutes, but a 15-minute trip on public transport or taking a cheap Uber is my suggestion.
I was fortunate enough to receive a gorgeous corner view with a spacious bathroom. At the price, it is of brilliant value considering it includes a breakfast buffet!
The buffet included your basic bread and cheeses but also boasted a waffle maker – not a bad way to start your one day in Warsaw to make the most of the attractions to come.
A&O Hostel – From £13 (70 PLN)
After linking up with a friend, we stayed in a 4-bed room at A&O Hostel in Warsaw at a really affordable price.
While it is a little outside all the main attractions within the city center and Old Town, A&O Hostel was newly renovated and still not a long distance away from all the top places to see.
Getting Around Warsaw
Electric Scooters – eg. Dott or Lime
If you have never tried an electric scooter before, forget the practical aspects of zooming about and rent one just for the joy of it!
They are very easy to control (though I would have a minute test run and test the brakes before scooting around pedestrians) and are rentable at great prices — especially if you are a first-time user.
Check the rate before unlocking once you download the app, but charges can be 3z PLN (59p) to unlock and 0.50 PLN per minute therein with longer set times usually available.
Cycle paths are found throughout Poland's capital so there's little need to worry about driving safely around pedestrians or road safety as you can stay in allocated zones along with the cyclists.
Just remember to stay on the right-hand side when oncoming scooterists or cyclists come along!
Walking
If you only have a day in Warsaw then walking can be the best choice to really soak in the atmosphere, architecture, and feel of the city.
Attractions are not too far apart so you will not miss out on any landmarks by taking a stroll through the old town or the remainder of Warsaw.
Uber rides are often much cheaper in Poland compared to the US or UK, so to really make the most of your time in Warsaw you can quite easily take an Uber to hit as many attractions as possible and probably not go over your daily travel budget.
Bolt is effectively the same car service, but provided by another company. Bolt can be cheaper in Poland so it is worth downloading their app too, in order to have a choice of availability and price.
Train Station
When it comes to getting to and from Warsaw itself from other places in Poland or Europe, the train station is convenient since it is located right in the city center of Warsaw. It's just a 2-minute walk from the Palace of Culture and Science.
What to See and Do in Warsaw
There is loads to see and do in Warsaw whether you're a studious traveller who loves to explore a country's history (of which Poland has a rich one) by visiting museums or enjoys having a chilled city break in an urban metropolis.
I would say that those visiting Warsaw in a day will likely want to spend most of their time in the Old Town and main urban, high-rise center so I will focus most of this itinerary there.
Palace of Culture and Science: A Beautiful Panoramic View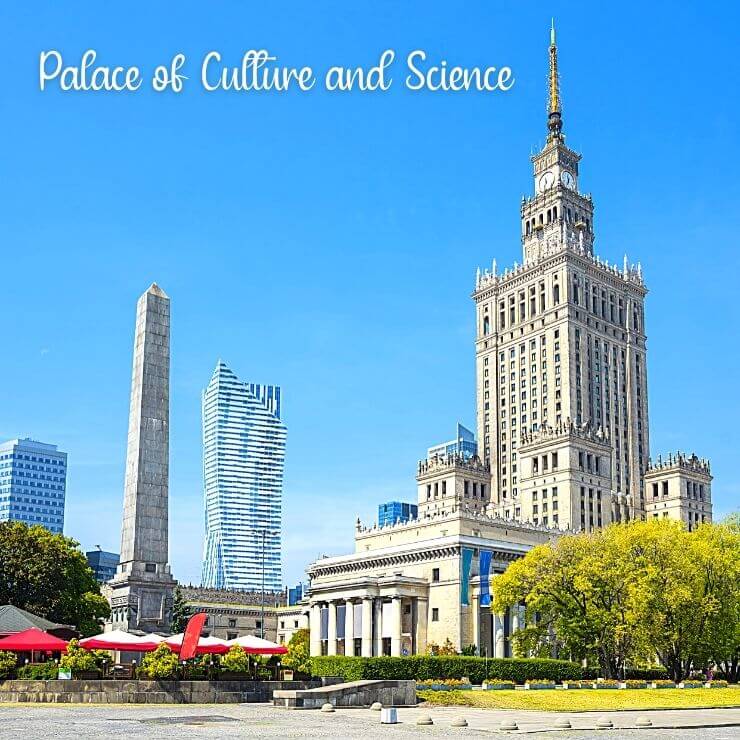 In the city center, you'll find the gargantuan Palace of Culture and Science, a must-see site when you visit Poland, let alone Warsaw. The Palace of Culture and Science is a piece of architecture you simply won't forget.
Standing at 778 feet tall, the palace was a 'gift' from Stalin that emblazons Poland's capital with its Soviet history post-World War Two. 
Whilst the building plays host to a cinema, cafes, and cultural events, the main attraction for tourists lies in its viewing terrace on the 30th floor.
Open from 10am-8pm, you can catch the sunset over the skyline of Warsaw or gaze upon the high rise buildings of the city during the day from this incredible viewing platform.
Old Town Warsaw: Walk Amongst Sublime Architecture
With only one day in Warsaw, the Old Town area is definitely an area you'll want to be visiting on your trip.
Dating back to the 13th century, the expansive market square of Old Town is lined with colorful buildings and interesting architecture. Cafes, street art, bars and, souvenir shops galore create a buzzing atmosphere alongside street performers.
In Warsaw's Old Town you will find the Royal Castle and Presidential Palace, which are the homes of Poland's historical royalty and line of political leaders respectively.
Whether you visit Old Town during the day or at night, Warsaw's Old Town is the perfect place to spend a few hours in Warsaw.
Old Town is also one of the best locations in Warsaw to have a meal and try some of Poland's traditional cuisine (more on that later on below!).
Warsaw Rising Museum
Poland is steeped with history around World War Two, and there are potent reminders of the events that greatly impacted the nation all around the capital.
There are an array of museums to discover Poland's past and the essence of the country's cultural spirit — too many to visit in just one day in Warsaw, unfortunately!
If short on time, then my number one recommendation for a museum to visit in Warsaw would be the Warsaw Rising Museum.
Centered around the Polish underground resistance to Nazi rule during World War Two, the Warsaw Rising Museum gives an inspiring insight into the lives and determination of Poles in the fight for their freedom in 1944.
Filled with historical possessions from the period, the museum concurrently displays written, audio, photographic, and artistic ways of sharing information from the period that is bound to lead you on a knowledge-brimmed journey you won't forget.
Must-Try Traditional Dishes and Restaurants in Warsaw
Pierogi
The food is synonymous with Poland, so much so that you daren't speak out against it if you want to remain friends with any Poles!
Luckily for me, it is always delicious.
Practical for an affordably filling meal at any time of the day, pierogi can be baked, fried, or boiled to your preference at many restaurants.
Fillings range from more traditional potatoes, sauerkraut, and quark (a soft cheese) – but not all at the same time of course.
There are simply too many flavors of pierogi to list however, with meats (pork, chicken, beef, etc.) and vegetables to sweeter fillings, such as sweet quark cheese or fruits, such as blueberries.
Even cross-national twists such as Italian-style chicken, cheese and tomato pierogi or 'kebab pierogi' can be found.
Pick your filling wisely! Better yet, if travelling with companions, order multiple flavors to share.
An Official Chocolate Cafe E. Wedel
The Chocolate Cafe E. Wedel is a hot chocolate like no other.
E. Wedel is a famous chocolate company in Poland, with chocolate bars to be found in any convenience store you wander into.
Be on the lookout for official Cafe E. Wedel chocolate cafes though and order yourself a supremely sweet, thick hot chocolate. It's absolutely delicious, even more so on a cold and frosty day.
Potato Pancakes
Another cheap, yet tasty staple dish of Poland is the potato pancake. It's a crowd favorite that's suitable as a snack or meal throughout the day at a great price.
Enjoy your time in Warsaw! And also, why stop in Warsaw? Poland has so much to offer for travelers, such as the cozy beach town of Gdansk in the north and world-renown Krakow in the south.
About the Author: Charlie from Nonchalant Navigator is an enthusiast – for food, people, and places. Charlie strives to help you become a traveller, not a tourist. How? Through immersing yourself with a country's culture and learning about the social issues affecting locals through his articles and podcast, Travel in the Know. You can follow him on Instagram and Pinterest.