How to Spend One Perfect Day in Lagos
Lagos, Portugal is a top destination for travelers looking for natural beauty, a relaxed atmosphere, and historic charm. Plus, it's a destination that's possible to experience in just a day.
Located in the heart of the sunny Algarve region about three hours south of Lisbon, Lagos is known for its picturesque beaches, mosaic-tiled streets, and proximity to legendary surf spots.
I visited Lagos as part of a 10 day Portugal road trip and immediately felt enamored with the city and learned the best way to explore it even if short on time.
While I hope you get more time here, it's still possible to have a memorable experience with only one day in Lagos, Portugal. Here's my detailed itinerary for how to do so.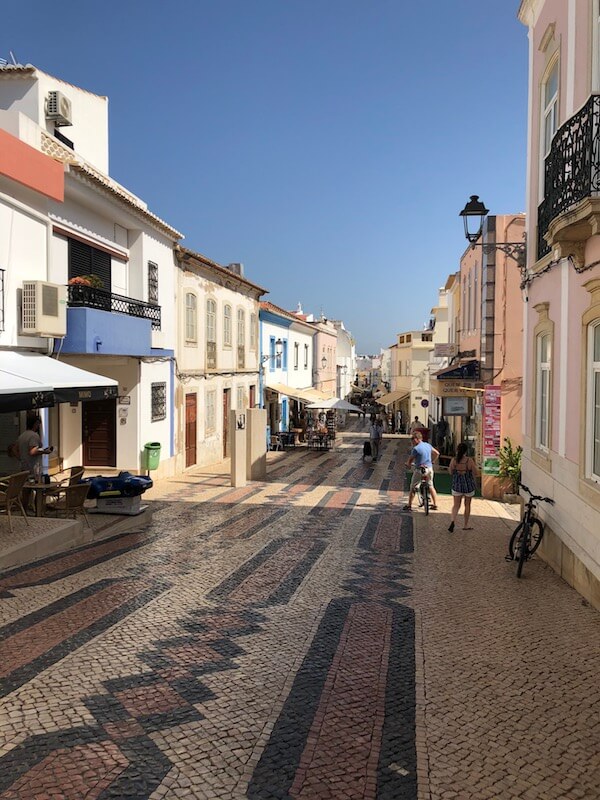 24 hours in Lagos, Portugal
Start your day with coffee and pastries at Pastelaria Gomba
The best way to start your day in Lagos is by trying a famous Pastel De Nata. The best Pastel De Nata pastries, in my opinion, can be found at Pastelaria Gomba.
This family-run bakery is located in the old town. It's a great spot to sip your morning coffee while you try not to eat five dozen flakey, buttery, creamy pastries.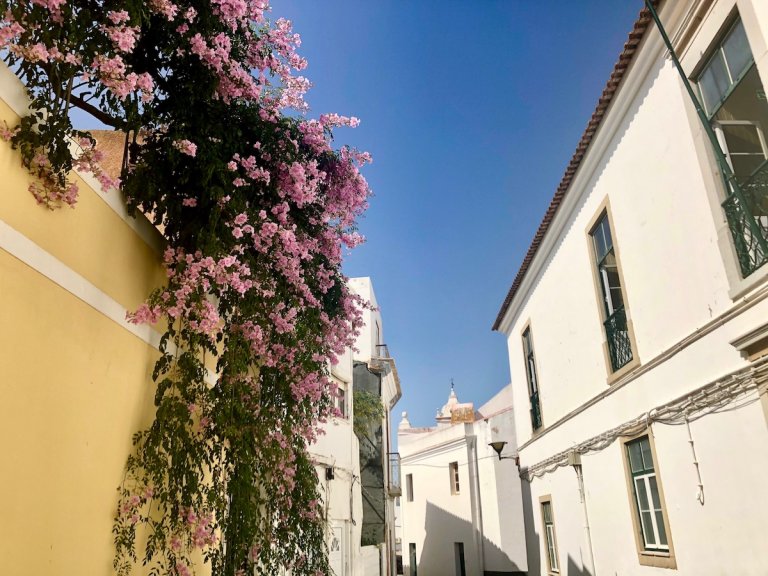 Take a Walking Tour of Lagos Town
Walking tours are my favorite way to understand the vibe of a new city. Get familiar with the old town of Lagos by putting on your walking shoes and hitting the streets.
You can choose an organized walking tour with a local historian like this one or do some exploring on your own.
If you do decide to go by yourself, don't miss these top landmarks and historical locations around Lagos.
Explore the Town Walls
Lagos was an important city in the Algarve throughout history, a fact that is emphasized by the presence of looming town walls surrounding the old part of town. The first protective walls were first built by the Romans and the current walls date back to the 16th century.
The Museu Municipal Dr. José Formosinho
Learn about the archaeology of Lagos and the Algarve Region in this museum
The Forte da Ponta da Bandeira
This is the old fortress next to Praia de Batata and it's now a small maritime museum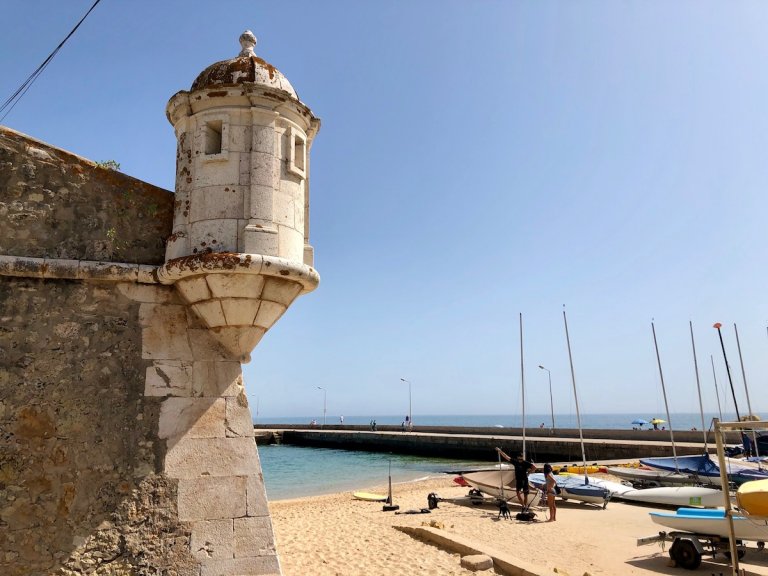 Grab Lunch at Al Bravo
When all that walking makes you hungry, stop by the highly-rated lunch spot, Al Bravo Cafe. Located just up the road from Pastelaria Gomba, this cozy cafe offers local and Mediterranean favorites for budget-friendly prices.
The menu at Al Bravo is fresh and simple. Guests love their good service and fresh juices. Like many local restaurants in Lagos, they only accept cash so come prepared.
Explore the coastline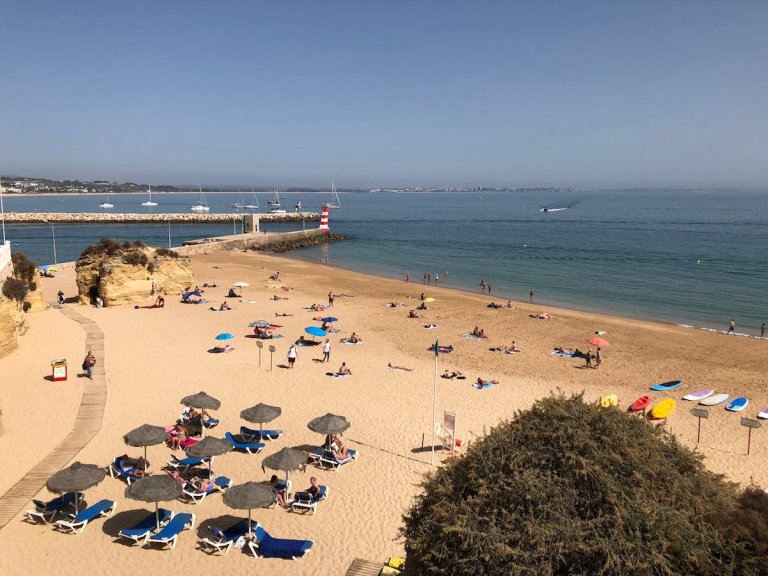 Now that you're fueled up, it's time to explore the coastline that makes Lagos so famous.
Walk from old town toward the waterfront. First, you'll see The Forte da Ponta da Bandeira. Then you'll begin the walk along the cliffs past dozens of beautiful beaches.
The walk will take you on several different pathways, sidewalks, and trails. All the while, you'll have full panoramic views of the sea and hidden beaches below.
If you follow the path along the cliffs and beaches, you'll walk past these lovely sites:
Praia de Batata – A popular sunbathing beach with amenities like restaurants and kayak rentals nearby
Praia dos Estudantes – A smaller sandy beach with tunnels through the cliffs that take you to the Lagos Roman Bridge (a must-see!)
Praia do Pinhao – Access this little cove by going down a steep set of steps to the secluded sandy beach below
Praia Dona Ana – This is a top beach in the region. Like Praia de Batata, it has amenities like beach chairs and places to buy snacks. If you plan to spend most of your Lagos trip at the beach, choose accommodation close to this spot.
Rent a Kayak or Paddleboard to Explore the Caves
If water activities are more your style, there are places to rent kayaks and stand-up paddleboards along the beach at Praia de Batata. You can also book guided tours in advance online.
Renting a kayak or paddleboard gives you a way to explore cliffs and caves that you can't access on foot. You'll also get to take in the scenery from a different perspective.
Take a Surfing Lesson
Portugal is famous for good surf, so why not give it a try in a place as beautiful as Lagos? With several sandy beach breaks along the Lagos coastline, you'll see plenty of beginners learning to surf.
The water in the Atlantic is chilly year-round, so remember to rent a wetsuit along with your surfing gear. You can organize a surf lesson in person at Praia de Batata or book it in advance with a surf school like this one.
Sunset and Dinner at Mar
Watch the sunset at Mar Restaurant to end your day in style.
Mar Restaurant is located on the cliffs between Praia de Batata and Praia dos Estudantes so it's easy to get to from your beach day or water sports excursion.
At Mar Restaurant, you'll have a front-row seat for exquisite sunsets looking out over the sea. Guests love their seafood options and fruity red sangria.
Explore Old Town after Dark
The Lagos Old Town is lively after dark.
After dinner, head to the Old Town for some gelato and street music or grab a drink at the popular rooftop bar, Bon Vivante. Bon Vivante is five stories high but I'd recommend heading to the roof if the weather is nice. 
If live jazz music is more your style, another nightlife spot to check out is Stevie Rays. Not only will you enjoy music long into the night, but you will experience a bit of Lagos history as well since this bar is in one of the oldest buildings in the city center.
Looking to try something new? Order a shot of super strong Aguardente de Medronhos, the local fruity spirit, aptly nicknamed "firewater."
Best Day Trips from Lagos, Portugal
Because of its location, Lagos makes a great home base for exploring other towns in the Algarve area.
Here are 3 Excellent Day Trip Options From Lagos
Sagres

In just about half an hour, you can easily get to rugged Sagres, known for being the westernmost tip of mainland Europe and a top surfing destination. This is the place to go if you want to see extreme natural landscapes without the crowds.

Make sure you stop by Cabo de Sao Vicente, the lighthouse with views that look like you're standing at the end of the world.

Silves

If you want to take a break from the beaches, head inland to the ancient Moorish town of Silves. Complete with a castle, fortified walls, and local markets, Silves is a quiet escape that history buffs won't want to miss.

There is a train that runs from Lagos to Silves in about 40 minutes or if you have a car you can drive yourself there in 30 minutes.

Boat Tour

You can also explore the Algarve region by boat from Lagos. Shorter boat trips often will take you down to Ponta da Piedade. There are also longer boat tours that take you around the caves and cliffs at a leisurely pace long into the afternoon.
Where to Stay in Lagos, Portugal
If you're traveling on a budget, accommodation in Lagos will make your wallet happy. The cost of living in Portugal is generally less expensive than in other European countries and in Lagos, you can live well for less.
Top Surf Hostel Accommodation: If you're coming to Lagos to try surfing, or just want to stay in a hostel with a warm ambiance, check out the Algarve Surf Hostel – Lagos. Even though this hostel is a bit of a walk to the city center, guests love the beautiful pool, friendly atmosphere, and organized activities.
Top Luxury Accommodation: The Carvi Beach Hotel is a great pick if you're traveling during the warmer months and want to be walking distance from one of the best Lagos beaches, Praia Dona Ana. This spot has a rooftop pool with ocean views, traditional hotel rooms with private bathrooms, and breakfast included.
Top Private Budget Accommodation: The Lacus Town Guest House is inexpensive, centrally located, and perfect if you're traveling with a friend or partner. This guest house has private bedrooms with shared bathrooms and a shared kitchen area and free parking behind the building.
More Tips for Visiting Lagos, Portugal
Many of the restaurants in the old town only accept cash. Keep some cash with you when going out for meals.
Parking can be difficult to find in Lagos. If you're driving, book accommodation with parking included to prevent a parking headache.
The high tourism season for Lagos is July-August. This is also when the temperatures are the highest, so consider traveling in the months before and after high season for better deals and milder weather.
I visited Lagos in October and it was still warm during the day. In the evenings it was cooler so bring a light jacket if you're visiting in fall.
Wear sunscreen if you go to the beaches or hike on the cliffs. Some of the beaches don't have umbrellas or shade so make sure to protect your skin accordingly.
Extra Thoughts about Lagos from the Author
Exploring Lagos was one of the highlights of my time in Portugal. With a charming old-world atmosphere and no shortage of breathtaking beaches, there is a lot to love about Lagos. Whether you're visiting for a day or are lucky enough to stay longer, Lagos is a must-see stop on any Portugal itinerary.
About the Author: Nicola Rae is a blogger who writes about teaching online, house sitting, and practical long-term travel. When she's not eating all the pastries as she can get her hands on or attempting to surf (poorly), you can find her in a cafe working on her blog, www.seenicwander.com. You can also follow her on Instagram and Facebook.
Share on Pinterest! Found this article helpful? Save it to Pinterest to easily find and read later.