One Day in a City Itinerary: Lisbon, Portugal
What to see and do when short on time in Lisbon.
Highlights of Lisbon, Portugal include everything from cathedrals to castles to colorful streamers running above your head as you walk down narrow, cobblestoned streets. I visited Lisbon during a day-long layover and I extensively researched before arriving in order to have the perfect day — and I did!
Here's an outline of the one day in Lisbon itinerary I did, followed by details about each destination plus Lisbon transportation and what to eat.
One Day in Lisbon Recommended Itinerary
Have a Pastry Breakfast or Snack

Don't miss a quick stop in a bakery to try one of Lisbon's mouthwateringly excellent pastries, like the pastel de nata.

Tram 28

Take a ride on Lisbon's iconic Yellow Tram 28 route to get to your first point of interest.

Se Cathedral

A beautiful, Gothic church at the top of a steep hill.

Castelo de Sᾶo Jorge (St. George's Castle)

The ruins of a formerly grand castle that boasts great views and interesting history.

Alfama District

Historic neighborhood with whitewashed buildings, colorful streamers, and alleyways leading to melancholy Fado music.

Eat Some Sardines

Have lunch at a restaurant cooking up fresh sardines on an outdoor grill.

Do Some Shopping along Avenida de Liberdade

If time allows, do some retail therapy along Avenida de Liberdade Street, the most expensive street in Lisbon — or just take the bus route that goes by it on your way between the airport and the city center.

Have Dinner with a Fado Performance

Fado is a type of music that originated in Lisbon.
Getting Around Lisbon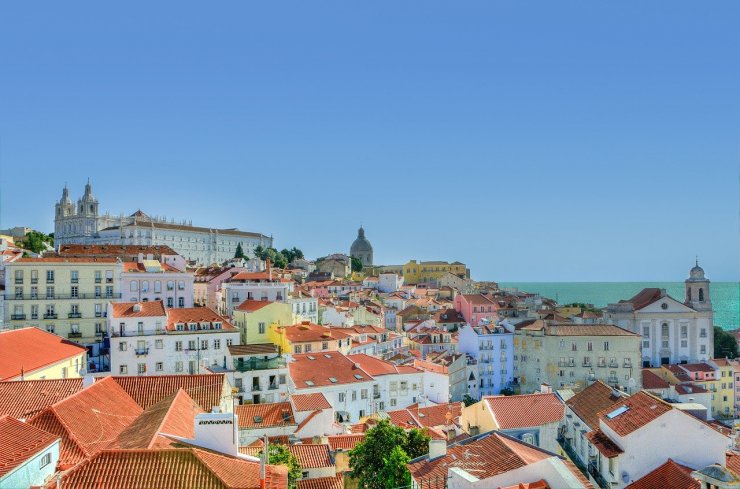 Transportation is in your favor if you're short on time in Lisbon. The city's airport is only about 5 miles away, resulting in an extremely fast entry to the city center compared to other European cities.
You can take the bus, train, taxi, or metro into the city center. The bus is my preferred method for getting into Lisbon due to its ease of use and affordability.
AeroBus 91 from the airport also drives by Avenida de Liberdade, the most expensive street in Lisbon. Get off at the stop for a quick look around or just enjoy a glimpse from the window.
Lisbon is an extremely walkable city. You'll see yellow trams jetting around during your one day in Lisbon, and while whisking around on one may be a fun experience, keep in mind you may spend more time waiting for the next one to come pick you up than it actually takes to walk to your next location.
This of course also depends on how fast you walk – but now really, if you only have one day in Lisbon, then you definitely should be walking as fast as you can! If you're one to saunter leisurely, save it for the romance of the Alfama District (more about that area coming up).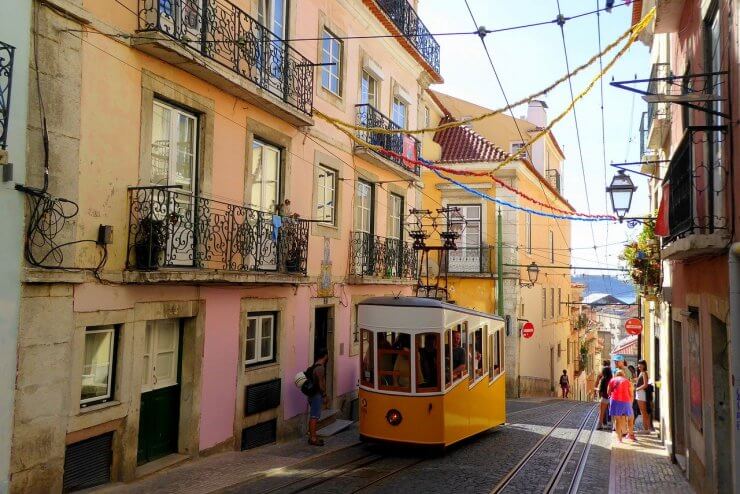 The Yellow Tram is an iconic journey, though, and if you have time for the wait, take Tram 28 from the Martim Moniz stop in the city center (which is also conveniently a metro stop if you want to head straight there from the airport or train station) up to Se Cathedral, with a journey though the Graca neighborhood along the way.
Sé Cathedral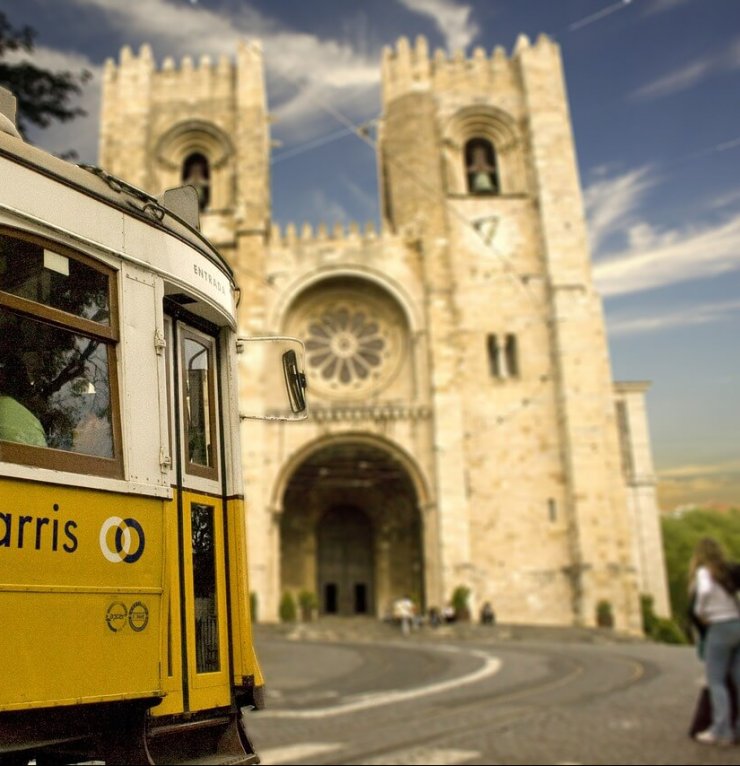 For an easy walking tour during your one day in Lisbon, get off at the Praҫo de Comércio bus stop and head a couple blocks up the hill to Sé Cathedral, built in 1150 by Portugal's first king for Lisbon's first bishop. Or, if taking Tram 28, get off at the Sé Cathedral stop.
Unlike the grandeur of many cathedral entrances in Europe, Sé Cathedral catches one almost by surprise as the street corner is rounded and suddenly… there it is, tightly hugging a curve in the road a short distance ahead. The medieval looking doors lead to colorful stained glass windows inside. My favorite part was how this created a sharp contrast to the dark interior.
From Sé Cathedral, it is an easy walk, though slightly uphill, to St. George's Castle (Castelo de Sᾶo Jorge), a one-time royal residence. This walk in itself has some great scenery.
St. George's Castle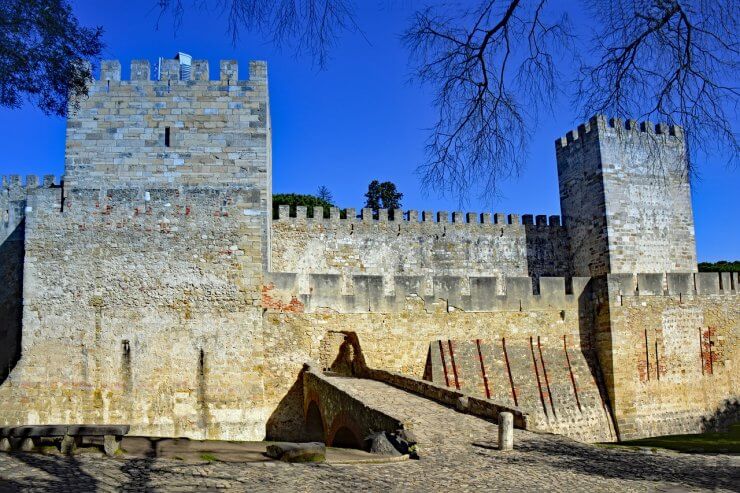 Once you reach St. George's Castle, you'll need to purchase an admission ticket and it's well worth the price. Though the castle's fortitude and grandeur was damaged severely by the 1755 Lisbon Earthquake, enough stayed intact to be able to provide a walking trail around the perimeter of the castle walls for amazing views of Lisbon.
Once inside the walls, St. George's Castle has a huge criss-cross of stairs, towers, and wall platforms to walk across, over, and through.
Sometimes castle ruins are just that, but I thought St. George's Castle had an ambiance that really let me feel like I was walking through historic times and brought out my adventurous spirit as I balanced myself to walk across thick wall tops and peer out of stately tower windows.
In addition to offering impressive castle ruins to walk around, St. George's Castle boasts some of the most amazing views in Lisbon.
Alfama District
And then… onto my favorite part of Lisbon, the Alfama District. Full of curving, charming, cobblestoned streets.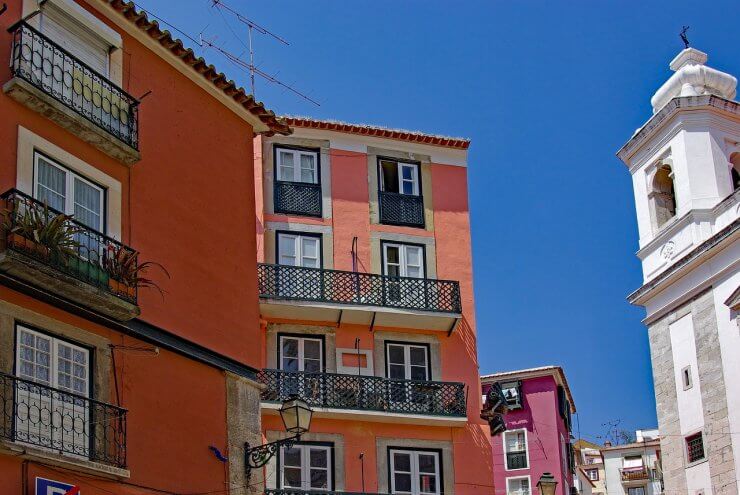 As for the colorful streamers I mentioned earlier, that is a unique charm found in Alfama and is just one of the reasons not to miss it. Streamers are often hung in this area as part of festival celebrations.
I enjoyed these streamers during my time there both for their fun colors and because it let me know I was still in Alfama and not lost yet! Although – if you have some extra time, getting lost on purpose in the streets of Alfama is part of the area's charm.
Food and Fado
The Alfama District is also a great area to try one of Lisbon's famous sardine dinners. Restaurants with sardines on the menu are all over the area, so I made sure to go to a restaurant that had an outdoor grill frying the fish and it did not disappoint.
Also, be sure to try one of Lisbon's famous pastries at some point during your day, perfect for a snack whenever you get a bit hungry. Small cafes and bars selling pastries are dotted all over the city.
If you have the evening to spend in Lisbon, a fado bar will give you great insight into Lisbon's culture. Fado is a popular form of poetic singing in Lisbon that expresses both the lightness and darkness of life.
So there you have it! An itinerary for one day in Lisbon that I have found works well to get a thorough – no matter how brief – overview of Lisbon's sights and culture.
Read on for some more Lisbon travel tips about what to pack for your day in Lisbon as well as some recommendations on where to sleep.
What to Pack for Your Day in Lisbon
Scarf — Good for tying over your shoulders when touring churches in summer, or adding extra warmth around your face in winter.
Sunglasses — I like polarized ones for traveling
Comfortable Shoes — You'll be doing a lot of walking.
Secure Purse or Daypack — Choose one that crosses your body and which you can keep in front of you (no backpacks as they're more susceptible to pickpocketing).
Lastly, but importantly, THIS is One Thing I Always Pack — Because a memory and camera don't always cut it! (Plus, they're kind of adorable!)
Where to Sleep in Lisbon
Alfama Stunner: Hotel Convento do Salvador
is located right in the heart of the Alfama District, with Tram 28 passing right in front of its door. You'll be staying in one of Lisbon's most popular neighborhoods all while being an easy walk to other main sites. The hotel itself is light, bright, and modern with a gorgeous courtyard.
Luxury Splurge: Olissippo Lapa Palace
Feel like you're at a tropical resort while staying in the city of Lisbon at Olissippo Lapa Palace. Ornate touches adorn the hotel and its sumptuous guest rooms while ocean views shimmer in the distance and a welcoming pool sparkles on the spacious grounds of the hotel.
Budget Minded: Flor da Baixa
This hotel is easy on the wallet while still offering nicely appointed rooms and is in close proximity to Lisbon's most popular sites.
Found this article helpful? Pin to read again later!