What to Do if You Only Have 24 Hours in Orlando, Florida
Fun Fact: Ten years ago it took about 67 days to experience the full array of amusements and attractions in Orlando, Florida. Recently, the city's Visitor Bureau announced that it would take 121 days to see and do it all in 2020. So you may be wondering how you're going to be able to see Orlando in just a day! Don't worry, we have lots of tips on what to prioritize.
First though, a bit more about Orlando, Florida: Orlando is home to world-class theme parks and water parks, a variety of unique attractions, cultural centers, outdoor adventures, and more.
So, what do you do if you have just 24 hours in Orlando to explore this exciting destination nicknamed The City Beautiful? You avoid the theme parks (where you will spend countless hours waiting in lines), and you set your sights on the most Floridian experiences you can find. If you know where to go, you can squeeze more fun into one Orlando day than many people will experience in a whole week at the theme parks!
Where To Stay in Orlando
When you're looking at an overnight stay with access to more than one attraction, the best place to hang your hat is the tourist strip known as International Drive, or "I-Drive", if you want to sound like a local.
I-Drive is an 11-mile span of road that is pretty centrally located to Walt Disney World, Universal Orlando Resort, SeaWorld, and all of the area's most popular attractions. Amusements, eateries, shops, and lodging options are closely clustered on the main section of I-Drive, creating an atmosphere that is easily traveled by foot, the public trolley bus, and even pedi-cabs.
Renting a room on I-Drive puts you in a very centralized location, and there are many types of accommodations to choose from.
The all-suite Sonesta ES Suites is an ideal choice for a stay on I-Drive. Reasonably priced (often less than $100/night), the spacious one and two bedroom suites include a kitchen and a very inviting living space. On-site amenities are fantastic if you take the time to take advantage of them… but the hotel is located right in the thick of all the action on the tourist drag, and it may be hard to resist the allure of what's just beyond your walls!
Getting Around Orlando
The secret to a truly unique Orlando experience is being open to venturing beyond the main entertainment districts. This means that you will want to plan for transportation that goes beyond the walkable zone. While Orlando does have a public transportation (bus) system, it is not the best option for those on a time crunch. Ride-sharing services like Uber and Lyft have grown to be a very popular and are a swift way to get around town.
Things To Do During Your Day in Orlando
Now for some recommendations on how to spend your one day in Orlando!
Alligator Adventures
When in Florida – search for alligators!
Before there was a Walt Disney World, the Orlando-area was known for another attraction – and it's still here today. Gatorland has been welcoming guests for a genuine taste of Florida life since 1949.
Home to more than 2,000 American Alligators (including two rare leucistic gators), wide assortment of birds, crocodiles, tortoises, wild cats, and more, this 110-acre preserve features educational demonstrations and interactive experiences as well as the Screamin' Gator Zip Line and the Stompin' Gator Off-Road Adventure.
Gatorland is one of the area's most affordable amusements, and something entirely original that's sure to provide unrivaled photo opportunities… and the chance to eat authentic fried gator tail!
If you want to devote a little more time and step up your adventure, you may also consider Wild Florida as an alternative. Here, you can search for alligators and more in the wild from a guided airboat tour. Before or after your tour, visit Wild Florida's on-site animal park, which is home to more than 200 animals. If you time your visit just right, you may even get to attend a painting class with a sloth.
Theme Bars and Games
If you're looking for something a bit more tame, and indoors, Orlando also offers many original experiences for gamers or those seeking a mental challenge.
Day or night, visitors can choose from any number of themed escape rooms, immersive virtual reality centers, retro video game bars, and sports complexes offering everything from golf to go-karting for the whole family. While some of the gamer bars are quite a distance away in the downtown area, some are very near to I-Drive, and great in which to kill a couple hours of time.
Orlando Entertainment Complexes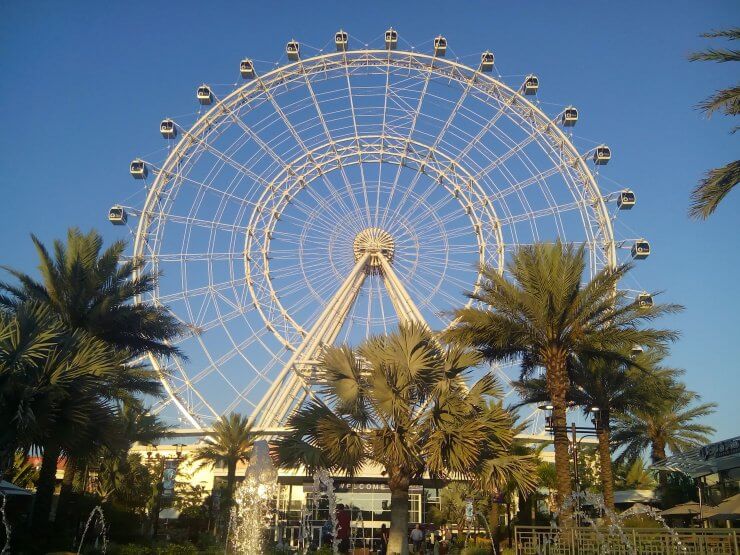 Speaking of complexes, I-Drive is home to two prominent entertainment complexes (with more in planning now) that are ideal for getting a lot of different types of fun accomplished in one easy stop: Pointe Orlando and ICON Park, both of which are one-stop shops for all things fun. You could easily walk to either location from the Sonesta ES Suites (ICON Park is directly across the street, in fact), and if you so choose, you could spend your entire Orlando day at either stop – or both – and leave the area the next day feeling like your one day in Orlando was well spent.
Pointe Orlando is home to amusements like Nomadic VR, Main Event gaming center, and WonderWorks – an amusement park for the mind, as well as a movie theater, comedy club and plenty of choices for dining, shopping, and nightlife.
ICON Park is a 20-acre complex that is home to SEA LIFE Orlando Aquarium, Madame Tussauds Orlando and SKELETONS: Museum of Osteology, Arcade City, and a number of bars, shops, and restaurants. It is also where you'll find the 400-foot tall observation wheel that overlooks the area's most bustling district.
Both Pointe Orlando and ICON Park feature live music venues and strolling performers at night.
Just off one end of I-Drive, you can also find Old Town, a nostalgic complex of original shops, unique attractions, live music, and weekly events.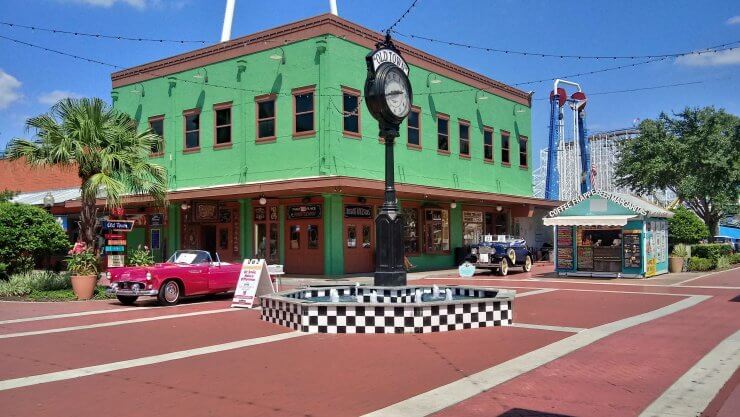 Where To Eat During Your Day in Orlando
When it comes to eating, Orlando offers a gluttonous array of options. To sink your teeth into real Florida flavor, avoid the big name chains and dig into the lesser known spots that have a little more to offer in terms of something unique.
The area has developed quite a knack for bringing new, tasty life to mundane dishes, but there are culinary choices of global proportions and your palate can be as adventurous as you wish.
Hamburger Joints
You can stick with the basics and add a craft twist with any number of Orlando's fantastic local burger joints. Some, like Ford's Garage, go all out in theming and decor while concocting equally artistic hamburger choices – while others – like Adler's – are basically holes in the wall/hidden gems with shockingly hardy burgers that are mouthwateringly delicious.
Dinner with a Show
Orlando is also home to a fair number of dinner shows. Depending on the type of theming you prefer, you can experience a murder mystery at Sleuth's Dinner Theater, circus and comedy at Teatro Martini, swashbuckling adventure at Pirate's Town, royal battles at Medieval Times, celebrity impersonators at Rock Dinner Show, a Las Vegas style revue at Mango's, or a mobster heist at Capone's.
Any of the local dinner shows will take about 2-2.5 hours, and most are on or near I-Drive. This is a great way to combine fun with a meal when you're on a tight schedule!
Decadent Desserts
Another option for a quick but decadent bite… or even for a meal, because hey – you're an adult… Orlando has lots and lots of sugar-centric brasseries and dessert-focused eateries. Places like IT'SUGAR, Sugar Factory, and Chocolate Kingdom offer diverse experiences all centered on sugar. Choose your level of indulgence!
IT'SUGAR is great to pop in and take your guilty pleasures to-go, while Sugar Factory is an Instagram-worthy extravaganza of tasty ice cream treats and larger-than-life boozy smoking goblet drinks with an adjacent shop for even more temptation.
Chocolate Kingdom is an experience within the indulgence as you can opt to pop in for a quick treat, or take a tour to learn about the history of chocolate and the process to make it before making your own treats to take home.
Have Breakfast with Your Favorite Characters
As you wind down your evening and plan for your departure the next day, it may be a good time to go ahead and break that no-theme park recommendation… sort of.
If you can do just one breakfast in the Orlando area, consider a character breakfast at a Walt Disney World hotel. Advance reservations are usually a good idea as these can be quite popular, especially in-season, but if you have never had the chance to do this… it's a must. The character breakfasts are more affordable than the dinners, and the food is absolutely fabulous.The best part is – you have the most impressive hosts… Disney characters! It does not matter if you are four years old or 64, you can't help but smile when Goofy comes to visit as you're eating your Mickey Mouse shaped waffle.
The best non-theme park character breakfasts can be found at Cape May Cafe (Disney's Beach Club Resort), Ohana (Polynesian Resort), and Chef Mickey's (Contemporary Resort).
Enjoy Your Time in Orlando!
You'll surely want to plan a return trip to squeeze in a bit more Orlando action in the future. Undoubtedly, it may be a lofty goal to aim for that aforementioned 4-month visit to tackle it all, but it never hurts to carve out a few random days here and there to start chipping away at the list of things to do in Orlando.
About the Author: Dawn Sabato is a local of Orlando who writes about the city at ComeSeeOrlando.com. You can follow her on YouTube.
Found this post helpful? Share on Pinterest!