Best Things to Do in Québec City When You Only Have One Day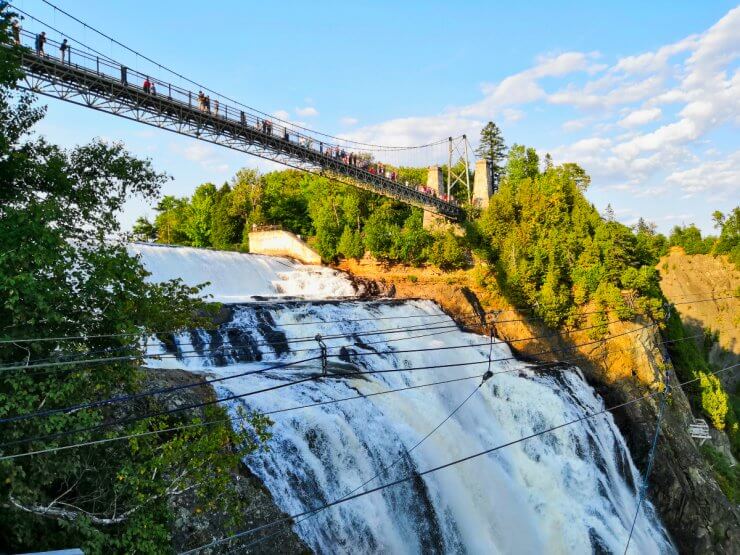 One day in Québec, will that really be enough? I have to admit, there's a lot to see and do in this beautiful city. However, if you're short on time, you can absolutely spend a day in Québec and still feel like you've seen a lot of what the city has to offer. In this post, I'll share my best one day itinerary to make you get the most out of your visit to this provincial capital.
How to Get to Québec City
There are a few different ways to get to Québec:
 Québec City Jean Lesage International Airport is only 10 miles away from downtown Québec. From the airport, you can easily reach the city by taxi. The bus service from the airport is on the contrary very limited.
By bus or by train – Orléans Express is a good option if you're in Montréal and want to visit Québec for the day, going by bus. They run frequently every day and if you plan ahead you can usually find tickets on discount. If you instead prefer taking the train, VIA Rail is your option. Whichever you'll choose, your stop will be at Gare du Palais – a 10 minutes walk to Old Town.
You can of course also go by car. If you're coming from Montréal, you can choose between Highway 40 or the Trans-Canada Highway. It's about a three hour drive. If you're coming from the other way, let's say from Halifax, you just have to follow the Trans-Canada Highway!
One Day in Québec City Itinerary
Ready for a fantastic, culture-filled day in Québec City? Read on for what you can't miss, from top sights to best eats to where to sleep if you're spending the night there after your one day in Québec City.
Start Your Day with Breakfast in Quebec's Old Town
To start with, this is not the day to sleep in – if you want to see as much as possible of this gorgeous place, be ready for an early morning. For some, that requires coffee. For others, there's a need of something sweet or maybe even a big and steady breakfast. You can find all of these above and more in the heart of Old Québec – at the well-known Paillard!
Paillard
What better way to start your day than with some freshly made bread and a cup of coffee? The cafe opens at 7am so you can be there early and grab the best table and the freshest pastries. Spoil yourself with a delicious breakfast and when you're done, Old Québec is yours to explore! The location of Paillard couldn't be better – it's right on the main street.
The Fortifications of Québec City
After breakfast, it should still be late morning, which means that you basically have the whole day left. That is perfect, because you have lots to explore! Make you way over to Porte Saint-Jean, one of four remaining gates in Old Town. You just have to follow the same street that you're already on to get there and it will only take you a couple of minutes. Luckily, you'll notice, everything is really close! Explore the gate and the fortifications that are still partly surrounding the Old Town – from the ground or from the top of the stone wall, that's up to you!
Follow the gate to Port Kent and Port Saint-Louis before continuing to La Citadelle de Québec. This is now a museum well worth a visit, but I also enjoyed just walking around outside if you either want to save time or just aren't that interested in museums.
Terasse Dufferin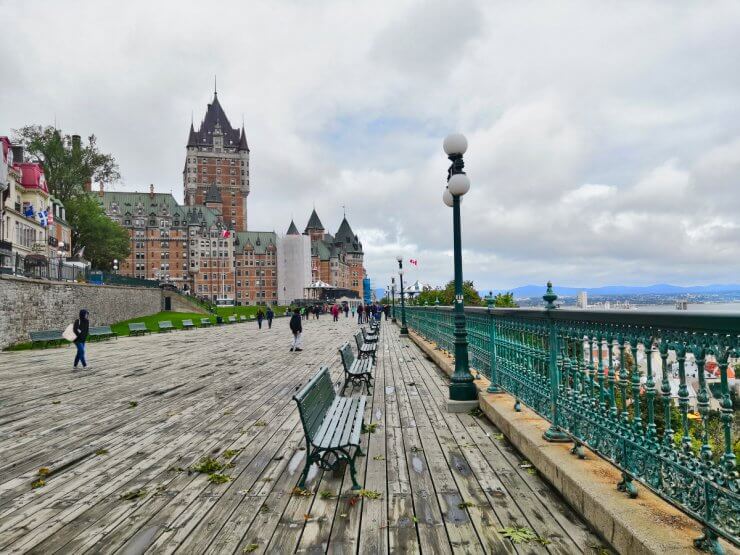 Terasse Dufferin is one of my favorite places in Québec, it has everything you need. It's a large terrace that curves around the base of the Château Frontenac. If you look out from the terrace, you have a beautiful view over the river. If you instead look behind you, there's the majestic Château Frontenac. You can actually stay here for the night if you want a luxurious stay — this beautiful building is a Fairmont hotel.
Admire the beautiful surroundings and stop to watch street performers that love to make a show on the terrace. There's also a funicular that will take you down to the "first level", the lower town. The terrace and hotel is on a higher level, also accessible by stairs if you prefer that instead of the funicular. At the lower level of Old Town, you find many cute shops and cafes. You can also walk to the waterfront where you'll find cannons on display and can read more about the history of Québec.
Traditional Canadian Food for Lunch
It's time for lunch, and if you haven't already, you have to try poutine! This dish is typical for Québec and your visit isn't complete before trying it. I must say, I was skeptical at first, but it turned out to be really, really good – I've had poutine several times since my visit to Québec!
If you haven't heard of it yet, poutine is a very simple dish – fries, cheese and gravy. There are of course lots of variations of it, but I prefer it the traditional way. You will find a huge amount of restaurants offering poutine, and you will definitely not have to walk long to find one. Some of my suggestions in or close to Old Town is:
Le Chic Shack – Conveniently situated in the heart of Old Town and with great reviews and good prices. This restaurant is definitely not a place to miss. It's basically just across the street from Château Frontenac — it couldn't be better! It only has three different versions of poutine, so if you're looking for more options this is not the best place for you. Although, their three options are some really good ones!
Address:15 Fort St, Québec City
Poutineville – As you can tell by the name, this restaurant focuses on poutine. If you want a lot of options, this is the place to go – they have so many variations of poutine, you'll have a hard time choosing one. As if that's not enough, you can even create your very own poutine! The restaurant is located just outside of Old Town, about twenty minutes away by foot from Terasse Dufferin. I'm not going to reveal too much, but don't forget to check out "The Heart Attack" on their menu!
Address: 735 Rue Saint-Joseph Est, Québec 
Leclub Bistro Bar – If you don't want too many options of poutine to choose between and prefer a restaurant that doesn't feel that touristy, check out this place. It's basically located at the same spot where you had breakfast, but just around the corner at the side street. If you didn't know it was there, you would miss it!
Address: 17 Rue Saint-Stanislas, Québec City 
Afternoon Activities for Your One Day in Québec City
When you've enjoyed your poutine, you still have lots to see and not too much time left of the day – this is when you have to choose between activities.
The Montmorency Falls
This is my personal recommendation of what to choose to do to start out your afternoon during your one day in Québec City. The Montmorency Falls are, to me, a must see in Québec. The falls are over 80 meters tall, which is 30 meters higher than the Niagara Falls!
The falls are located outside of the city center and how you'll explore The Montmorency Falls is up to you — see it by foot, take a cable car, or even zipline over the falls.
Another great thing? You don't need to have a car to get here. Of course, it's way easier with a car, but the falls are also accessible by public transport. A bus from the train station, located just outside of Old Town, will take you directly to the falls.
The Parliament Building
I fell in love with this building, which is the home to the National Assembly, the first time I saw it, and it makes for a great site to fit into your one day in Québec City after you visit Montmorency Falls. Just looking at the Parliament Building from the outside is amazing, but if you're interested you can even enter and go on a free tour.
Stroll around Québec City
If you're not up for more adventures and it's not yet time for dinner, just stroll around this gorgeous city. Old Québec is filled with beautiful buildings, interesting boutiques and lots of cafes to enjoy. There are also a couple of nice parks to visit – you could walk the Promenade des Gouverneurs and enjoy the huge park Plaines d'Abraham next to the citadel you visited earlier, or even go and explore other parts of the city.
End Your Day in Québec City with a Spontaneous Dinner Decision
When it's time for dinner, why not be spontaneous? Everything during a trip doesn't have to be planned. Personally, I love strolling around reading different menus to see what I feel like having for the evening. Absolutely, you can search online and follow the reviews, but the best restaurant experiences I've had have actually been when I've found a restaurant by myself, just walking around!
One Day in Québec City Seasonal Activities
To sum it up, I have to recommend two more things: There is one thing you can't miss if you're visiting during summer, and one if you're visiting during winter!
Île d'Orléans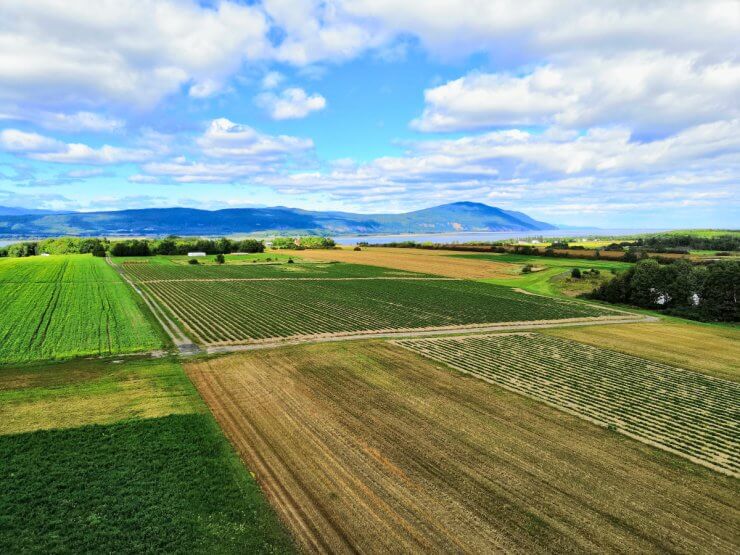 If you're in Québec during summer, you have to visit this island with its cozy countryside feeling. It's not accessible by public transport, so you'll have to go there by car. It's only a 15 minutes drive from Old Québec to get to the bridge that's connecting the island with the mainland. Île d'Orléans is simply beautiful, with great views over the mountains and with a lot of cute places to visit. It's very idyllic. While driving across the island, you'll find many places that sell fresh vegetables and fruits. At the very end of the island, you'll also find an observation tower. From here, you can admire the surroundings even better.
Toboggan in Québec
If you're walking on Terasse Dufferin during spring, summer or autumn, you'll notice quite a high ramp. This is one of the reasons you'll want to come back to Québec during winter – to go down the Toboggan slide! It's open from the middle of December to the middle of March, or longer if the weather permits, and you can go down at a speed of as high as 70 km/h. That's quite an adrenaline rush!
No matter when you decide to visit Québec, you'll have a great time – and remember, don't put it off even if you only have one day to spend in Québec City. That is still plenty of time to explore this beautiful city and get a taste of what makes it special!
One Night (or Two) in Québec City? Where to Stay
$ Auberge Internationale de Québec – If you're traveling on a budget or think a hostel is a great place to meet new people, this is the place to stay. It's conveniently situated in Old Town and you can choose if you want to sleep in a dorm room or in a private room. Wifi is free and breakfast is included in the price. The hostel also offers a lot of activities such as free tours and pub crawls. Address: 19 Rue Sainte-Ursule, Québec
$$ Auberge Amérik – This auberge only offers private rooms, and some really nice ones. You can tell there's a lot of thought put into the rooms; it's very stylish and clean and all the rooms come with a private bathroom. No breakfast is included, but there's a bistro in the same building that conveniently opens early for hungry travelers. There's free wifi and free parking, and if you want to explore Québec by bike, it's possible to rent one for a fee. The auberge is situated outside of the city center – by bike or bus, it will take you about 20 minutes to get there. Address: 1720 Chemin de la Canardière
$$$ Fairmont Le Château Frontenac – If you instead want to live right in the heart of Old Québec, this is a great option, though a quite expensive one. But of course, you get what you pay for. In addition to the great location, other amenities (some to an additional cost) are a gym, a pool, three restaurants on-site, a spa, and even airport transfers — and on top of all that, you get to stay in a beautiful, historic building. Address: 1 Rue des Carrières, Québec
Click here for prices and pictures of Fairmont Le Chateau Frontenac.
So there you have it! Your perfect One Day in Quebec City itinerary to make the most of your time in the city.
About the Author: This article is written by Amanda from My Backpacker Life. Amanda has as long as she remember longed for new adventures. In 2018, she took the life-changing decision to quit her job and leave everything back home in Sweden to travel around the world instead. She's currently backpacking through Canada, across the whole country from coast to coast – follow her adventures on her blog: My Backpacker Life. You can also follow her on Facebook and Pinterest.