Things to Do in Shelter Island San Diego & Staying at the Kona Kai Resort & Spa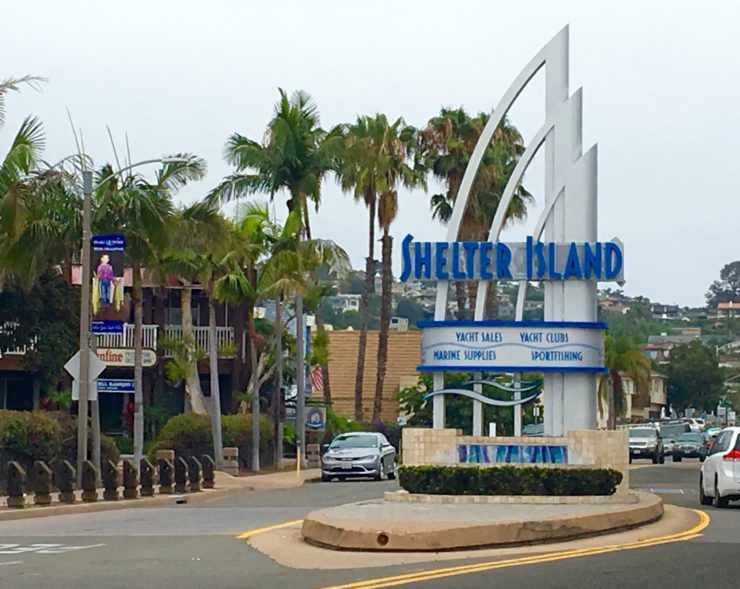 Despite having spent over a decade living in San Diego, I'd spent barely any time in Shelter Island, San Diego's most nautical neighborhood, until last month. I got the opportunity to stay at Kona Kai Resort & Spa, which has recently been remodeled, and check out the updated digs. I was excited not only to experience the hotel, but also to finally fully experience Shelter Island.
First Impressions of Shelter Island, San Diego
First off, Shelter Island isn't really an island; it's a little sliver of land a short drive from Ocean Beach that juts out into the bay like a long pan handle with the end a short distance across the water from Point Loma. The makeup of its geography means you can see water in pretty much ever direction you look, often on both sides of the land. The second thing you should know about Shelter Island is that it is all about the boats.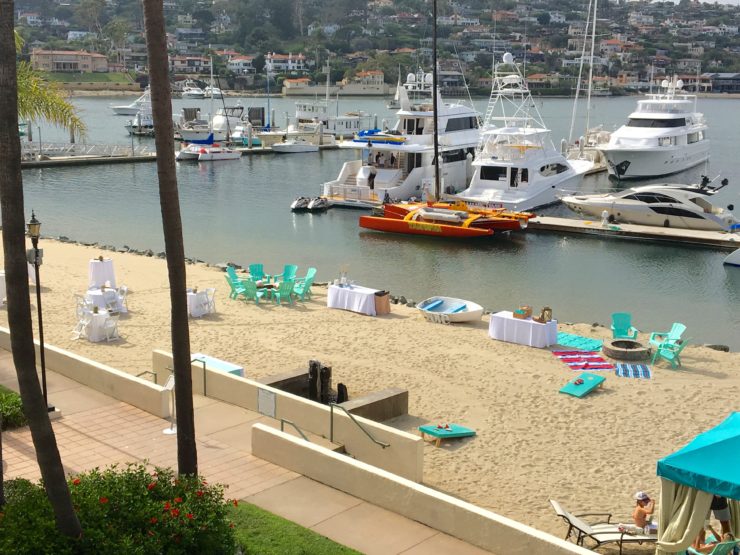 I knew there were boat harbors somewhere in San Diego to keep all those little yachts and sailboats I saw drifting under the sun every time I was downtown or along the waterfront of the San Diego Bay, but I'd never really paid any attention to where they were docked. The answer? Shelter Island (at least for a good majority of them). I could see all the boats from my hotel balcony and it solidified a life goal of mine: own boat someday.
Even if you don't own a boat, the boating aspect of Shelter Island is important because it demonstrates how vital marina life is to this little San Diego community and what activities it offers. Now, let's get into just that and what you can do while visiting Shelter Island.
What to Do in Shelter Island, San Diego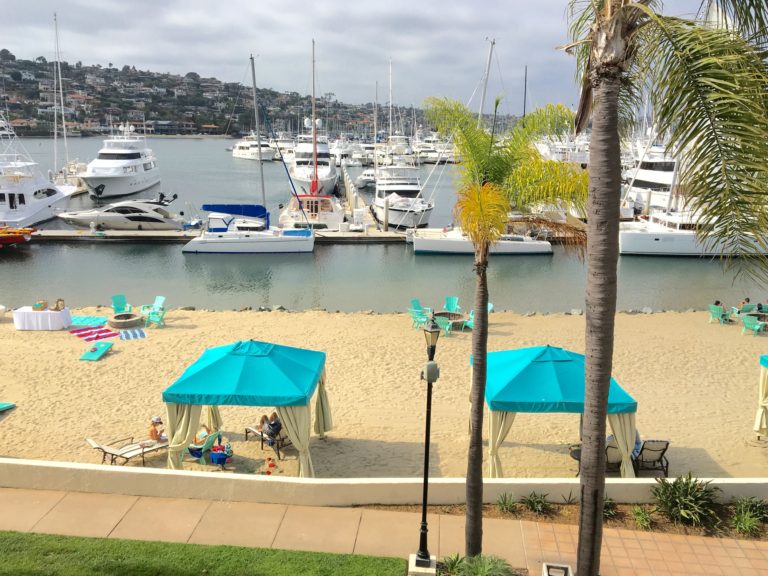 Water Sports
This is the core of what Shelter Island is all about. Thanks to the calm nature of the bay here, it makes it an ideal place to rent water sports equipment and head out onto the water. Jet skiing and standup paddle boarding are fun options, but my favorite is kayaking. You can really explore the bay and the peacefulness of it via kayak. There are places to rent watersports equipment all over Shelter Island, including a convenient one at Kona Kai Resort.
You can also depart on sportfishing excursions from Shelter Island or charter a speedboat or sailboat out into the open ocean (and be sure to sail under the Coronado Bridge for marvelous views).
Boardwalk Strolls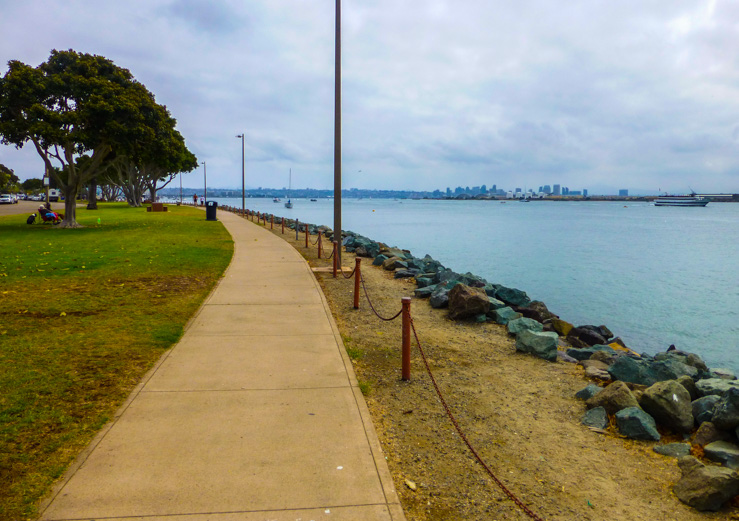 Shelter Island has a long boardwalk, which is a bit different from a classic beach boardwalk since it starkly borders the rocky bay instead of the sand and waves. This means its much quieter than the boardwalk you'll encounter in the popular San Diego beach neighborhoods of PB and Mission Beach and makes for a wonderful stroll while taking in the water and the downtown skyline.
Beach Bonfires
It's rare to find a beach that permits bonfires in San Diego, but Kona Kai has some on its beach. Since even a hot San Diego day usually gets a bit chilly at night due to ocean breezes, relaxing by a bonfire right next to the water is a fun way to be able to spend an evening.
Live Music
Shelter Island is home to Humphrey's Half Moon Inn & Suites, which houses one of the most famous live music spots in San Diego. It gets an array of acts from local bands to international performers.
Kona Kai also has a pool party during the day on weekends with a DJ spinning tunes right in the outdoor pool area. You can hang out at the bar or on one of the pool's lounge chairs.
Can't-Miss Shelter Island Sight
During your walk around Shelter Island, head to the tip of Shelter Island to see the Friendship Bell, which was gifted to San Diego in 1958 by the city of Yokohama, Japan, in celebration of the sister city relationship between San Diego and Yokohama. The bronze friendship bell is hard to miss since it's massive and housed in a little pavilion.
Wondering what else to do in San Diego? Check out my One Day in San Diego guide.
Where to Sleep When Visiting Shelter Island, San Diego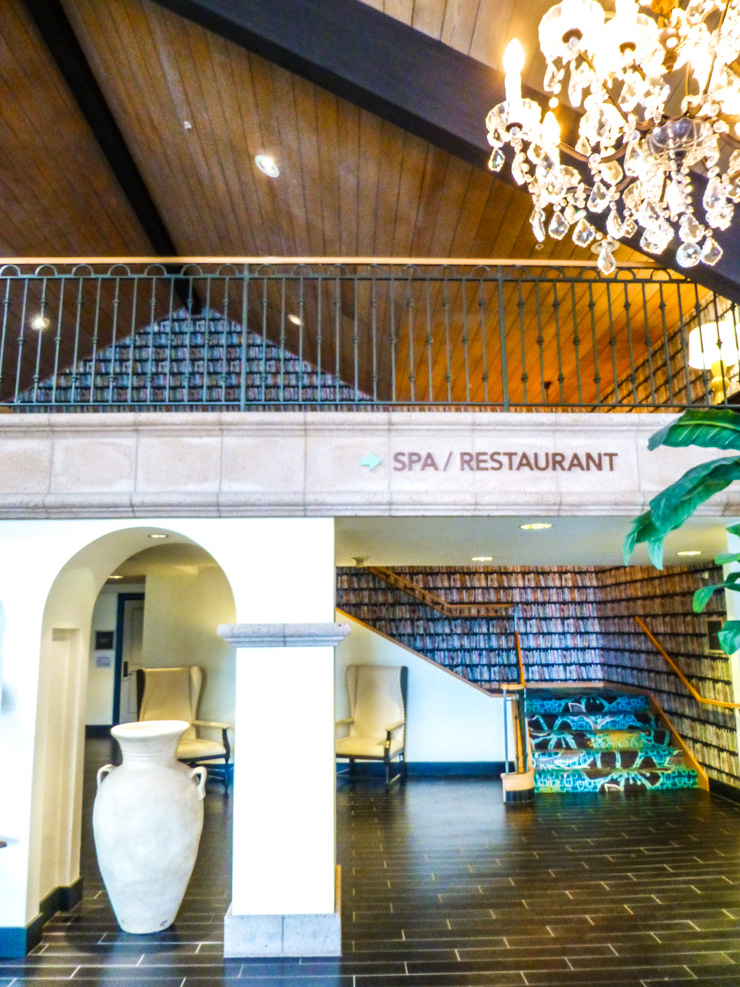 I really enjoyed the ambiance at Kona Kai Resort and Spa and recommend staying there during your travels to Shelter Island – or for a unique place to stay off the beaten path, but still in close proximity to all the main sites, while visiting San Diego. It has comfortable rooms and the best location on Shelter Island, right near the end of the sliver of land and surrounded by water and views of Point Loma, Coronado, and downtown San Diego.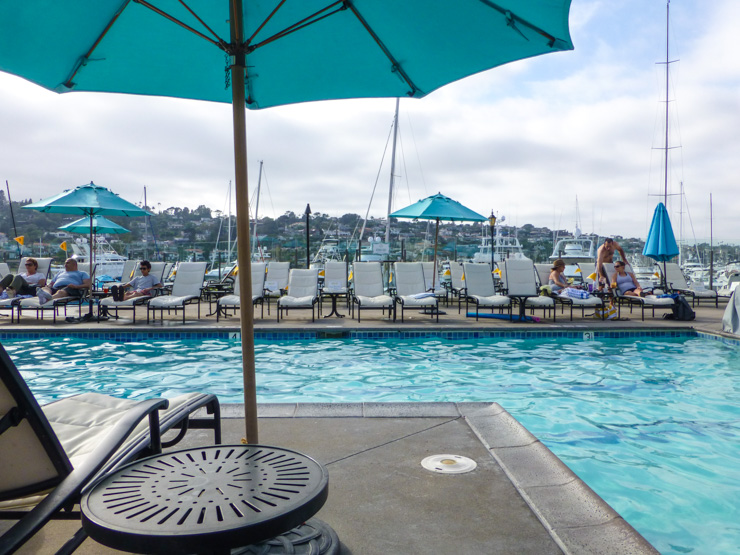 Though I wouldn't classify Kona Kai as a high-end luxury hotel, it had many luxury elements that elevated the experience — ranging from valet service for parking to spa amenities in the guest room bathrooms to wait staff service while lounging by the pool. The luxury feeling continues into the rooms thanks to how relaxing they feel. I adored the décor and interior design of the room.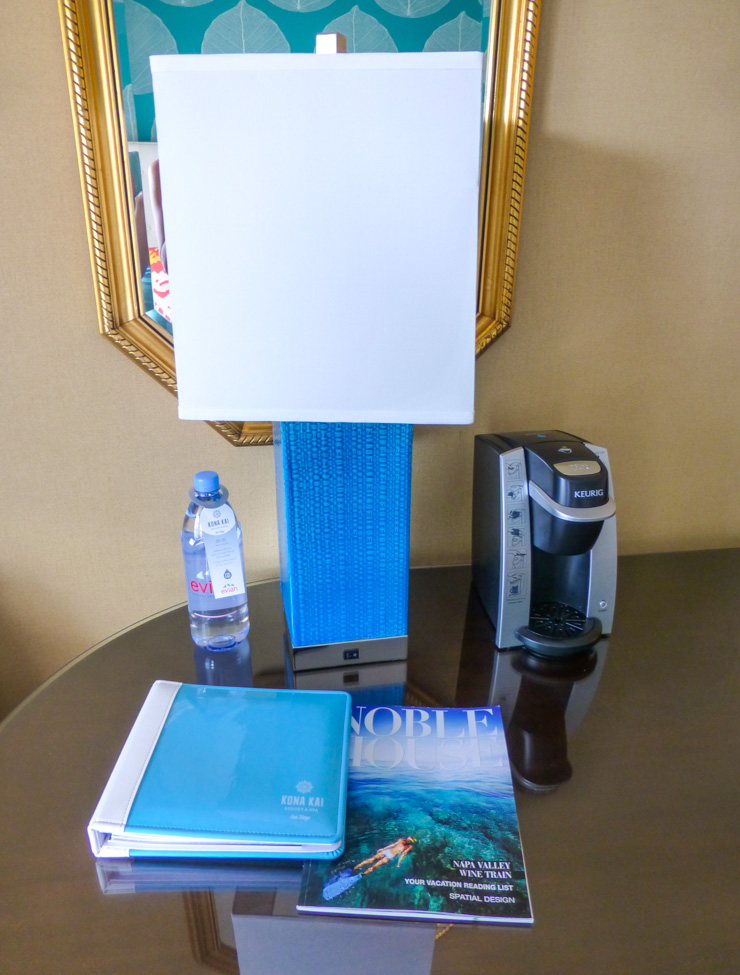 Huge palm leafs in shades of turquoise and teal covered the walls and proved a soothing contrast to the white linens.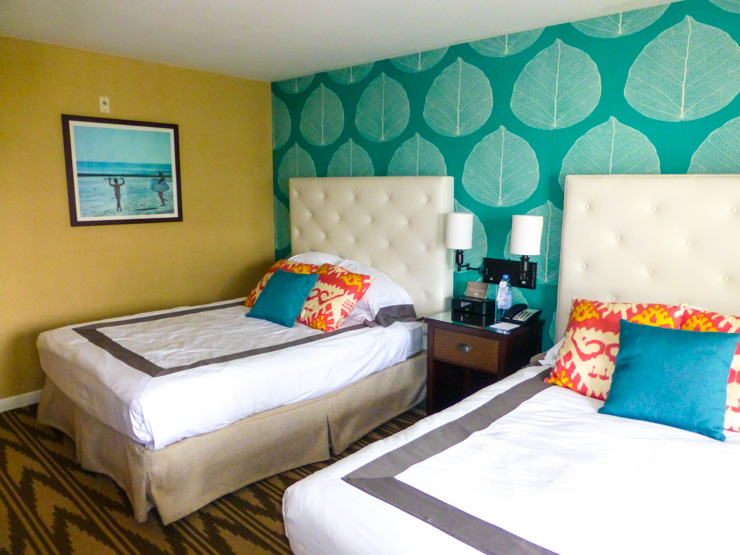 The carpet was the color of sand and the pillows were provided fun pops of blue and coral. It was a wonderful ambiance for a stay right next to the water.
I'm also used to stilted white bathrooms in hotels, and the bathroom at Kona Kai was a delightful surprise thanks to its turquoise walls and doors plus was pleasingly spaciousness.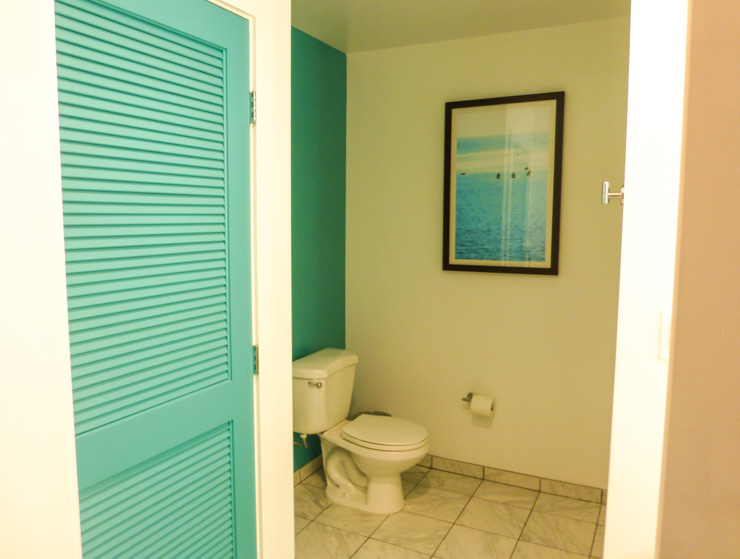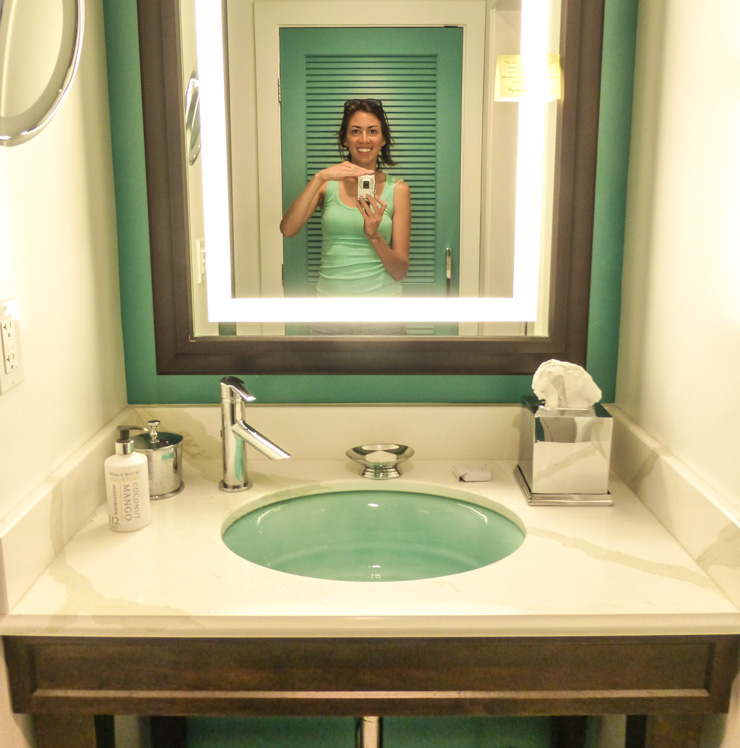 As for service, everyone there was super friendly and helpful, but it seemed a little bit disjointed at times; for example, it took a couple follow-ups after checkin to get a crib delivered for my toddler daughter. But as a recently relaunched hotel, I would expect this to get worked out over time and the quality of the stay experience at Kona Kai to continue to flourish positively.
Speaking of my toddler, Kona Kai was much more kid-friendly than it might appear at first glance considering how trendy the hotel feels. Everyone was wonderfully welcoming to her. From the front desk to the restaurant to the pool staff, we were always met with friendly smiles. The pool was large which made it easy for kids to have fun splashing about in it, and there are even marshmallow kits you can buy at the front desk (or head to the grocery store and buy your own) to roast marshmallows on the beach.
You can see more pictures of Kona Kai and booking information on one of my favorite hotel sites, Booking.com, by clicking here.
Where to Eat in Shelter Island
I'm a big fan of the restaurant at Kona Kai: Vessel Restaurant + Bar. Unilke many hotel restaurants, which tend to be boringly devoid of people and underwhelming with food options, Vessel seemed lively and exciting – like it was the place to be. And for people staying at the hotel or who dock their boats at the marina, I think it is. The service was friendly and prompt, and the food was tasty and fresh.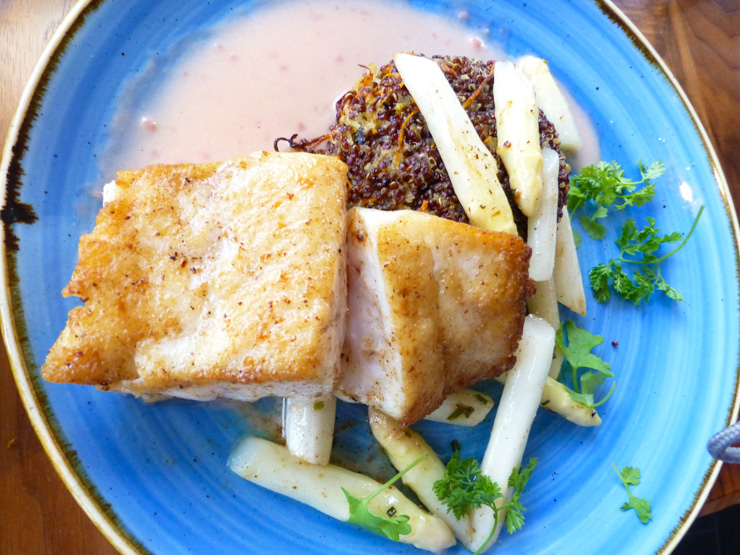 The views of the water and boats from Vessel Restaurant were absolutely lovely. Plus, the dining room is decorated gorgeously in shades of vibrant blue adorning the tables and walls fanning out from the center circular bar. I had one meal in the inside dining area and one on the patio and both were pleasant dining experiences.
Another dining option in Shelter Island is Brigantine, which is a beloved San Diego restaurant chain that has a location right by the entrance to Shelter Island. Head there for a laidback atmosphere and some of the best fish tacos around. Brigantine's also has a raw bar and other savory options on its menu.
When planning your stay in San Diego, make time for Shelter Island for some good eats, great views, and quality time on San Diego's best asset — that gorgeous, sparkling Pacific ocean.
Note: My stay at Kona Kai Resort & Spa was provided complimentary, but — as always — all opinions are completely my own.
This post contains affiliate links.