A Detailed Guide of the Best Things to Do, See, & Eat in Singapore When Short on Time
A perfect day in Singapore aims to encapsulate everything that makes Singapore what it is, from eating where the locals eat, to shopping in Orchard.
Since you're looking to have just one day in Singapore, you'll want to spend this day in the city center to minimize time spent traveling between locations.
How to Get Around Singapore
This entire One Day in Singapore guide can be done via Singapore's amazing MRT system or by foot.
To use Singapore's MRT, you will need to pick up either a Singapore Tourist Pass at the airport or an EZ-Link card. The former gives you unlimited access to public transport for 1-3 days and is the easiest option, but the EZ-Link card which you top up at MRT stations often works out slightly cheaper.
You then visit any MRT station and swipe your card to get on and off the train. The stations are everywhere so getting around is quick and easy in Singapore.
Start Your Day with Breakfast at a Hawker Centre
Prior to the 1950s and 60s, food vendors were found on the streets of Singapore – similar to what you would find in other Southeast Asia countries. This caused issues with food hygiene standards and the government at the time recognized the need to improve this.
This led to the introduction of government-owned food courts around Singapore called hawker centres. These hawker centres are provided at low cost to food vendors but have strict food hygiene requirements. This makes hawker centres a safe way to enjoy delicious street food in Singapore.
A great way to start your day in Singapore is to get up early and find your nearest hawker centre. They are usually within walking distance of most popular areas. I would recommend trying roti prata from one of the vendors – it should cost you about $2-3 SGD for two roti and some curry.
Go Shopping in Orchard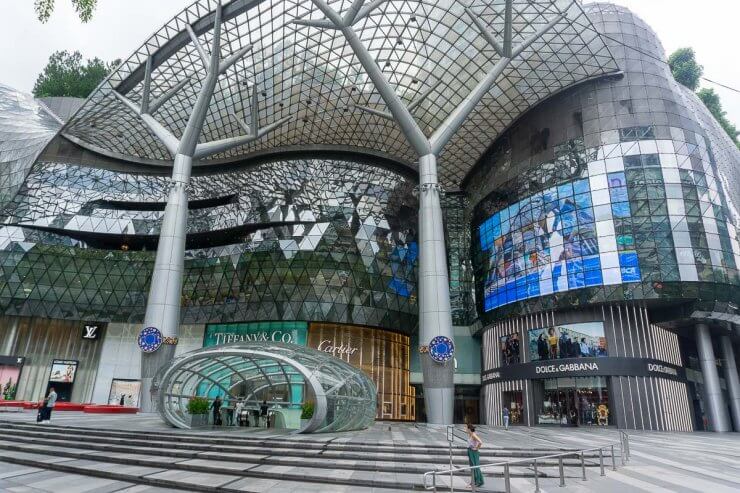 After breakfast, find your way to your nearest MRT station – the easiest way to do so is to use Google Maps, but if in doubt, know that they are located within walking distance of most places in Singapore so should be easy to find if you ask someone.
At the MRT station, read the signs and take the line to Orchard. If you are staying in Orchard, then you may be able to walk instead.
Once in Orchard, you will find thousands of stores inside countless shopping malls. The shops here are mostly high end, though Lucky Plaza is a great spot for budget travelers. Your best move is to walk down the street and pick a couple of malls to visit, the main ones are ION at the top, and Paragon and Orchard Central further down the road.
If you are a big shopper, then it's easy to spend a whole day here exploring all the shops. For the sake of this guide, just give yourself an hour or two and then it's onto the next stop!
Eat Lunch in Chinatown
Singapore's Chinatown was once home to a large portion of Singapore's Chinese population. Since the mid-20th century, it has transformed into a major cultural hub of Chinese markets, restaurants, and decorations.
Make your way here via the MRT (you could walk, but it would take a while) and take a walk around the area. Head down Smith Street where you will find the Chinatown Street Market – it's located right next to the Chinatown MRT.
At the end of the street, you should visit the Buddha Tooth Relic Temple which is an impressive temple in the heart of Chinatown. It's four stories high and illustrates the architecture of the Tang Dynasty.
After this, it's a short walk to Maxwell Hawker Centre, which is one of our favourite Hawker Centres in Singapore. Grab some lunch here, obviously, we'd recommend the Chinese vendors. It's one of the best places to taste the Chinese cuisine in Singapore.
Explore Clarke & Boat Quay
After lunch, it's a great idea to take a walk through Clarke and Boat Quay. You can get here either by walking (it's a 20-minute walk), or you can head back to the Chinatown MRT and take the North East / Purple line one stop to Clarke Quay.
Check out all the eateries and bars here (if Hawker Centres aren't your thing, then you could even get your lunch here) and consider taking a boat ride along the river if you're keen to relax.
If you're up for more walking, Fort Canning is located next to Clarke Quay and offers some great photography spots.
You should also walk along the river towards Boat Quay. At the end, you will find the famous Merlion statue, renowned the world over as the symbol of Singapore.
Gardens by the Bay & Light Show
By now it should be about mid or late-afternoon. Make your way over to the Cloud Forest in Singapore's Gardens by the Bay. From the Merlion, it's a 20-minute walk, or you could book a Grab, which is similar to getting an Uber (the MRT wouldn't really make sense here).
The Gardens by the Bay are one of the most epic places in all of Singapore. Walk across the Dragonfly Bridge and enjoy the sculptures in the Dragonfly Lake on your way to the Cloud Forest.
The Cloud Forest is a rainforest inside a giant glass conservatory housing over 200,000 plants. In our opinion, it's far superior to the Flower Dome, so unless you are obsessed with Flowers, you should skip the Flower Dome and just see the Cloud Forest. Entry to one conservatory is $16, it's not listed online but just ask at the desk.
It will take a couple of hours to look around (depending on how obsessed you are with tropical plants and giant indoor waterfalls), then walk over to the OCBC Skyway. If you're scared of heights, this might not be for you – but, for just $8 you can walk in the sky along a bridge joining two giant Supertrees.
After this, you can explore the Supertree Grove until about 7:30pm. Find a nice spot of grass to lie down on; at 7:45pm the Supertree Grove will light up to the tune of 'Garden Rhapsody'.
Marina Bay
Marina Bay Sands is located next to Gardens by the Bay and is a great place to head to next for some dinner. You'll find a range of upscale restaurants and eateries in the building, or you can head to the bottom floor of the shopping mall where there is a hawker centre inspired food court and a giant indoor waterfall.
Finally, head to the top of the Marina Bay Sands hotel to get a stunning view of the Singapore cityscape at night.
About the Author: Delilah Hart is a traveling blogger from Auckland, New Zealand. Her family is from Singapore and it's one of her favorite places in the world. You can follow her adventures on Instagram and Pinterest.
Found this itinerary helpful! Save it to Pinterest to quickly read again later!