This post contains affiliate links.
One Day in a City Itinerary: The Wine Towns of Tuscany
Tips on What Towns and Wines to Try If Short on Time in Tuscany, Italy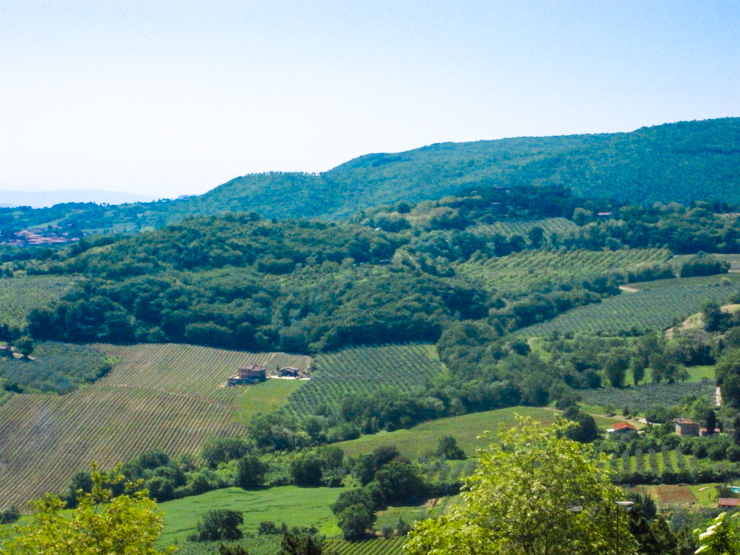 For the wine aficionado, two Tuscany wine towns stand out: Montepulciano and Montalcino. When it comes to wine in Italy, there seems to be no shortage of the diverse and intoxicating (literally and metaphorically) substance in any Italian towns, but the walled towns of Montepulciano and Montalcino in Tuscany hold a special allure for wine lovers. I explain why in more detail below.
If wine tasting in Tuscany and spending the day in these two towns, I recommend starting your day in Montepulciano. It's a more meandering town with fewer options for tasting, making it better for the morning before heading to Montalcino in the afternoon.
Getting to the Tuscany Wine Towns
Montepulciano is located in the south-east region of Tuscany, about 26 miles south of Siena and 70 miles south of Florence. Renting a car is the easiest way to get to Montepulciano from the big hubs of Tuscany and driving through the sunlit hills of Tuscany with the windows down and the scent of the air filling the car is about as intoxicating as the wine. Montalcino is about 45 minutes west of Montepulciano (and is a gorgeous drive).
Exploring Montepulciano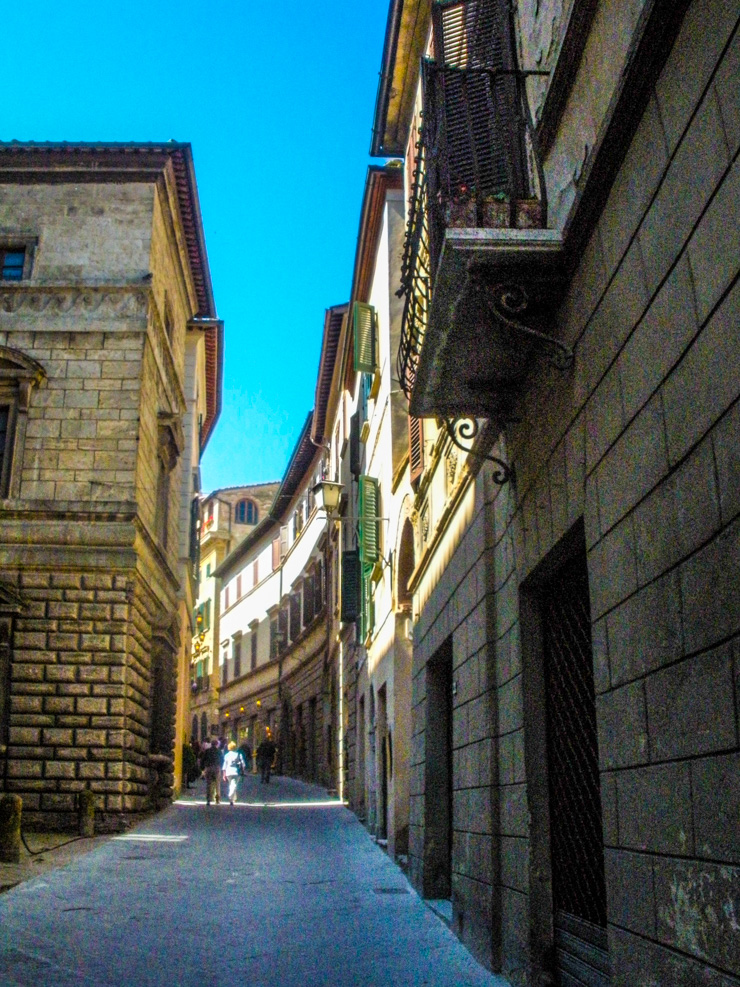 Montepulciano is as charming as its name is fun to say. Mont-eh-pull-chee-ah-no. The town's streets curve lazily amidst walls that despite being originally built to ward off attacks, give the town a cozy and peaceful atmosphere, with light and shadows dancing off the buildings framing the narrow streets. Montepulciano is a small town so wander aimlessly and see where you end up. It will be easy to find your way back.
Wine Tasting in Montepulciano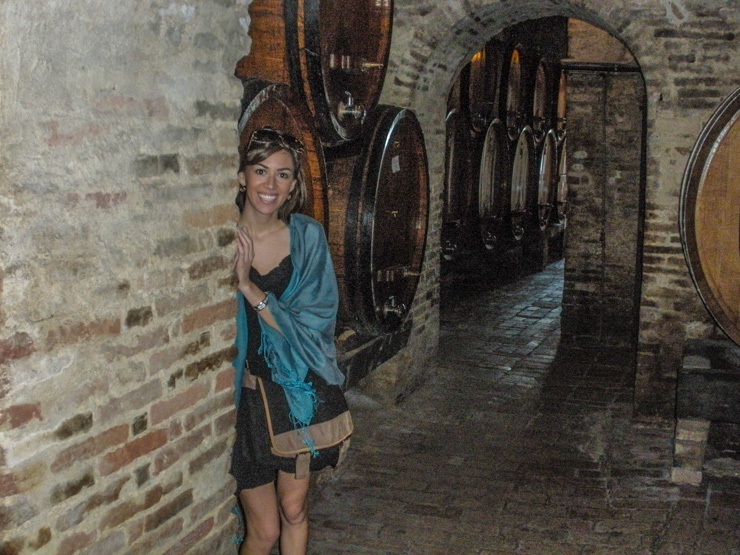 Montepulciano is known for the Vino Nobile di Montepulciano wine, made from a large percentage of Sangiovese grapes and a lower percentage of Canaiolo Nero grapes. It has a well-rounded, tannin heavy taste and is one of Italy's oldest types of wine. A more affordable version of this wine is the lighter and fruitier Rosso di Montepulciano.
Many tasting rooms are available in the city walls, my favorite being Cantine Contucci, which has an authentic feel.  The tastings are offered on a walk-in basis and are free, but be prepared that there will be an expectation for you to buy! Afterward, taking a walk around the dusky wine barrels in the cellar of Cantine Contucci is intriguing and is a reminder of the patience and romanticism of wine making. Cantine Contucci is located adjacent to the Contucci Palace in Montepulciano's central square.
Experiencing Montalcino and its Brunello Wine
Oh, the wonders of a bottle of Brunello di Montalcino. I fell in love with the art of wine making upon my first sip of this wonderful, dynamic liquid, which was in the U.S. After that, I was determined to actually drink the wine in Montalcino.
Before I delve more into the wonders of Brunello, here's some background on Montalcino. In the 1500s Montalcino was in limbo as it went from being under Florence's rule to being conquered by Siena. That same century also saw the introduction of the first Brunello di Montalcino (though it wasn't until after World War II that the popularity of the wine really took off). The town still displays signs of its tumultuous and battle-strewn past thanks to the walls surrounding the city and the medieval fortress located just outside the main entrance to the city, though today it is idyllic to walk through and the signs of the Brunello di Montalcino wine can be seen just about everywhere.
The Famous Brunello di Montalcino
Ah yes, the bold, red Brunello di Montalcino wine. This high-tannin and acidic wine with fruit notes is an homage to the area as it is only made from Sangiovese grapes grown in Montalcino.
There is no shortage of places to try and buy the wine, however the Enoteca la Fortezza is a fun atmosphere for wine tasting. It is located inside the walls of the fortress with plenty of outdoor seating. You can do a flight of Brunello or a mixture of varietals. (pssst…go for the Brunello). The Brunello flight will come with different vineyards and years. The 2004 is a famous year and it's interesting to taste the difference between it and the 2005.
You'll probably want to buy a few bottles to bring home, but…sigh…it is unfortunately not cheap. Multiply Two Buck Chuck by about 25 bottles for your one (lower end) bottle of Brunello di Montalcino. (And if you don't know what Two Buck Chuck is, read this.) Expect to at least double that for a good bottle of the '04. But it's worth it. If your budget still can't quite wrap around spending that much on a bottle of wine, you're in luck. Similar to Montepulciano, Montalcino's famous wine has a more affordable version – the Rosso di Montalcino, which has a shorter aging process and is a good value.
Eating in Montalcino
In addition to wine, Montalcino has some delicious eateries and fun shops to browse through. For an amazing pizzeria meal, visit Ristorante Il Grifo, just a short distance inside the walls. In addition to serving some of the best pizza I've had in Italy, Il Grifo's doesn't close down for siesta, meaning whether you choose to eat there before or after wine tasting, it will be open. It also has a local wine list for you to choose from to have alongside your pizza.
Where to Stay in Tuscany
To get a truly wine-infused experience, I recommend staying a night in or near Montepulciano or Montalcino instead of just driving in from one of Tuscany's larger cities. The area has many agriturismos to stay at, which are working farms that open their doors to visitors – a bit like a more agricultural B&B experience.
A list of agriturismos in the area can be found here. Also, be sure to note that many agriturismos have a minimum number of nights required for a stay.
Staying in the city center of Montepulciano and Montalcino can be expensive. A more alternative option is to stay just outside the city. Hotel I Due Cigni is a charming family-run hotel located just a few miles from Montepulciano. The hotel has renovated rooms which are affordable and comfortable. The best part of Hotel I Due Cigni are the two brothers who run the hotel with their parents and whom are dripping in Italian hospitality and humor, escalating what is a pleasant enough stay into a memorable experience.
Whether you're a wine expert or new to the world of wine, these two Tuscan wine towns will turn you into a devoted Vino di Nobile Montepulciano and Brunello di Montalcino connoisseur. And now I've got myself craving Italian pizza with a glass of Brunello di Montalcino – how about you?
Found this post helpful? Pin for later!
This post was originally published on November 21, 2011 and updated on January 9, 2017.