Hop on a Train and Explore Beyond Rome — GoEuro Makes it Easy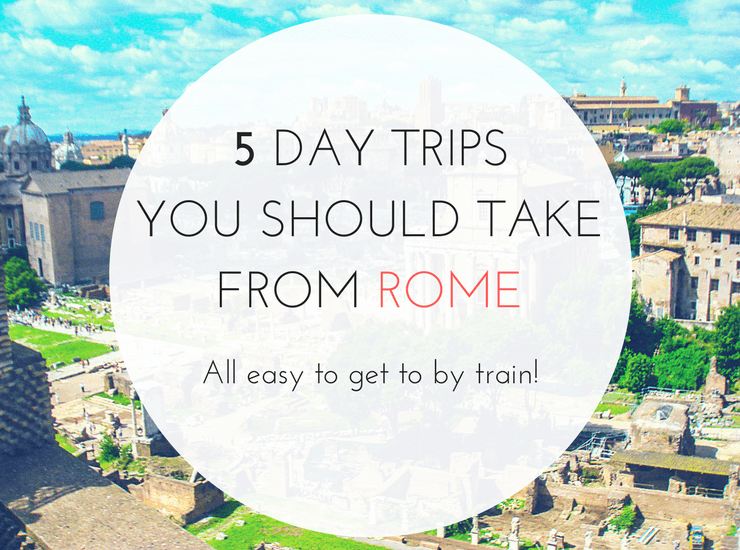 Rome is one of my favorite cities in the world and each time I visit I fall more in love with it. Though in the past I've been typically quite content just staying in the Rome city limits, I'm thinking next time I'm there, I need to take some day trips from Rome and explore more around this central area of Italy. Italy's train and bus system makes it super easy to do so. You can use Rome as a homebase and take day trips all around the Lazio region of Italy where Rome is located and beyond.
So when GoEuro asked me to put together some itineraries of day trips in Italy to take via train from Rome, I was excited to start planning and figure out where I would most want to explore! Their website makes it super easy. I've talked before of what a big fan I am of using GoEuro to save time in figuring out the best mode of transportation around Europe and same goes for using it to find new destinations. Here are the top five day trips I would most want to do from Rome and which I think you'll find interesting, too!
Day Trip From Rome #1: Orvieto
On my next trip to Italy, I think it's finally time I visit Umbria, Tuscany's lesser known neighbor. Like Tuscany, Umbria has the rolling hills, vineyards, and historic hilltop towns, but without as many crowds. Orvieto is one of those hilltop towns and it's less than a 90-minute train ride from Rome. If I had a day there, I'd of course explore the medieval and gothic sites located up the hill in Orvieto's Old Town, but I would also prioritize the wine as Orvieto is famous for vintages of the same name that utilize Trebbiano and Grechetto grapes. I love Italian wines and it would be fun to compare the wines of Orvieto to the ones that I tried in the Tuscan towns of Montalcino and Montepulciano.
Train Stations: Roma Termini to Orvieto
Train Journey Length: 1 hour 15 minutes
Cost: From €7.80
Day Trip From Rome #2: Anzio
Did you know you can escape the city and visit the coast while in Rome? Rome looks like it's too far inland on a map to also make your trip into a beach vacation, but turquoise water and sandy beaches aren't actually that far from Rome. The city of Rome is, after all, a cruise port destination (the ships docks in Civitavecchia). The central-western coast of Italy has numerous beaches, but Anzio intrigues me the most to visit. It has gorgeous beaches to relax on and is also full of history. It's where the allied forces landed in Italy in 1944 before liberating Rome from German occupation. Anzio also has the remains of an ancient beach villa you can visit that was built by Emperor Nero thousands of years ago. Beaches, history…sounds great – but there's more; Anzio is also a fishing port and the restaurants lining the beach serve up fresh seafood. Yum!
Train Stations: Roma Termini to Anzio Colonia
Train Journey Length: 55 minutes
Cost: From €3.60
Day Trip From Rome #3: Tivoli
Not to be confused with the famous Tivoli Gardens in Copenhagen, this town located east of Rome is beautiful in its own right and is also home to some gorgeous gardens and fountains at the Villa d'Este. In addition to the gardens, you can also tour the villa while there. Another top site to see in Tivoli is Hadrian's Villa, which are the impressive ruins remaining from when the Roman Emperor Hadrian built it between 118 and 138 AD.
Train Stations: Roma Termini to Tivoli
Train Journey Length: 50 minutes
Cost: From €2.60
Day Trip From Rome #4: Florence
I didn't think it was possible to do a day trip from Rome to Florence, but turns out…it is! This is thanks to Italy's high-speed train provider Italo Treno. The Statue of David, the Duomo, and other Renaissance sights of Florence are less than an hour and a half away from Rome on Italo Treno.
Train Stations: Roma Termini to Firenze Santa Maria Novella
Train Journey Length: 1 hour 32 minutes
Cost: From €42 on Italo Treno
Day Trip From Rome #5: Naples
Naples is another place you can get to fast thanks to Italo Treno's high speed trains. You can travel to Naples (which is also a short train ride away from Pompeii or ferry ride away from the island of Capri) in less than two hours from Rome and soon be exploring the seaside city and eating its famous pizza.
Train Stations: Roma Termini to Napoli Centrale
Train Journey Length: 1 hour 10 minutes
Cost: From €38 on Italo Treno
Hmmm, I think it's definitely time to start planning another trip to Italy! What do you think? 🙂
Also, one more thing — I've included train details for the above journeys because that's generally my preferred mode of transportation in Europe, but buses can be a great (and sometimes cheaper) option, too, and you can easily compare train and bus times and costs using GoEuro for each of the day trips listed above.
Where would you most want to travel on a day trip from Rome? Let me know in the comments below!
Enjoyed this post? Pin to read again later!  
This post was created in partnership with GoEuro, but — as always — all opinions are completely my own.