One Day in Berlin, I Ate Here…
Attempting to Devour 7 Surprise Courses at Sage Restaurant
When looking for a chic, chill place to eat in Berlin, Germany, you don't need to look any farther than Sage Restaurant. Located in a warehouse-style building, Sage opened five years ago and has been providing gourmet cuisine and a "beach" front ambiance ever since as it's located next to the river and has a riverfront bar. It's a great place to choose for dinner whether your have one day in Berlin or longer.
Sage Restaurant's Trendy Indoor Dining Area
Inside, it was surprising how many different facets the dining room had considering it was just one long rectangular room. Large open windows lined one side of the restaurant while a changing theme of white, rustic, and leather opulence permeated the other wall and inside of the room.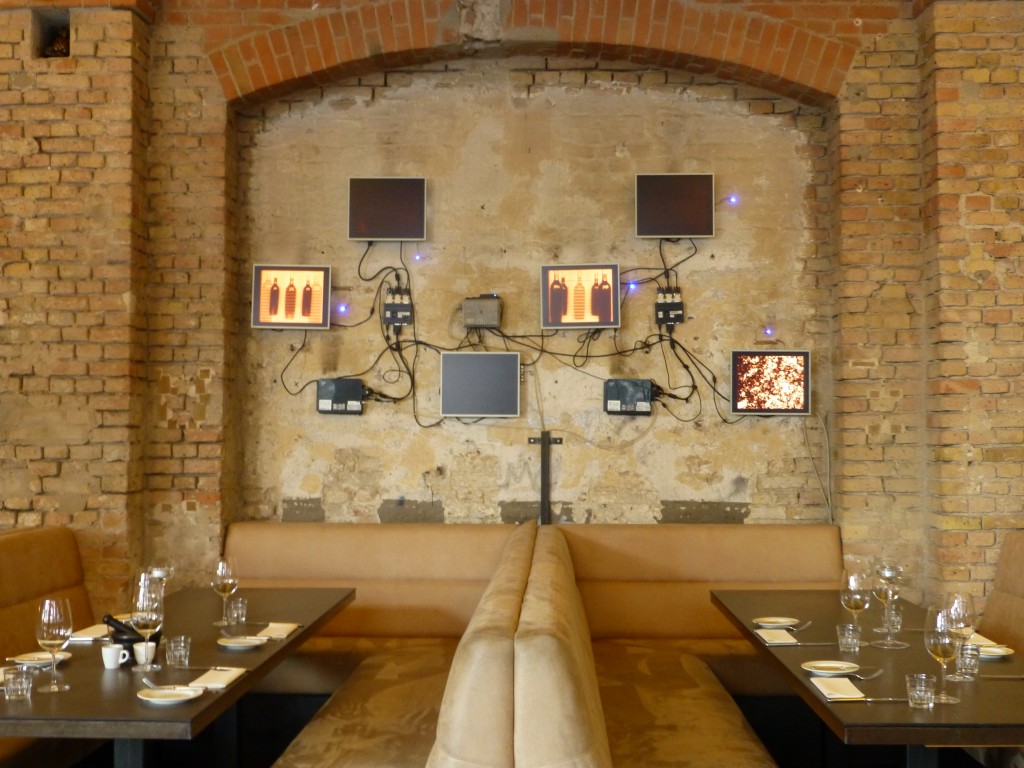 We had an early dining time so the restaurant was still mostly empty and as aesthetically cool as it was inside, I was glad we were eating outdoors as it was a gorgeous Berlin evening. Judging from the chalkboard reservation place cards on most of the tables outside, others must have had the same sentiment.
The Start to a Fabulous Dinner
Dinner began with bread served with a sour cream style sauce and a sauce made with onion, curry, and chives. Despite being very tasty, it was sidelined by the delightful drink of the day Mom and I both ordered. It was called a Maiquiri made from gin and aperol and mango puree and a couple other ingredients I couldn't translate from German into English, but it didn't matter: It was delicious and refreshing and served with one perfect cocktail ice cube.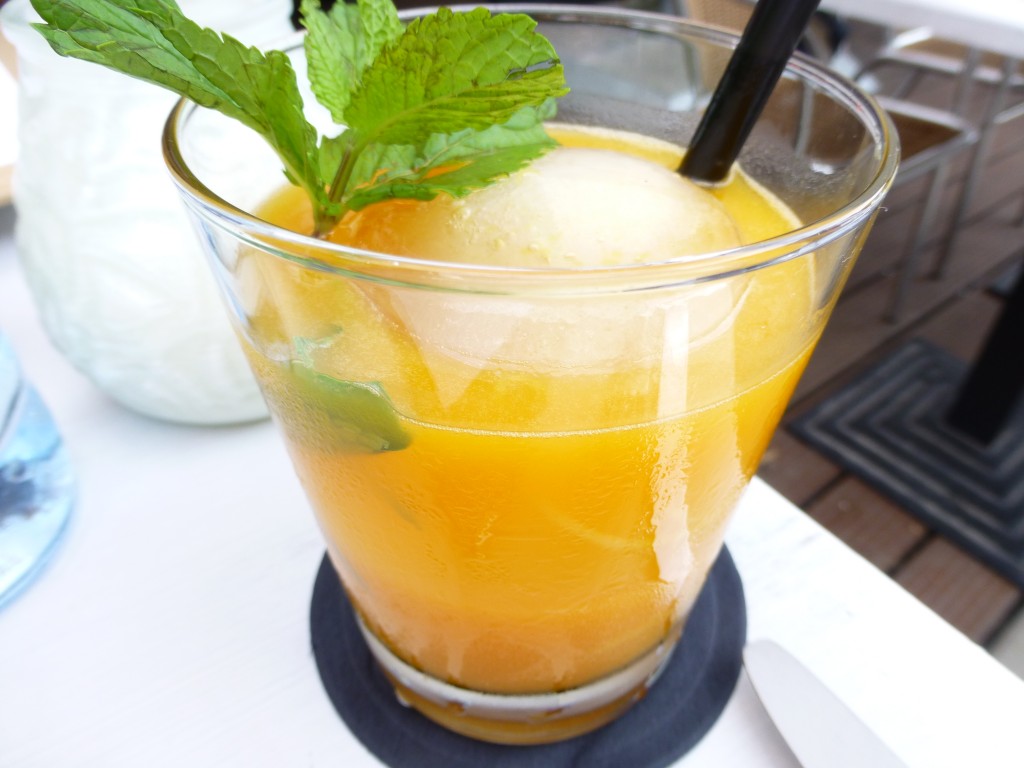 If the quality of the cocktail was any indication, then the Sage Restaurant food was going to be great; I was excited to see what type of yummy flavors the cuisine would bring.
7 Food Surprises
I had opted for the 7-course surprise chef menu and the first surprise course that was brought out was a quail appetizer in a sauce that had a soy hint to it and was served on a bed of lentil with a side of apple sorbet. I'd had quail before and was never a huge fan of it compared to other meat dishes, but this one was expertly prepared – not too dry and the apple sorbet combined with the soy-based sauce gave it a diverse, revitalizing flavor. Plus, sorbet with an appetizer? Now how could I ever not love that.
Taking Advantage of Sage's Stellar Wine List
I'd also opted for the wine pairings so each course was paired with a wine to bring out the flavors of the dish. Each wine — ranging from a 2011 Weinreich Bechtheimer Schwarzriesling to a 2011 Jurancon from the wine label, Uroulat — was just the right fit for what I was eating. My favorite wine and food pairing was the Gruner Veltliner from Malat Winery, a dry white wine grown in Austria, served with the quail. The sweet and sour of the soy and apple complemented quail paired great with the dry white wine that had hints of pepper and citrus to it.
More Courses: Soup and Fish
Next up was a creamy potato soup. It had no chunks whatsoever in it and was instead very thick – a bit like succulent, potato-based gravy. I quite enjoyed it despite the hot evening.
The soup was followed by two fish courses: a ravioli with octopus and a grilled fish breem dish served with smoked tomatoes. The latter was my favorite of the two and had a slight lemon taste which was paired well with the Scheurebe (a German-grown grape) wine paired with it.
Up next was venison with polenta. When done right, I'm a big fan of polenta and this one had just the right consistency and a slightly sweet flavor that went well with the tender venison.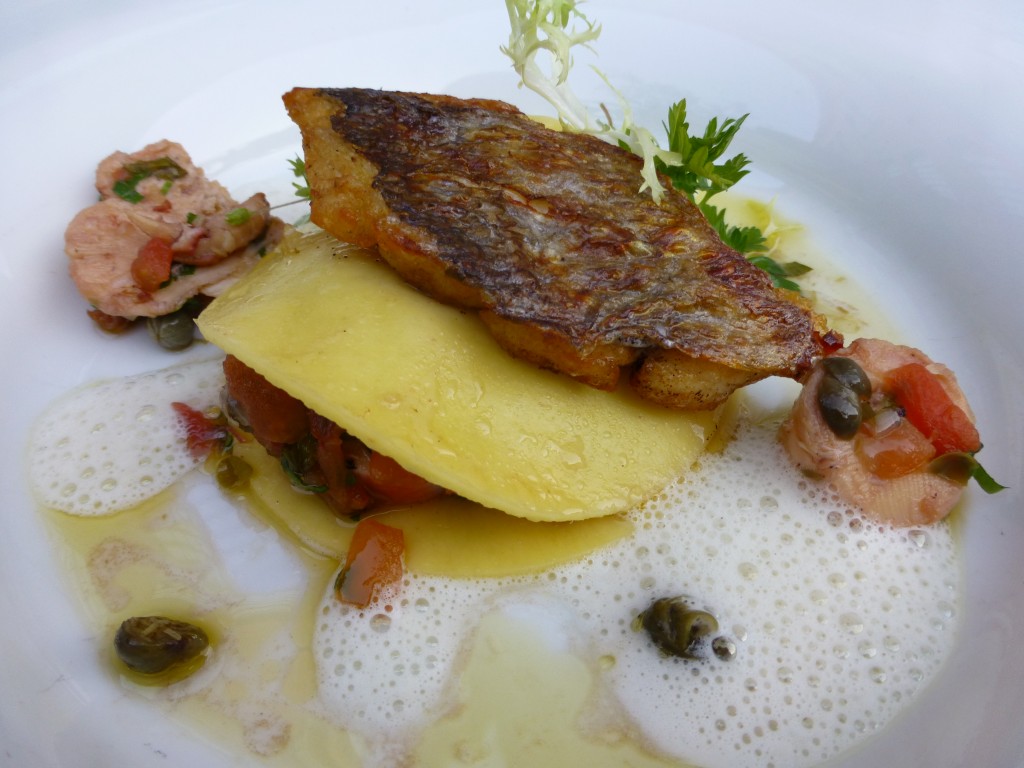 Food Overload at Sage Restaurant, But Must Eat It…for the Animals
This was the point in the meal when I started to think I had one too many courses coming. I left a few bites on my plate of the venison.
The maître d' swooped in to clear our plates. He looked at mine slightly dismayed.
"You didn't finish," he chided.
"I really enjoyed it! And I ate most of it," I reasoned. "I'm just trying to save room for the next couple of courses."
"But that animal gave its life for you!" he exclaimed.
My mom started laughing, apparently finding the whole exchange very amusing since usually I'm the one telling her she needs to finish her plate when we're out to eat. I couldn't tell whether Mr. Maitre d' was joking or not, but I figured I'd better finish my plate. I took a deep breath, said a silent plea to my stomach to find some more room, and finished off the succulent pieces of meat.
I managed to also finish off the steak dish that came next.
My mom, who was smart and just got two courses, also easily finished her steak entree.
We then split the sweet ending to my 7-course meal, a crème brulee with petit manzang, a white grape usually used for wine, but in this case was wisely used to accent the crème brulee. It was luckily a light dessert because I was extremely full by this point.
Despite the five pounds I probably put on from the meal, it was well worth it and I was glad that I did the multi-course meal as it gave me a good feel for the menu, which in addition to its meat and fish dishes, extends into pasta and pizza. Each course I had was creative cuisine that was prepared with flair and high quality ingredients.
The Beach in Berlin: Riverfront Ambiance Next to Sage
I mentioned before the "beach" front ambiance of Sage Restaurant. The beach part comes from the Beach Club bar, which is under the same ownership of Sage and is located directly on the sand right beside the river and is next to the dining room and patio of Sage. Since we dined on the patio, music from Beach Club drifted over to us throughout the night, and from the patio tables there was a pleasant view both of the trendy brick building, the old car over the entrance to the parking lot of the restaurant, and the river view beyond the lounge chairs and outdoor covered bar at Beach Club.
Once we were done with our dinner we ambled over for a closer peek at this laid-back club. We debated getting a drink, but decided we were too full from our fabulous dinner so ambled back over to the car-capped entrance to hail a taxi and put an end to our satisfying and sumptuous evening at Sage Restaurant.
Sage Restaurant Berlin Quick Tips
Address: Köpenicker Straße 18-20
Phone: +49 30 755494071
Cost: $$$
Website: www.sage-restaurant.de
Dress: Upscale Casual
Other Info: Reservations Recommended
Note: I received complimentary dining at Sage, but as always, this review is my unbiased opinion on the establishment.