Tom, my fiancé, bought a scooter a couple weeks ago. Since between school (which is too far to ride the scooter to), work (which is too far to ride the scooter to), and wedding planning (yes, I require his help) he obviously has time to ride it.
I call it his pre-wedding bachelorhood crisis. I'm not a fan of two-wheel motorized vehicles so my theory is that he bought it before we start sharing everything. Like finances. He also may have still been holding a grudge because I ixnayed us renting a scooter in Santorini – that thing looked like it would tip over the edge of the caldera at any second.
Instead, at my pleading, we rented a 4-wheeler while in Santorini. Now, a 4-wheeler I've ridden before – albeit on wide farmland gravel roads where maybe my cousins and I would pass another car, but a cow was much more likely.
So 4-wheeling in Santorini? I was sure I could handle it. I must have momentarily forgotten about my fear of falling off a cliff to my death (I was allowed to watch Cliffhanger with Sylvester Stallone when I was way too young).
We started off the ride in bustling Fira and I was fine, despite the multitude of automobiles jerking their way around pedestrians – and us – through the town. Then we got out of town and the ride went something like this.
Tom: Wheeee! Woo-hoo!
Me: Oh. My. God. This cliff is straight down.
Tom: Isn't this great? (Sound of 4-wheeler accelerating underneath me.)
Me: Tom! Slow Down!
Tom: (gleeful, maniacal laughter)
Me: We're going to die.
Only then did I remember how much I disliked riding on the back of 4-wheelers while my cousins drove when I was younger. I have no control.
Eventually, I figured out that if I had one hand on the back bar and one arm looped around Tom's waist, I could stop panicking about falling off the bike. (Falling off the cliff was another story – it still presented a very real danger to me, which I tried to ignore.) I lifted my head from where it was buried in Tom's back in fear and looked around.
And I began to become happy that Tom was the one driving. While he was concentrating on the road – at least I hoped he was – I was able to look around the gorgeous island we were driving through.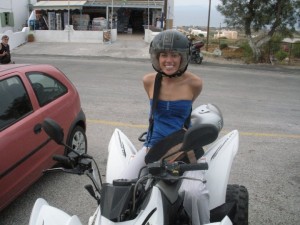 I'd driven around Santorini once before on a previous trip, but that had been inside a rental car which had its own driving dilemmas (finicky clutch, smell of burning rubber, that sort of thing). This time around was different, though. I was driving through Santorini with the salty breeze darting off my face, the smell of the ocean alongside the long ago lava-infused soil and rocks filling my noise. Best of all, I could look around in every direction to see the vineyards spreading below us on one road; the volcano jutting from the middle of the caldera from another road; Oia's white and vertically-challenged architecture coming into view as we arrived into the town – all without any blocking of window pane glare or being on the wrong side of the car.
I loved it. Tom was proving to be an adept driver so I began relaxing about him driving off a cliff and even convinced him to let me drive, during which I think he began to have fears of us driving off a cliff, despite me reminding him that I had driven one of these things before and was probably better at it than him. As I was driving slower than he did, which he apparently considered to be a terrible crime, he didn't take my word for that.
Since I love him though and he was as excited to be driving this 4-wheeler as a 15-year-old getting his driver's permit, I let him do most of the driving. Luckily, no one fell off a cliff.
And now we are owners of a scooter. We'll see how that driving goes.