Tips for Staying at Suncadia Resort in the Cascade Mountains and Things to Do While There
It didn't take long of living in Washington before I heard of Suncadia Resort in Cle Elum. It stuck in my brain since it seemed such a random name for a resort in the rainy Pacific Northwest. Suncadia is located about two hours east of Seattle in the Cascade Mountains so it does get a bit more sunny weather – but people go there because of these views.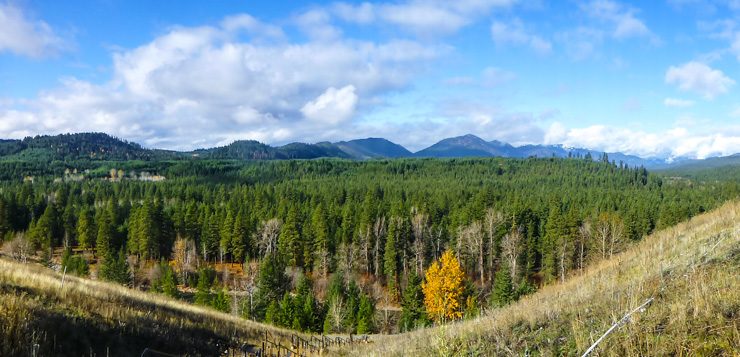 I mean seriously. WOW.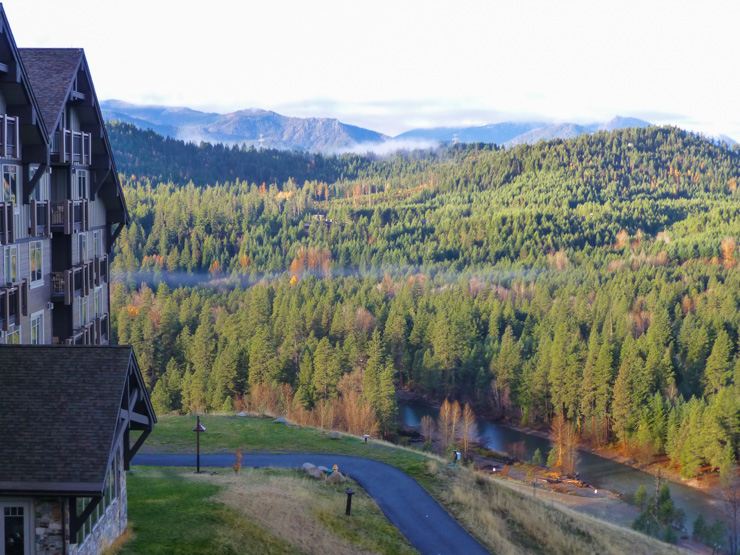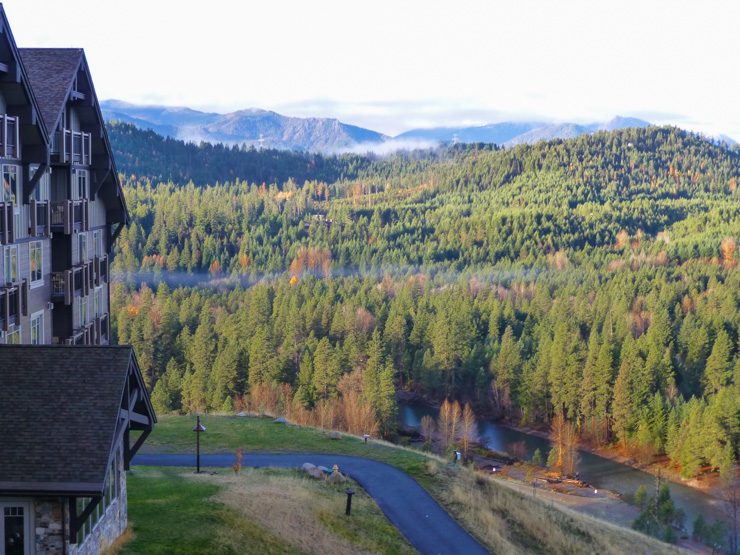 We went to Suncadia Resort as a one-night belated birthday present for my husband. I knew I wanted to do a little weekend family getaway, but only wanted to stay overnight somewhere on Saturday night so needed to find somewhere close to make the getaway spot worth our time to get to it.
Suncadia seemed the perfect place for what I had in mind: a leisurely evening with room service and a pool, and gorgeous hikes the next day. I ended up getting him fly fishing lessons in Ellensburg (about another 30 minutes past Cle Elum) earlier in the day on that Saturday and so we ended up arriving in Suncadia at dusk a bit later than planned. By the time we got to our room it was hard to see the views from the balcony, but we could make out the faint outline of the mountain range and could see bonfire smoke curling up below, and knew we were in a special place.
What to Know About Suncadia Resort's Accommodations
We got ourselves quickly settled in the room, which was easy to do since it felt like our own cozy little luxury cabin. I had splurged a bit to get a one-bedroom so we could still enjoy the fireplace and a glass of wine after Lulu went to bed without worrying about being too noisy and waking her. Our room had its own kitchen as well as a washer and dryer.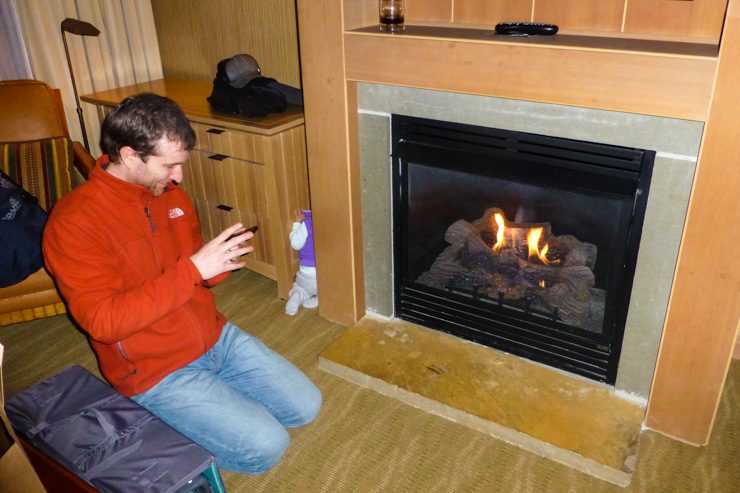 The main lodge at Suncadia has rooms ranging from standard 2-bed queen guestrooms to 3-bedroom penthouses. However, it's important to know before booking that the lodge isn't the only place you can stay at Suncadia. There is also an inn and vacation houses and condos available for rent. While they'll all afford you access to the resort's amenities and scenery, they're definitely a different experience so make sure you know where and what you're reserving before booking.
Suncadia's Different Accommodation Types
The Lodge at Suncadia: This is where we stayed and is right in the heart of the resort and houses the restaurant, lounge, gift shop, and front-seat access to that view above.
The Inn at Suncadia: I haven't stayed here, but we drove by it and I read up on it a lot and it sounds like the Inn at Suncadia feels a bit more like…well, an inn, but is still done up in rustic decor and touches. It overlooks the golf course and has guest rooms in a layout reminiscent of your typical hotel room and suites. It's probably not going to feel as luxe or cabin-like as the Lodge, but the Inn is definitely a great option for those looking to visit Suncadia on a budget or are planning on being outside most of the time, anyway.
Vacation Rentals: Suncadia also has condos and homes available for purchase on its vast premises, and then the owners can let Suncadia Resort rent them out to visitors. You won't be right next to all the resort amenities depending which one you rent, but they look pretty awesome, particularly the houses.
Ready to find your room now? Check them out and see more pictures here. 
What to Know About Suncadia's Pool…and S'Mores!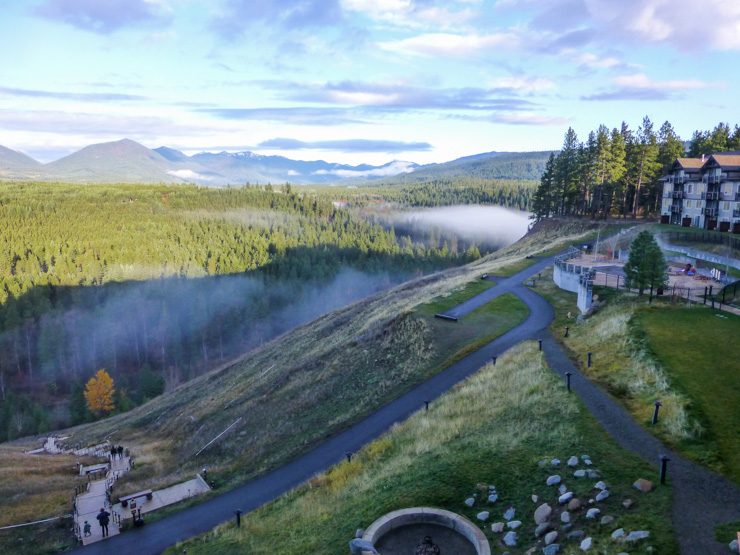 After we settled into our room we went straight to the pool. The resort has a shuttle from the lodge to the pool house, but we didn't think it was too cold to walk so we made our way down the hanging bulb-lit trail on the five minute walk to the massive pool.
To get to the pool, we had to first check-in to get our towels and a locker key. The check-in desk was next to a little gift shop and also had a coffee carafe that I was thrilled to grab a hot cup of before our walk back.
The pool is huge and since we went around dinner time we practically had the whole place to ourselves. Lulu had a blast splashing around with us. There's an outdoor hot tub that we definitely would have taken advantage of if we hadn't had a baby with us, and also a pretty fun looking waterslide that I'm sure big kids must love. My only complaint about the pool was that it was a bit cold. All three of us got chilly pretty fast in the water.
I didn't take pictures of the pool, but you can see some images of it on Booking.com. (See? it's huge!)
After getting back to the lodge, we walked past the large bonfire we had seen from our balcony and I noticed people were roasting marshmallows. Just a tiny bit further up the walking path was a large table for guests filled with graham crackers, chocolate bars, marshmallows, and even roasting sticks for the marshmallows so you didn't have to forage for sticks. We were ready to get changed and figure out dinner, but we had to take a quick side break to roast some marshmallows and eat some s'mores. They were delicious and it was Lulu's first bonfire so she was quite mesmerized by the flames.
What to Know About Suncadia Resort's Dining
Suncadia has an onsite restaurant called Portals that we learned fills up very fast on weekend nights. This is because it is one of the only places to eat right onsite and also because the people who own in Suncadia often eat there on the weekends.
The earliest reservation Portals had the night we were there was 9 p.m. which in no way would work with Lulu's bedtime, but the helpful hostess (who seemed very concerned we seemed to be the only people who hadn't gotten the memo you need to make reservations before arriving to the hotel for dinner) quickly pointed out we could put in an order for take-out and eat in our room.
My ears perked up. By this point we were all getting a bit tired and the thought of dining in a restaurant with a baby was fast losing its appeal. Plus, we had that lovely, relaxing room we were paying for that we really should take advantage of actually being in. So we thanked the hostess, went back upstairs to our room, decided what to order, and then Tom ran down to get it 45 minutes later while I was putting Lulu to sleep in the Pack 'n Play.
We set up the food on the table and delighted in the fact that Lulu easily went down for bedtime (must be that mountain air) and that there was a crackling fire next to us, and that the food and wine were so delicious…and actually felt like we were on a date! For new parents, this is a big feat.
The Next Morning: OMG Views from Suncadia Resort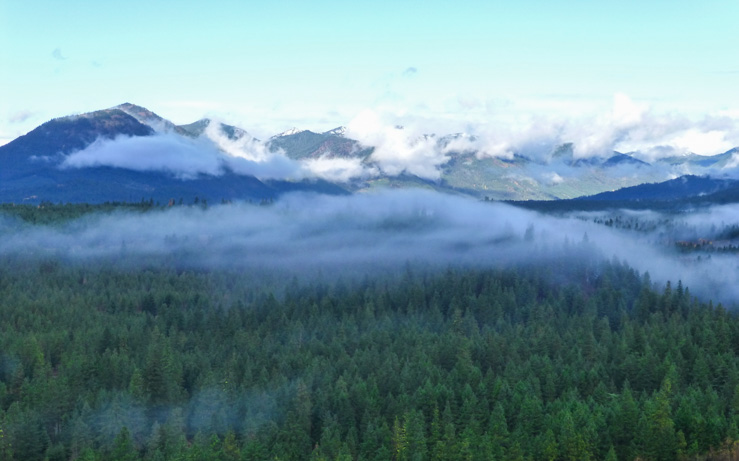 Since we'd gotten in right after the sun went down, we weren't able to fully comprehend the mountain decadence spreading out from the lodge and which our balcony boasted a prime view of.
As I stumbled out of the bedroom and into the kitchen to make coffee, I lifted my eyes from the kitchen counter and literally gasped.
The. View. Was. Magnificent.
I forgot about the coffee (only momentarily – gotta have coffee) and rushed toward the balcony.
An early morning fog hung lazily around the tops of the miles upon miles of green pine trees with the ridges of the Cascades jutting up behind them. I didn't expect to be so elevated above the scene and it was a breathtakingly beautiful surprise.
Just below our balcony was the start of a staircase that would lead us from the lodge down into the trees to explore. I couldn't wait. Luckily, coffee was fast to make since there was a Keurig in our room.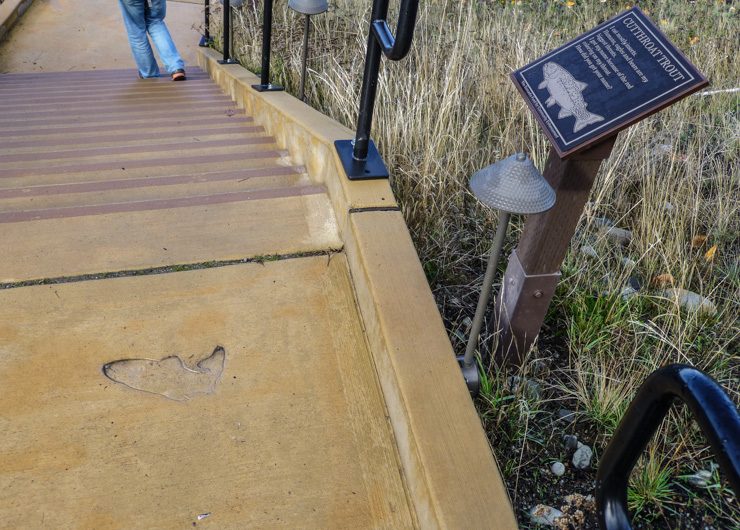 Those stairs ended up being quite fun to walk down (not so fun to walk back up – there's a lot of them) because each platform between the sets of stairs had an animal imprinted in the staircase that reside within the surrounding forest and information about that animal.
Hiking in Suncadia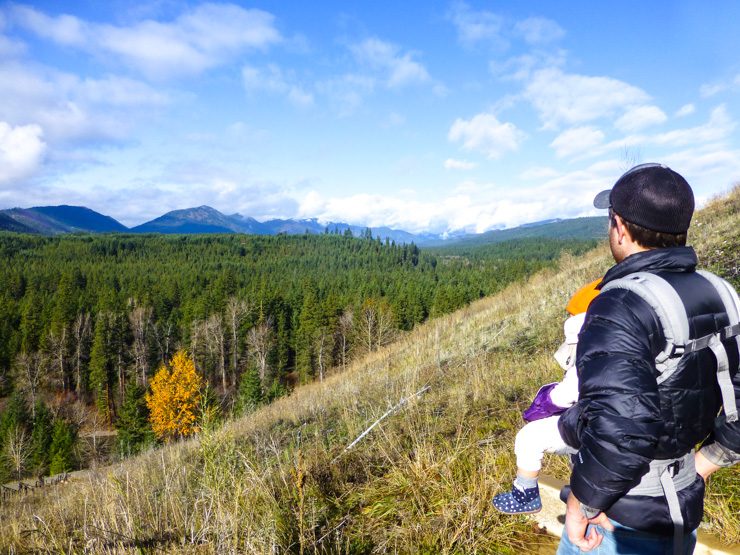 Suncadia has over 40 miles of hiking trails and we decided to go on the one that was easily accessible straight from the Lodge down those stairs. At the bottom the trail curved toward Cle Elum River and across a bridge.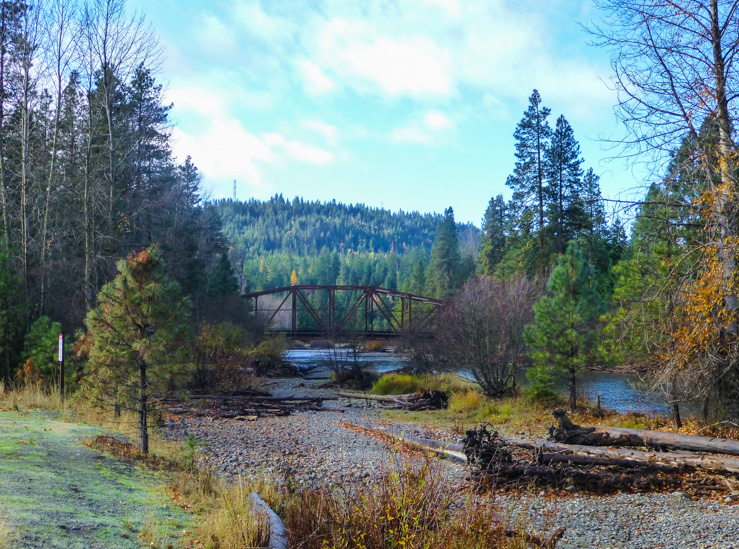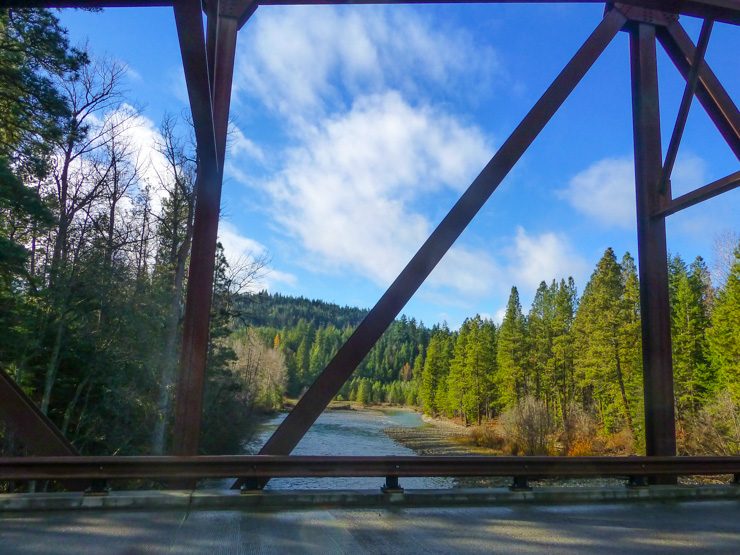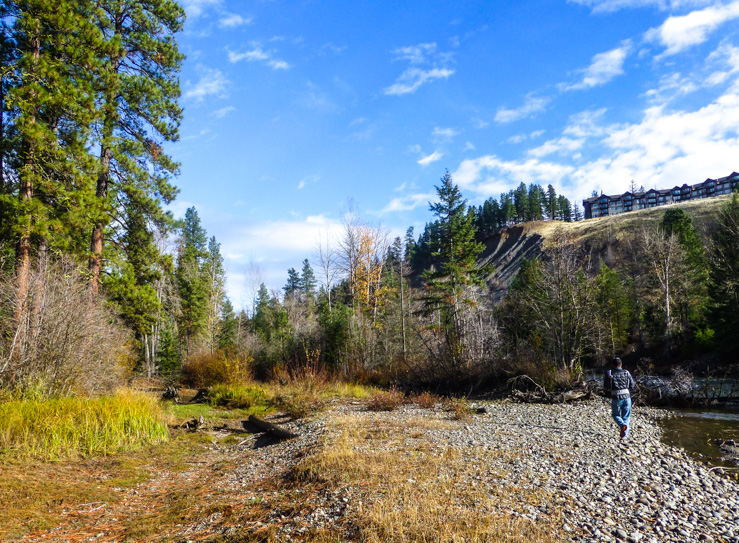 There was hardly anyone else on the trail and we had such a lovely time just wandering around enjoying nature. This was back when Lulu was content to be in the carrier for most of the time, but there were parts of the trail where she could toddle around safely and happily, too.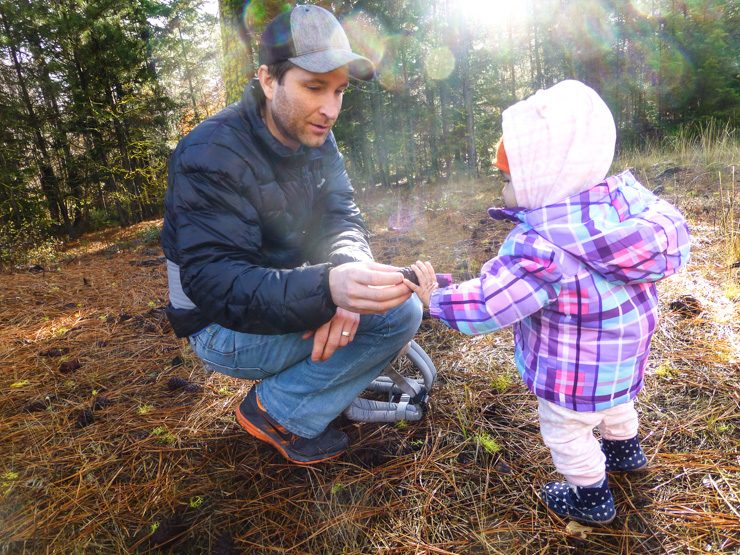 And just as the name of the resort alludes to, the sun shone through the clouds and we even saw some blue sky. It was about as perfect as a leisurely morning hike can get.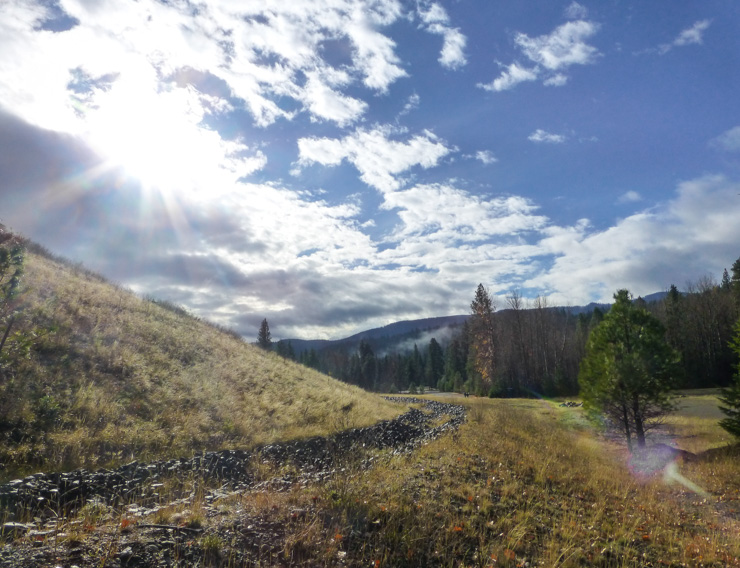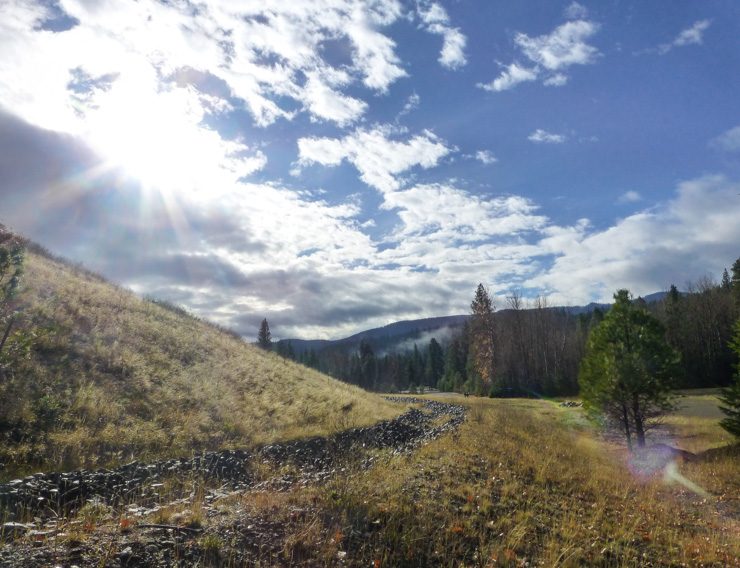 One Last Stop: Swiftwater Cellars Winery
After checking out we weren't quite ready to head back to the city yet so we stopped at the winery located just down the road from the Lodge called Swiftwater Cellars. Tom ran in first to make sure it was kid-friendly, and it was (like everything seemed to be at Suncadia), so we ended our little Suncadia getaway with a flight of reds and more mountain views.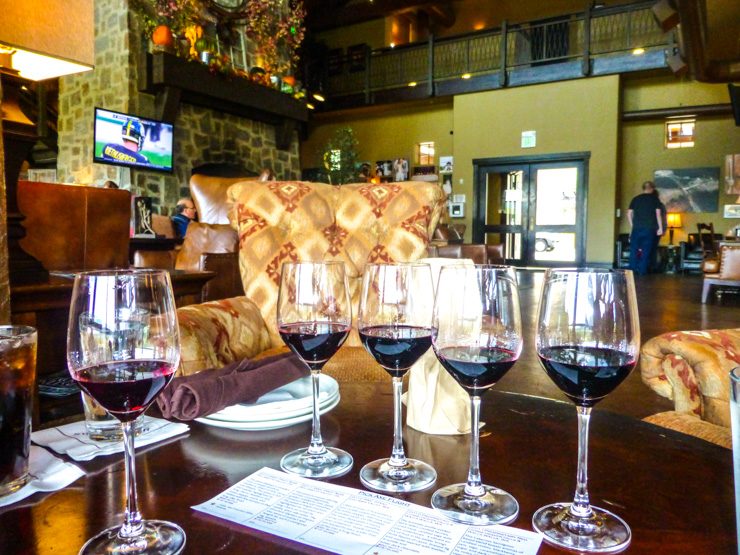 We left Suncadia Resort saying we would go back every year. We still haven't figured out when that might work out this year, but I am sure Lulu will especially love a night there now that she's older. If you already know you want to visit Suncadia and are ready to book, you can use my preferred booking method and click here to book your room with Booking.com. (This is my affiliate link for Booking.com, which costs nothing extra for you, but helps me cover the costs of running this site if you book through it — thanks for supporting One Day in a City!)
Suncadia Resort Quick Tips
About: Resort getaway located 85 miles from Seattle that has golf, swimming, a spa, dining, hiking, biking, and more.
Address: 3600 Suncadia Trail Cle Elum, WA
Phone: 509-649-6400
Website: www.suncadiaresort.com
Note: This post contains affiliate links.
Enjoyed this post? Pin it to read again later!