Happy Halloween! In honor of this spooky day, I am going to tell you about one of my favorite bars in all of the land. It's a place of laughs, raucousness, great conversation, cheap drinks, and…an ancient mystery of death and destruction.
The bar is actually an English pub: Ye Olde Cross in Alnwick, England. Or, as it's called by the locals – the Dirty Bottles.
Cue Scary Music…
Visit Dirty Bottles and before you step through the door into the jukebox-music front room where a small bar greets you (that extends through doors into the back room – you'll only find locals there) you'll see a large picture window next to the doors. Inside the window is a display of bottles…dirty bottles…bottles that are dusty and and dirty and haven't been touched in over 150 years. According to local folklore, an old owner of the building tried to move them from the windows nearly two centuries ago and instantly dropped dead. No one has dared to touch them since.
What mystical, evil powers do the bottles hold? What menace could they cause if let loose on society? We may never know….
Cue Scary Music again…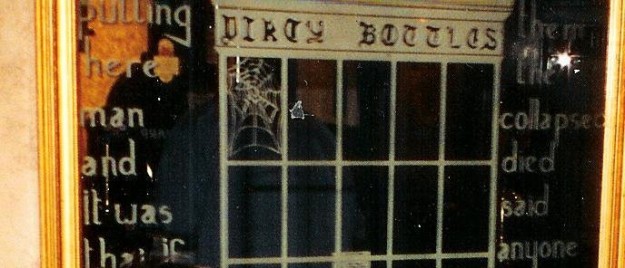 However, as long as you don't get so drunk you fall through the window onto the bottles, hanging out at Dirty Bottles has always been a great time whenever I've visited Alnwick. Despite many other pubs lining the streets of the town, it was the hangout place for my friends and me when I studied abroad in Alnwick in college and one of the places I most looked forward going to each time I've been back in Alnwick since.
Before visiting Alnwick and Dirty Bottles, practice saying it in your best Geordie accent, which goes like this: Dir-ee Baw-oles. Or something like that. (Unlike Brad Pitt in Snatch, I never managed to figure out how to talk with a Geordie accent while living in Northern England – or, for that matter, how to understand it.)
The bar recently switched hands after nearly 30 years under the last owner, who always did a great job of making people feel welcome, whether you were a local or a visitor. I hope the new owners keep my favorite bar fun and friendly with good drinks and good music.
And – for their sake and those of us who remember the bottles fondly – hopefully they don't mess with the dirty bottles. Or else maybe the Dirty Bottles will be getting yet another new owner…