Watson's Way: Affordable luxury and welcoming hospitality in the heart of New Zealand's Wine Country
Watson's Way is a backpacker lodge in Renwick – the heart of New Zealand's Marlborough wine region – that is located just a few kilometers away from some of Marlborough County's finest wineries. Watson's Way feels less backpacker-inspired and more like a cozy B&B, minus the breakfast part.
The owners, Pat Sutherland and Paul Watson, may not serve breakfast, but they offer a clean and large kitchen to cook your own, plus some of the warmest hospitality I've experienced while on the road.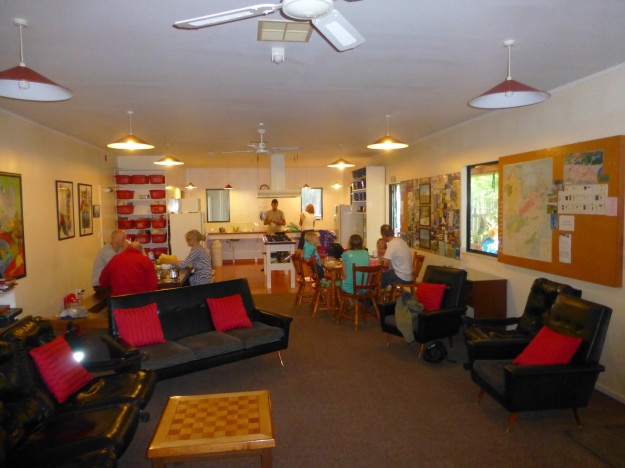 Pat greeted Tom and me when we arrived. She is a petite lady with friendly eyes, an easy smile, and a grandmotherly demeanor that made me immediately warm to her. She makes travelers feel safe and at home – you can't imagine anything going awry during your time in Renwick that Pat wouldn't be able to sweetly and wisely help fix.
Pat showed us to our room, the Toni room, and I was delighted to find warm orange walls and white and blue accents inside its doors. The room seemed perfect for a romantic getaway in wine country, and better yet, very affordable, too. We paid $86 per night for both of us. The room also included an ensuite bathroom, which had a warming bar for towels and a large shower with a glass door. The Toni room is in a great location in the hostel, right next to the laundry room and across from the door leading to the common area and the kitchen, plus it has a private corner location at the back of the main building. Watson's Way also offers rooms with shared bathrooms as well as a dorm room for travelers on a tighter budget.
We expressed interest in eating out in town at one of Renwick's top restaurants and Pat immediately offered to drive us so we didn't have to worry about drinking and driving, and then we'd just need to pay for a short taxi ride back.
We were surprised by this level of hospitality and greatly welcomed the offer. Watson's Way just kept getting better.
Later that night, Pat's husband, Paul, drove us to the Vintners Room, which was about a ten minute drive away and he was just as friendly as his wife.
"Thank you so much for the ride," Tom and I both enthused once we arrived.
"Of course, it will make for a more fun night for you two if you don't need to worry about driving," Paul said cheerfully.
It's that type of attitude that is permeated through all of Watson's Way and elevates the lodge from ordinary to spectacular. Pat and Paul offer many extra touches to make your stay more special and very comfortable and memorable. For example, Pat and Paul also rent out bicycles for touring the wineries and Pat made us little notes on a winery map with insider tips and then went over it with us in detail before we left, ensuring we had some local knowledge to our day in wine country.
The little extra touches don't stop there. Watson's Way is enshrouded in the green shrubbery and lilting tree branches that is common in New Zealand, but Pat and Paul offer a little tropical touch amidst the ruggedness of the outdoors in their bath oasis room, which you can use for just $5. Take a relaxing bath in a bamboo and tiki-inspired room and rejuvenate. The ceiling is even a clear tarp so you can bathe under the stars should you choose. A bit of spa at a backpacker's lodge? Not something you see very often when traveling.
The special touches continue. Upon checkout, chocolates are handed to you in exchange for your keys – a sweet start to a day of traveling.
As Tom and I prepared to depart Watson's Way, a bit sad to be leaving after just two nights, Paul came over and knocked on our car window. We rolled down the window.
He held up a lovely purplish-pink flower and handed it to me with a mischievous grin. "Don't tell him I gave this to you," he said in a teasing voice with a head nod toward Tom.
Tom and I both laughed as I took the pretty flower. "Thank you! " I exclaimed, and then in a lower voice. "And don't worry; it will be our little secret."
One thing that shouldn't be a secret? Watson's Way Backpackers Lodge. Stay there for a relaxing, welcoming, and comfortable stay in the heart of New Zealand's wine country.