The Best Tips for What to Pack for an Alaska Cruise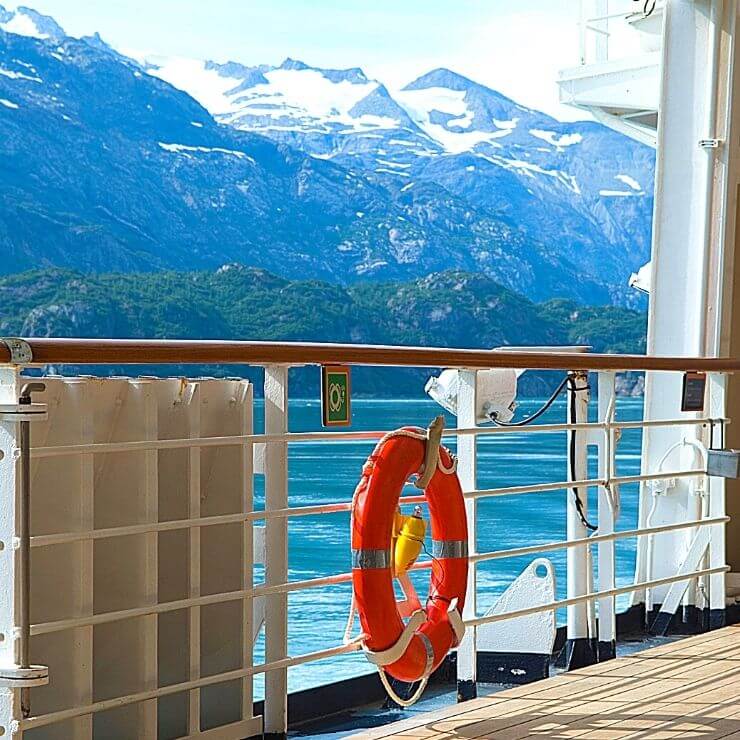 Figuring out what to pack for an Alaska cruise isn't as straight forward as for other cruises since Alaska's climate can dramatically change from morning to noon to night. 
In addition, the excursions you can do on an Alaska cruise are quite different from the sightseeing and beach-oriented ones you may be used to on European and Caribbean cruises.
You'll need attire for a variety of experiences and weather on your Alaska cruise, but don't feel overwhelmed about what to pack. Just follow these five tips for packing for an Alaska cruise and leave for your trip feeling prepared.
Alaska Cruise Packing Tip #1: Layer, Layers, Layers
The temperature is often pleasant during the Alaska cruise season, but it can still switch drastically from day to evening, or from in-port to cruising at sea. Therefore, packing layers is smart.
What kind of layers?
First, they should be ones you feel comfortable in, whether you're walking around town or cuddled up on your stateroom veranda sipping a coffee or hot chocolate.
You'll want to stick in some tank tops and t-shirts in case you're hitting up Alaska during some of its prime summer weather. If you're visiting in shoulder season or are doing a frosty shore excursion (more on that below) you may want to also put on a wool base layer that you can take off if you end up becoming too hot and stow in a daypack.
For walking around town or the ship, a mid-weight cardigan is also helpful to have so you can wrap it around you if you're feeling chilly or shrug it off and wrap it around your waist or stow it in a bag if you're feeling too warm.
A warm fleece is also wise to pack for an Alaska cruise.
A shawl or scarf is helpful to stick in your daypack or have handy as you're exploring the ship if you're not sure how much time you'll be spending outdoors and how cool it will get, particularly in the evening hours. 
---
Read More: The Best Cruise Destination for First-Time Cruisers
---
Alaska Cruise Packing Tip #2: Shore Excursions
When deciding what to pack for an Alaska cruise, it is smart to figure out beforehand what shore excursions you will be doing while in each port. Cruise lines typically make it easy for you to plan this since you can reserve shore excursions before you leave for your cruise.
The layers tip above will come in handy for shore excursions, but there are some other things to also keep in mind when packing for your Alaska cruise, especially if doing outdoorsy and adventurous activities.
In Alaska, shore excursions can vary drastically, from guided tours around port towns to glacier hikes. With such variance in activity types, it is smart to bring clothing that will make sense for different shore excursions.
If you're doing an outdoor adventure during your time in port, it's not the time to be fashionable.
Make sure you bring the proper clothing so you stay comfortable, dry, and warm, and can fully enjoy the remarkable shore excursion experience you're about to have in Alaska.
Water resistant hiking shoes, rain ponchos or jackets, windbreakers, and warm layers are all wise to bring with you. Since temperature can change throughout the day you may even want to bring those not-so-stylish, but quite functional convertible pants you swore you'd never wear! In Alaska, it's ok to look outdoorsy and ready to brave the elements.
Going dog-sledding? You may want to stick in snow pants and gloves.
Going fishing? Bring wool base layers to make it easier to move your arms.
Going kayaking? Bring a waterproof sack to put your things in.
Just walking around town? Bring your favorite walking shoes and a colorful cardigan or jacket that will pop in photographs.
If you're doing an excursion on water or snow (or ice), bring polarized sunglasses to protect yourself from the glare of the sunlight. Sticking in sunscreen is smart, too, even if it's not hot outside. The sun's rays can still burn you, especially if compounded by water and snow.
Alaska Cruise Packing Tip #3: Dining Attire
The ambiance in port might call for rugged attire while the chill in the air back on the deck of the ship may have you feeling like it's fall and in need of a cuddly sweater and sheepskin boots.
However, don't pack attire with just a cabin in the woods mentality in mind – because on your Alaska cruise vacation you are staying in a cabin at sea, meaning you're staying in a nicely and even luxuriously appointed accommodations. Your room will also be just steps away from some pretty impressive dining venues that you can have fun dressing up for if you're in the mood.
You'll probably be happy to hear that on most cruise lines nowadays you don't need to stress about bringing a cocktail dress, suit, or other formal attire for your Alaska cruise since the majority of the major cruise lines have switched from the antiquated formal nights to more business casual dress codes (or completely casual!).
Alaska Cruise Packing Tip #4: Ship Attire
Excursions will take up a lot of your time (and memories!) on your Alaska cruise, but don't forget about how you want to spend time on the ship when packing. During sea days you may want to lounge by the pool or go to the spa, so pack your swimsuit and a cover-up and then relax away.
And remember — it can sometimes be a long walk from your stateroom to the pool so make sure you bring a coverup you feel ok walking around in!
If you want to exercise at the on board gym and work out while gazing at sea views, don't forget to pack some athletic wear, too — which also may come in handy to layer on when doing an active excursion in port.
As for nightlife on the ship, put on your dancing shoes and head to the ship's dance club, or get dressed in your favorite outfit and hang out at one of the bars or lounges after taking in a live show in the ship's theater.
What to Pack for an Alaska Cruise Tip #5: Accessories
Your body will be covered with the clothing discussed in the above tips for rain, snow, or sunshine, but don't forget your extremities. Pack wool socks, water-resistant gloves, and a warm hat that covers your ears to ensure you stay comfortable whether gazing at Hubbard Glacier from the deck of the ship or hiking through mountains in port.
Sturdy and water-resistant hiking shoes or boots are also wise to have for excursions or even just walking around town.
You also might want to stick in some fashionable shoes or jewelry for those evenings on board your cruise ship.
You'll also want to have on hand a good pair of binoculars and a high-resolution camera for those gorgeous views and any wildlife you come across, especially if you have a veranda stateroom. The daylight stays out long past dinner in Alaska in the summer, meaning plenty of time for looking for eagles, whales, and other animals before going to sleep. (Oh yeah, don't forget to pack some cozy pajamas!)
Pack smartly and warmly and you're ready for a fantastic Alaska cruise vacation!