If It's Your First Time Cruising, Consider These Cruise Itineraries
If you haven't cruised before you may find planning your first cruise a bit daunting. It doesn't have to feel overwhelming, though, and the first step is to find the ideal itinerary.
When it comes to the best cruise for first timers, there is one destination that is often heralded as standing out from others, so we've highlighted that in this article and why it's such a great choice, plus included some other top cruise options for first timers as well!
Why You Should Strongly Consider Alaska if it's Your First Time Cruising
Alaska is often said to be the best cruise for first timers who live in North America for many reasons. I'm going to cover the six main reasons below, including why an Inside Passage Alaska cruise itinerary is ideal for first time cruisers.
First off, Alaska is a cruise destination that's still in America, meaning customs, currency, and language are – for the most part – similar.
Secondly, the embarkation ports are easy to get to. The Alaska cruise ships depart from Seattle, Washington; San Francisco, California; or Vancouver, British Columbia, three big cities that have international airports that connect with airports big and small all over the United States.
Third, if you depart on a roundtrip Alaska cruise itinerary from Seattle or San Francisco, you'll be on a closed-loop itinerary.
Closed-loop itineraries are sailings that start and end in the United States and don't visit anywhere outside of the U.S., Canada, Mexico, and the Caribbean, are convenient for U.S. citizens who don't have a passport since all you'll need to sail is a government issued photo ID and your birth certificate that states you're a U.S. citizen. As always, double check identity verification and passport requirements before booking or departing on your cruise as it can be subject to change.
Fourth, roundtrip Alaska cruise itineraries sail along the Inside Passage, a waterway located between southeast Alaska and northwest Washington. The Inside Passage is known for its calm water, letting ships gently glide along the sea amid gorgeous coastal and mountain scenery on both sides of the ship.
Fifth, the ports of call of Alaska are easy to explore since the typical ones you'll visit on an Inside Passage cruise (Ketchikan, Juneau, and Skagway plus sometimes Sitka) are easy to walk from the cruise port to the city center. There are also multiple types of shore excursions to choose from, whether you're looking for adventure, history, foodie experiences, or wildlife encounters.
Sixth, you'll experience the wonders of vacationing at sea and some of the best aspects of it on an Alaska cruise. For example, during your day sailing to a glacier (which all itineraries usually have as long as weather and ice conditions permit the ship getting to the glacier), you'll be astounded by the peacefulness surrounding the ship as you step out on your balcony or a ship deck and only hear the sounds of nature.
During days at sea during an Alaska cruise, you can spend your day switching between whale watching from your balcony (even if it's your first time on a cruise, I highly recommended you upgrade yourself and book a balcony – you'll be so glad you did!) and taking part in the fun on board, whether that's getting spa treatments, playing ship games, having some pool time, watching theater shows, doing some wine tasting, or catching up with friends old and new at the bars and lounges on the ship.
Read More: What to Pack for an Alaska Cruise
So, Is an Alaska Cruise Always the Best Cruise for First Timers?
Maybe you're thinking, well, that sounds nice and all, but I'm just not sure an Alaska cruise is what I had in mind. No problem! Here are some of the other best cruises for first timers that you may want to consider instead.
The Bahamas is a Short Option for First Time Cruisers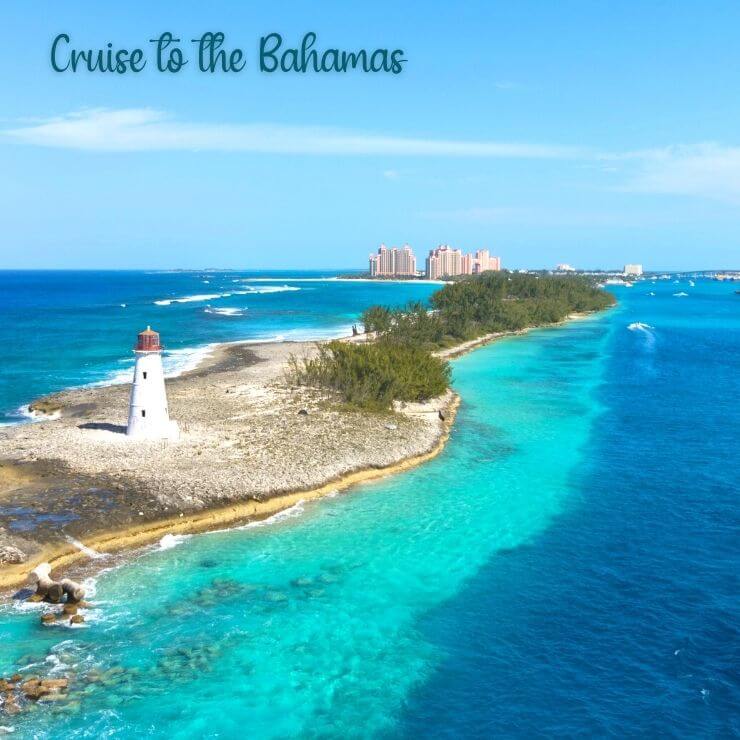 A Bahamas cruise can be a great choice for those who want to cruise, but are short on vacation time, or those who want to test a shorter cruise to see how they do traveling at sea before embarking on a longer one.
The Bahamas are located a short distance southeast of Florida and cruise ships regularly set sail there from the Florida homeports of Miami and Fort Lauderdale. You can find great getaway itineraries to the Bahamas that last from just two to four nights.
Some 2-night itineraries even spend an overnight in Nassau – the capital of the Bahamas – for a day there, and then sail back to Florida the second night, which is a nice and easy introduction to the world of cruising. And gives you enough time to check out the sights and beaches of Nassau!
Generally, the 4-night Bahamas itineraries give you a day in port in both Nassau and Key West, Florida, plus a day at sea so you have more time to enjoy the amenities and activities on board the ship. These itineraries give you a better taste of what cruising is like, while still staying short and sweet.
Where to Cruise If You're Ready to Vacation Beyond North America
If you've been there, done that when it comes to Alaska, the Bahamas, and the Caribbean, and you're itching to explore more of the world beyond North America, but are feeling a bit overwhelmed by the thought of navigating foreign countries on your own, a cruise may be a great fit.
The best international cruise for first timers is one that has an easy international flight with the destination airport close to the embarkation port for the cruise. Then, once you're on the ship, you'll want to sail somewhere that usually has calm waters plus visits exciting ports.
Of course, picking the right ship will also help you have fun on your cruise! Here is my guide to how to pick the best cruise line for YOU.
A great option that combines all of these things is a Mediterranean cruise that departs from Barcelona, Spain, or Venice, Italy. Getting from the airport to the cruise terminal in these cities is very straightforward and doesn't take long.
Once you're on the ship you'll be taken to some of the most beautiful destinations in Europe. Shore excursions are available in each port so you can effortlessly see all the top sites and have a stress-free time exploring the best cities and attractions in the Mediterranean.
Some popular places to visit from Venice include Croatia and the Greek Isles, while those cruising from Barcelona have the chance to travel along the French Riviera or down Italy's scenic west coast.
Which cruise sounds best to you as a first-time cruising destination?