Planning a trip to Europe isn't always so easy, particularly if you're including more than one country into your itinerary.
That's why I like GoEuro's recent blog post that's jam-packed full of tips from travel bloggers all in one easy to access spot in order to make planning easier. (And includes a tip from me — another reason I like the post!) GoEuro is a unique booking engine that specifically focuses on travel between European cities, and tells you what the fastest and/or cheapest route is among flights, trains, and car rentals. Working with GoEuro on the article got me thinking about my own 6-week trip to Europe a few years ago and what I would have done differently if I had to plan it again. Here are the top 5 mistakes I made on that European adventure and what I learned from them.
Not Checking Train Schedules Before Booking Accommodation
If you read my last post about GoEuro, you learned I'm such a fan of the company because had it been around a few years ago it would have made trying to figure out the best way to get from Budapest to Ljubljana so much easier. I spent hours trying to figure out how to get there without spending a fortune or losing a ton of time. If I'd had the GoEuro site, I could have quickly seen there was no other way: I'd have to rent or hire a car.
Even before getting into this debacle, though, I should have double checked that there were direct trains in between the cities I had planned out before making accommodation and restaurant reservations. By the time I figured out going from Budapest to Ljubljana pretty tricky, it was going to be even more complicated to switch the whole itinerary up (resulting in me finally deciding to hire an expensive car service so I didn't have to lose a day or have to deal with a car rental).
What I Learned: Just because two cities look close to each other on the map doesn't mean they're fast to get between. Always check this first when planning out your itinerary.
Not Taking Europe Summer Heat Waves into Account
I knew it would be hot in Europe. After all, certain European countries have even made the news in recent years due to illnesses and even death brought on by the extremely high temps the weather ticks up into. Still, I underestimated exactly how hot that would feel. I had always been to Europe in winter or shoulder seasons in the past so experiencing my first July and August there was a lesson in understanding my limits while traveling. The pervasive heat made it harder to see everything I had planned because it made me feel weary and sluggish. I can usually go-go-go while traveling, but I started to understand why some countries in Europe still practice a siesta. It was too hot to want to do anything most days. I can still vividly remember walking around the Berlin Wall Memorial trying to muster some energy to focus on the stories and history displayed on the informational boards around the site. My body on the other hand just wanted to find an air conditioned restaurant and take a nap on the table. I persevered, but was exhausted by that night.
What I Learned: When traveling at the height of Europe's summer heat wave that often hits at the end of July and through August, I should have arranged time for more down time, like this blissful day swimming in Lake Bled in Ljubljana.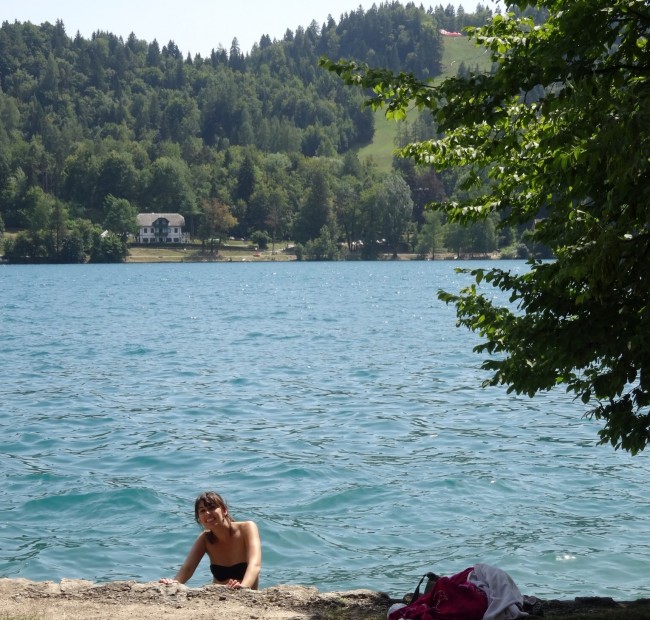 I also should have done any indoor activities that sounded like they were in an air conditioned building (such as museums) in the afternoon and hit the outdoor attractions first thing in the morning (I often do the opposite since indoor attractions can feel more crowded as the day goes on).
In addition, while I would say I had the right clothes for the heat, I didn't have enough of them, leading to lots of washing of clothes in hotel bathroom sinks. Read my post on 5 Ways to Beat the Heat in Europe During a Summer Vacation to learn more about what to pack and other tips for staying cool.
Not Buying Certain Tickets in Advance
My time in Berlin also taught me another important European travel lesson. I'm a big proponent of buying tickets in advance, but while traveling in Berlin, I decided to overlook that strategy. I knew I'd only have time to visit one museum during time in Berlin, and couldn't make up my mind which one to visit at Museum Island, a part of Berlin that is home to five world-class museums.
With all the other preparation I was doing to get ready for my trip, I decided it could wait until I arrived. Big mistake. I had been leaning toward Pergamonmuseum and once I arrived and heard more about it, I decided it was the museum I definitely wanted to visit…except the line just to purchase the ticket was insanely long. It was going to be at least an hour before I could get in the museum.
Since I was already feeling overwhelmed by the heat (see above), the thought of waiting that long to get into a museum that I would then have limited time to explore seemed too much of a waste of time. So I left. I'm not a huge museum person so I wasn't that bummed about it, but what if it had been somewhere like the Louvre that I had dreamed about visiting for ages before going? I would have been so disappointed – or if I had waited in the line, I would have marred the experience by feeling impatient to get tickets and then rushed to visit the museum shorter on time.
What I Learned: If it's available, always buy your ticket in advance.
Not Thinking About Summer Holidays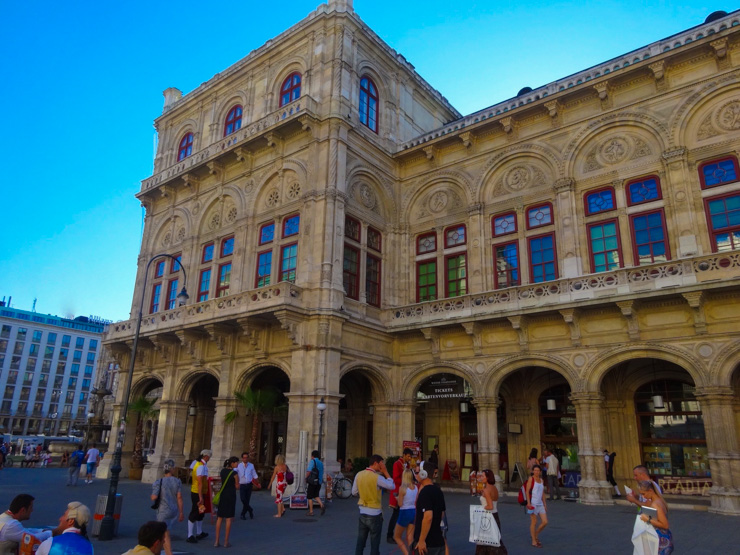 Back when I worked in an office before switching to a freelance lifestyle, I often bemoaned the fact that Americans get an average of two weeks vacation while jealously coveting the fact that Europeans get an average of six weeks of paid time off. Yet…for some reason that didn't register in my brain that, oh yeah, some of the Europeans probably also like to use their vacation time during the gloriously beautiful summer months and therefore may be on vacation at the same time as me.
Some businesses just completely close down in August when its owners go on vacation. You know what else closes down in August? The Vienna Opera House. Yup, opera singers need a vacation, too, and apparently like to take them in August. Since I was going to be in Vienna in August, I was out of luck seeing a performance in the iconic opera house, something I was really looking forward to. Luckily, not everything is closed down, and I loved the Mozart performance I saw at Muskiverein, but I was a bit bummed to miss out on the Vienna Opera House.
What I Learned: Though in my case, I wouldn't have rearranged my trip for it, if there's something that is the absolute must-do, highlight of your European summer vacation, make sure it's actually open before you decide on dates and book your flights!
Not Including Enough Downtime
Like I mentioned before, I can usually keep going at a fast pace while traveling, exploring and trying to experience everything, but…I hadn't ever done such a pace for so long before. Even without the heat, visiting city after city after city started to get tiring. I knew it was going to be a bit of a crazy itinerary when in the planning stage so I ended the trip island hopping around Croatia. That was pure bliss and so welcomingly relaxing. However, if I did it again I would have added in a couple breaks in the middle of the trip, too. Such as city, city, city, two days somewhere in the Eastern European countryside, city, city, city, two days by Lake Bled (instead of just an afternoon), city, city, city, resort break (think somewhere like Schloss Elmau in Bavaria if splurging or the Pink Palace in Corfu if on a budget), city, city, city, island hopping.
What I Learned: As I also mentioned on GoEuro's Europe Planner page, for your first big country-hopping trip to Europe, I think spending two to three nights in each place to get a taste of where you like best and then going back there for a longer trip at a later date is ideal, but that doesn't mean you can't experience a little relaxation while there and spend a few days in the countryside or on the water doing a whole lot of nothing besides taking in gorgeous views.
Even with these European vacation mistakes, I still had a great time. When doing your own trip through Europe, just remember to go with the flow as things likely will go wrong from time to time. If you keep an upbeat attitude, you'll see there's charm to be found wherever you are in Europe and you'll have an amazing trip.
This post was sponsored by GoEuro. Check out the GoEuro website – I think you'll like it as much as I do.